Eats
Nell's is bringing its famous 22″ pizza slices to KAMPUS next month
"Now felt like the right time for Nell's to step out of the shadows and have a place of her own."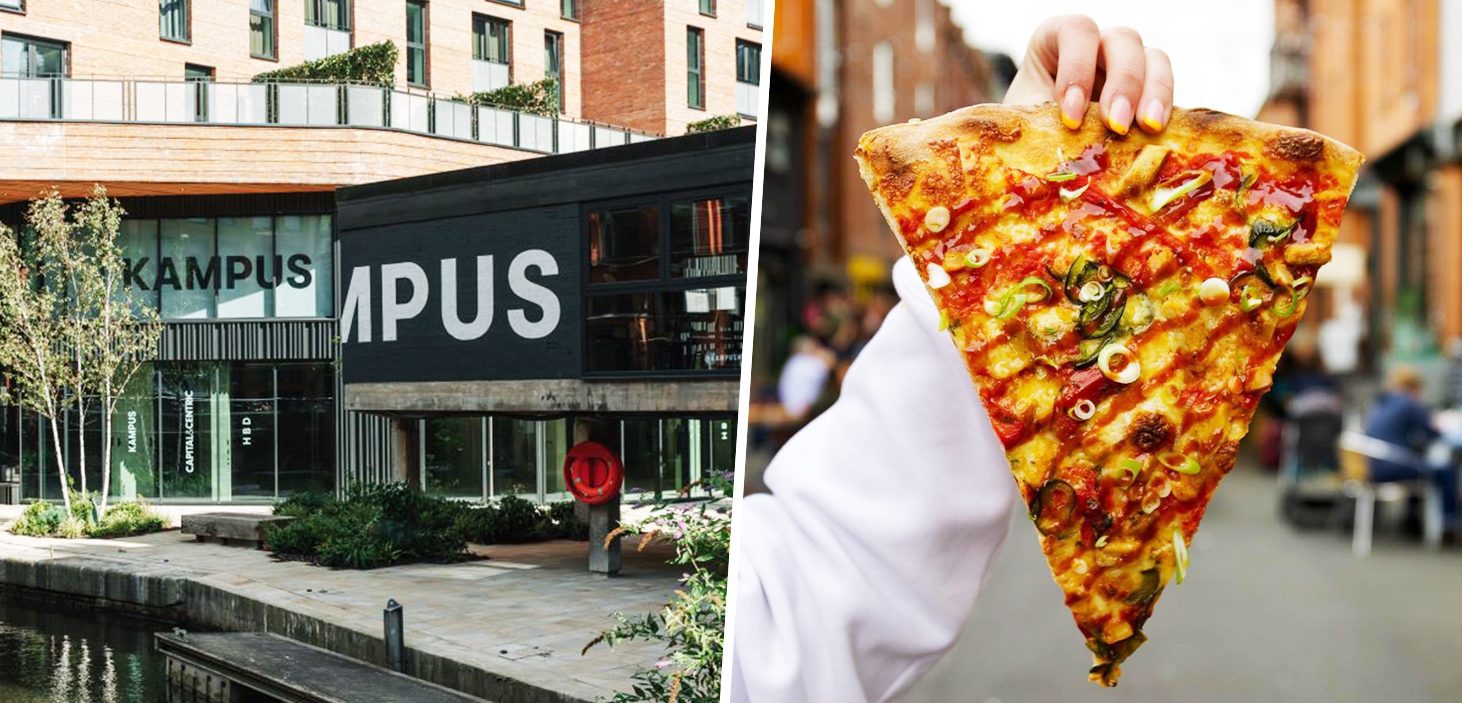 The home of the now-famous 22" pizza pies and slices is opening a new restaurant at the corner site of Manchester's newest city centre garden neighbourhood.
Serving up its much-loved and best selling Original Cheese, Do You 'Roni Honey?, and Vegan Deluxe pizzas to hungry Mancunians, Nell's at KAMPUS will feature a restaurant where you can make bookings for groups of all sizes, a bar, and also stand-alone 'Slice Bar', so people can pop in for a quick slice on-the-go all day and late into the evening.
Of course, while the best-sellers are on the menu, there's also some new additions to the new restaurant site, including a range of snacks and signature cocktails to join the pizza line up.
Famous for the attention-to-detail in the dough, and not content with just repurposing the 48-hour dough used for their pizza, Nell's founder Jonny Heyes went back to the mixer and developed a new focaccia-style dough, baked and topped with either Nell's signature marinara, extra garlic and basil or with rocket, burrata and crushed pepper.
Nell's new location at KAMPUS will keep its title as one of the best beer slinger in the city with 17 lines pouring a selection of house beers, rotating specials from visiting breweries, and some local favourites, as well as a wine list that's made up entirely of wines you just want to drink, in large glasses, all night.
The Nell's team has even developed a new cocktail menu for the KAMPUS opening too, with three signature cocktails – Nell's Sbagliato, Nell's Spritz, and Nell's Sour.
And if you're really looking to get the full Nell's experience, then make sure to keep Sunday free in your diary, as Sundays will be all about bottomless slices, bottomless drinks, and DJs, as part of the launch of 'Sunday Pizza Social'.
Bookings for this can be made online or in house, with tables for large groups available.
Nell's at KAMPUS takes the place of Cornerstone – the pub which owners Jonny and Charlotte Heyes had planned initially for this space – and to give a little more insight into the change of plan, Jonny said: "We decided to make a change from our original concept for KAMPUS – it wasn't an easy decision, but we felt like so much had changed since we began this project at Kampus and Cornerstone started to feel like a 'pre-COVID' idea, which of course it was.
"KAMPUS had been intended as the first ever Nell's, but in fact we're already now operating at two sites.
"So much of our focus over the last year has been on Nell's, so we thought it didn't make sense to have it playing second fiddle to Cornerstone.
"Now felt like the right time for Nell's to step out of the shadows and have a place of her own."
___
Nell's NY Pizza & Bar opens at KAMPUS on Friday 5 November.
Featured Image – KAMPUS | Nell's