Eats
What's behind the grand old doors of Manchester's Stock Exchange Hotel?
We headed down to the Stock Exchange on Norfolk Street, and found a whole other world waiting for us on the other side of those grand old doors.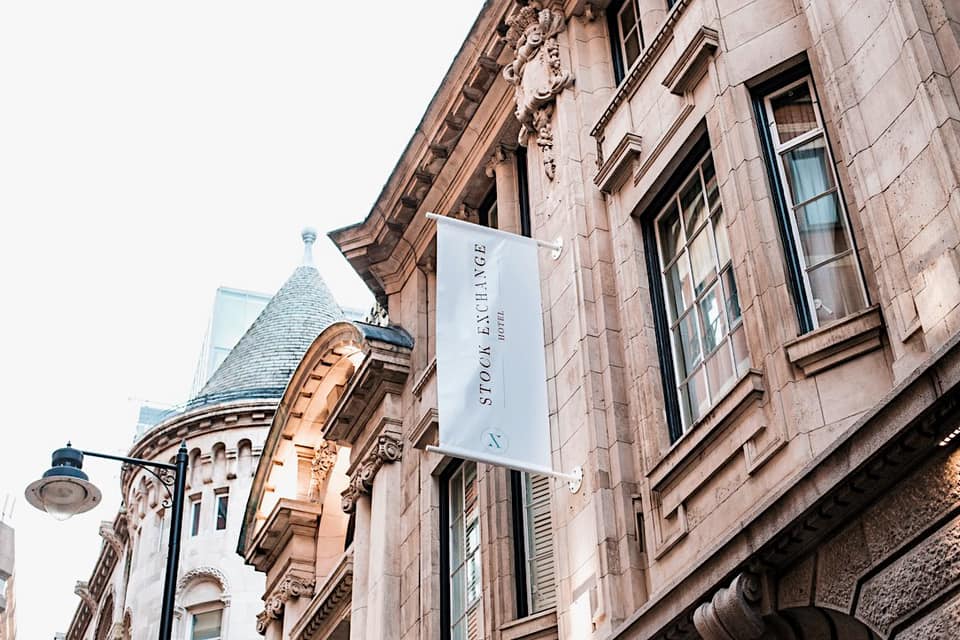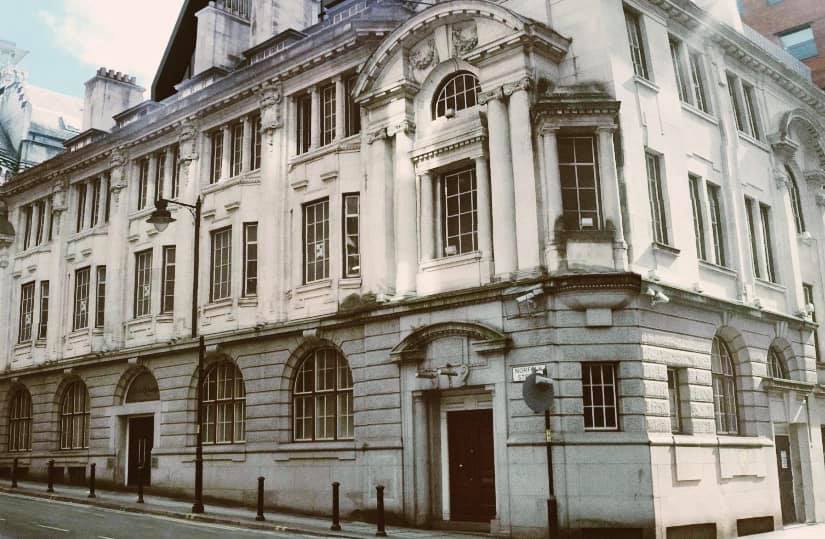 By Anna Gledson
It's no secret that we haven't been travelling abroad much this year – and it's no secret as to why that is, either.
The good old summer holiday has taken a bit of a beating, but we are still just as ready for a break and a change of scenery as ever, if not more so (OK, definitely more so) this year.
But there are thankfully a few options available for us to leave the worries behind for a bit.
1) Buy a tent, and brave the great outdoors, along with weather that's about as unpredictable as 'them in charge'.
2) Book an apartment out of town somewhere, running the risk of rule changes while you're away – potentially ending up room-bound in an unfamiliar town or city (there are only so many times you can check the mini-fridge after all).
3) Save yourself the travel and find somewhere local – where the destination is so beautiful and comfortable that you won't have any need to leave until it's time to make the short journey home.
We went with option 3, and booked into the Stock Exchange Hotel, which threw its grand doors open to the public last year.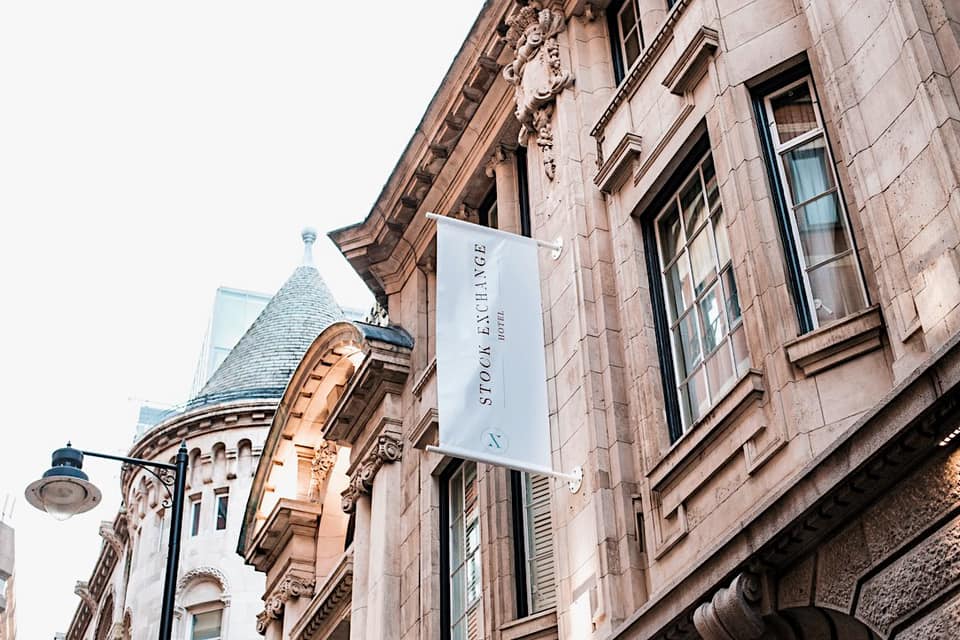 The hotel occupies the former Manchester Stock Exchange on Norfolk Street (between King St and Market St) just a minute's walk away from the madness of Manchester's main shopping district.
Stepping into the high-ceiling reception hall feels like walking into another world.
There are neat references to the building's history throughout the hotel – which has been lovingly restored to a magnificent standard with original marble, brass and exquisite woodwork. The hotel is part of the Relais & Châteaux portfolio and has 40 rooms, including two signature suites and a stunning 3,500 square foot penthouse.
We were warmly welcomed by the concierge, who had a short checklist to run through during check-in to ensure that we understood the new Covid-secure practices; it was professional, friendly and reassuring.
Once that was done, we were shown up to our room and given a mini history lesson along the way from the very attentive Aiden. He pointed out historic documents and old menus, whilst telling us (among other facts) that the Stock Exchange was built in the early 1900's in what was then the 9th most populous city in the world.
Our room was grand but super-comfortable. Every inch had been thought through and just screamed luxury. The huge bed dominated the room, and hidden at the foot was a pop-up TV, which also rotated(!) – giving us the choice between lazing in bed, or using the remote to spin it round and sit on the sofa.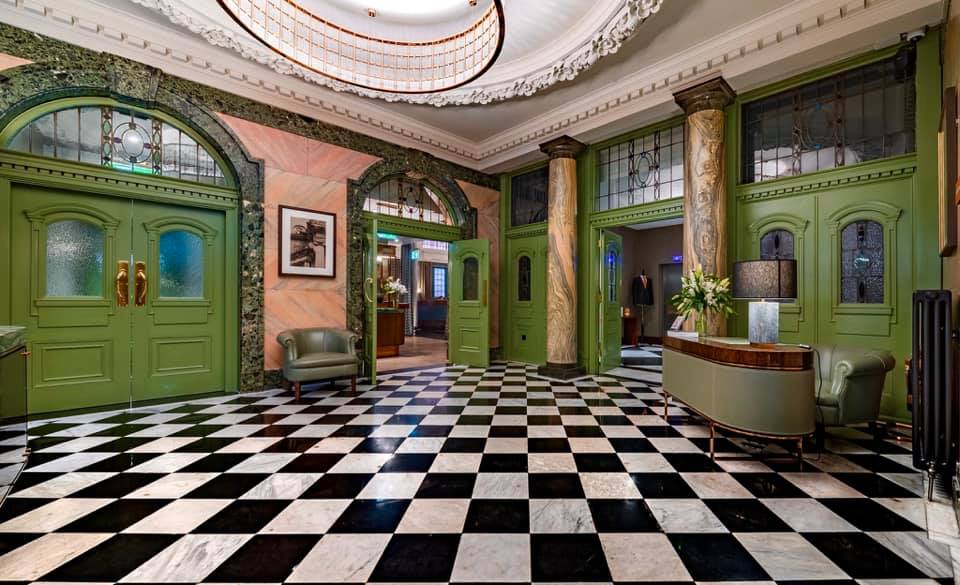 By far the highlight though, was the bathroom.
It was just incredible: white marble throughout, with stylish black and gold fittings. This, coupled with underfloor heating and a bath so big it borders on obscene, really drives home the super-luxe feeling.
Once we had fiddled with all the settings, spun the telly round a few times and warmed our feet on the bathroom floor, we headed down to the Bull and Bear restaurant which boasts having chef Tom Kerridge at the helm.
We headed down slightly earlier than our reservation to grab a drink at the bar and take in the extraordinary voice of Yemi Bolatiwa as part of The Soul Carousel for the recently launched Soul Sundays and it was just perfect, the most gorgeous Sunday afternoon vibe. But the best was yet to come.
We were seated right in front of the open kitchen at one of the huge booth tables – giving us plenty of space, but not feeling like it was forced. The vibe in the dining room was great, and watching a well-tuned kitchen work away is always a pleasure.
I dined at the Bull & Bear when it first opened, and I feel like it has really evolved since then. The big wall-mounted TVs are still on for evening service but display digital works of art (instead of news/sport) to complement the decor – much less intrusive than I remember from my first visit, and a really smart addition.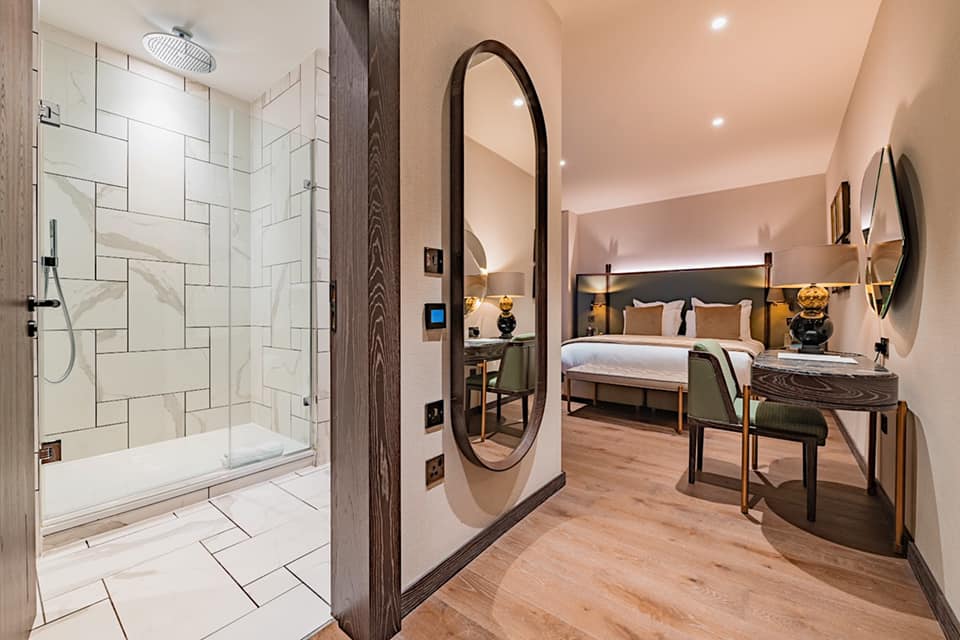 The Sunday set menu changes weekly but the staples I imagine stay the same. The offering was varied and interesting but everything you would want from a Sunday roast.
To start, I went for Potted Cornish Crab with Smoked Paprika Butter and Cucumber Chutney, while "he" opted for a Ham & Chicken Terrine, served with a slab of toasted sourdough and "Puckalilli" – a zingy, smooth twist on of the nation's most underrated condiments. We followed with Rotisserie-cooked Dovecote Top Rump, Roast Potatoes and Horseradish Cream, and Roast Pork Belly with Apple Sauce and Roast Potatoes.
You can tell the quality of the produce with every bite – nothing is compromised here – and while the starters were delicious, it was the roasts that were the real winner.
We decided to order pretty much all the sides too, because y'know – it's the weekend, and the whole meal was just an utter joy to eat. Shout out to the B&B chips with the Gerkin Ketchup; an absolute revelation and the most perfect accompaniment to the already delectable roast beef and pork belly.
What really made the experience was the service. The staff were all so lovely and seemed to really enjoy what they were doing, often they would pop over to check in and have a little chat, with nothing feeling at all forced.
Our evening was made all-the-more special by sommelier Raff, who along with being thoroughly knowledgeable and very charming, allowed us to try a 1971 dessert wine served through a Coravin pourer: A real, rare treat. His passion for wine was palpable and clearly showed – we got the feeling he would be equally excitable upon finding any guest with similar interests.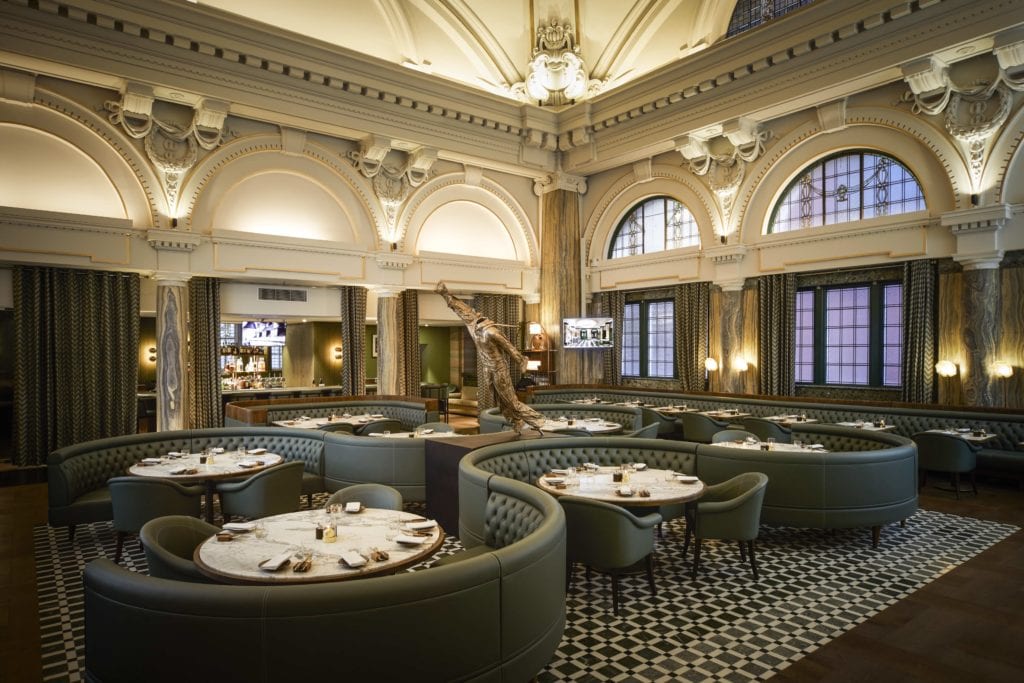 After our enthusiasm with the sides, you might assume dessert was off the cards – but no. The Beef Suet Sticky Toffee Pudding with Vanilla Ice Cream was heavenly – rich and flavoursome without being cloying, and the Colston Bassett Eccles Cakes with Chutney are an absolute masterpiece. Little bites of shortcrust pastry packed with delicious stewed currants – alongside the perfect amount of creamy blue cheese and chutney.
The roast is priced at 2 Courses £34.50 or 3 Courses £39 and even though it may seem at the steeper end of the pricing scale, it's well worth it. The whole meal was faultless – and with live music in the background and wonderful service, I can't think of a better way to spend a rainy Sunday afternoon.
Being right in the heart of the city is a real treat – we were close to some of our favourite bars, so felt obliged to nip out and support them by buying some post-dinner drinks. Having to be "home" by 10pm was almost a benefit as well, giving us the perfect reason to retire to our comfortable and cosy room and be up for a breakfast (which was just as impressive as our evening meal).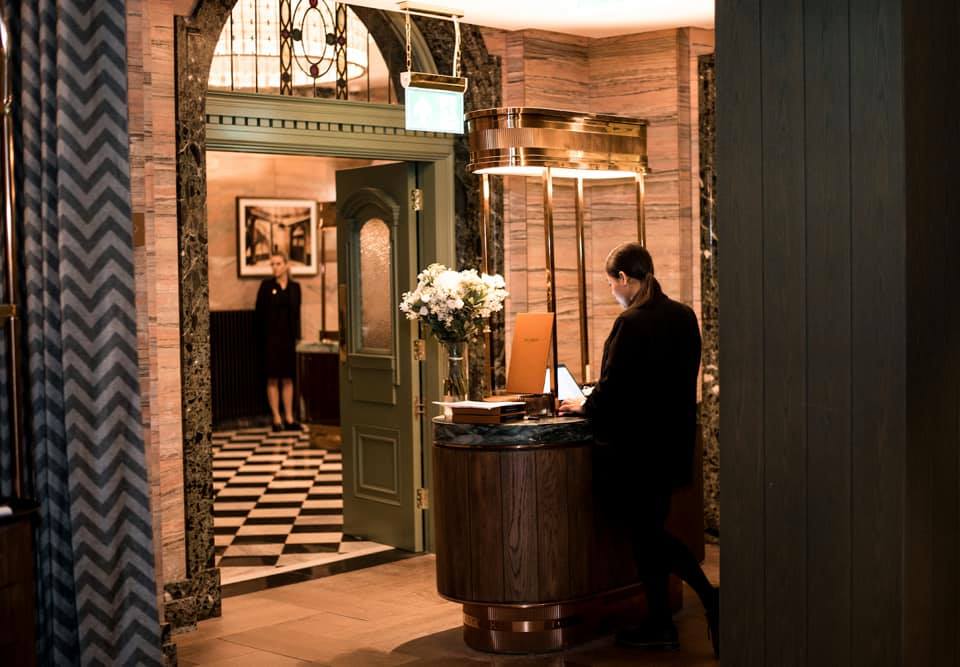 We went a little lighter this time round – Manchester-smoked salmon and eggs, served atop sourdough from Pollen bakery in Ancoats, and Staffordshire Oat Cakes with rotisserie bacon and cheese. Both were a triumph, and complimented by a couple of beautifully-presented and delicious coffees.
If you want to really treat yourself like we did, The Stock Exchange have added a Soul Sunday package to their list of "Exclusive Experiences", which includes a 3 course meal from the set menu as well as overnight accommodation (with a complimentary room upgrade, subject to availability) and a hearty breakfast in The Bull & Bear to get your Monday off to a flying start too.
I urge you to leave your Covid worries behind and support local by staying local, check out all that Stock Exchange and Bull & Bear have to offer here and I can assure you, you will love every second as we did.