Eats
Where to go for the best desserts in Manchester this weekend
Now that cafes have reopened it's time to discuss desserts and Manchester is the place to go to taste some of the most delicious treats!
Who's got a sweet tooth?
Yeah, us too.
Now that cafes have reopened, it's time to discuss desserts – and Manchester is home to some of the most delicious treats!
In the following list, we take a closer look at some of our favourite dessert location across the city and beyond – giving you a few potential options to indulge over the course of the weekend.
Grab a spoon….
Shakedown
Withington
Shakedown make some ridiculously good milkshakes – even have one tailor-made for Mancunians; the Manchester Bee Shake with Honeycomb Pieces, Honey Comb Syrup & Whipped Cream.
There's also an Oreo-infused shake packed with cookies and cream, and a tantalising menu chocked full of waffle creations from a classic flavour of fresh strawberries and chocolate sauce.
The pick of the bunch is perhaps the Road Block: Which is stuffed with Oreos, Crispy M&Ms, White Kinder Bueno, White Chocolate Drizzle and Nutella Drizzle.
Wow.
View the menu and visit their website here.
Black Milk
Northern Quarter
Black Milk is on a mission to create the most extravagant waffles possible. And they're doing a damn good job, too.
The waffles and pancake stacks here are out of this world, but Black Milk also has a great range of cookie dough, sickly sweet freakshakes (some are even topped with a slice of cake) and slabs of chocolatey goodness!
The brand also got exposure on Sky News recently; with owners talking about how they will be adjusting their creations for the Eat Out to Help Out scheme running throughout August.
View the menu and visit their website here.
Archie's
Oxford Road, MCR Arndale & Piccadilly Train Station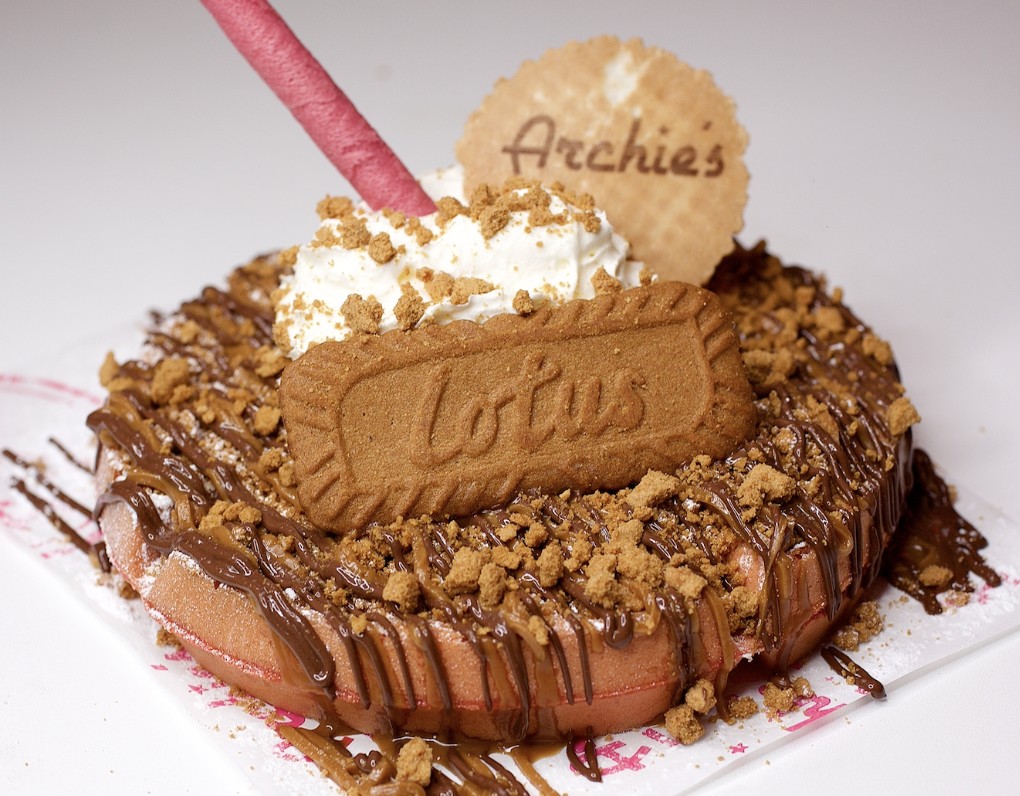 Archie's has three locations in Manchester – popular among locals and VIPs alike for decadent shakes and waffle stacks.
One of the brand's most popular fully loaded waffles is the Cookie Monster – which is topped with crushed Oreo cookies and then drizzled in chocolate sauce.
There's also The Snowflake – a large waffle topped with crunchy Malteasers and finished off with lashings of white chocolate.
Maybe skip lunch if you plan on dining at Archie's to ensure you have enough room to eat it all up…
View the menu and visit their website here.
Ginger's Comfort
Affleck's Palace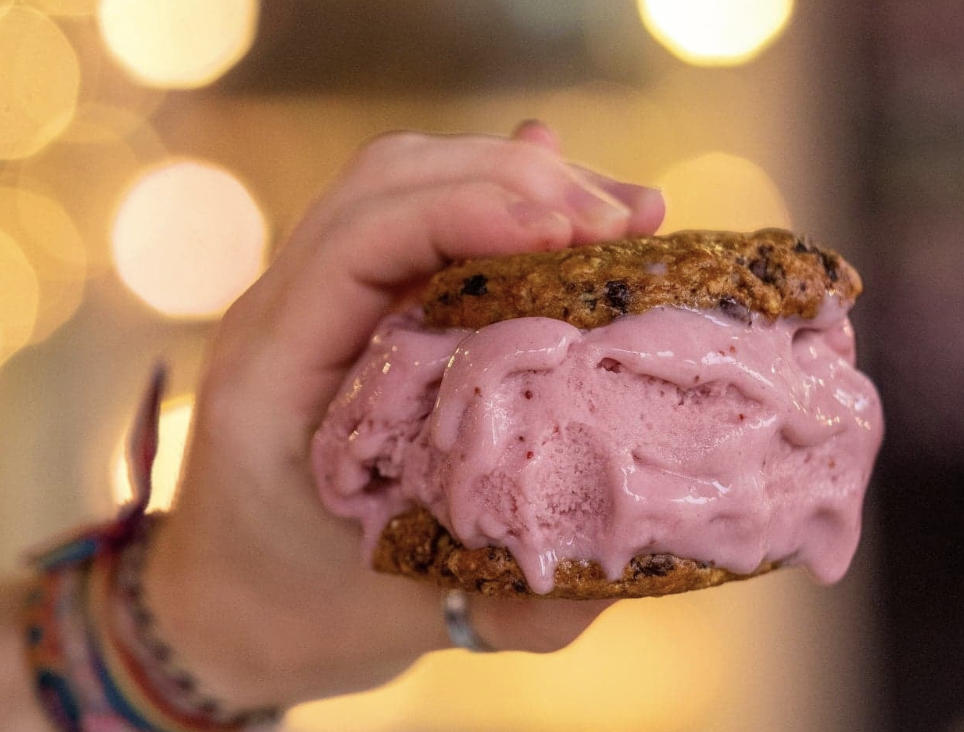 Ginger's is the perfect place to go for a Mancunian-made ice cream.
An award winning real dairy ice cream business, this Affleck's emporium offers a range of exciting flavours which even include vegan options.
The flavours change quite regularly so there will always be something new to try on every visit; they recently served a vegan chocolate brownie flavour which went down very well!
When getting lost in Affleck's, Ginger's is the perfect pit stop to enjoy a scrumptious dessert and soak up the atmosphere.
View the menu and visit their website here.
Dessert Republic
Chorlton
Dessert Republic is a family business with a dedication to serving delicious and heavenly desserts to satisfy all cravings.
The brand is particularly adept at Nutella recipes; whether that be on top of hot cookie dough, one of their freakshakes or fluffy loaded waffles.
Cornflake Cakes with custard are also on the menu – offering a lovely little trip down memory lane to when you were a kid.
DR use Swiss ice cream Movenpick to create their desserts and famous milkshakes – with many customers saying the flavours remind them of being on holiday (a feeling many of us are craving at the moment).
View the menu and visit their website here.
Slattery
Whitefield
Just a short tram ride away from the city centre is Slattery, the home of desserts and all things chocolate!
The Whitefield shop is full of surprises – including the Strawberry and Marshmallow Kebabs served with two chocolate pots filled with white and milk liquid Belgian chocolate – perfect for 'dunking' in!
Or you could really test yourself and try their Chocolate Challenge. This involves a large portion of their American-style chocolate fudge cake, served warm, with a portion of homemade chocolate ice cream, a portion of fresh cream and two chocolate pots filled with liquid chocolate sauce. Add a glass of any of delicious hot chocolate and the challenge begins!
If you manage to eat all this (without the help of your friends) you will be rewarded with a Slattery chocolate medal and a 100g box of handmade chocolates.
View the menu and visit their website here.
Frurt
Oxford Road
Frurt specialise in Frozen Yogurt (Froyo), with dairy and non-dairy options available.
The dessert spot has several locations scattered around Manchester, with more than 50 toppings (many of which are vegetarian, with some vegan) up for grabs.
You create your masterpiece by picking and choosing from fresh fruit, dry fruit, sweets, Chocolate and premium sauces such as pistachio, ruby and Bueno including warm sauces like biscoff and Nutella.
Yes, please.
View the menu and visit their website here.
Fress
Northern Quarter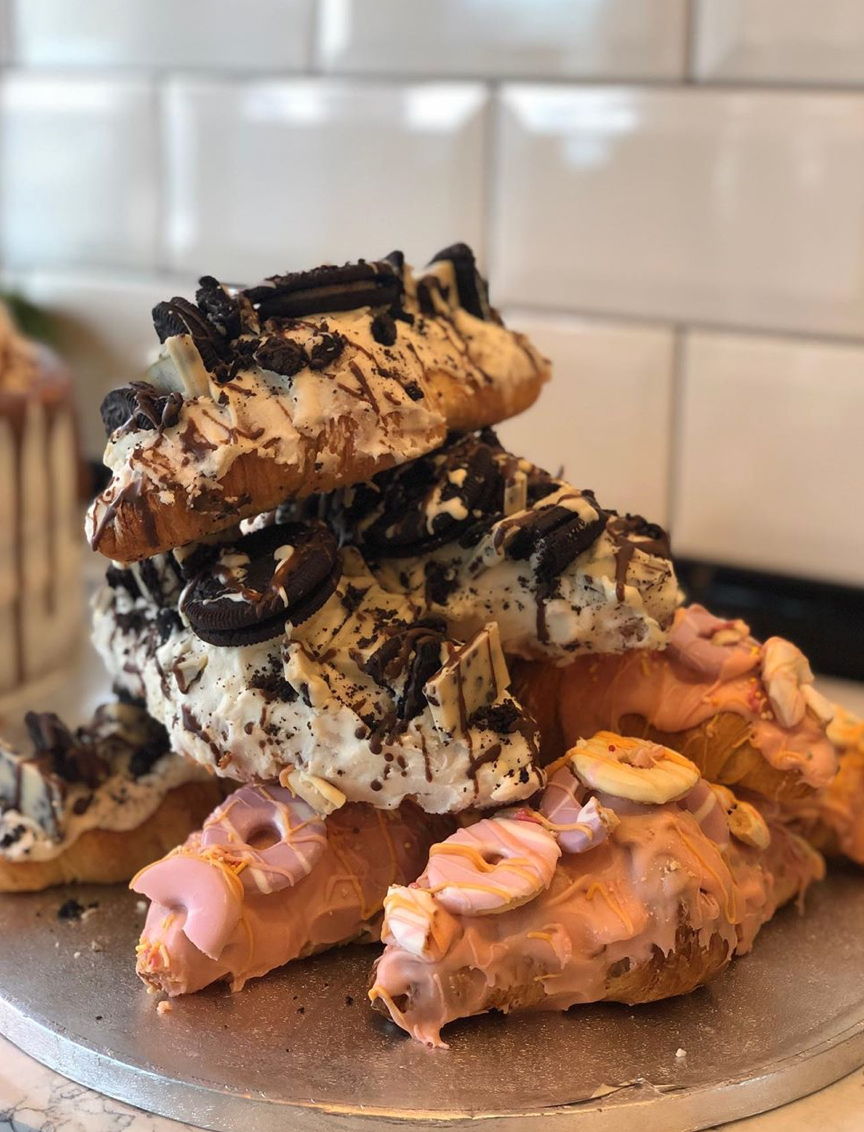 Fress are best-known for doing a banging bottomless brunch – but you should also know about their desserts.
From brownies to cookie dough and even a topped croissant, Fress have a fab range of new and exciting sweet treats ready to try.
Customer favourites include their Afternoon Tea selection which hosts a whole tier of Fess's homemade goodies, from their Biscoff cheesecake to a stack of blueberry pancakes.
When chatting to Fress, they teased to their newest item launching very soon which will be a new Dream Burger: A fully-loaded Nutella bun, Oreo , strawberries, ice cream, dream cheese frosting with edible gold leaf.
View the menu and visit their website here.
Midnight Delivery
Don't fancy pigging out on a dessert in public? The Midnight Delivery is the dessert parlour for you.
This place makes all their tasty treats in Salford and delivers them straight to your doorstep through their app.
Their menu is vast and you can have anything from topped birthday cake flavour cookie dough with chocolate ice cream to a Galaxy caramel & Nutella cookie tower sandwich!
There's also fresh batches of brownies and share-size boxes of pick and mix perfect for any movie night.
View the menu and visit their website here.
V-REV Vegan Diner
Northern Quarter
Another spot to grab some great vegan pudding is one of the most popular Vegan diners in Manchester: V-REV.
At the moment they are working on a reduced menu – but there's a couple of items definitely worth digging into
These include the New York baked cheesecake with salted caramel pretzel pieces, Biscoff sauces, chocolate sauce and Biscoff crumb served with chocolate peanut butter cookie ice cream, and their thick vanilla and cookie-flavoured milkshakes.
View the menu and visit their website here.
Caramello
Didsbury
Caramello is a coffee shop and cafe located in the heart of Didsbury Village.
The spot is best-known as an all day breakfast and brunch location, but there's also an extensive list of patisserie, gelato and desserts.
Caramello's elegant patisserie options like the Religeuse look insanely tasty, and there's also a selection of sumptuous sundaes.
There's even the option to create your very own dessert! That's the kind of thinking we can get behind…
View the menu and visit their website here.
My Cookie Dough
Trafford Centre
A Tafford Centre pit stop isn't the same without some warm topped cookie dough!
My Cookie Dough has reopened at the shopping centre – returning with a large list of flavours to try from Red Velvet to Fudge & Honeycomb (which you can customise by adding your own choice of toppings and ice cream).
My Cookie Dough also launched a Build Your Own kit which you can have delivered straight to your doorstep containing all the ingredients you need to make enjoy your My Cookie Dough experience at home.
These kits are fully customisable so you can choose exactly what goes into your box and have the freedom to create your own exciting combinations.
They are available to purchase through their website.
Hungry yet?
We bet you are.
Get out and explore Manchester's vast dessert scene and see what treats you can find.