Feature
Someone is using cat stickers to cover racism in Manchester
Feature
The best, biggest and boujiest hotels in Manchester city centre

Daisy Jackson
Hotels are opening in Manchester city centre at a rate that's hard to keep up with, diversifying the overnight offering with every passing minute.
We've got plenty of familiar boltholes if you can't tear yourself away from the familiarity of a Premier Inn purple bedroom, or the reliable comforts of a Hilton, but also plenty of smaller names offering a stylish place to rest your head.
We've rounded up 10 of the very best that Manchester has to offer – expect rooftop pools, riverside terraces, grand architecture and celebrity chefs.
And not all of them come with an eye-watering price tag…
Dakota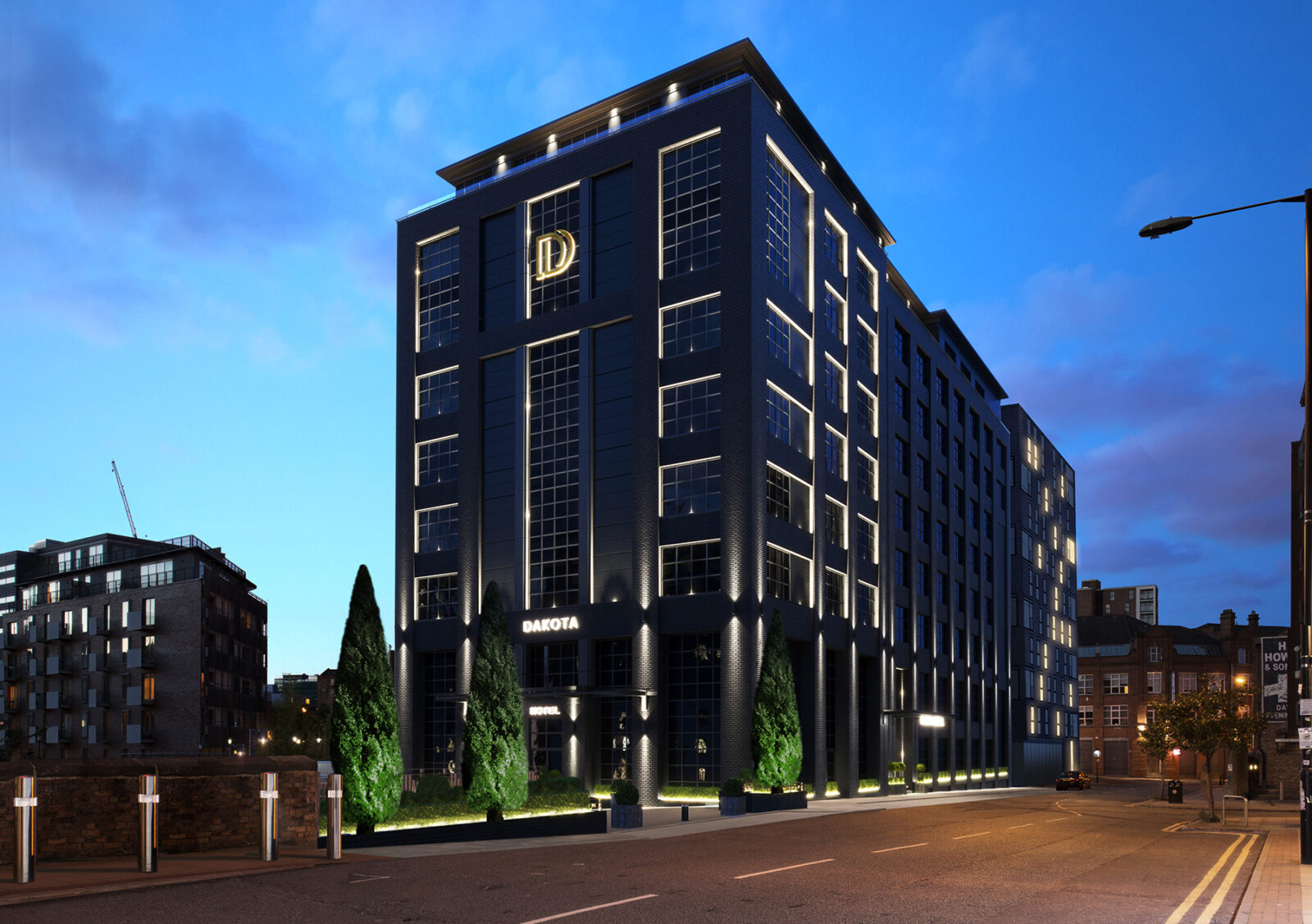 If you want a hotel with loads of atmosphere, a grown-up space with a dark and moody interior, then Dakota is absolutely the one for you.
This beautiful hotel opened back in 2019, a huge £30m black box on the outskirts of the Northern Quarter that had celebrity guests including Hugh Jackman and Mel B staying there almost immediately.
The deluxe suites here will set you back around £765 a night, and come with their own living room and loads of luxuries.
Even if you're not stopping the night, the riverside terrace is an absolute gem for a civilised drink, filled with plants and natural light.
29 Ducie Street, M1 2JL | dakotahotels.co.uk
Hotel Brooklyn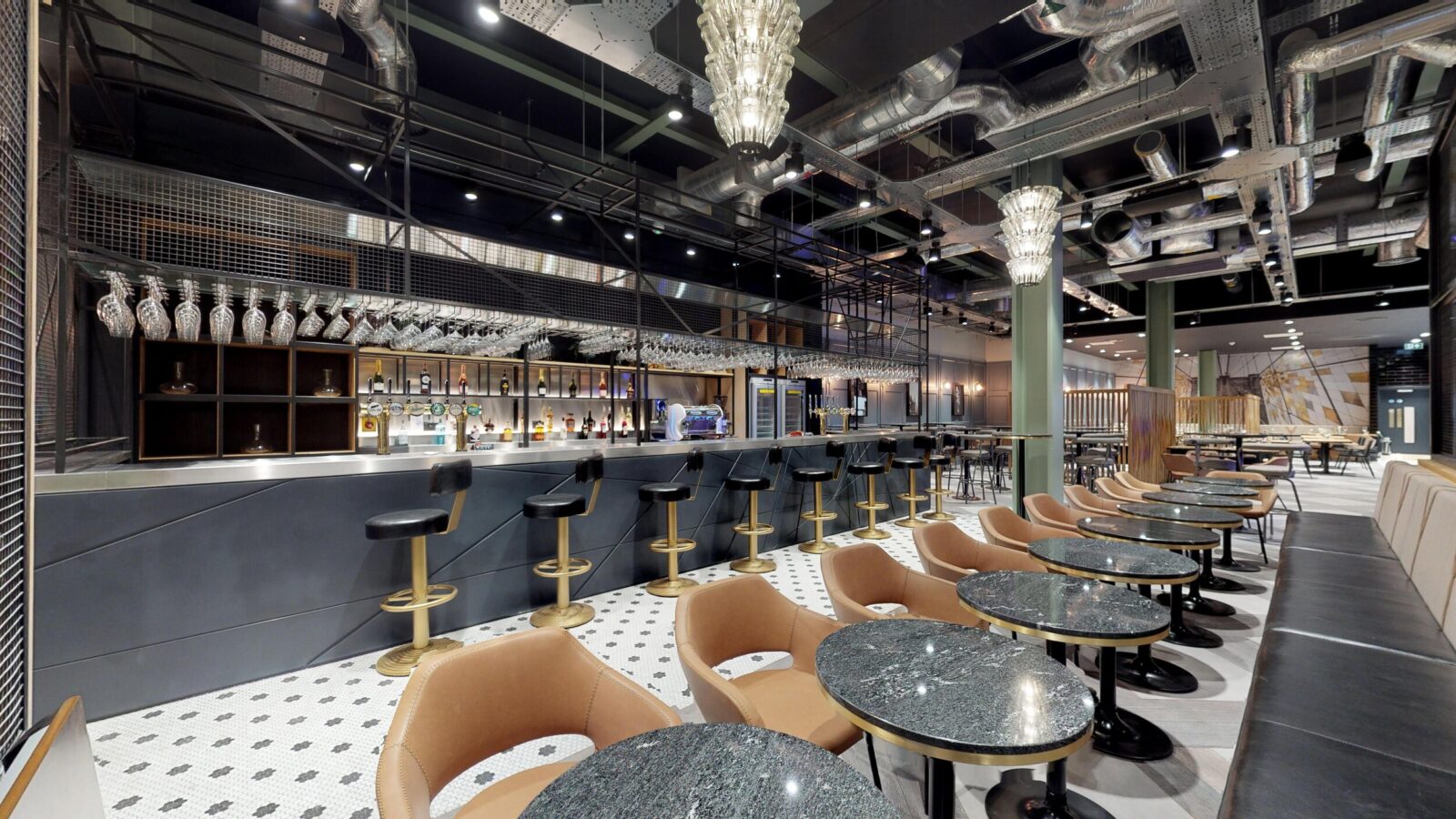 We all know that Manchester has a habit for drawing comparisons to New York (albeit a smaller, soggier version) but nowhere is this more apparent than in Hotel Brooklyn.
The hotel opened at the worst possible time, being thrust in and out of lockdowns within weeks of opening, but since then it's attracted rave reviews and been named among the top 20 'hottest new hotels' by Traveller's Choice.
It's the sister site for the enormous Hotel Gotham down the road, but the little sibling has a characterful 1920s theme across all of its nine floors, a bar with panoramic views up the top, and a casino in the basement.
59 Portland Street, M1 3HP | hotelbrooklyn.co.uk
The Lowry Hotel
Just across the border into Salford is The Lowry hotel, and a big curve of class sticking out above the river.
It's got a global reputation and its guestbook features some of the biggest celebrities of all time – remember when Taylor Swift rented out the entire place, or Jose Mourinho decided to just live there, rather than find an apartment, during his time as Manchester United manager (not to mention Britney Spears, David Beckham, Rihanna, Take That, Lady Gaga and Kylie).
With a £5m bedroom refurb under its belt, The Lowry has one of the smartest and brightest interiors in the north of England, and also one of the region's most expensive hotel rooms (a casual £4,500 a night for the presidential suite).
50 Dearmans Place, M3 5LH | thelowryhotel.com
Kimpton Clocktower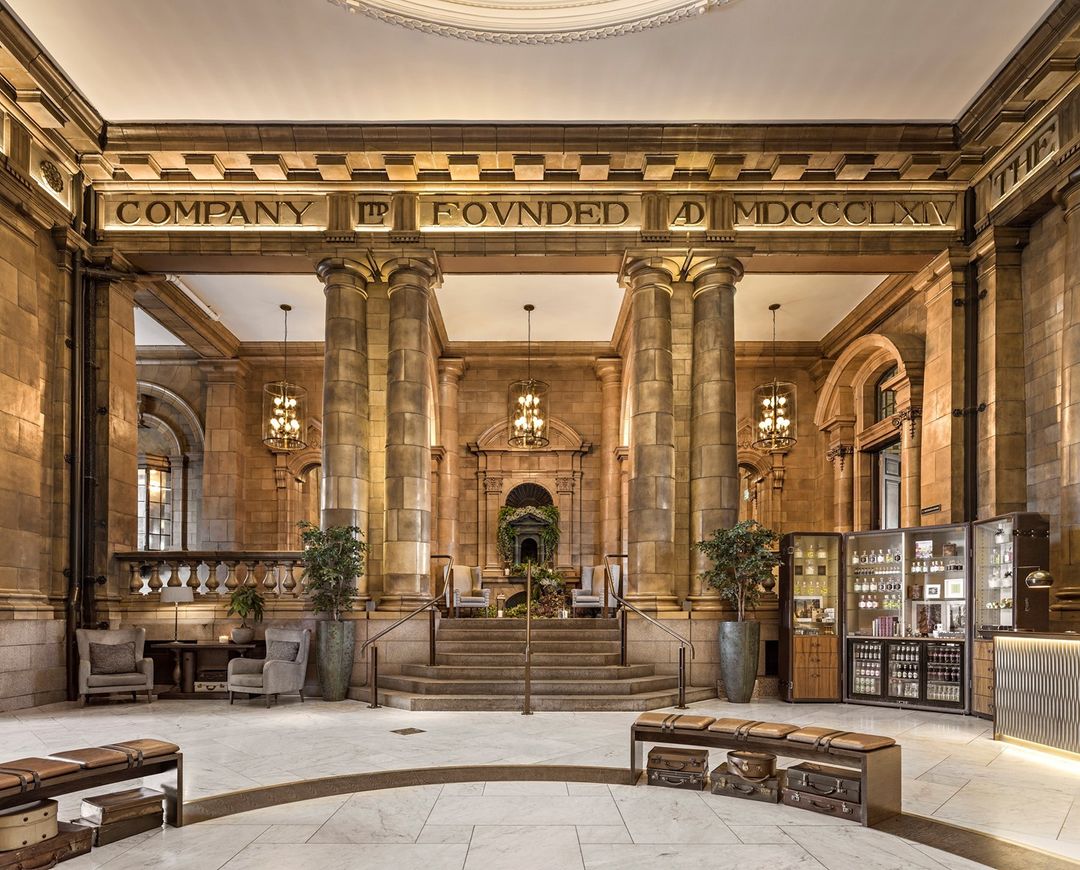 The Kimpton Clocktower oozes timeless sophistication, a relic of Victorian grandeur but with a boutique hotel feel to it.
The lobby is one of the most impressive spaces in Greater Manchester, all polished tile and marble beneath a glass domed ceiling, setting the scene for the rooms themselves (high ceilings, big windows, and plenty of historical details).
Another draw for the Kimpton Clocktower is that its in-house bar and restaurant – The Refuge – is a cut above the average offering.
Oxford Street, M60 7HA | kimptonclocktowerhotel.com
The Midland
If only walls could talk, The Midland Hotel would have some of the best stories on Earth.
The landmark hotel has been part of the fabric of Manchester for more than 100 years, with 312 luxurious rooms, and it's storied that it's where Charles Rolls and Henry Royce (of Rolls Royce fame) were introduced.
Then there are the communal spaces, even fancier now after their £14m refurbishment, including restaurants Adam Reid at The French and Mount Street Dining Room, and the incredible circular champagne bar in the middle of the lobby.
It's also the place to come for a traditional afternoon tea, and has a cracking spa.
16 Peter Street, M60 2DS | themidlandhotel.co.uk
Whitworth Locke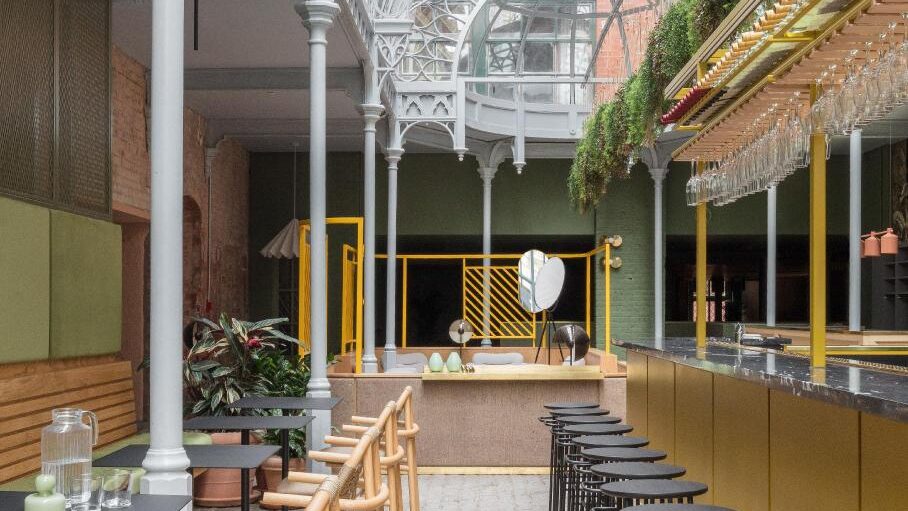 The curb appeal of Whitworth Locke is something else, from its stunning bar housed in a Parisian-style conservatory, to its food and drink offering (Peru Perdu and a Foundation Coffee House are both in here), to its incredible location right on the edge of the Gay Village.
Each of the rooms is a self-contained haven, from studio apartments all the way up to two-bedroom duplex suites, decorated in a Pinterest-worthy palette of greens and pinks (a muted sample of the terracotta bricks outside).
There's a packed calendar of events too, so whether you're an out-of-town guest or a local Manc you'll be kept busy enough.
74 Princess Street, M1 6JD | lockeliving.com/en/manchester/whitworth-locke
King Street Townhouse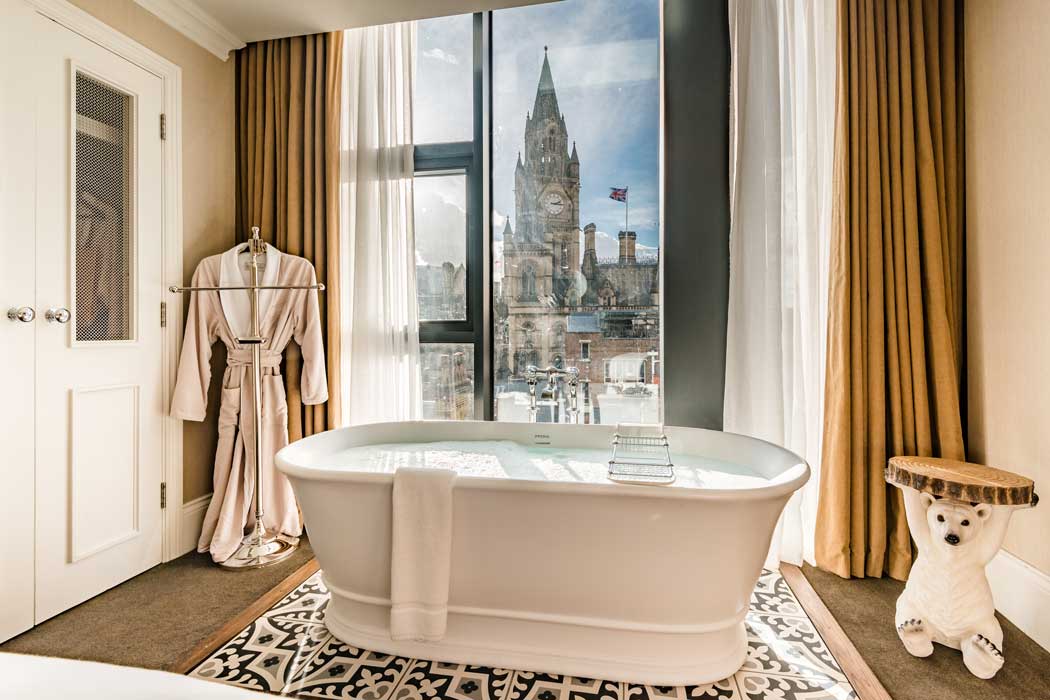 You have, almost without a doubt, seen photos of the King Street Townhouse before – this is the hotel that introduced the infinity pool to the city centre, with views of the Town Hall (well, currently of scaffolding).
The hotel has its own cinema room, a rooftop terrace bar, a new gym, and incredible afternoon teas.
The smart rooms range in size from 'snug' to 'cosy' to 'comfy' to suites, with suites priced at around £430 a night.
The Alan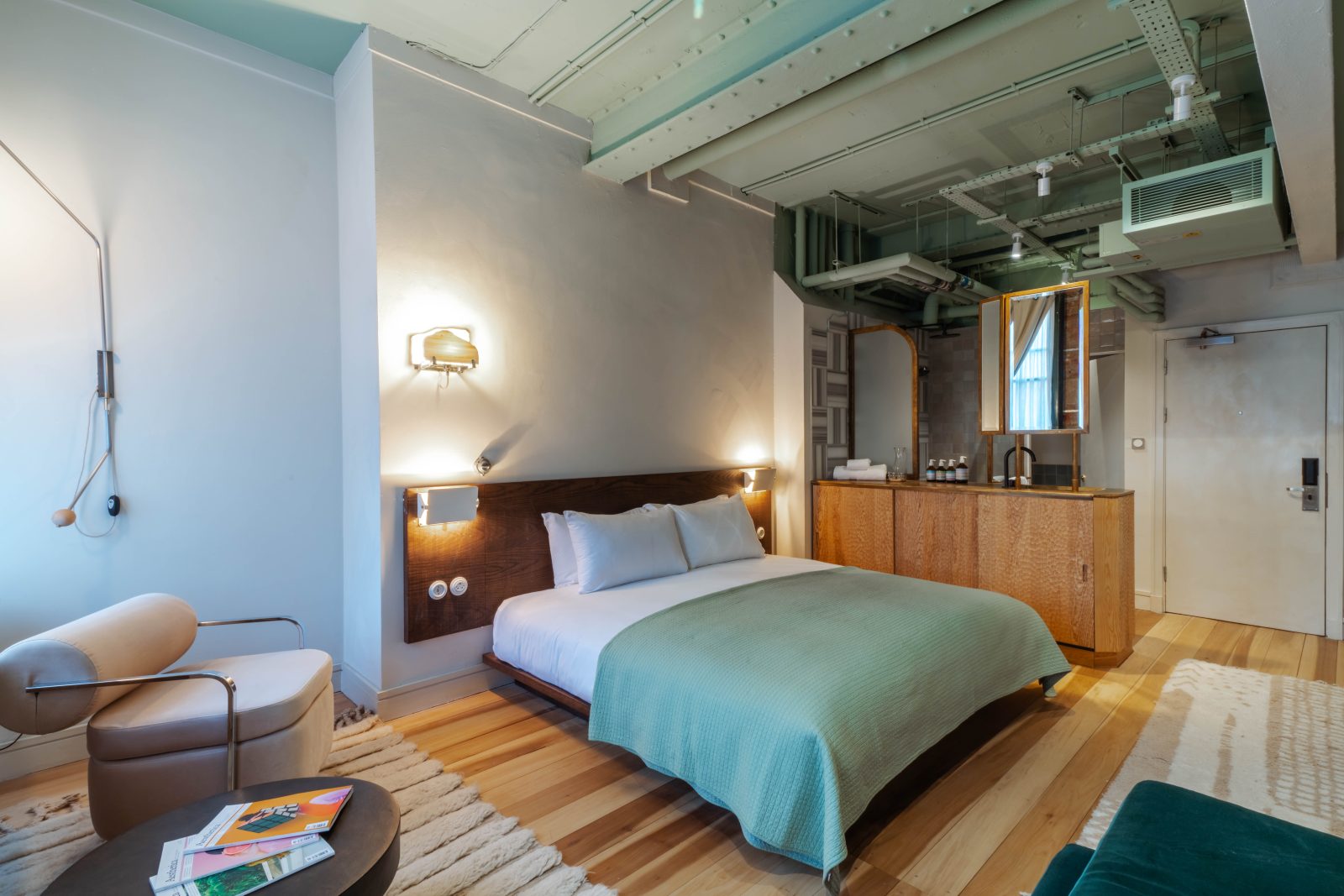 One of the newest hotels to open in Manchester (and they are popping up like daisies) is The Alan, which has stripped the old Princess Street Hotel back to expose and celebrate its original features.
There are 137 bedrooms, each with high ceilings and warm textures, an open-plan kitchen, restaurant and bar, and event spaces.
The devil is in the detail here and the design has been carefully thought-out. The floor is made from a collage of discarded marble, and the dried flowers illuminated beneath the bar were actually foraged by the hotel's owners at the time they secured plans for The Alan… while they were broken down on the side of the motorway.
Stock Exchange Hotel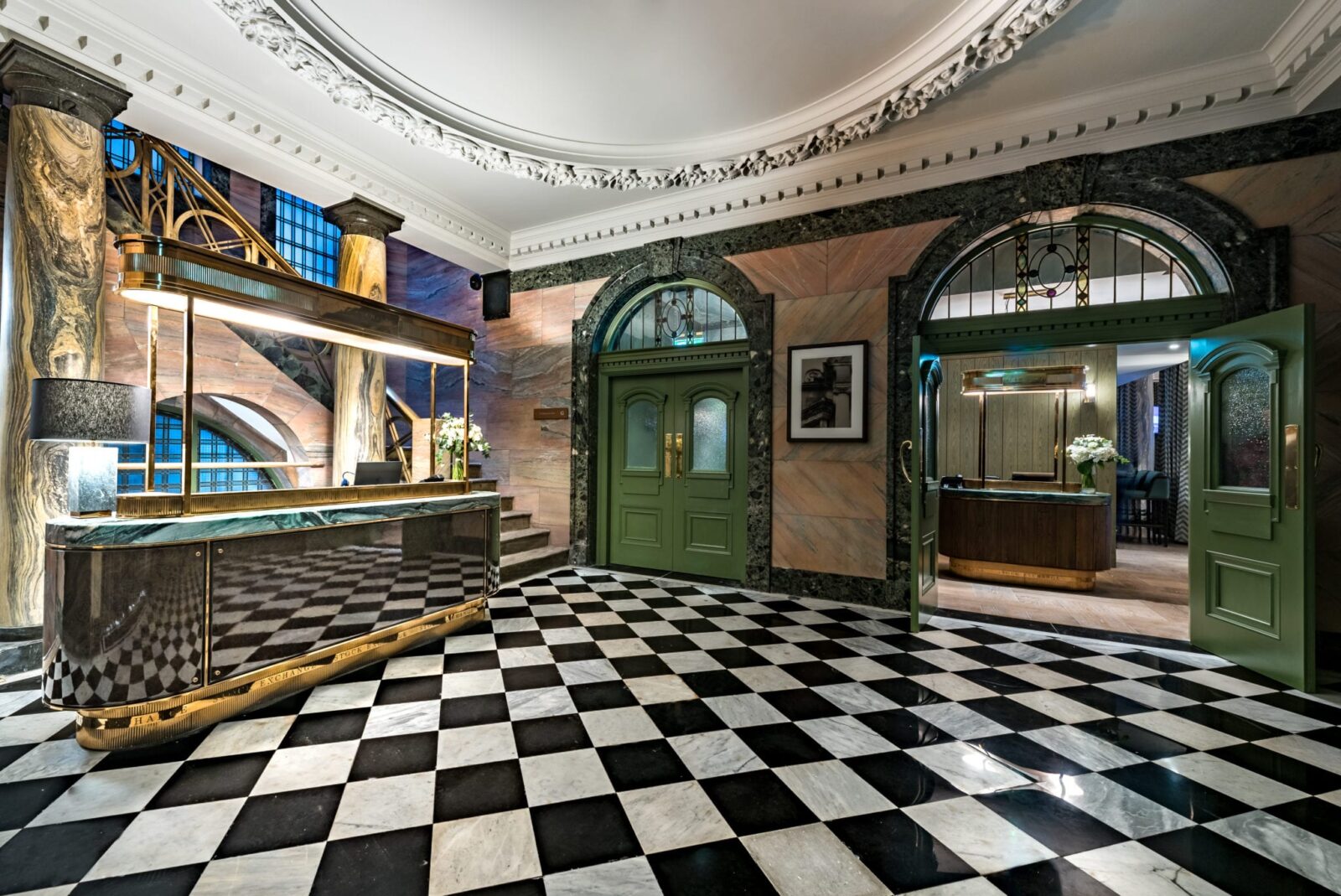 Famous names absolutely litter Stock Exchange Hotel, which is easily one of the grandest spaces in Greater Manchester.
Not only does it come from Gary Neville's rapidly-booking hospitality empire, it's also backed by world-famous hotelier Winston Zahra, and then they got celebrity chef Tom Kerridge in to run the hotel restaurant, the Bull & Bear.
You could be looking at as much as £1500 for a night in the suites, but the rooms start at a much lower rate – and then there's The Residence, an enormous fully serviced, ultra-exclusive apartment with its own roof terrace.
BrewDog's Doghouse Hotel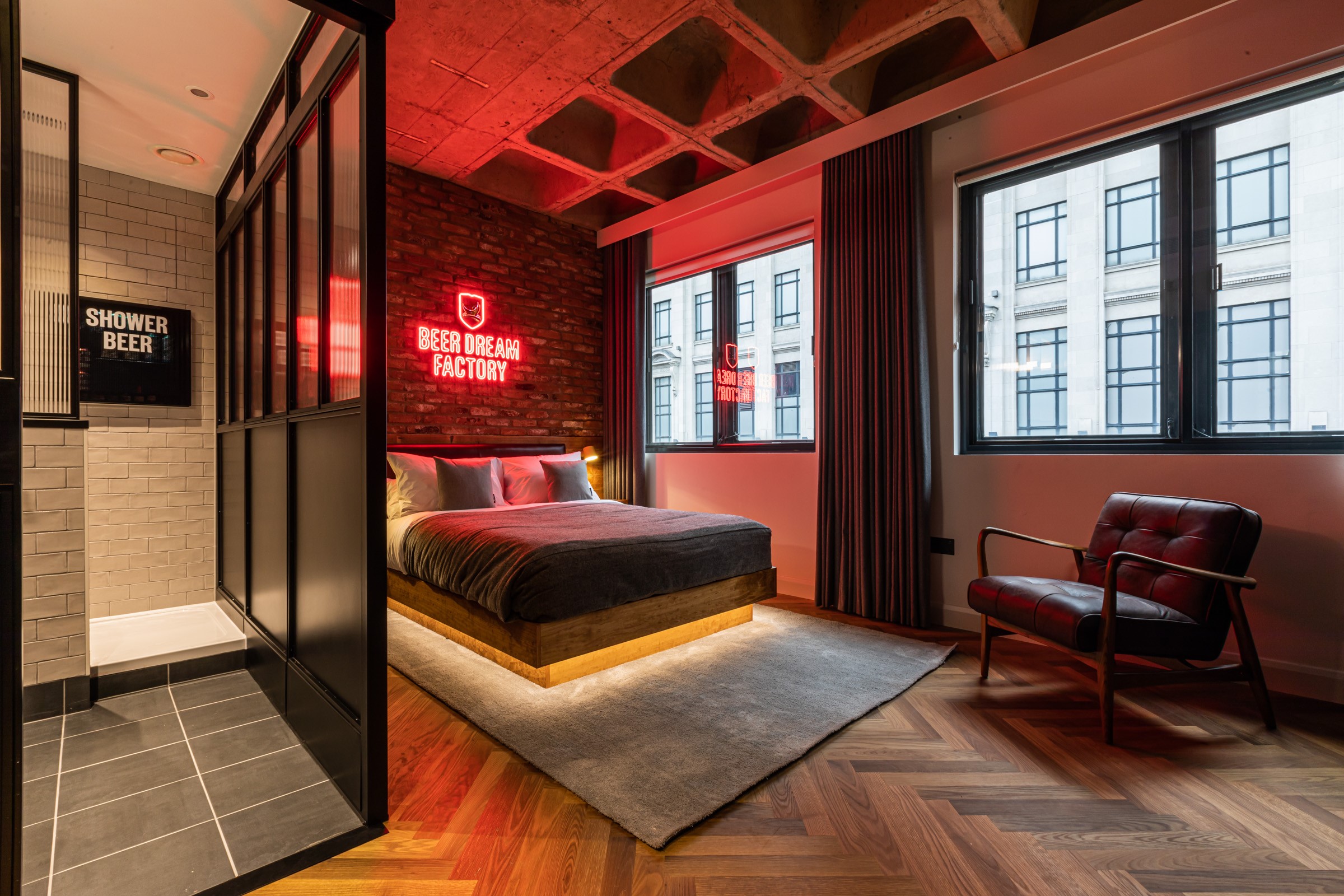 The youngest, coolest name on this list is the BrewDog Hotel, which has taken over a hideous old office block and made it into a beer hotel.
There's beer everywhere – in the huge bar and restaurant on the ground floor, on the rooftop terrace, a pint handed to guests on check-in, beer taps in every bedroom, and even beer fridges in the showers.
Other little luxuries include acoustic guitars and vinyl record players in the rooms, complimentary Brompton bikes, and some pretty epic chicken wings flying out the kitchens.
18-20 Fountain Street, M2 2AR | brewdog.com/nl/hotels/uk/manchester-hotel
Featured image: King Street Townhouse
Feature
What it's like to spend the night at the luxury glamping site near Manchester

Hannah Starkie
If you love the idea of camping, but are less keen on missing out on home comforts , Ribblesdale Park is the place for you.
There are no tent pegs or cold showers to contend with, and definitely no sleeping on cold hard ground here.
Instead, in this corner of the Ribble Valley, you'll find stunning fields dotted with white bell tents, in the shadow of a historic mansion house.
There are beds – proper ones, with king size duvets, and plump pillows, and soft blankets – as well as all the modern trimmings we're all used to, like plugs and mirrors inside.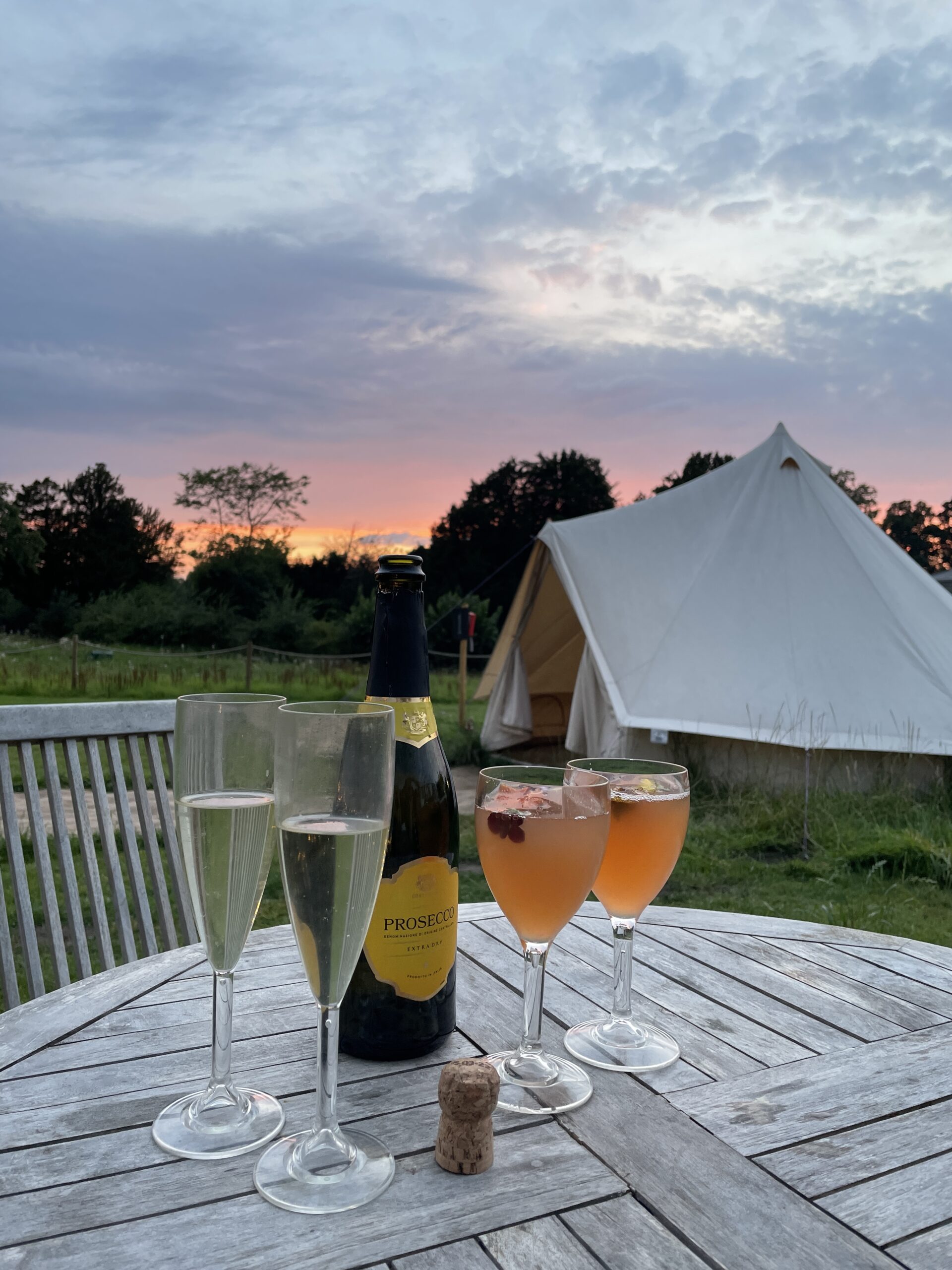 They're decorated beautifully, a subtle bohemian mix of macrame hangings, patterned rugs and draping plants.
You don't have to queue at huge crowded shower blocks here – you can stroll across the field to individual shower huts and sparkling clean loos.
On our visit, the north west was right at the tail end of its insane heatwave, so within minutes of arriving it was kit off and straight into Gisburne Park Estate's outdoor pool.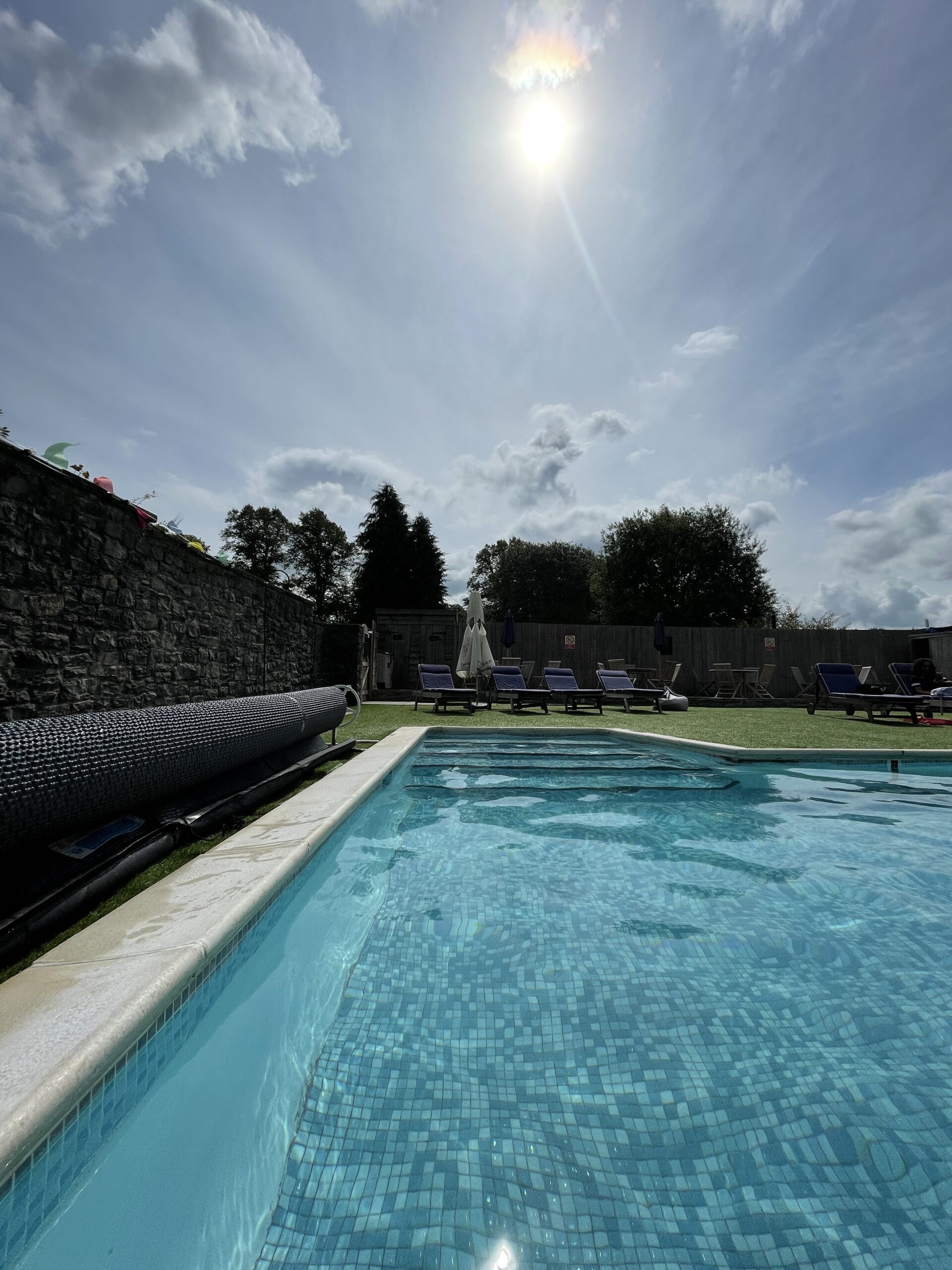 After more than an hour of sweltering in the car from Manchester, the sparkling water in the courtyard was a perfect welcome.
It's heated too, so even on cooler days you can take a dip.
Suitably refreshed and settled into our cosy glamping tent, it was over to Gisburne Park's on-site restaurant, Hindelinis.
Here, the portions are massive and the flavours plentiful, from the creamy curry sauce served alongside the battered fish and chunky chips, to the tender chicken burger inside a pillowy bread bun.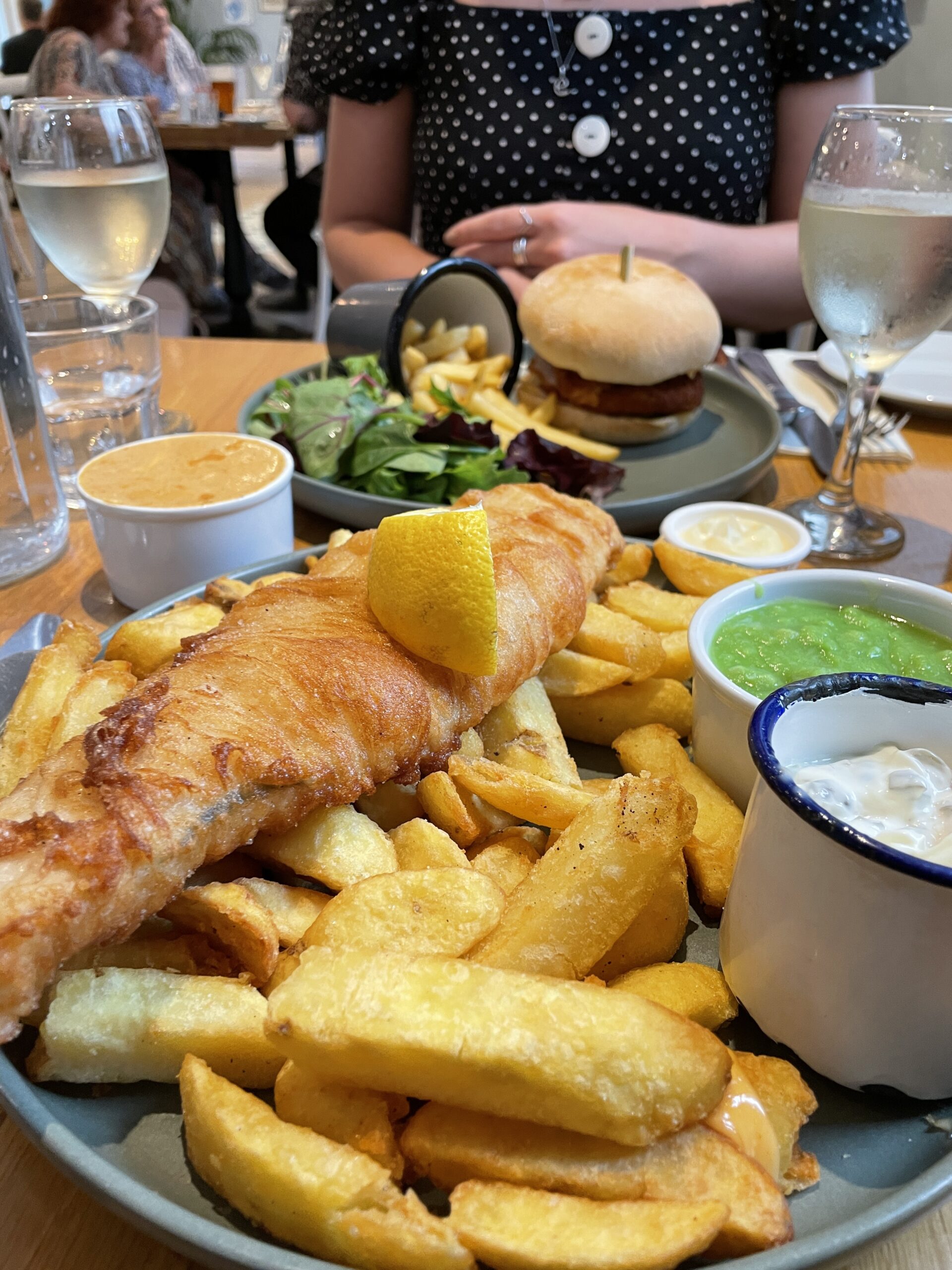 You might not expect to find top quality cocktails in the middle of the countryside, but you'd be wrong – the bartenders at Hindelinis whip up arguably the best espresso martini in the country, with subtle notes of caramel.
There aren't many moments as peaceful as sitting on the outdoor terrace with a pornstar martini in hand, its edible flower garnish pairing perfectly with the pastel skies as the sun sets.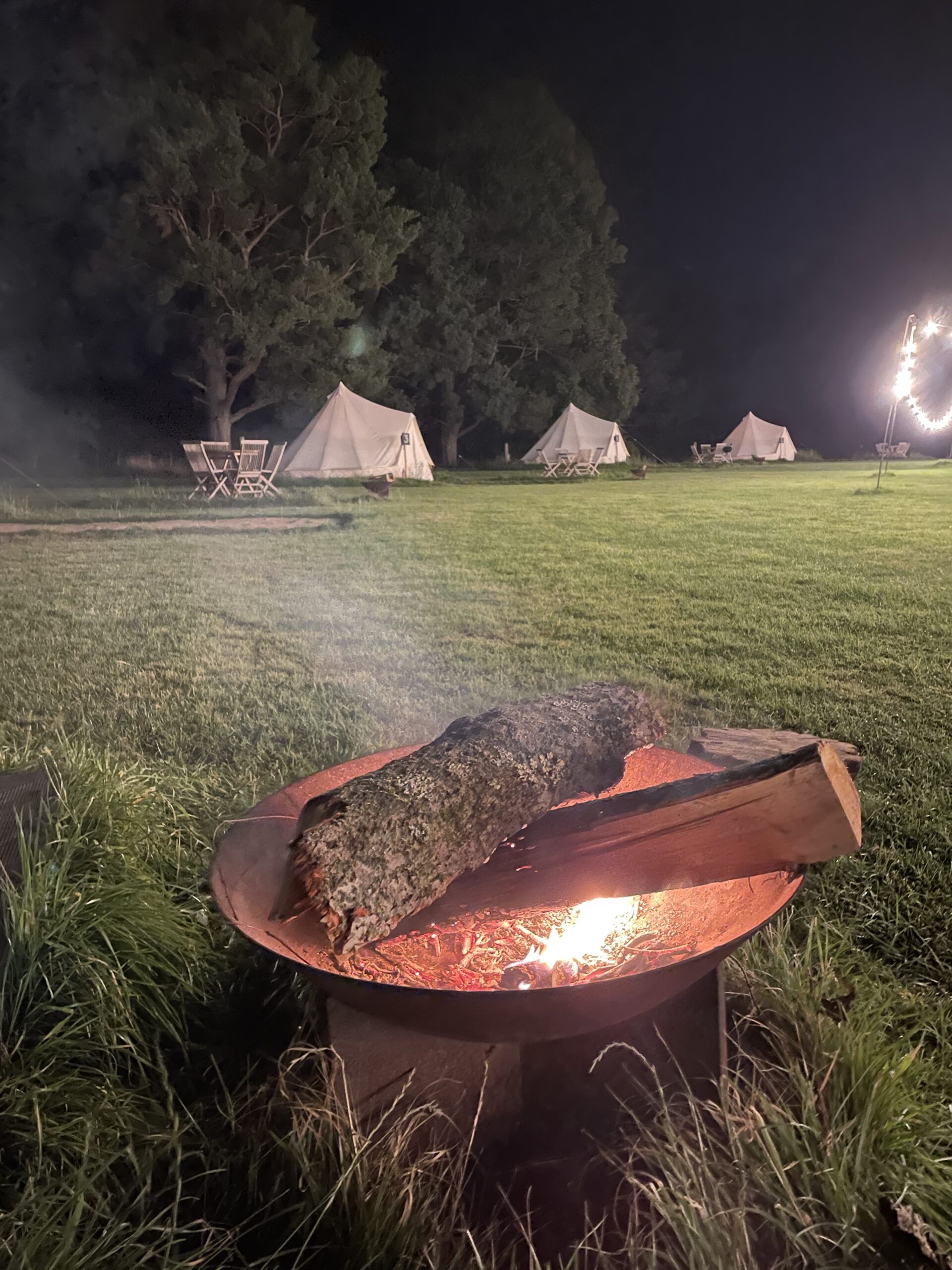 With its rural location, there's not much in the way of nightlife once darkness sets in, but thankfully each glamping tent comes with its own fire pit – so it was back to the glamping village for wine and a game of cards around the campfire on our own private deck.
Waking up at Ribblesdale Park is the epitome of tranquility.
Where else could you open your window in the morning to spot both a peacock and majestic Sika deer strolling past?
Read more: Festa Italiana 2022 – full line-up, opening times and how to get there
The breakfast menu is also pretty majestic, featuring pancakes, granola bowls, full English breakfasts, and (our choice) a hearty sausage and bacon sandwich.
Still not sounding quite luxurious enough for you? Did you know you can also book your own masseuse to come to your tent, or do some pilates pool-side?
Ribblesdale Park really has thought of everything.
You can book your stay at Ribblesdale Park here.
Featured image: The Manc Group