Food & Drink
'An absolute delight': The River Restaurant at Lowry hotel, reviewed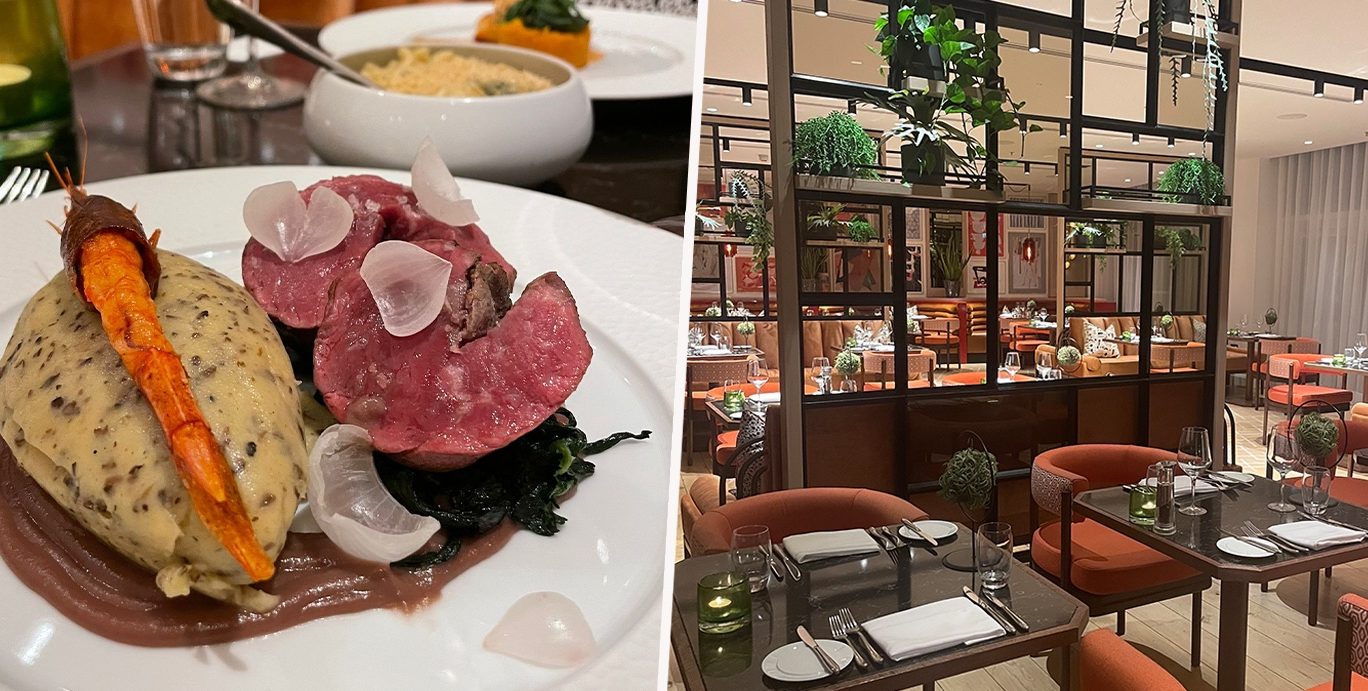 Sat on the banks of the River Irwell, the Lowry hotel has long been a haunt of the stars.
One of the city centre's only 5-star hotels, it is home to the most exclusive (and expensive) penthouse suite in the city. But today, we're here to talk about its restaurant offering.
Headed up by chef Dave Ashton, who has worked alongside Aiden Bryne and other prominent chefs in two- and three- rosette restaurants, the 2 AA rosette River restaurant has long held a stellar reputation in the city as a go-to place for special occasion dining.
Following a revamp of its dining space in the autumn of 2019, it's even more swanky. Gone is the all-white look of days prior, in its place a new design inspired by the hotel's riverside setting.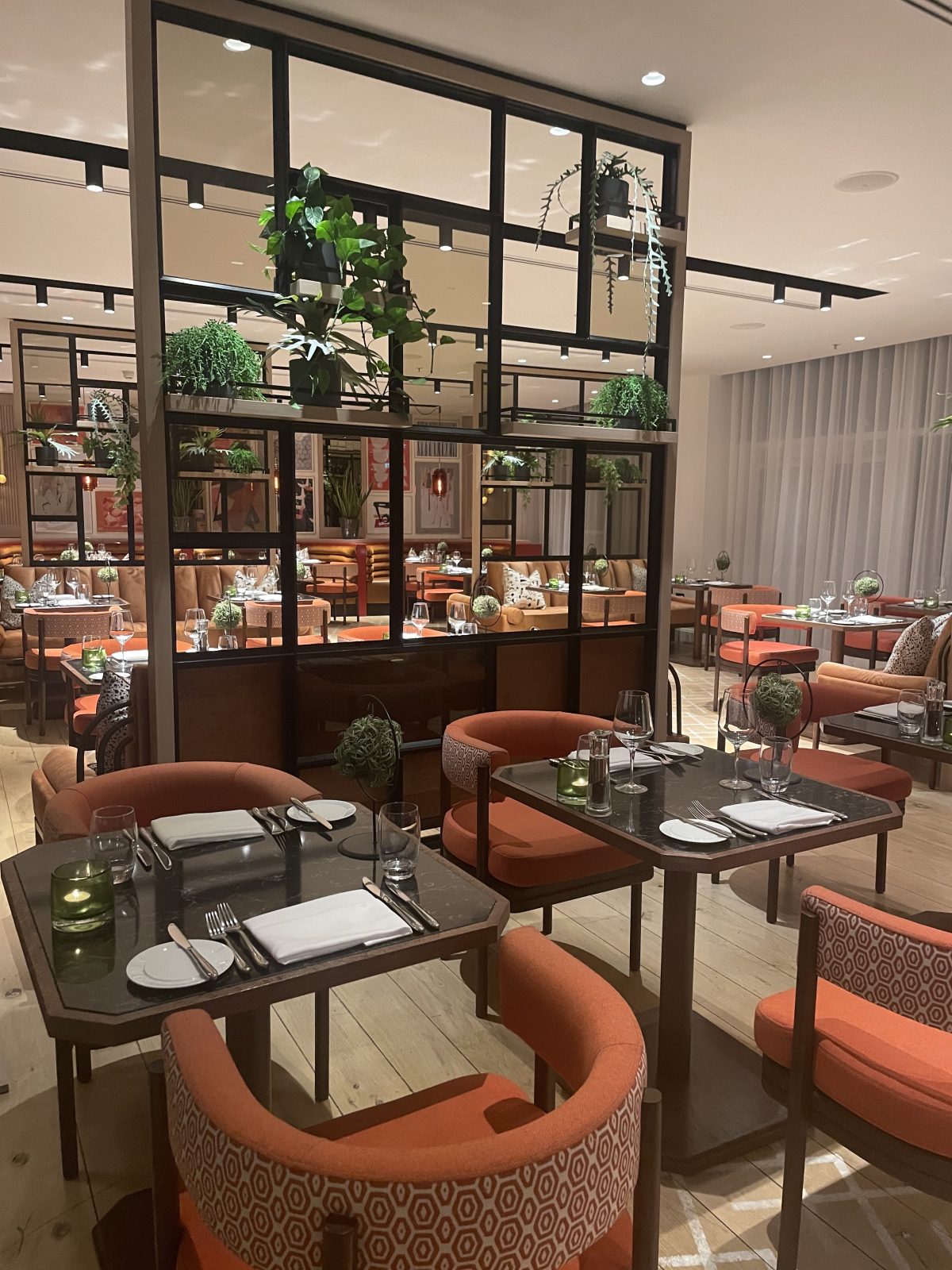 Burnt orange, dusky pink and terracotta tones mix with hues of blue and green, whilst big squishy seats and deep booths provide the ultimate comfort for a long, luxurious lunch or dinner.
When we visit, it's a chilly November evening and the daylight is already long gone – meaning that whilst we can't fully appreciate the floor-to-ceiling windows looking out across the water, we still manage to drink in the twinkling lights of the city as we enter through the bar.
After leaving our heavy coats with the host, we sit down to browse Ashton's newest offering: The River Restaurant's autumn menu.
It's always a great sign when you look down at a menu and feel overwhelmed by choice – or at least, I think so. And that's what happens here. There are almost too many tempting-sounding dishes to choose from, leaving me to think that I could quite happily return and polish off the rest of the menu another time.
After deliberating with my dining partner, who agrees we're spoilt for choice, we settle on starters of miso crab and squab pigeon followed by cured sea trout and an indulgent-sounding 'surf and turf' combination.
The agreement we make between us is this: we will share it all, save missing out.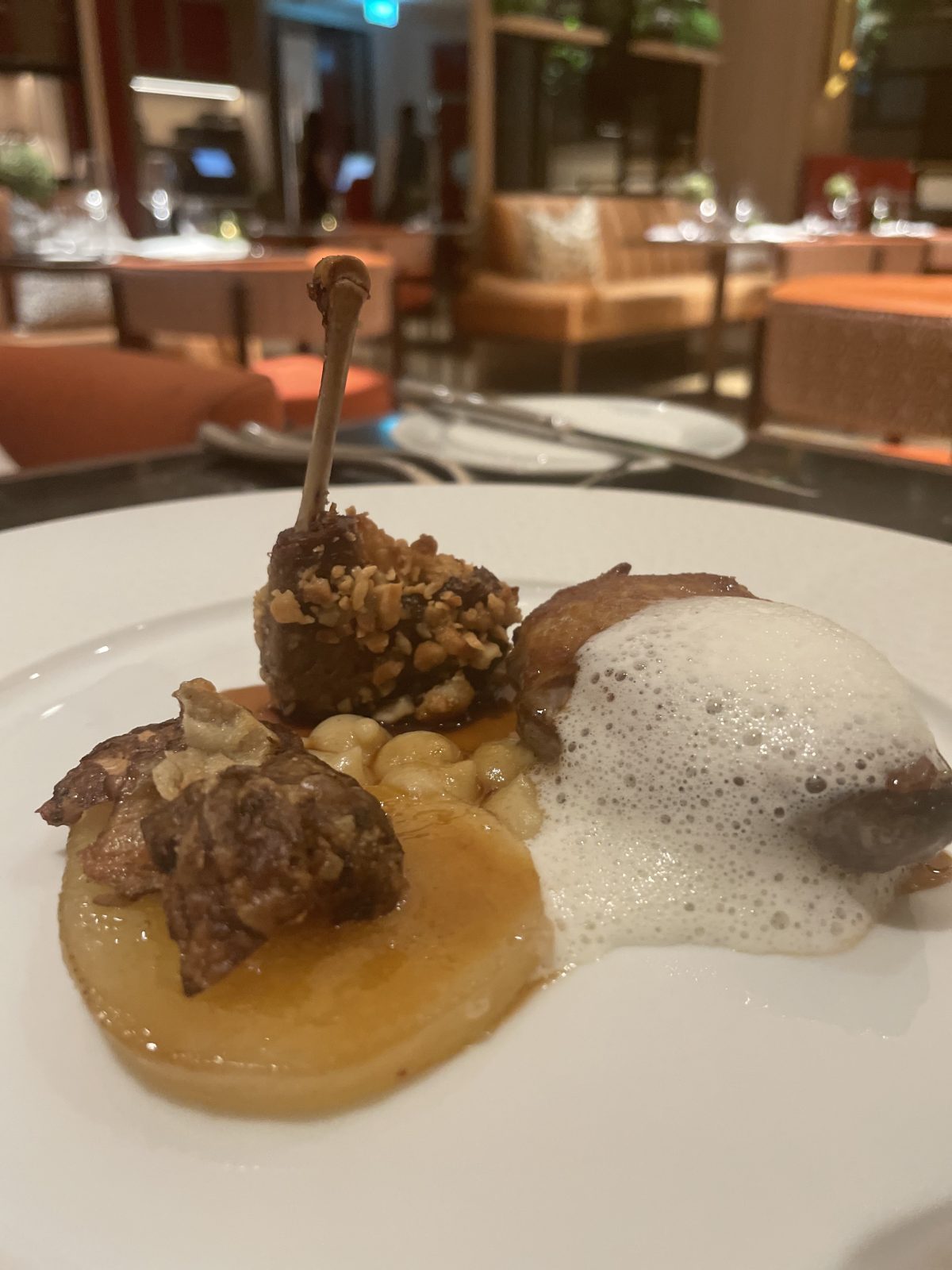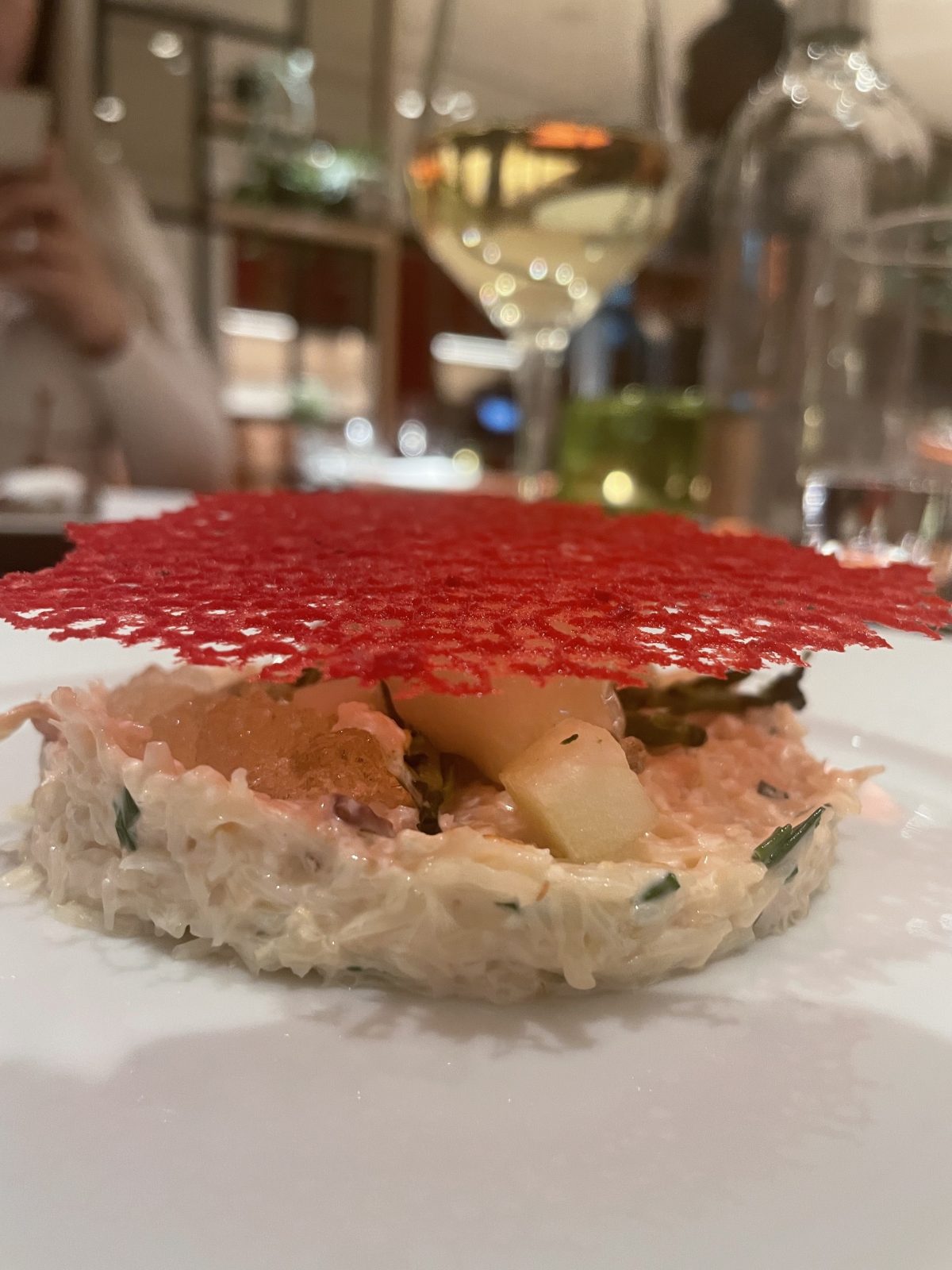 The starters come out swiftly and do not disappoint. My miso crab is served as a terrine, topped with a sort-of red, edible doily. Sandwiched between the two are pieces of pickled lemon, samphire and a lump of slowly-melting lemon sorbet – adding a gorgeous citrus tang that cuts right through the fishiness of the fresh crab.
The squab pigeon, meanwhile, arrives with a hearty helping of truffled foam and screams game season. Rich flavours of pear, hazelnut and artichoke complement the equally-rich pink breast meat and confit leg. A triumph.
Onto the mains, and the star of the show has to be the 6oz fillet steak and Gambaro Rosso prawn dish. Its arrival gives me instant food envy and makes me very glad I've already brokered a deal to share.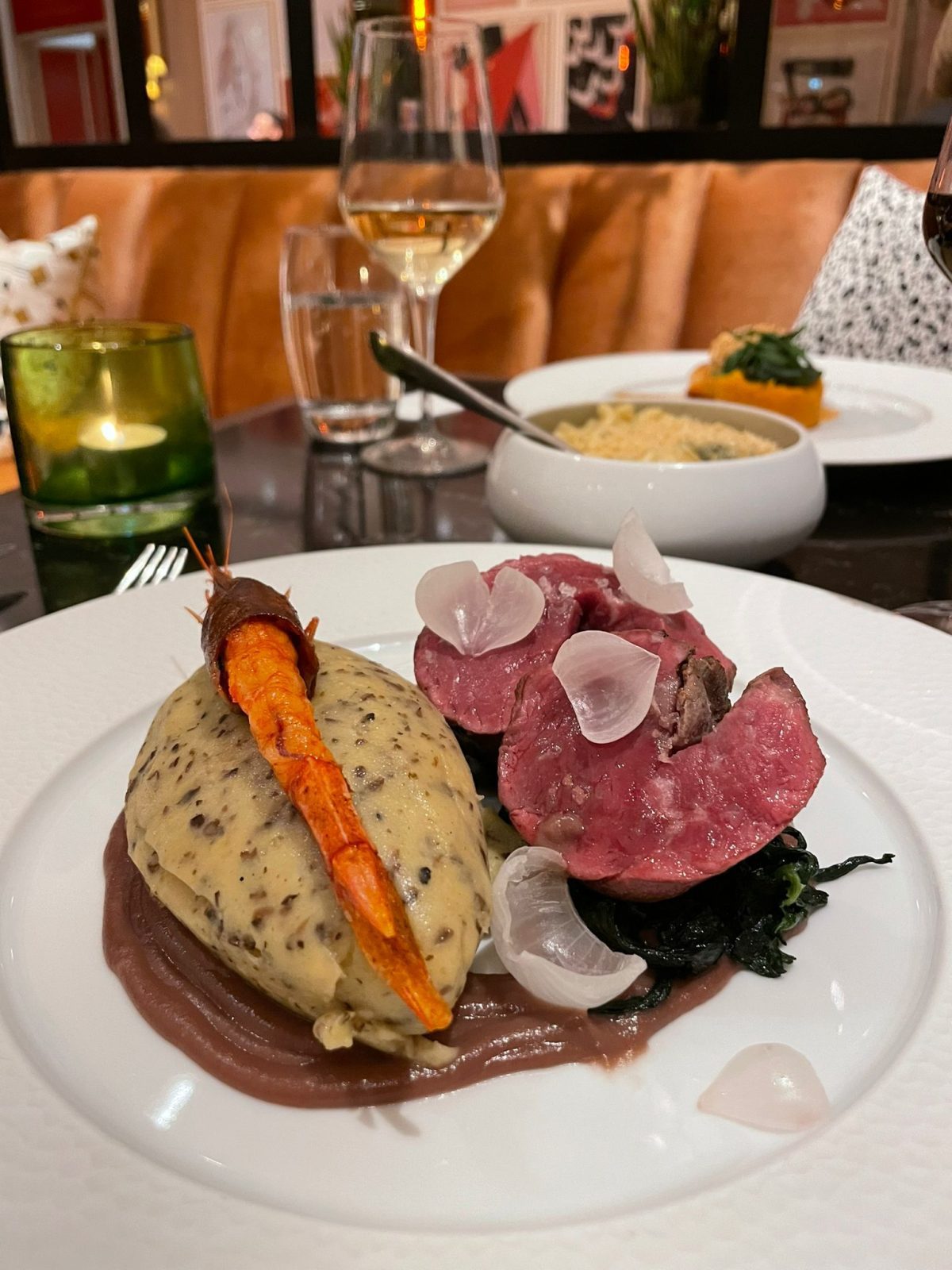 The steak, cooked as the chef recommends it, comes out pinker-than-pink and soft as butter. Sat on a bed of greens and topped with tiny slivers of crunchy, tangy pickled onion, on the side sits a giant helping of truffle mash and a swirl of red wine garlic puree.
If you're going for a special occasion, order this. The Sicilian red prawn itself was a bit scrawny, but in every other way, the whole plate is an absolute delight and well worth the £40 price tag.
My cured sea trout is also a hit. The crab sauce works beautifully with the fillet itself, whilst a healthy dose of sea veg heaped on top adds texture and depth to the plate as a whole.
The only fault I can make here is the crushed squash, which jars texturally – possibly a little undercooked, it is a bit too al dente for me in some places.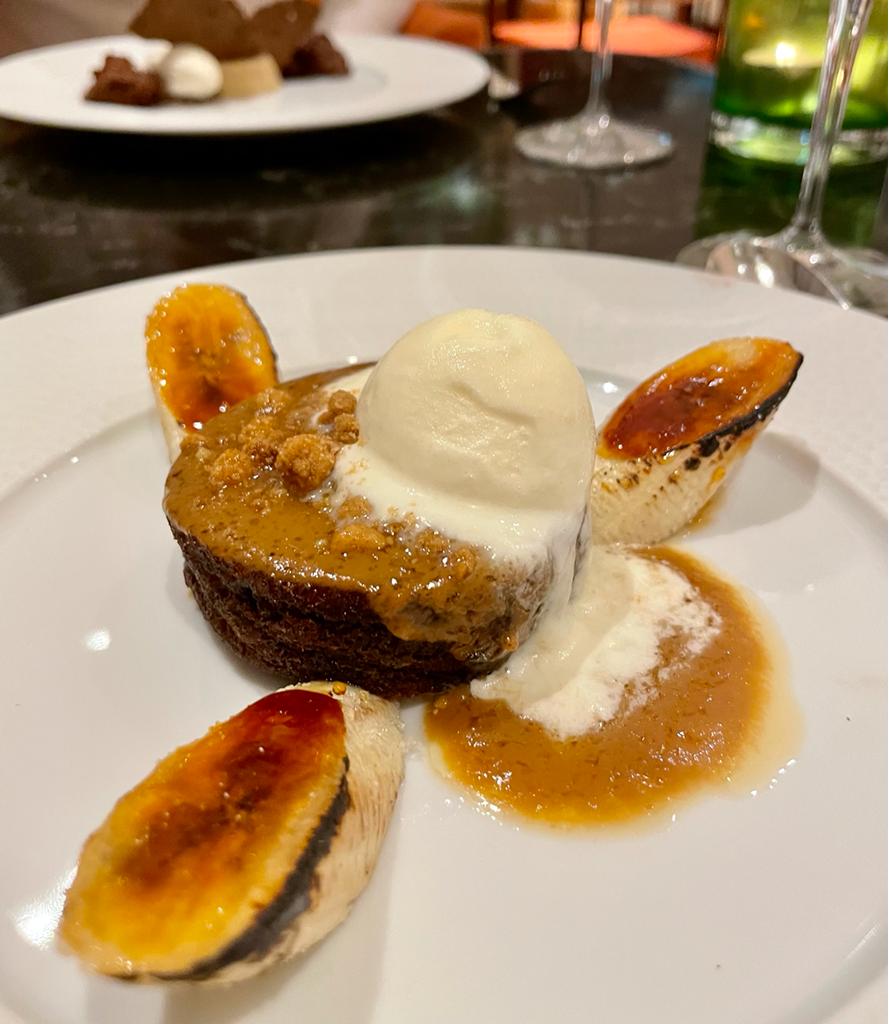 Finishing off with something sweet, I opt for the sticky date cake with caramelised banana, rum and clotted cream ice cream. This proves to be the best part of the meal, the crunchy-sweet topping of the banana together with the soft and sticky fruit sponge proves a heavenly combination.
Read more: Go for the cheap menu, stay for the experience: Six by Nico, reviewed
My partner, meanwhile, chooses the Manjari milk chocolate dessert. Served with malted milk and espresso ice, it comes out in jagged slithers and is equally delightful.
Our charming server confides that we've made an excellent decision – as it turns out, we picked her two favourite desserts.
All in all, there's very little to fault and much to praise at the new and improved 2 AA Rosette River restaurant.
When I last spoke to chef Ashton he told us that he was gunning for 3 AA Rosettes- and, although he may have missed out on that particular gong this year, it seems like that goal is still very much in sight.
Feature image – The Manc Group.
To view the full autumnal menu, click here.. To make a reservation at the River restaurant at The Lowry, click here.