Food & Drink
Bada Bing: The Sopranos-themed sandwich deli in Manchester city centre
A taste of New Jersey on Back Piccadilly.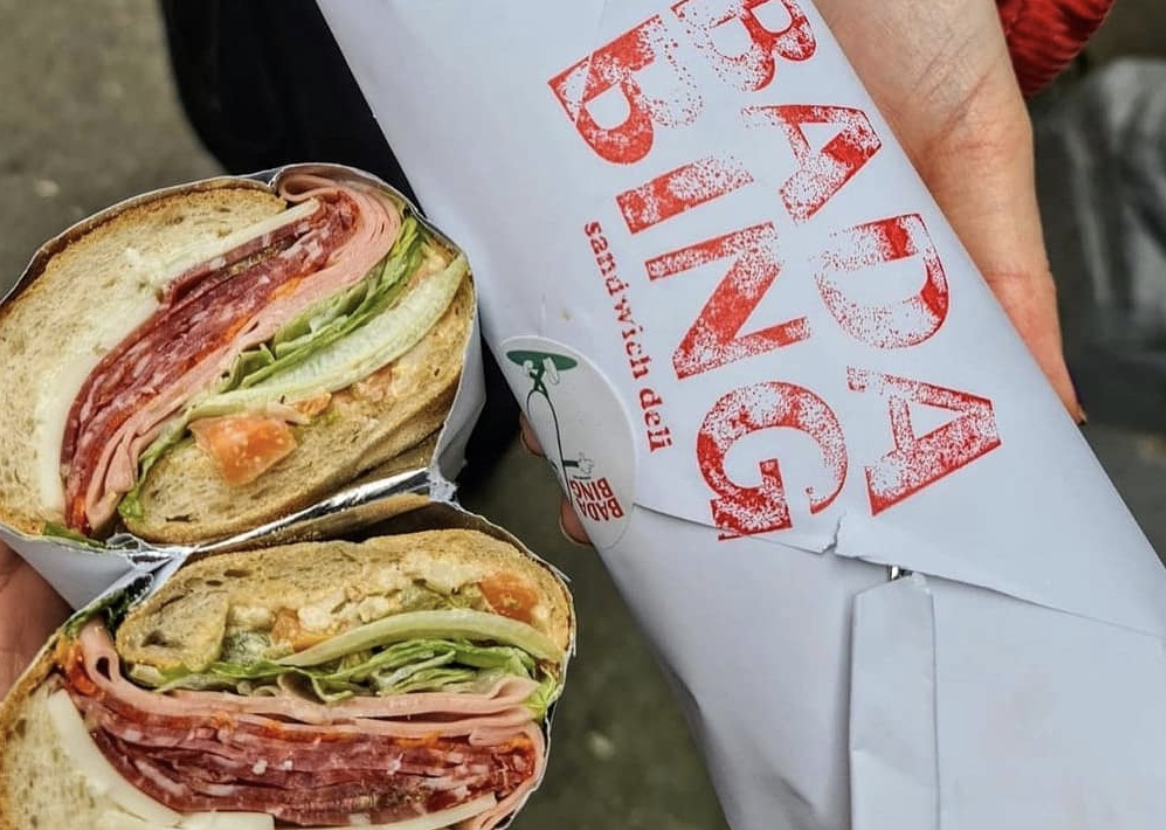 Tony Soprano once told a friend trapped in a desperate situation: "You gotta get your arms around this thing." Bada Bing Sandwich Deli is offering similar advice to its customers.
Manchester's new city centre snack bar – inspired by mafia TV series The Sopranos – is serving 'hoagies' so big they come with eating instructions: Two hands recommended.
Partners Sam and Meg had often wondered about setting up their own cafe, and during one lockdown evening spent watching David Chase's seminal show, the pair found themselves feasting their eyes on the plates of food that were so often piled high in the foreground on screen.
It was all the motivation they needed.
Together, Sam and Meg made it their mission to bring proper Italian-American sandwiches to Manchester for the first time – recreating the kind of ingredient-packed, eye-popping hoagies that wouldn't look out of place in Satriale's (the mob deli where Tony is often found chewing over a problem with his food).
They officially launched their cafe in February and called it 'Bada Bing' – an ode to the venue that brings in business for the New Jersey mafia in The Sopranos.
Of course, there are a few crucial differences. Manchester's Bing is an alley kitchen serving sandwiches – not a bar and strip club off a highway exit.
Currently, Sam and Meg do all the prep and cooking themselves – whipping up recipes in a dark kitchen (with bread freshly-baked each morning) and passing orders out of a window.
However, there are already plans to move to Ancoats and share a space with another Italian-American-themed takeaway 'Fat Tony's Lasagne' later this year.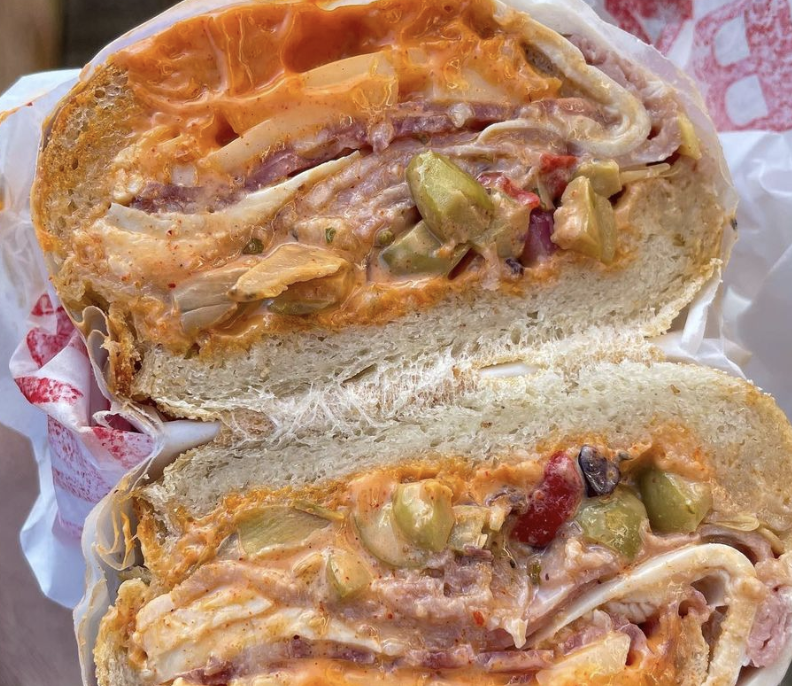 Bada Bing co-owner Sam told The Manc: "Me and Meg were sat there one night watching The Sopranos and I said: 'You know what, why don't we just do it? Set up our own shop and call it the Bada Bing'?
"It was a bit of a laugh at first, but then it turned out to be a great idea in the end!"
Within a matter of weeks, the pair were serving hungry customers out of a hatch round the back of B Lounge.
"We do get a lot of Sopranos fans coming down, but we also get people who are just looking for a good sandwich in Manchester," Sam explains.
"I can't think of many places that offer a sandwich like we do.
"Obviously, you've got the big chains but I've always been disappointed by them."
In time, Sam and Meg are hoping to have their very own shopfront with "pictures behind the counter" and "meat hanging from the roof" – just like in their beloved TV show.
But until then, they're keeping The Sopranos theme alive through their menu.
The headliner sandwich is The Bing (with 'Gabagool', pistachio mortadella, salami, provolone, tomato, lettuce, red onion, giardiniera and mayo); whilst the Paulie Walnuts is named after one of The Sopranos' fearless Mafia captains (this one is packed with mushroom shawarma, artichokes, balsamic caramelised onions, walnuts rocket, vegan truffle mayo and gouda).
Other options include the The Meatball Sub with fennel sausage meatballs, red sauce, mozzarella, rocket, pecorino and basil salsa verde; and a rotating list of specials including a Chicago-style hot beef sandwich.
There's also plans for a Bánh mì sandwich – which the pair have been wanting to recreate since trying one in Melbourne.
"We'll keep changing the menu as often as possible, maybe the meats will change from time to time, too," Sam tells us.
"We just want to keep it interesting, I'd hate for the menu to get stale."
"We're also hoping to hire someone soon to help with the workload.
"It's a lot of hard work just the two of us, but it's been really fun. We've worked in bars for years and we've decided to throw ourselves in the deep end.
"Touch wood it's been pretty successful so far."
So much of The Sopranos is set against backdrops of food – whether it's a cafe, pork store, restaurant, dinner table, or the wake of a fallen mobster.
By the final season, one boss' daughter even reaches breaking point, exasperatedly turning to her father – who is clad in an orange prison jumpsuit – and asking: "Jesus, can't we ever about anything else in the family besides food?!"
It was a snatch of dialogue that can be seen as a cheeky, knowing nod to the show's obsession with cooking. And maybe it was the masterful cinematography, but the grub always looked so good.
Bada Bing is a welcome addition to the neighbourhood for this reason alone. But it's probably about time New Jersey and Manchester got better acquainted, anyway.
After all, the two cities already share several similarities – including slate-grey winter skies, residents bursting with intense civic pride, and international status for making groundbreaking achievements in media.
Perhaps NJ's most famous televisual export, The Sopranos ran for nine years in total, but it picked up a cult following mere months after it first launched.
Bada Bing Sandwich Deli has been much the same.
What this means, of course, is that Piccadilly's freshest deli is as busy as the real 'Bing' on a Friday night.
"We've been selling out every week!" Sam chuckles.
"It's really popular because there's a gap in the market for this in Manchester."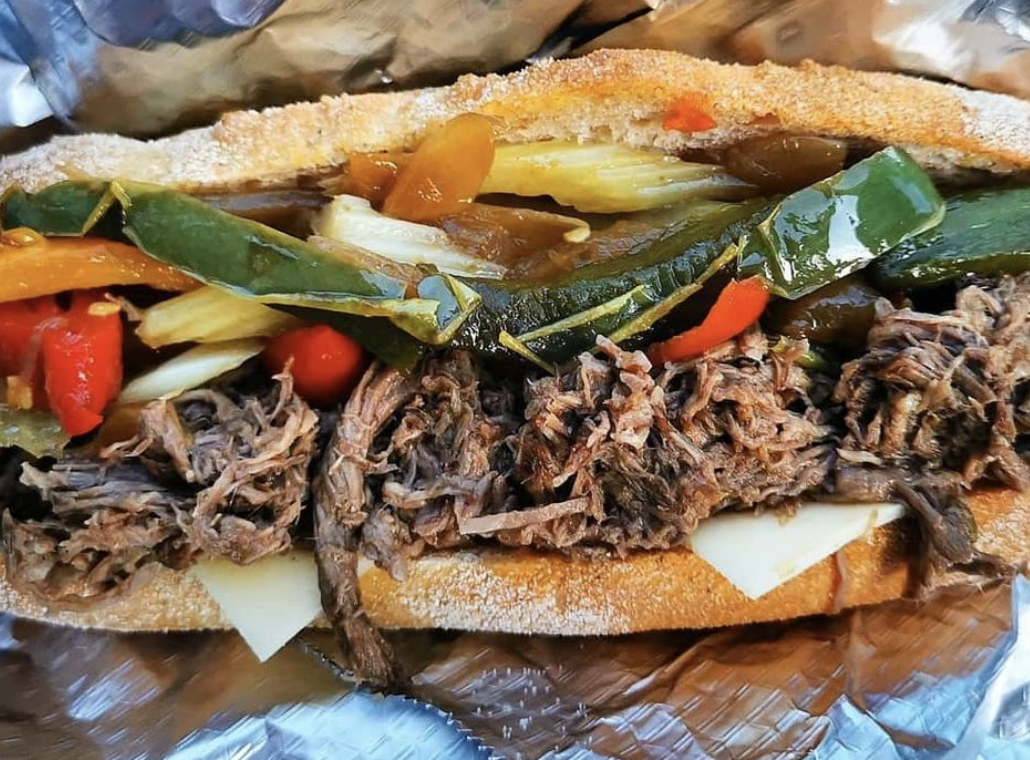 Because they're only a crew of two at Bada Bing right now, customers are urged to get their orders in early.
You can arrange collection on the same day or the next – but you'll need to act fast to get your hands on (and you will need both hands) a weekend hoagie.
If you wait around too long, fuh-get about it.
Bada Bing Sandwich Deli is located on Back Piccadilly in Manchester city centre.
Opening times are Friday to Sunday, midday until 3pm. Order for collection next day.
Learn more online.