Food & Drink
Rudy's named fifth best pizzeria in Europe – and Manchester's newest resident takes top spot
"There's a reason why so many locals think this is the best pizza in Manchester."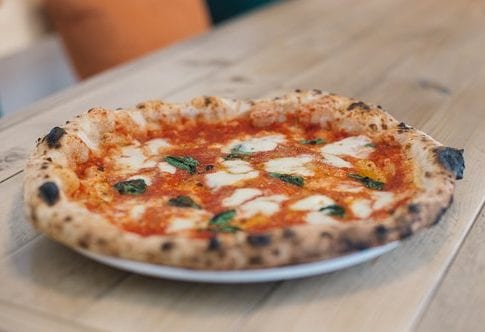 One of the undeniable gems of the Manchester pizza scene has rightly claimed its place as one of the best pizzerias in Europe.
Rudy's Neapolitan Pizzeria has been tirelessly dishing out the authentic flavours of Italy to the hungry people of Manchester for over six years now, so it's only right that it's claimed a spot on the list of the 50 best pizzerias on the continent.
Renowned travel website Big 7 has updated its restaurant rankings just in time for summer to "celebrate the places that take pizza to new levels alongside those that honour classic traditions and techniques".
And Rudy's has bagged a seriously-impressive fifth spot on the list.
Rudy's opened doors in Ancoats back in 2015.
Following the success of its first location, a second site was launched on Peter Street in the heart of the city centre in 2018 – with owners continuing to expand across the UK to Liverpool, Leeds and Birmingham.
Believing Neapolitan pizza to be the best in the world, Rudy's dough is made fresh daily using Caputo 00 flour – which has been left to ferment for at least 24 hours – alongside the best quality ingredients imported twice a week from Naples, including San Marzano tomatoes grown on fields next to Mount Vesuvius, and Fior di Latte mozzarella.
It really is the best of the best, and it's not hard to see why it's so celebrated.
Explaining why Rudy's has taken the fifth spot on the list, Big 7 said: "They stick pretty close to tradition at Rudy's, crafting their pies pretty much in exactly the same manner that they do in Naples.
"Creating the dough here is a true labour of love, as they let it double ferment for 24 hours before throwing it in the oven for just 60 seconds to cook.
"There's a reason why so many locals think this is the best pizza in Manchester."
While Rudy's deserves all the praise it gets, the Manchester stalwart is in great company as taking the coveted top spot on Big 7's list is a restaurant that's set to open up in the city centre on King Street later this year – L'Antica Pizzeria Da Michele.
Da Michele gained a global reputation as the 'Sacred Temple of Pizza' since opening in Naples over 150 years ago, and is known for serving the "only two types" of pizza – margherita or marinara.
It shot to international fame after featuring in the 2010 film Eat Pray Love, starring Julia Roberts.
Manchester truly is spoiled for choice when it comes to pizza, right?
Featured Image – Rudy's