Area manager
The beautiful Lake District boutique hotel that's been named one of the UK's best

Daisy Jackson
A beautiful boutique hotel in the Lake District has just been named one of the top three in the UK – and it's easy to see why.
Gilpin Hotel & Lake House, near Windermere, is one of only two properties in the north of the country to make the top 10 in the prestigious list.
The stunning hotel and spa has just 39 rooms, including its staggering spa suites, which are build on top of a natural pond with their own stone-built hot tubs on the decking.
It's also home to two renowned restaurants – Michelin-star SOURCE, which has Ollie Bridgwater as executive chef, and Gilpin Spice.
And now the Gilpin Hotel & Lake House has landed itself in third place in the Top 50 Boutique Hotels. Quite the accolade.
It's climbed nine places since last year, and was beaten only by The Newt in Somerset and Lime Wood in Lyndhurst.
The team at the Gilpin says its new ranking in the list is down its ongoing renovations and improvements, which have included a new Spa Space at Gilpin Hotel, a Vertical Farm, more Spa Suites and the appointment of two new chefs.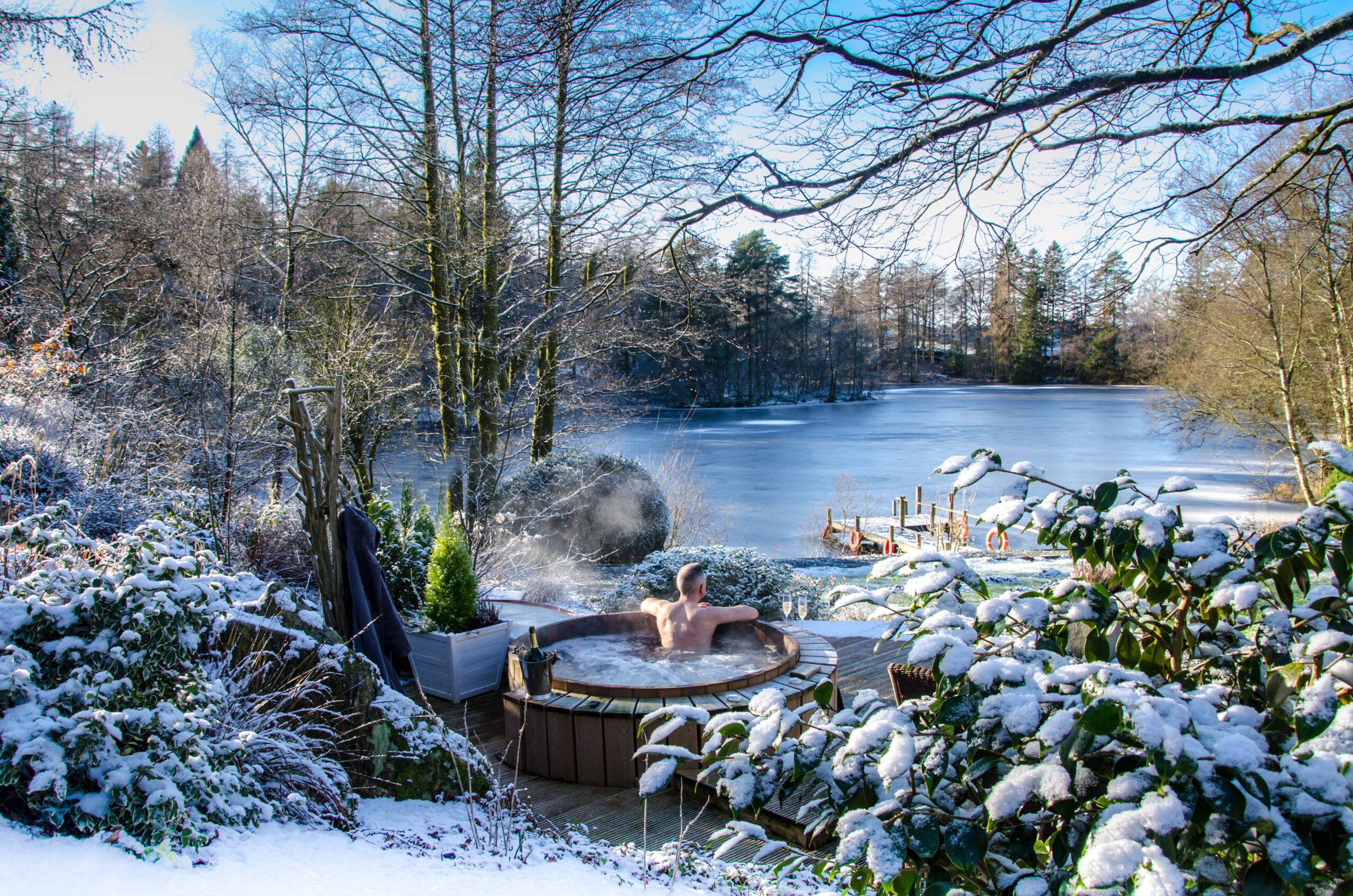 The hotel is operated by Barney and Zoë Cunliffe, who worked alongside Barney's parents John and Christine until their deaths in 2020 and 2022 respectively.
The Top 50 Boutique Hotels is curated by and voted on by leading industry experts, hoteliers, travel writers and influencers.
Barney and Zoë said: "We are so very proud to be in this year's list, and chuffed to bits to be so highly placed.
"We've worked together as a family and team for 35 years to create Gilpin, and it has always been our aim to create a luxurious sanctuary – one that is filled with love and laughter, without any pretentiousness.
"We want our guests to feel at home here, to feel loved, and we hope that that is what our guests feel.
"It's with great sadness that we can't celebrate this award with Mum and Dad, but we know that they would be absolutely delighted. As always, we would like to say a massive thank you to Team Gilpin, who all work so hard and with incredible passion. Thank you."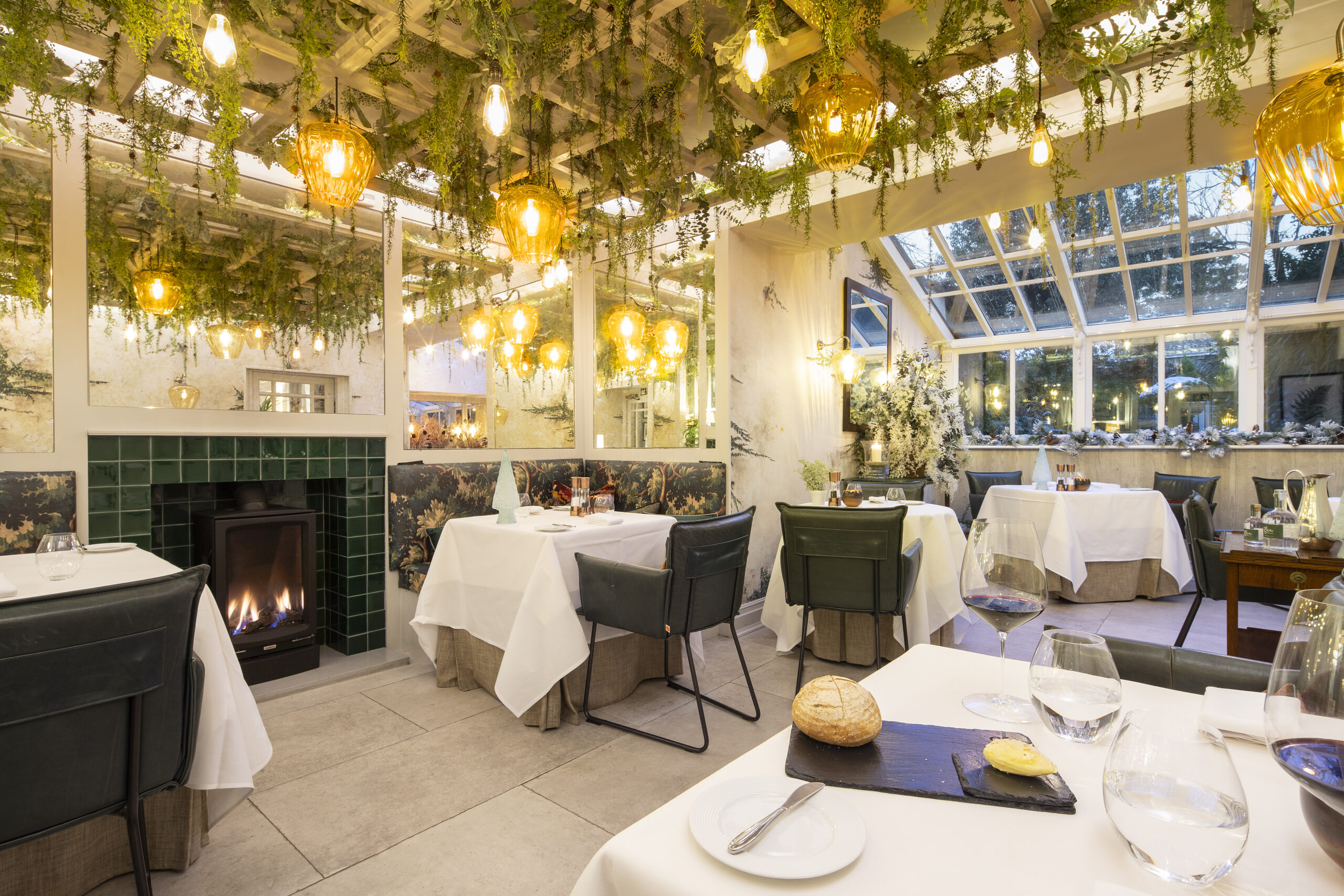 Gilpin Hotel & Lake House executive chef Ollie said: "Being named in a list like this gives credence to everything we have been trying to achieve at SOURCE at Gilpin Hotel over the past year, with the restaurant offering an extra dimension to the wider Gilpin experience.
"People come to Gilpin to get away from everything and when they visit SOURCE they're looking for a sense of occasion as well as the food and wine, so we hope to live up to that ideal."
Also featuring on the Top 50 Boutique Hotels list in the north west were Another Place in Ullswater, Moor Hall in Lancashire, Hotel Gotham in Manchester, Rothay Manor in Ambleside, and The Samling Hotel in the Lake District.
The full list from 1 to 50, including special awards for food and drink and best service is available to view here.
You can find out more about Gilpin Hotel & Lake House and book a room here.
The Top 50 Boutique Hotels 2023 list in full
The Newt, Somerset
Lime Wood, Lyndhurst
Gilpin Hotel & Lake House, Windermere
Heckfield Place, Hook
Padstow Townhouse, Padstow
The Pig at Bridge Place, Kent
Lympstone Manor, Exmouth
Grantley Hall, Ripon
Beaverbrook, Leatherhead
Hambleton Hall, Oakham
Dormy House Hotel, Broadway
Hampton Manor, Hampton In Arden
Grove of Narberth, Narberth
The Idle Rocks, St Mawes
Another Place, Ullswater
Boys Hall, Ashford
Artist Residence Bristol, Bristol
The Mandrake, London
The Fife Arms, Braemer
Foyers Lodge, Scotland
Great Fosters, Egham
Middleton Lodge, Ripon
Moor Hall Restaurant with Rooms, Lancashire
The Zetter Townhouse, Marylebone London
Yorebridge House, YorK
The Gallivant, Rye
The Wild Rabbit, Kingham
Estelle Manor, North Leigh
Hotel Gotham, Manchester
Links House at Royal Dornoch, Dornoch
Palé Hall, Bala, Wales
Scarlet Hotel, Cornwall
Hotel Tresanton, Tresanton
Henrietta Hotel, London
Lochgreen House Hotel & Spa, Troon
The Harper, Holt
The Pig on the Beach, Swanage
Rothay Manor, Ambleside
Number One Bruton, Somerset
Nomad, London
The Mitre, Hampton Court
The Samling Hotel, Lake District
House of Gods, Edinburgh
The Retreat at Elcot Park, Newbury
Farlam Hall Hotel & Restaurant, Brampton
Glebe House, Devon
Le Manoir aux Quat'saisons, Oxford
At the Chapel, Bruton
Henry's Townhouse, Marylebone, London
Titchwell Manor, Brancaster
Read more
Featured image:
Manchester Christmas Parade 2023 returns this weekend – road closures and travel advice

Daisy Jackson
One of the city's newer festive events will return to the city centre this weekend when the Manchester Christmas Parade hits the streets.
On Sunday 3 December, hundreds of snow queens, candy cane stilt walkers, dancing snowmen, giant Nutrackers, reindeer, owls, festive dinosaurs and even dancing sprouts will parade through town.
The festive event debuted last year and is now promising a bigger and better parade for 2023.
The Manchester Christmas Parade is due to set off at 1pm from Manchester Cathedral, following a route down Deansgate, onto St Ann's Street, then along Cross Street and Corporation Street as far as the National Football Museum, where it will turn onto Fennel Street for the finish.
Father Christmas will be popping along to join in the festivities, along with the life-size Bengal tiger puppet of Richard Parker from The Life Of Pi, which is at The Lowry between 5 December and 7 January.
The Manchester Christmas Parade will be soundtracked by live music from the Global Grooves Nutcracker Bloco Band playing Santa's favourite Christmas songs, joined by troupes of dancers dressed in their sparkly best Christmas kit.
Councillor Pat Karney, Manchester City Council's Christmas spokesperson said: "We can't wait to welcome everyone back again for another fabulous Manchester Christmas Parade.
"Last year's first ever parade was an absolute delight, the heart-warming event of the season, with Manchester at its magical Merry Christmas best.
"Bigger and even better this year it's going to be brilliant so wrap up warm, grab a Christmas hat and some tinsel and come and join us!"
To facilitate the Manchester Christmas Parade, road closures and changes to public transport will be necessary.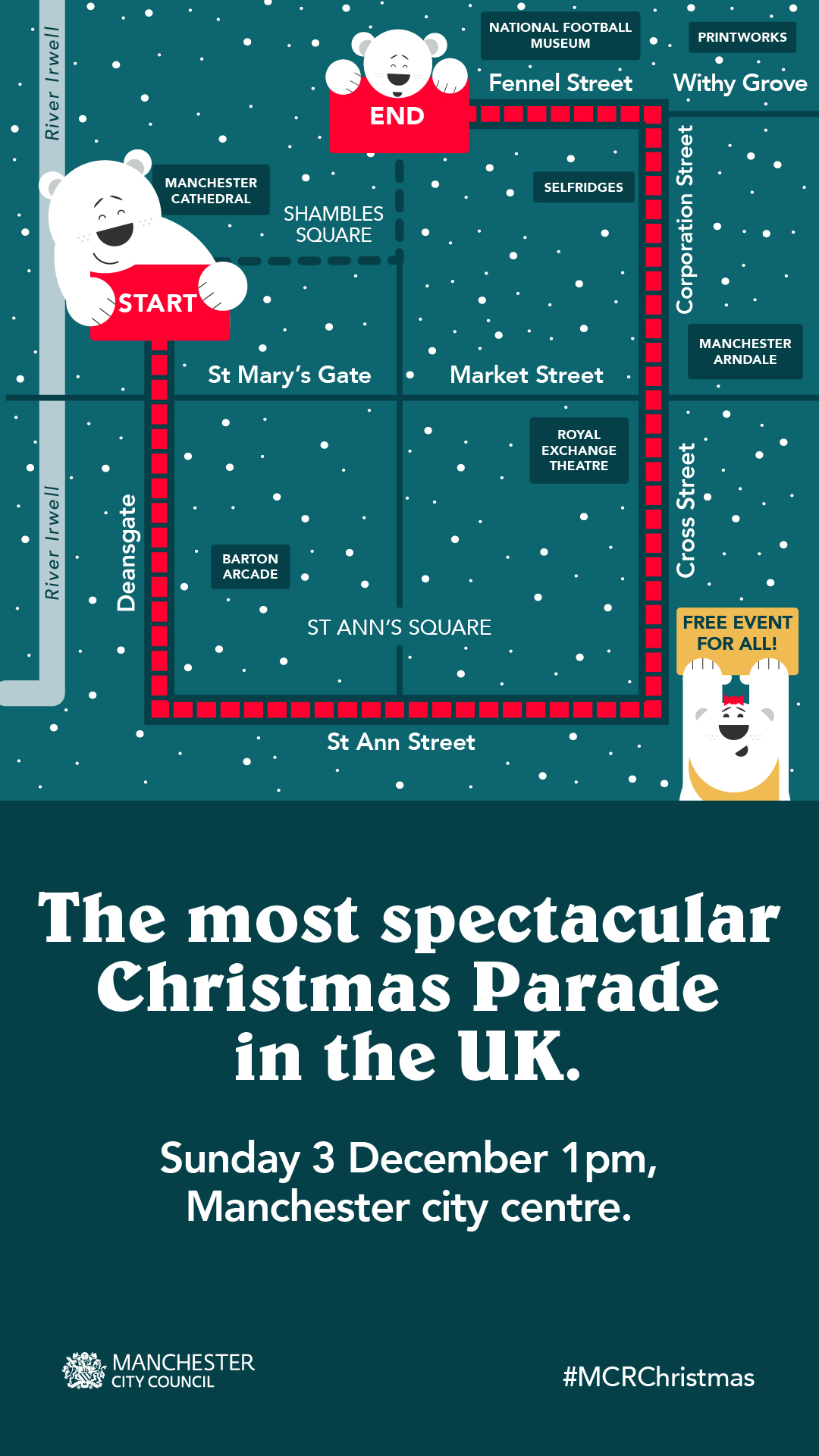 Road closures for the Manchester Christmas Parade 2023
Road closures from 8am until 5pm:
Road closures from 11am until 2.30pm:
Cateaton Street (Deansgate to End)​
St Mary Gate (Cross Street to Deansgate)​​
Deansgate ( Victoria Street to John Dalton)​​
St Ann's Street (St Mary's Street to Cross Street) ​​
Cross Street (Albert Square to Market Street)
​Corporation Street (Market Street to ​Fennel Street)​
Fennel Street (Corporation Street to Cathedral Street)
​Cathedral Street (Fennel Street to Exchange Square)​​
Access to the Marks and Spencer car-park will be managed as much as possible via Victoria Bridge Street, but there will be two periods of approximately 20 minutes when we'll have to pause this.
Changes on on-street parking and Metrolink
As well as a Metrolink tram suspension of the Second City Crossing route (St Peter's Square, Princess Street, Albert Square, Cross Street and Corporation Street) between 12 noon and 2.30pm on Sunday, there will be on-street parking suspension on the following streets:
From 6pm on Friday 1 December until 6pm on Sunday 3 December​:
Victoria Street (Deansgate to Cathedral Approach) ​
From 6pm on Saturday 2 December until 6pm on Sunday 3 December:
Market Street and St Mary Gate (Cross Street to Deansgate)
​Deansgate ( Victoria Street to John Dalton) ​
St Ann's Street (St Mary's Street to Cross Street) ​
Cross Street (Albert Square to Market Street) ​
Corporation Street (Cross Street to Ring Road) ​
Cateaton Street (All) ​
Cathedral Street (Fennel Street to Exchange Square) ​
Fennel Street (Corporation Street to Cathedral Street) ​
St Mary's Street (Deansgate to Southgate) ​
Read more
Featured image: Manchester City Council