Manchester
Father's Day: Some of the best things to do and gifts to buy from Manchester independents
Plenty of the region's businesses are pulling out all the stops ready for the special day.
Father's Day is right around the corner.
For a number of reasons, we know that Father's Day can be a difficult time for some, especially as the coronavirus (COVID-19) pandemic continues to stick around and so many of us still may not be able to spend time the quality time with our loved ones that we so wish – but for those who are fortunate enough to have a father figure in their lives, this is a special day to celebrate a special person.
With just over a week to go before it's finally here, plenty of independent businesses right across the region are pulling out all the stops, launching deals and stocking up on gifts galore ready for the big day.
Father's Day gives us yet another chance to support local our local businesses as they continue to find their feet and navigate new ground.
If you're looking for some gift inspiration, or a unique way to spend the day, here's some of the best we've seen.
___
Gifts
From hand-crafted sweet treats and a tapas tasting experience, to luxury themed hampers and so much more, there's a lot to choose to from.
Hip Flask
Father's Day Craft Beer Box
£20
The perfect gift for any Manc dad.
Independent drinks delivery company Hip Flask is inviting you to "give the gift of beer this Father's Day" with a curated box filled with Manchester's finest craft beers.
Featuring tasty beers from a selection of Manchester's best breweries, this is a gift for the Dads out there that were wetting your head whilst you were being born, with each box containing six craft beers, as well as a specially-designed card and the option to add a free personalised message at checkout.
"Leave the socks – get them something they actually want this year".
You can place your order in time for Father's Day here.
Tillys Fudge
Father's Day Belgian Box
£24.50
If there's one thing that independent Manchester-based company Tillys Fudge knows, it's that "dads love fudge", so it's put together a delicious 'Belgian Box' filled with a selection of fan-favourite flavours especially for Father's Day.
Each box contains a mixture of Belgian chocolate shapes filled with, Malted Madness, vanilla, rum & raisin, mint, orange, Lotus Biscoff, and butterscotch – and you also get to select one full size bar which is stamped with a 'Happy Father's Day' message, choosing from salted caramel or brandy.
There's only a limited amount available, and you can place your order in time for Father's Day here.
DrinkWell
Father's Day IPA Bundle
£18.95
Especially for the IPA lovers this Father's Day, DrinkWell is offering an exclusive bundle of 10 DrinkWell Heracles IPA's, alongside a DrinkWell bar blade, two DrinkWell Beer Glasses and a bottle cooler chucked in for free.
The brand new DrinkWell IPA has seen the brand take everything it's learned about low carb beer over the past eight years to create its own, and with over 35% fewer calories than other IPAs, this is the first "reduced calorie and carb IPA" ever produced in the UK.
You can place your order in time for Father's Day here.
Hotel Football
Football Lover's Hamper
£100
Is your old man a United fan?
Manchester's iconic football-themed hotel has got you covered then, as you can give your dad "the ultimate football lover's gift" of a Father's Day hamper filled to the brim with all things Hotel Football, Cafe Football, and Class Of 92.
As well as whole host of exciting gifts and memorabilia, each hamper also comes with the extra special addition of a Stanley Chow caricature print of, and signed by, your dad's favourite CO92 player.
You can even upgrade the hamper to include the Lunch & Tour or Tea & Tour vouchers – offering a great dining experience overlooking Old Trafford, followed by a tour of the iconic stadium and museum.
You can place your order in time for Father's Day here.
Abeja Tapas
Abeja Board-in-a-Box
£22.50 – £38
Abeja Tapas' "indulgent tapas boxes" are perfect for showing your dad "how much you love him in style and making him feel really special" as they are made up of selected products from independent producers from Granada. Manchester's smallest tapas bar has established direct relationships with many local artisans to bring only the tastiest and truly authentic produce of southern Spain.
All tapas hampers are beautifully-prepared by hand, and are wrapped up in eco-friendly or compostable packaging, and can be ordered for collection or UK-wide delivery.
You can place your order in time for Father's Day here.
Decent Drop
Father's Day Gift Boxes
£25 – £50
Here's your chance to show your appreciation through wine, cheese and more.
Whether it's your dad, someone else's dad, or someone you wish was your dad, independent Manchester-based company Decent Drop has got a few great options lined up to make Father's Day extra special.
Depending on your budget, you can chose from the Bearded Trio (£25) – with comes with x3 Trashumante wines, with handsome bearded chaps on the label – the Wine & Cheese Gift Box (£25) – which comes with one bottle of wine, 2 x 150g cheeses, and a miniature of whisky – or the Dad Box Special (£50) – which comes with x3 bottles of wine, 3 x 150g cheeses, a miniature of whisky and port and a cut glass whisky tumbler.
You can place your order in time for Father's Day here.
Nibble NQ
Father's Day Collection
£19.50 – £50
If your dad's got a sweet tooth, then Nibble NQ's got you covered this Father's Day, with everything from treat boxes filled with a wide variety of cakes, to at-home afternoon teas (with a vegan option also available), brunch hampers, brownie boxes, and so much more, all made with love and available for UK-wide delivery.
You can place your order in time for Father's Day here.
___
Activities
If experiences and making memories are on the top of your agenda instead, we've picked out some of the best things to do and deals to take advantage in Manchester this Father's Day.
Food Sorcery
Big & Little Cooks – Father's Day
£120
Didsbury's very own cookery school Food Sorcery is offering the chance to work with a dedicated chef and join them for an "inspiring afternoon" of parents and children cooking together on Father's Day.
This class is about spending time together doing an activity which requires working as a team.
With a bunch of different options on the menu – featuring everything from homemade pasa carbonara, to plaited loaves and chicken cordon bleu – you will prepare a main course, a side dish and dessert, before it's then time to enjoy your meal together.
All ingredients, refreshments and glass of wine or beer for the adults will be included in the ticket price – and you can book onto the Father's Day class here.
Point Blank Shooting
Father's Day Bottomless Brunch
£35pp
If you're looking for a unique way to spend Father's Day in the city centre, then Point Blank Manchester's 'Bottomless Brunch' definitely fits the bill.
In an attempt to "make Sundays as cool as Saturdays", the shooting simulator bar's 90-minute bottomless brunch events take place every weekend and combine pizza, prosecco, beer and shooting all rolled into one – but especially for Father's Day, all dads will be able to get a gun upgrade free of charge.
You can find more information and book onto the Father's Day event here.
Nelson's Distillery
Gin & Vodka School / Talk & Taste
£20 – £155
Nelson's Distillery at Clayton Hotel Manchester has a selection of events that are a perfect gift / experience for Father's Day.
As part of the Gin & Vodka School experience – which runs from 1-5pm – attendees get to make one 70cl bottle of Gin/Vodka per still, taste three of Nelsons Gins with tonic each, enjoy an afternoon tea-style lunch provided by the hotel, as well as have a talk about the social history of gin.
The Talk & Taste sessions are a one-hour condensed version of this experience, which also include the chance to taste three of Nelsons Gins with tonic each.
You can book your tickets as a Father's Day gift here.
Rendition
Father's Day Selected Menu
One of the city centre's newest independent eateries, Rendition – a premium restaurant and bar aiming to revolutionise the Manchester food and drink scene – opened it's doors earlier this month, and is offering up a selected menu of some of its classic dishes especially for Father's Day.
Inspired by the "desire to celebrate regional ingredients", Rendition serves locally-sourced and inspired dishes that champion British produce.
Highlights of the modern British menu include locally-sourced oysters served with shallots, vinegar, tabasco and lemon, North Yorkshire potato croquettes and tomato jam – which are both designed for the table to share – and so much more.
The Father's Day selected menu will be served up from 12 – 4pm, and then the restaurant's full menu will be available from 4pm – late.
You can make a booking for Father's Day here.
Euro 2020
Manchester City Centre
Father's Day also happens to fall on the day where the group stage of European football's flagship tournament Euro 2020 continues, so for any dad who's a footie fan, there couldn't be a better way to spend a day in the city centre.
While England may not be playing on Father's Day itself, there'll still be screenings of Sunday's fixtures in a number of venues, as Manchester is a city that's obsessed with football, so understandably, there's plenty of places going all out for it this year.
If you're looking for recommendations for some of the best places to catch a match with your dad this Father's Day, we've knuckled down and done the leg work for you.
You can find 20 of the best spots to watch Euro 2020 in Manchester city centre here.
Sunday Roast
Manchester City Centre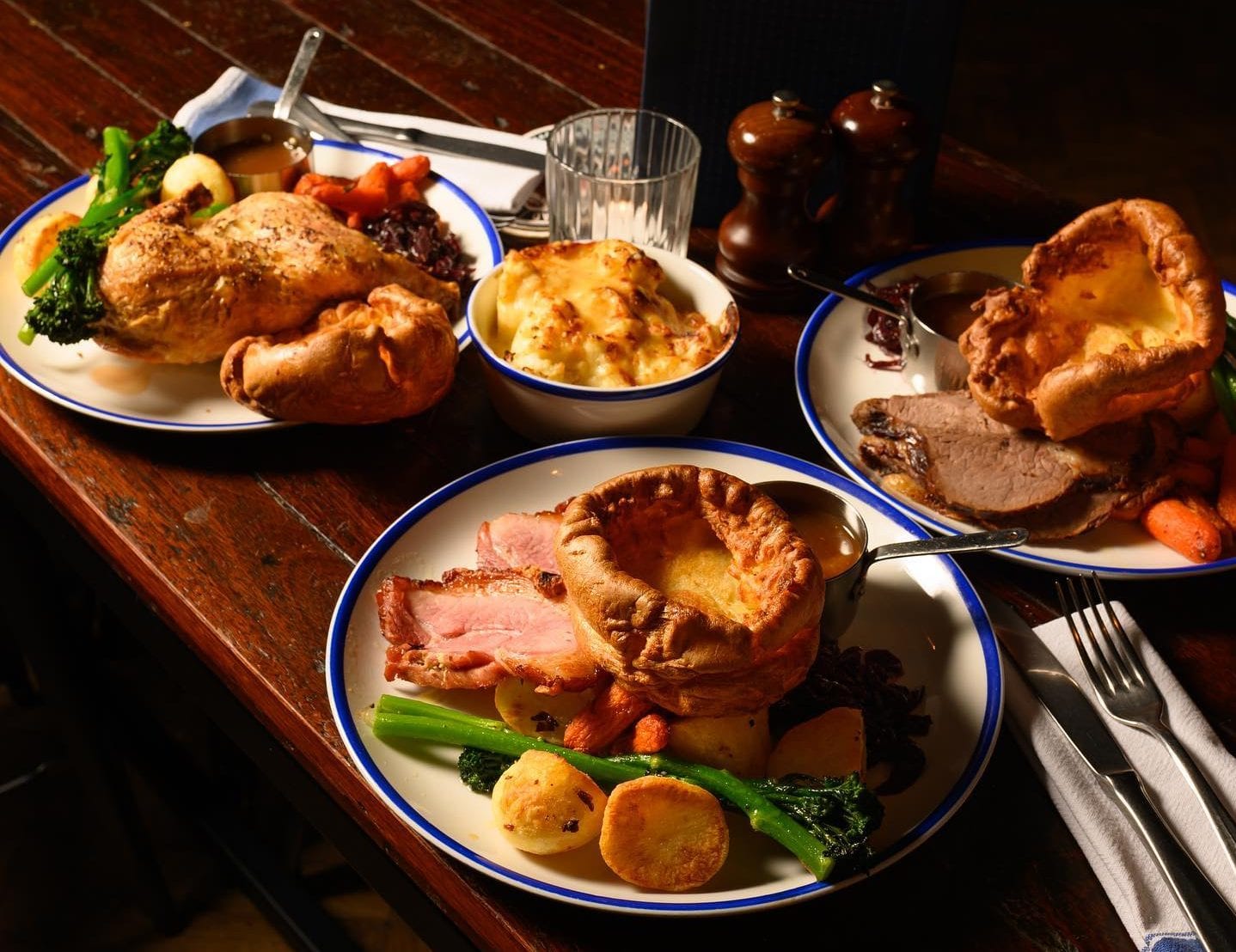 What's a Sunday without a roast dinner?
A roast is held dear to the hearts of many Mancunians, as this quintessentially British meal marks a time to gather your nearest and dearest around the table to tuck into one of the heartiest meals you'll probably have all week – and there's no better time to do that than on Father's Day.
We're absolutely spoiled for choice when it comes to independent eateries to enjoy a roast in across our region, but considering this day is all about the father figures in our life, why not let dad pick?
Are you after some roast recommendations? We've picked out eight of the best places in Manchester city centre to choose from here.
Featured Image – Hip Flask