Manchester
The Manchester kitchen inspired by Nashville's famous meat and three restaurants
This is hearty, home-cooked soul food that feels like a warm hug on your lowest day – and now, it's landed right here on our doorstep in Manchester.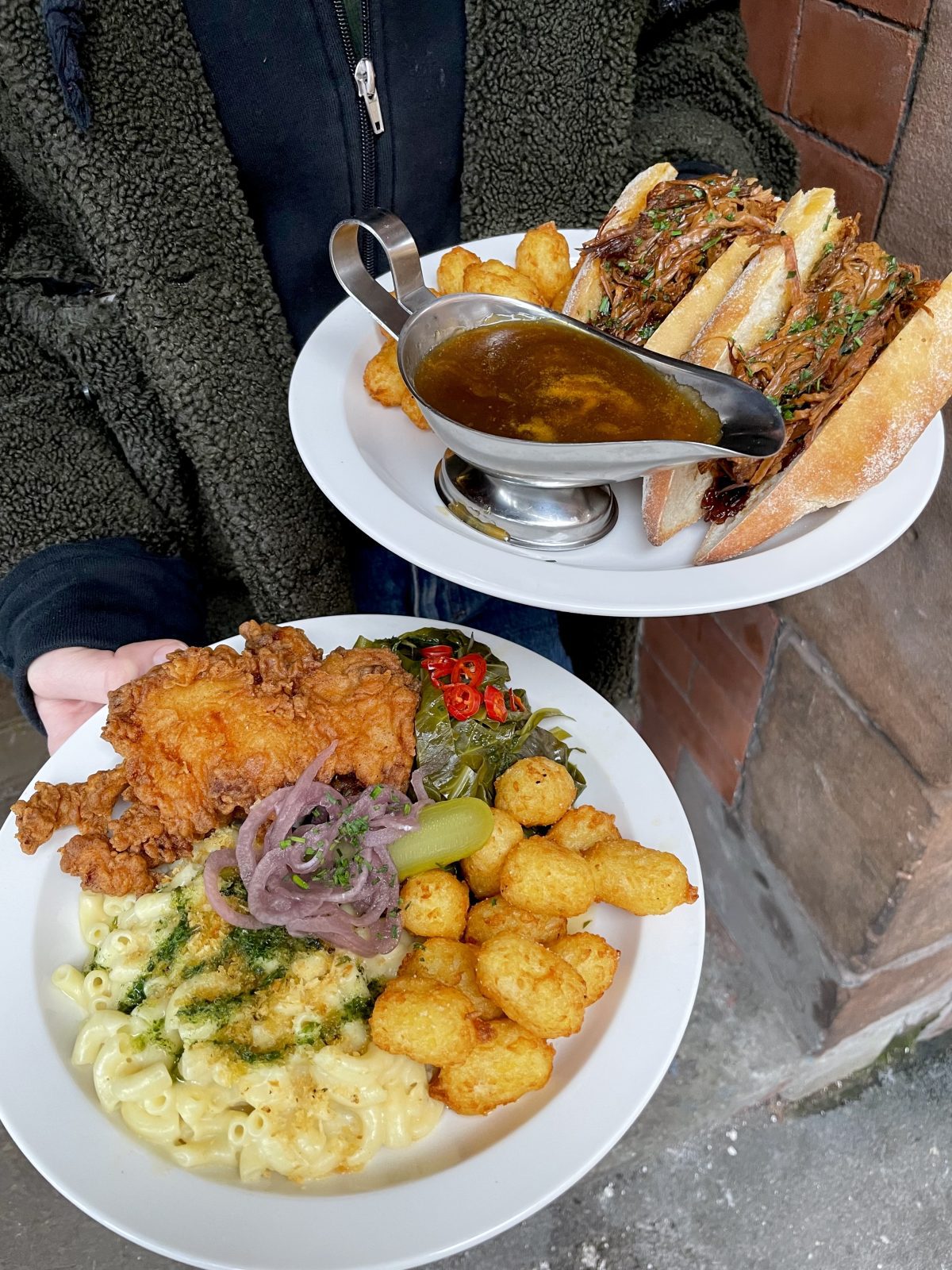 Meat and three. It's an absolute staple when it comes to dining out in the south of America, but most people in Manchester have probably never heard of it.
Simply put, a meat and three restaurant is one where – as the name suggests – you pick one meat and three sides from a selection that typically spans the likes of fried chicken, beef and pork chops, vegetables, potatoes, green beans and macaroni and cheese.
This is southern food at its best, taken straight from the heart of America's barbecue tradition.
The term is thought to have originated nearly 100 years ago in Nashville in the 1930s, at the employee cafeteria of May Hosiery Mill.
Back then diners were served a choice of meat and vegetables, plus bread, for just 25 cents, and whilst prices have definitely gone up since then, in essence, the food remains the same.
This is hearty, home-cooked food that feels like a warm hug on your lowest day – and now, it's landed right here on our doorstep in Manchester.
Enter Kong's Meat and Three, the newest concept from the team who brought us fried chicken burgers with chicken skin crackling, not to mention Manchester's favourite fried chicken roast dinner.
Read more: The new Manchester fried chicken roast dinner with 'skin crackling'
Founded by fried chicken head honcho Tom Potts, who in a previous (pre-pandemic) life was the bar manager at Oldham street's fusion ramen spot CBRB, dishes like BBQ 'pit beans', mustard seed potato salad and collard greens all feature as regular sides.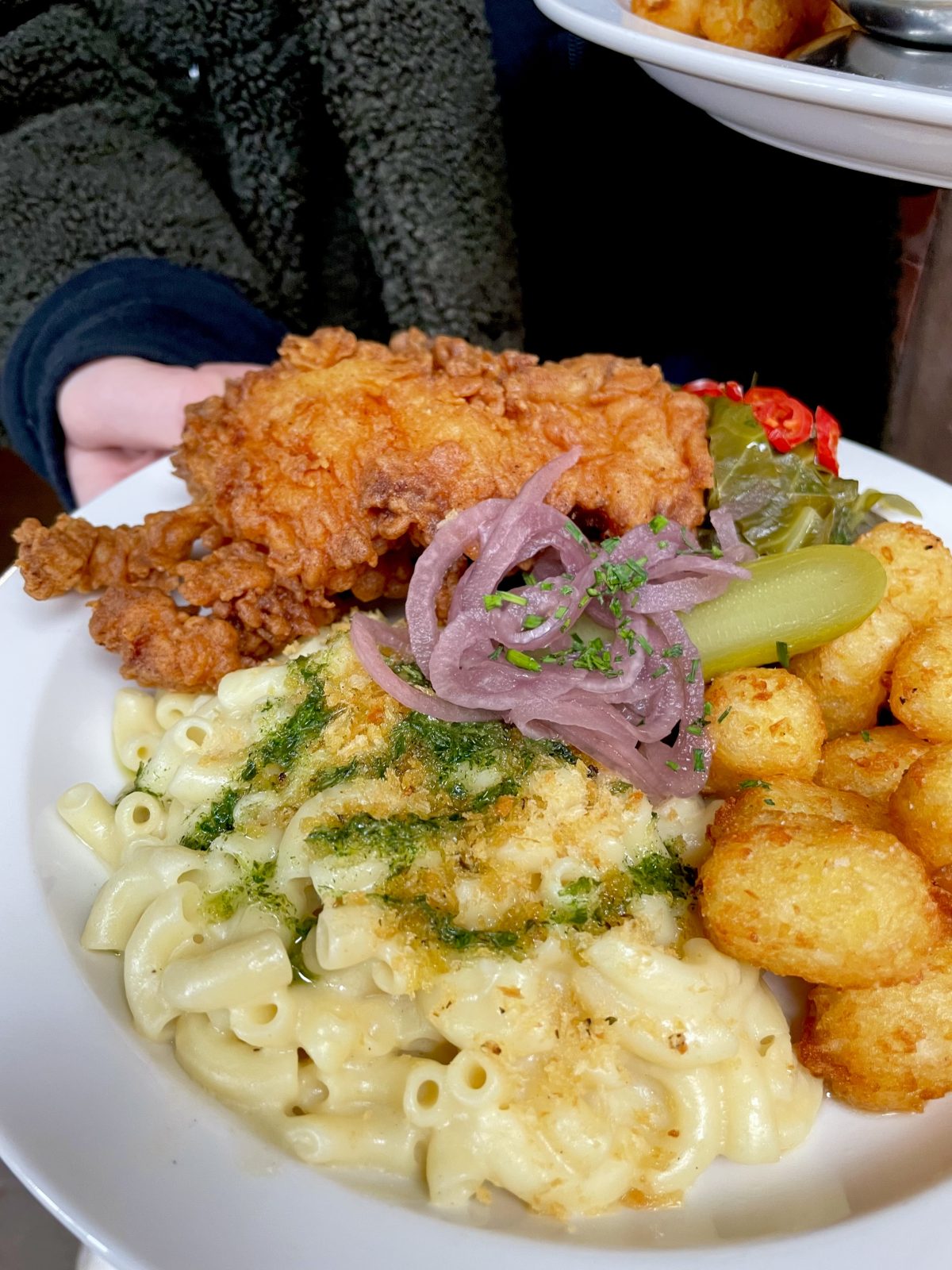 Elsewhere, you'll find a creamy three-cheese macaroni, flatbreads, red cabbage house mayo vegan slaw and hunks of corn on the cob slathered in butter, chilies and more. Boiled broccoli and carrots? Get out of here.
We cannot stress it enough: this is pure comfort food.
A significant upgrade on the British 'meat and two veg', the beauty of meat and three, in part, lies within its rules.
Anything that's not meat counts as veg (yep, really) meaning that gravy, mac and cheese, and even bread must all bow down and submit to reclassification. Some things you just have to accept.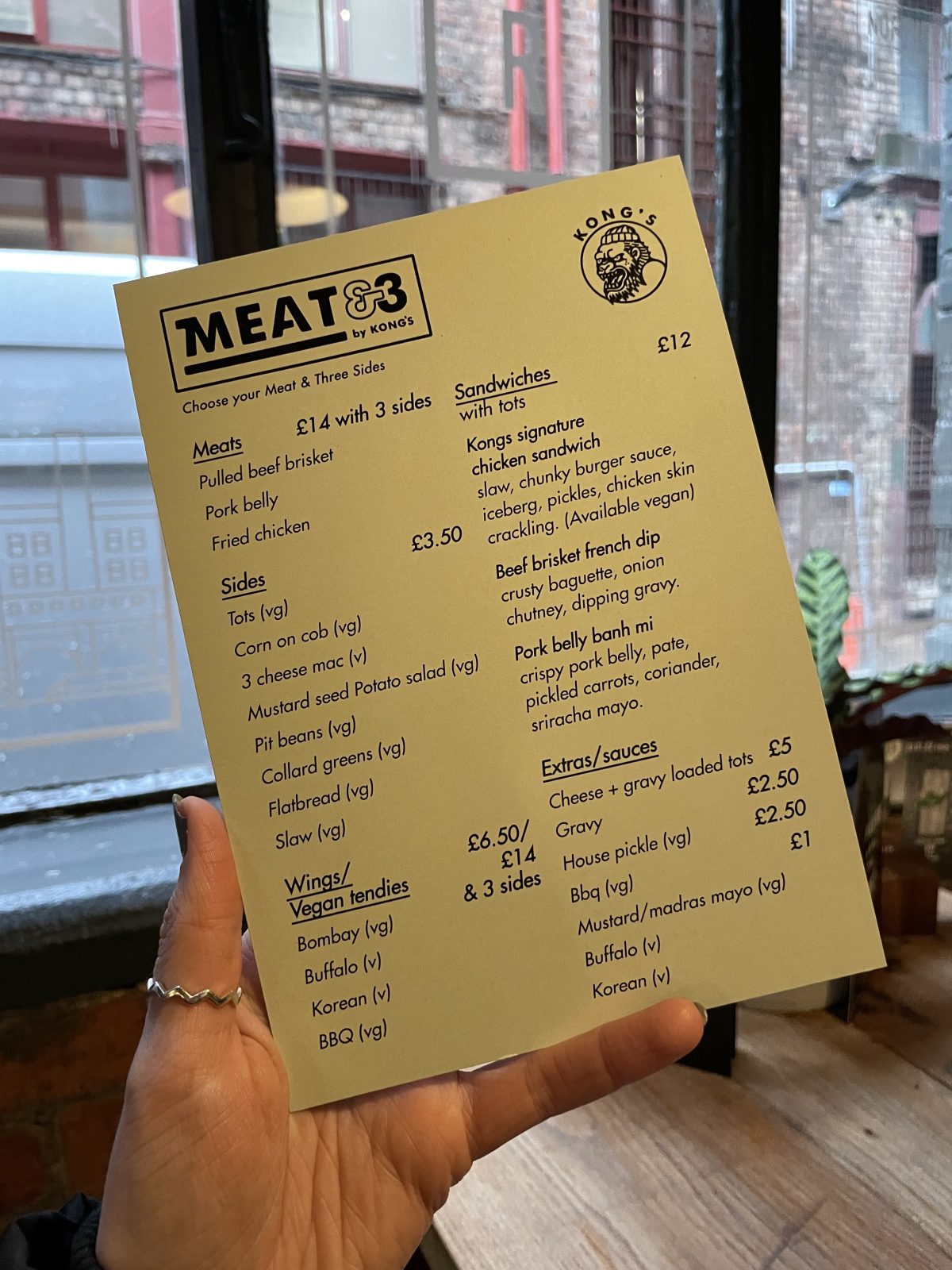 Read more: A Manc's guide to: Prestwich, the Bury neighbourhood that's crafting its own cool
Even better, everything on the menu here, with the exception of the tater tots, is made in-house, from scratch, with a whole lot of love. That includes house sauces like mustard and madras mayo, Korean hot sauce and big jugs of gravy.
Using thigh meat, Kong's signature buttermilk chicken is brined for three hours, rolled in a secret spice mix, then double-dredged for a crispier texture. Brisket is slow-cooked overnight for a minimum of 12 hours until it's ultra-tender and falling apart.
Pork belly is steamed, scored then oven roasted for a final hour until it is so crisped up and crunchy you can almost hear it crackling as you pore through pictures of it on Instagram. It's a meat eater's heaven – but also sells vegan tendies for those of the plant-based persuasion.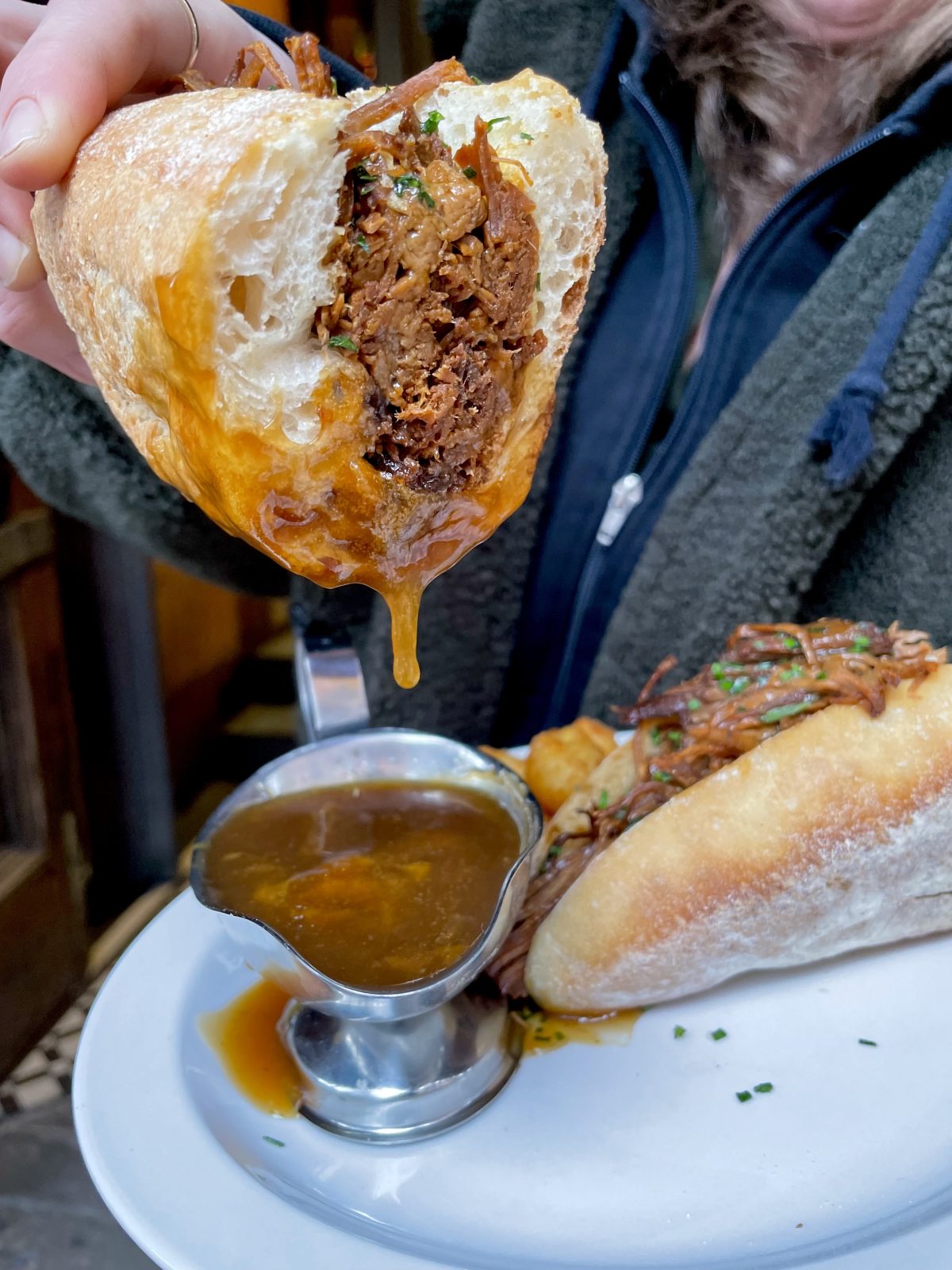 As well as offering up daily meat and three plates (or, rather, should we say trays), Tom has also just added new sandwiches to the menu – taking his three staple meats and folding them into chunky baguettes or brioche, with a fulsome heap of tater tots on the side.
This is not so much in the meat and three tradition – but it's very on-brand for Kong's. The original signature chicken sandwich features, only natural as the dish that launched the brand and Tom's new life as a fried chicken impresario.
There's also a relatively traditional Vietnamese-style pork belly banh mi, stuffed with pickled carrots, pate, crispy pork and coriander, and a beef brisket french dip that combines everything we love – crusty baguette, slow-cooked brisket and a sweet, homemade onion chutney with a jug of gravy to dip it all in.
All said and done, this is pretty close to sandwich perfection.
Open Wednesday to Sunday at Northern Monk Refectory between 12 and 10pm, get yourself down for a solid scran. Trust us, you won't regret it.
Feature image – The Manc Eats