News
Angela Rayner hits back at critics who slammed her 'honest and decent' Stockport accent
"Doesn't mater how you say it. Boris Johnson is unfit to lead."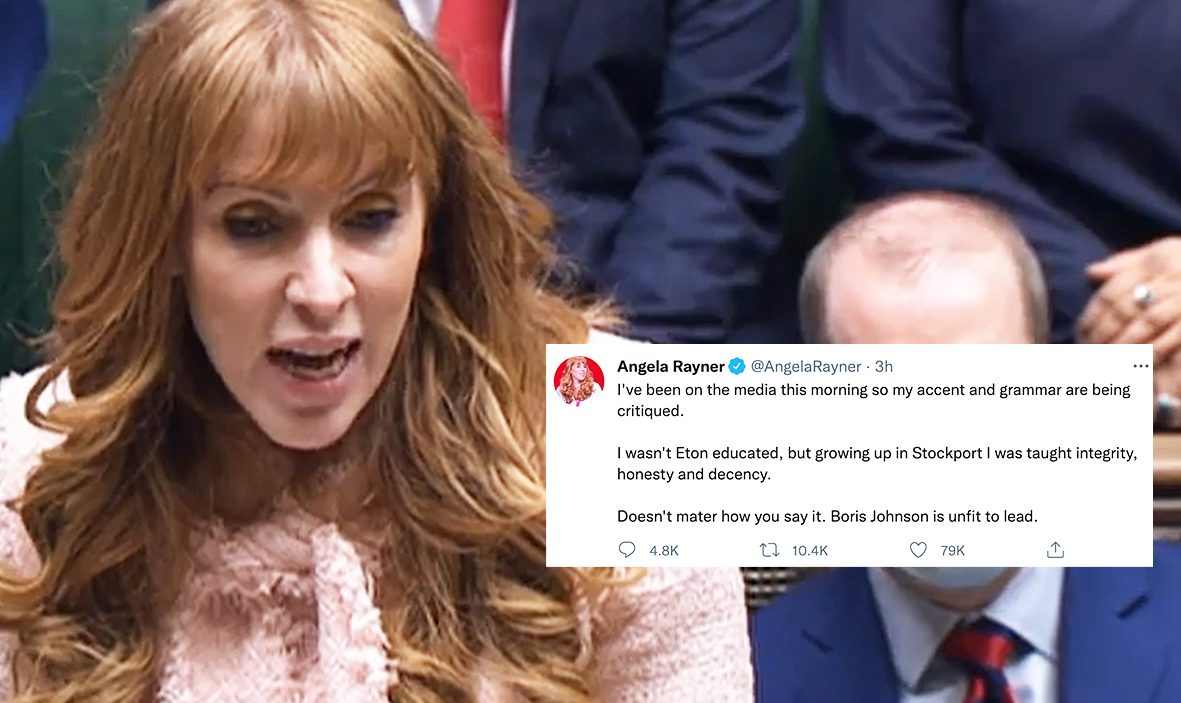 Angela Rayner has hit back at those who have critiqued her accent and grammar following recent appearances in the media.
The deputy leader of the Labour Party – who was born, raised, and educated in the Greater Manchester borough of Stockport – first addressed MPs in the House of Commons yesterday, before making a number of media appearances, both last night and this morning, to address the growing national concerns over the garden party hosed at 10 Downing Street on 20 May 2020, and whether Prime Minister Boris Johnson was in attendance.
Ms Rayner told MPs in the House of Commons yesterday that she was disappointed that Mr Johnson was not there in person to respond to the claims, but said that "his absence speaks volumes, as do his smirks on the media".
"He can run, but he can't hide," she added.
Following her Commons address and appearances on BBC News, Sky News, ITV News, and Good Morning Britain, Ms Rayner said she has received critiques of her Greater Manchester accent and grammar, and so she took to Twitter to address it.
Hitting back at her critics in a now-viral tweet this morning, the deputy Labour leader wrote: "I wasn't Eton educated, but growing up in Stockport I was taught integrity, honesty and decency.
"Doesn't mater how you say it. Boris Johnson is unfit to lead."
The tweet has gone on to amass thousands of likes, retweets, and comments from people showing their support for the Aston-under-Lyne MP.
Ms Rayner's comments came before this afternoon's Prime Minister's Questions (PMQs).
They, of course, also come after on Monday, ITV published a leaked email from Mr Johnson's principal private secretary, Martin Reynolds, which appeared to invite 100 staff to "socially distanced drinks in the No 10 garden" at a time when lockdown rules in England banned large outdoor gatherings from taking place.
The invitation encouraged people to "make the most of the lovely weather" after what had been an "incredibly busy period".
Although it is still currently unconfirmed, witnesses have told media outlets – including the BBC – that the Prime Minister and his wife Carrie were among the roughly 30 people who attended the drinks party that evening.
The Prime Minister has today confirmed his attendance at the event and has publicly apologised to MPs during PMQs, saying that he "takes responsibility" for the gathering.
Yet he said he believed it was "a work event", and in hindsight, should have sent everyone back inside.
Labour leader Sir Keir Starmer said he feels the Prime Minister's apology is "worthless", and described his excuse as "ridiculous" and "insulting" to the British public who have had to make so many sacrifices over the last two years.
Mr Johnson said that he knows people up and down the country "made huge sacrifices" and he understands "the anger and the rage they feel".
But Starmer then questioned whether the Prime Minister would "do the decent thing" and resign.
At present, an inquiry being lead by senior civil servant Sue Gray is under way into the drinks party and the number of other gatherings that were said to have taken place on government premises during the COVID-19 lockdowns of 2020.
Featured Image – Parliament TV