News
Batard bakery open permanent new cafe at 86 Princess Street
From the return of their incredibly popular steak bakes to a new, ethical take on the McDonald's McMuffin, there's a lot to get excited about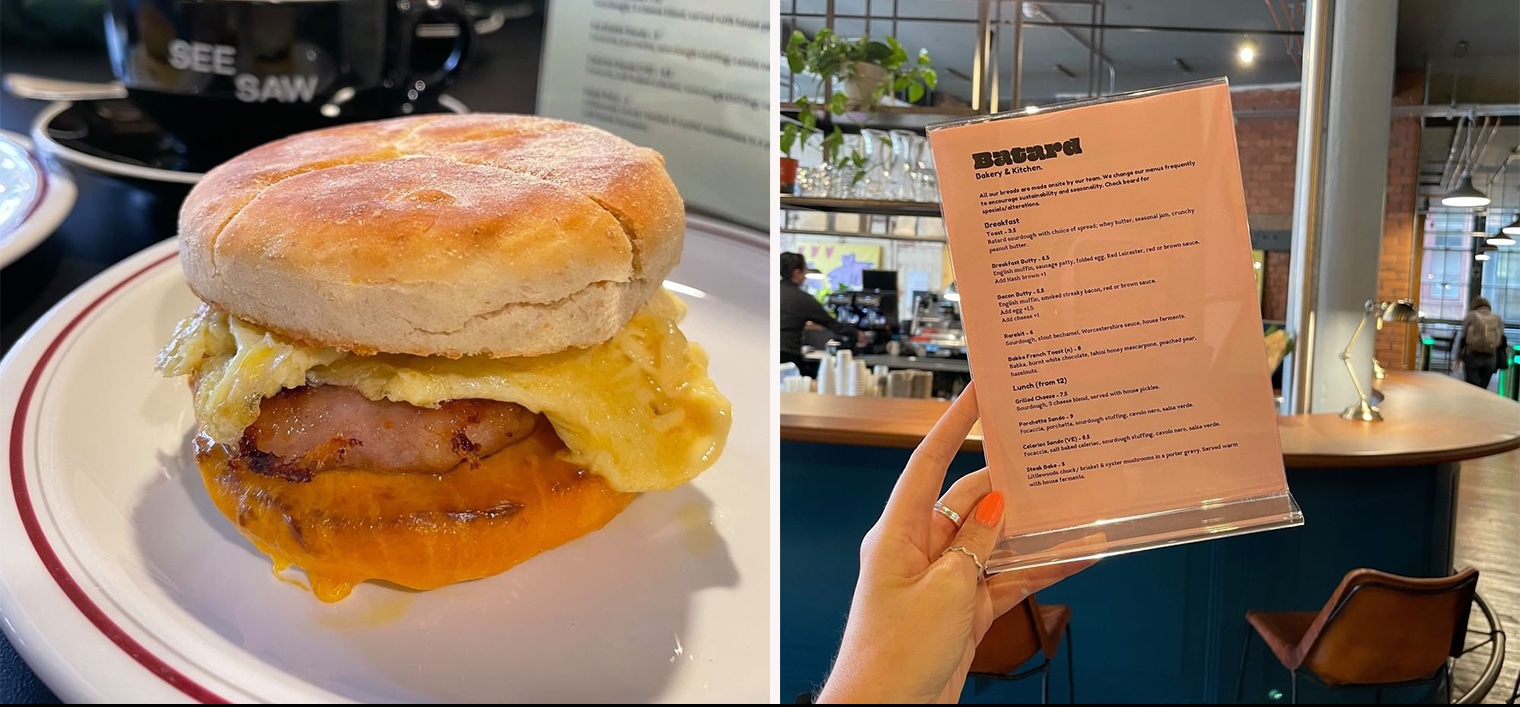 The team behind indie Manchester bakehouse Batard has opened a permanent new cafe in the centre of Manchester.
Housed inside 86 Princess Street, it already feels like a bit of a secret due to the fact the entrance is hidden down a cobbled Manchester side street – but we don't expect it'll stay that way for long.
The cafe itself is all exposed brick and big sash windows, overlooking the back of Manchester's iconic Klimpton hotel, with cool interiors that celebrate the areas industrial aesthetic.
In the morning, it's flooded with sunlight and there are some lovely high perches where you can sit, sip and take in Manchester in all its glory. A perfect breakfast spot.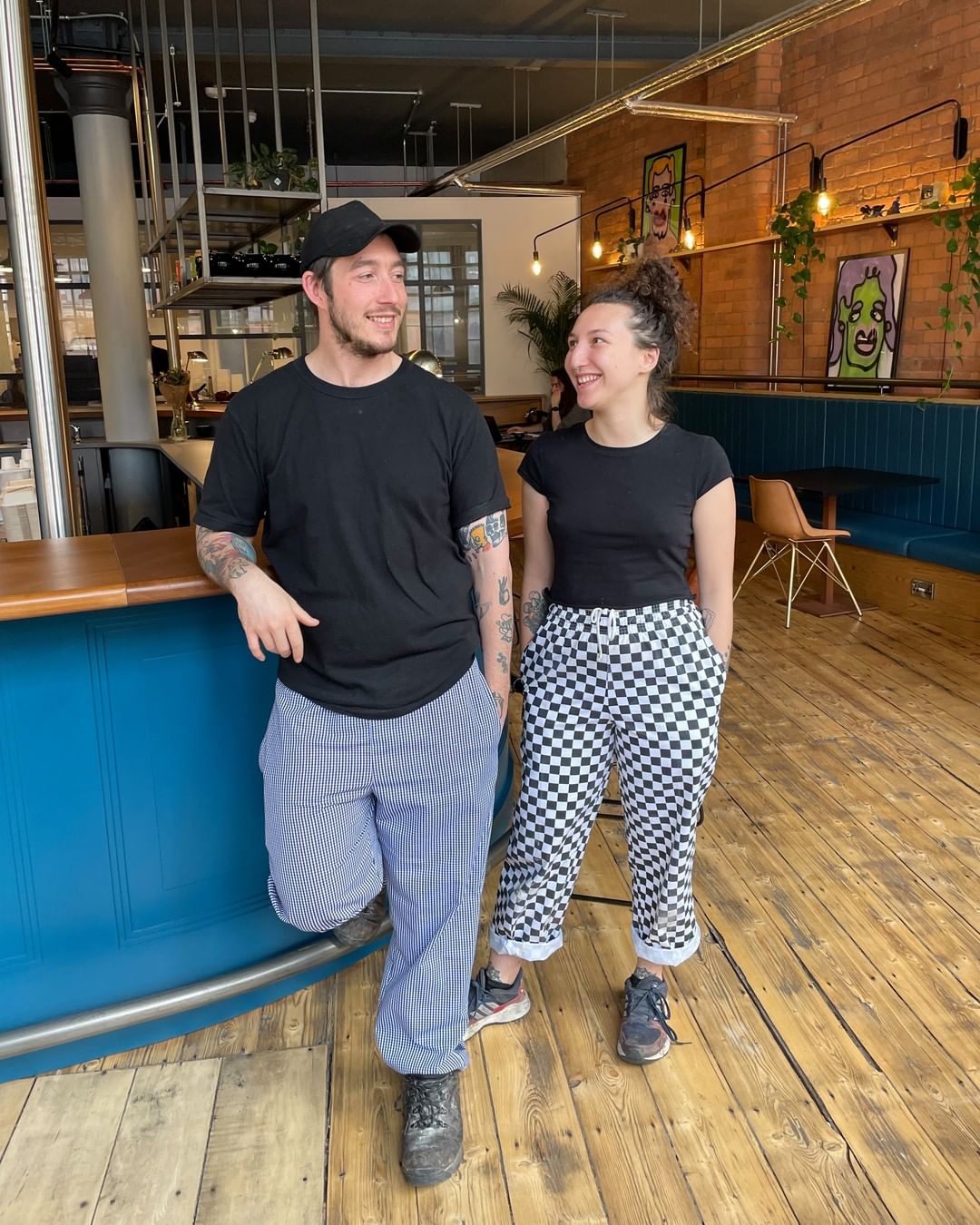 With a selection of Batard's signature blackened bakes already sitting on the counter, we ogle over the likes of blackered basque cheesecake, fruity kolace, cookies and brownies before turning our eyes to the new breakfast and lunch menu they'll be serving this week.
Featuring the return of their much-lauded steak bakes (now served with a side of house ferment) and a host of new dishes including an ethical take on the McDonald's McMuffin, there's a lot to get excited about.
Think porchetta and celeriac sandos, stout rarebit, babka french toast and grilled cheese, plus breakfast buttys done to perfection. The genius of this menu is that it's full of proper northern favourites and doesn't feel elitist, but it's all been created to exacting standards.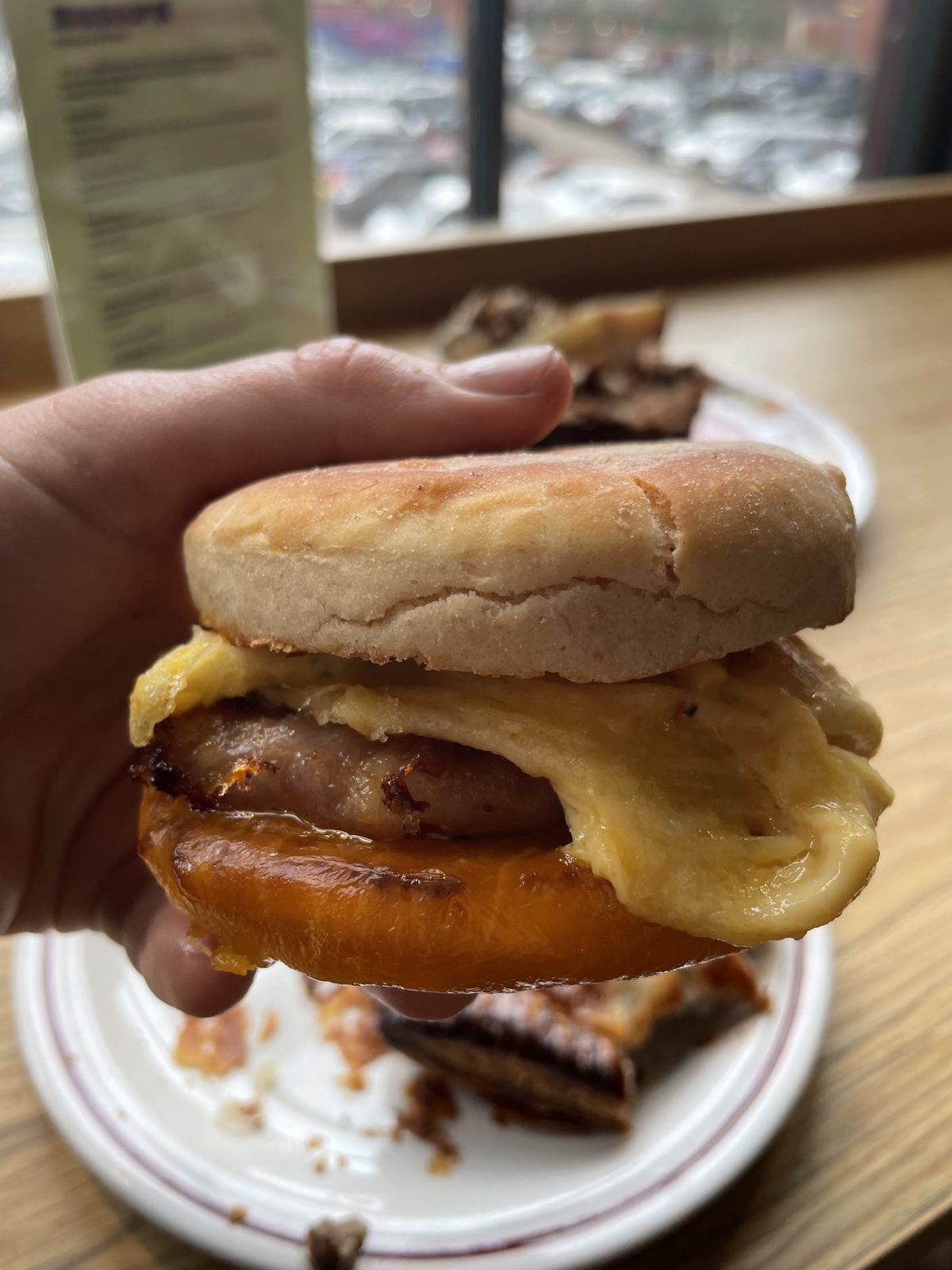 Case and point, as Lewis brings out their Manc McMuffin (as I keep calling it during our visit) Dorothy asks if Lewis made it with the red sauce.
"Kasundi," he corrects her.
Turning with a smile, she explains: "We were going to do a house red and brown sauce but the kasundi came out more of an orange colour and Mr Perfectionist can't call something that is orange red, so, just kasundi is fine."
Kasundi, they explain, is an Indian tomato relish – and this one is made in house, using tomatoes from Cinderwood market garden cooked down "for frickin ages," then blended with spices and herbs and a bit of chilli to give it a kick.
It's the poshest McMuffin we've ever had, and it's brilliant.
We also try their red wine poached pear babka, which smells like Christmas and is loaded with tahini honey mascarpone, burnt white chocolate and hazelnuts. Swimming in the poached pear liquor, it's a thing of beauty – even more so on their retro 70's plates.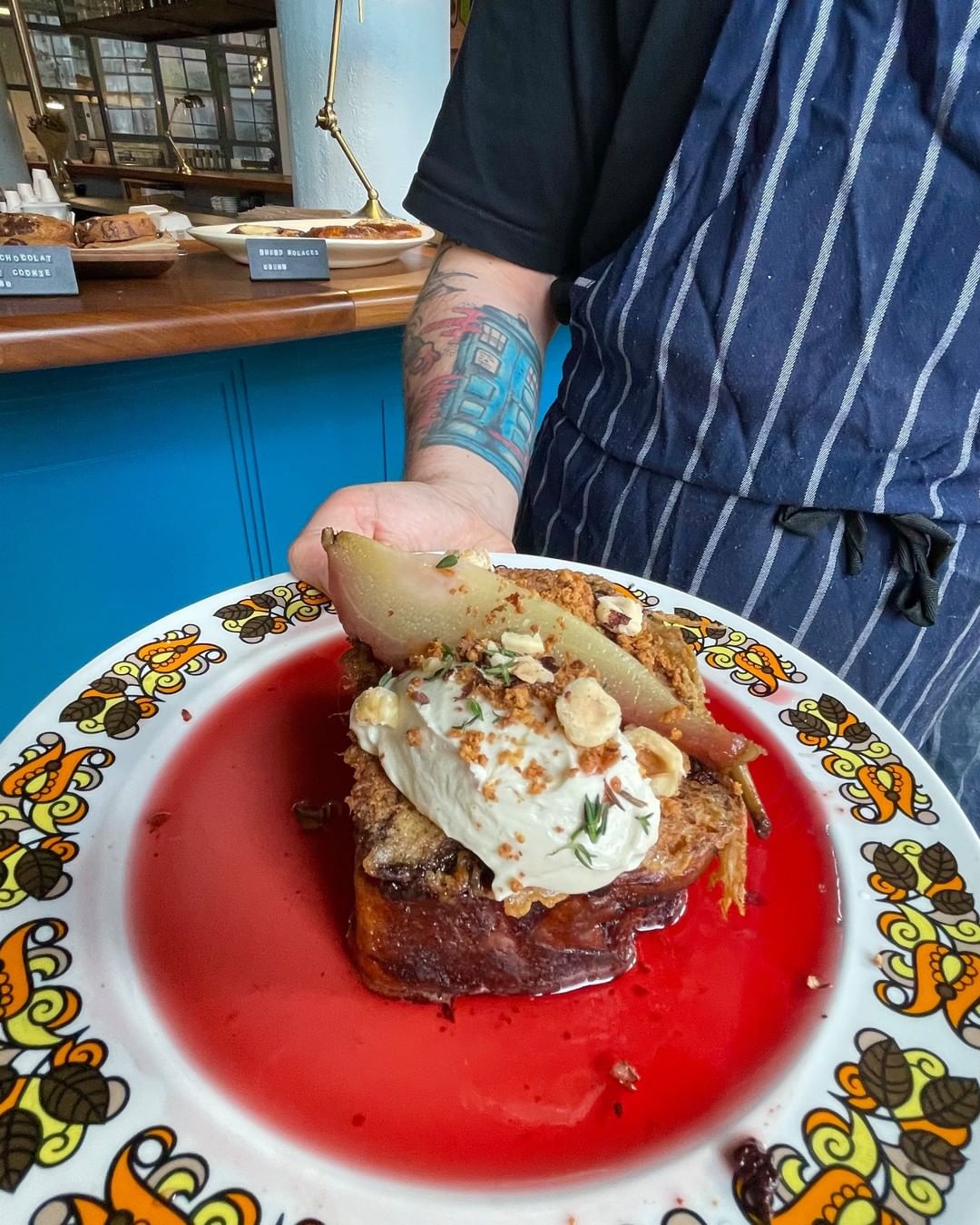 "My heritage, on a plate," says Dorothy of the babka before launching into an explanation of how they make it.
She detailis how its dipped in egg before being put on the griddle to "get it nice and hot and let it caramelise," and as she does we stare at it in wonder. It's quite the looker, this dish – and having tried it we can say it certainly holds up on that end too.
There's a lot of talk in Manchester hospitality about seasonality and local suppliers, but not everyone puts their money where their mouth is. It might sound cynical but sometimes it just feels like a marketing ploy. That's not the case here, though – far from it.
Having just come from being small batch suppliers themselves working with the likes of Osma and Edinburgh Castle to supply bread and bakes for other restaurants around Manchester, Dorothy and Lewis are working almost exclusively with small-scale local producers.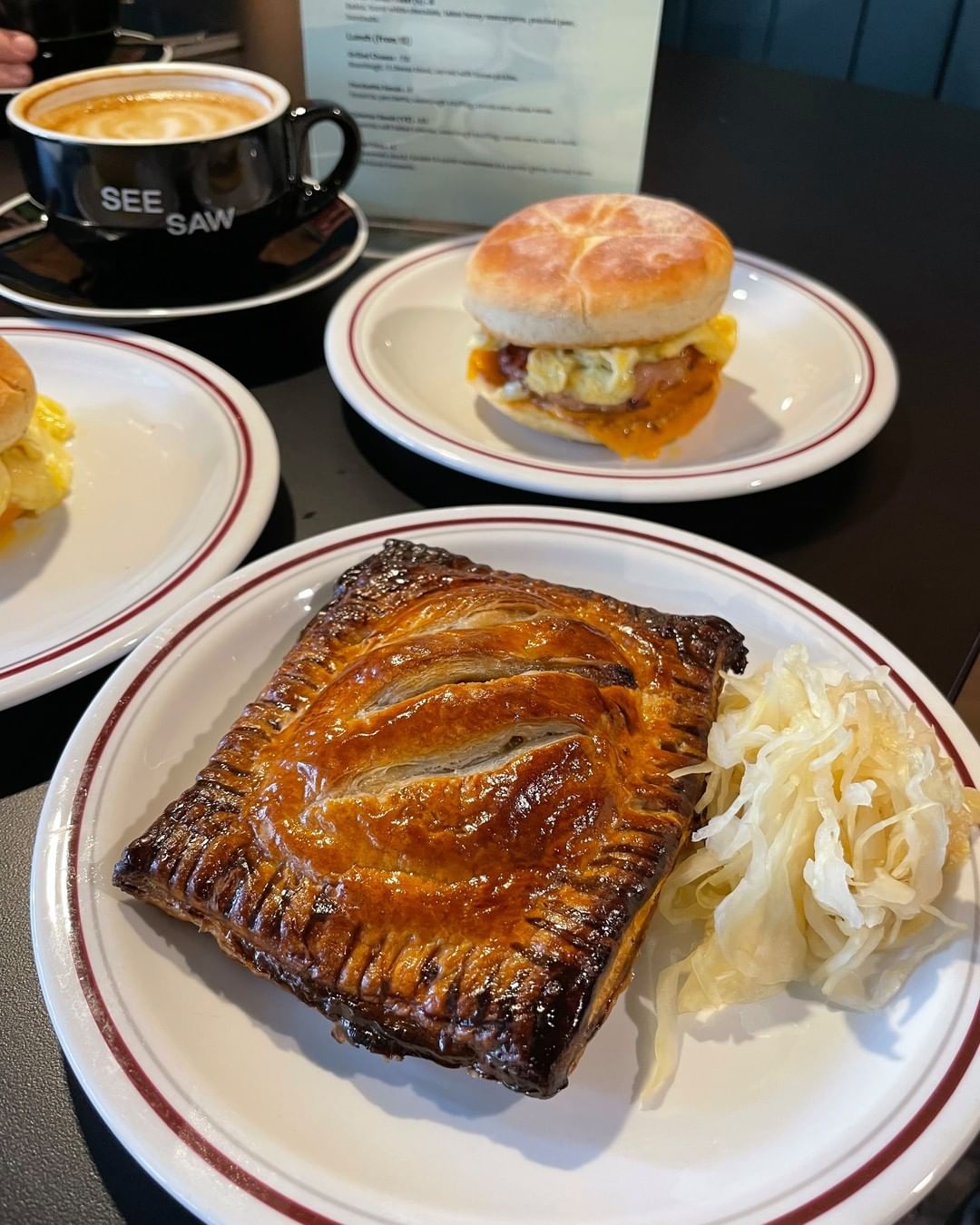 Proudly displayed on the back of Batard's menu is a list of some of the people they are working with, including Littlewoods Butchers, The Crafty Cheeseman and Cinderwood Market Garden.
Whilst chatting, though, we also hear about plenty more, such as their Altrincham-based mushroom supplier Polyspore and Salford-based coffee supplier Swansong – who even sits down with us for a minute to tell us about his coffee, having just popped in on chance.
The passion behind the project is clear, with every minute detail having been given a lot of thought here.
Dorothy tells us they eventually want to get a mock mill and mill their own grains on site, explaining how in their brownie, for example, they use rye kernels and rye flour, so you can really taste it.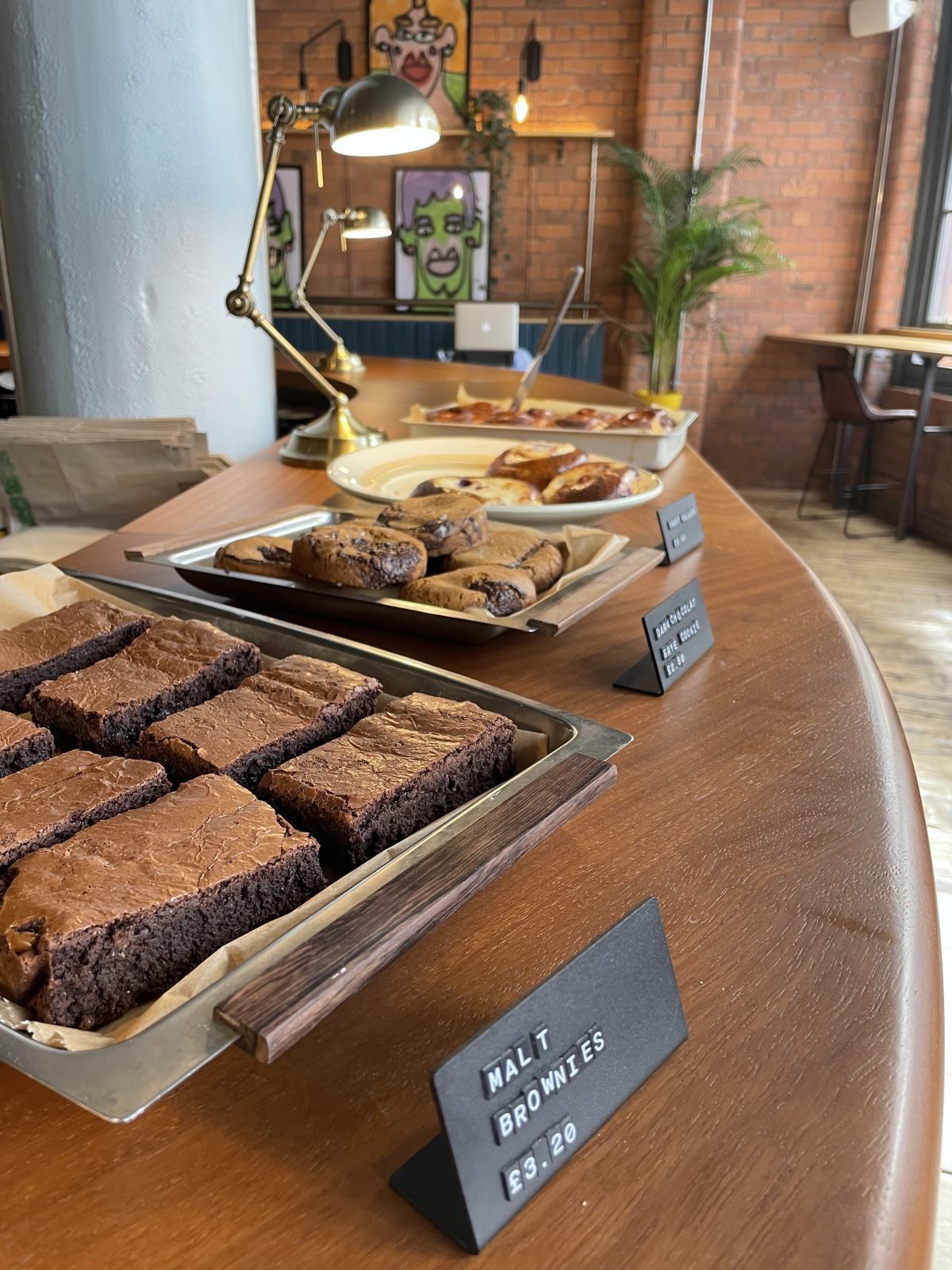 "It provides a little crunch in the mixture that is really nice. We also use horlicks in there which brings out the malty taste of the rye flour."
"Being able to do that with all different kinds of flours and make our own nut flours and stuf like that to offer something not gluten free because our kitchen's too small but low gluten would be quite interesting as well – but that's a little bit down the line."
For now, they're just focusing on getting open and enjoying settling into the new space on Princess Street. Just ten minutes walk from Piccadilly, it's a central location but enough off the beaten path to make it feel like a destination.
Whether you consider yourself a bit of a foodie or you're just after a good Northern scran done well, we'd definitely recommend putting them on your list.
Batard is open from Wednesday 29 September at 86 Princess Street. Opening hours are Wednesday to Sunday, 9 am to 3 pm. To find out more, follow them on social media here.