News
Coronation Street legend Roy Hudd has died
[siteorigin_widget class="SiteOrigin_Widget_PanelImage_Widget"][/siteorigin_widget]
[siteorigin_widget class="SiteOrigin_Widget_PanelText_Widget"][/siteorigin_widget]
News
Some tourists will have to pay £1 to visit Manchester from this weekend

Daisy Jackson
Manchester is becoming the first city in the UK to introduce a 'tourist tax' from this weekend.
Visitors staying over in one of the city centre's hotels or apartments will now need to pay £1 per night, in a scheme known as the City Visitor Charge.
Officials hope it will raise up to £3m per year, which will 'support future growth of the visitor economy and continued high performance for accommodation providers across the city'.
Hoteliers voted in favour of a new Manchester Accommodation Business Improvement District (BID) last year, as a way to respond to the 'significant challenges currently facing the accommodation sector in Manchester'.
The tourist tax applies to 73 different accommodation offerings in the city centre, including Hotel Gotham, Dakota, and Kimpton Clocktower.
Any hotel or accommodation that falls within a mapped zone, and has a rateable value of £75,000 or more, is subject to the statutory Accommodation BID charge.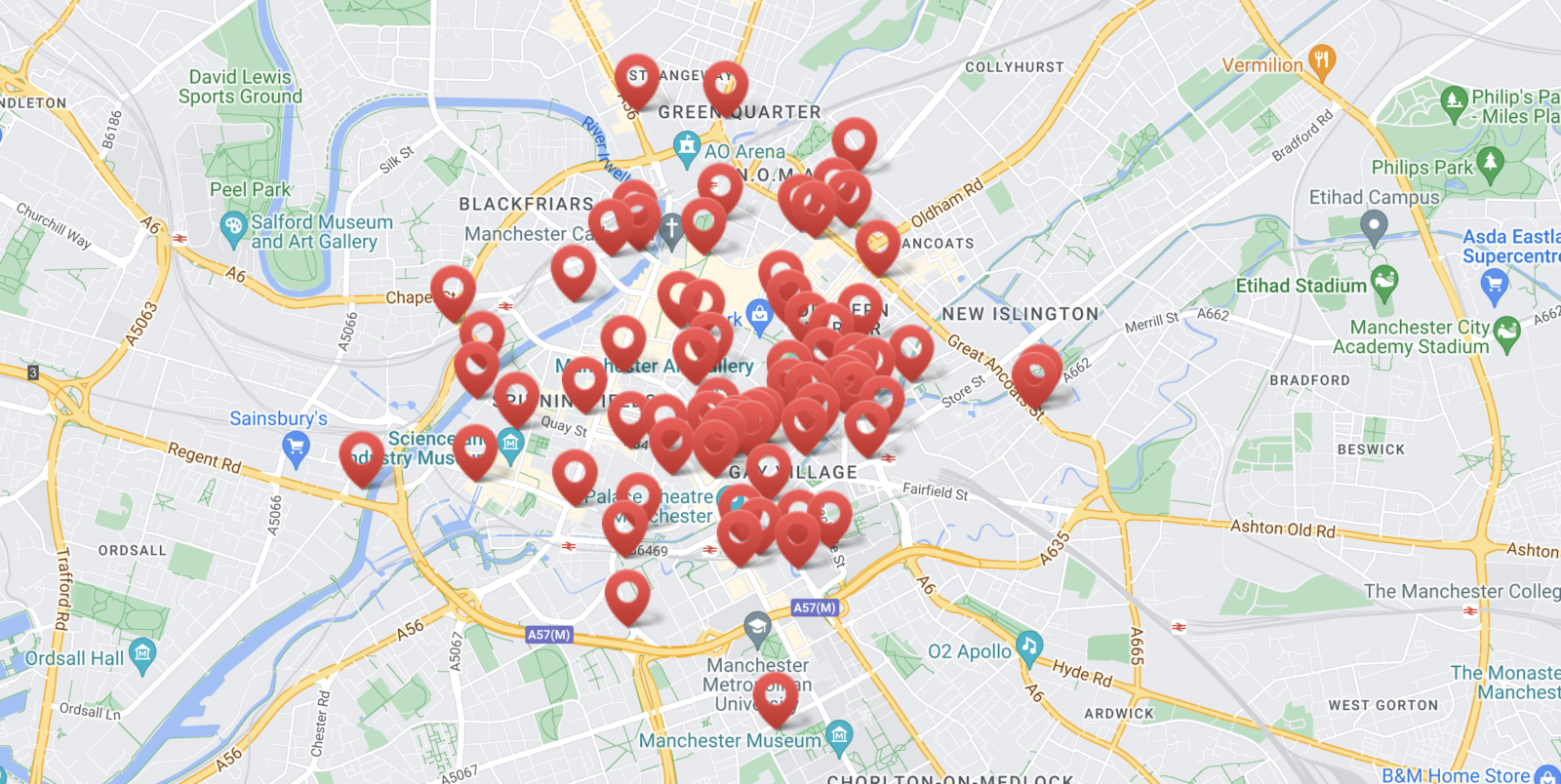 Similar schemes are already in place at several major cities in Europe, but Manchester is the first city in the UK to bring in a 'tourist tax'.
Cllr Bev Craig, Leader of Manchester City Council, said: "These are exciting times for Manchester city centre with an unprecedented number of new hotel rooms being added and major new visitor attractions such as Factory International and Co-op Live due to open in the months ahead.
"Seizing that opportunity means ensuring as many rooms as possible are full all year round. We believe that targeted investment through the Manchester Accommodation BID will help support the accommodation sector – which plays such a vital role in supporting jobs in our city and adding to its overall vibrancy – to thrive."
Read more
Adrian Ellis, General Manager of the Lowry Hotel, Chair of the Manchester Hoteliers' Association, and Interim Spokesperson for the Manchester Accommodation BID, said: "The Manchester Hoteliers' Association has been in discussion for several years to develop options to create new, additional funding that will support continued high performance and future growth of the visitor economy for accommodation providers across the city.
"The result of these discussions is the Manchester Accommodation Business Improvement District proposal, and I am delighted that hoteliers' have voted in favour of creating an innovative, business-led solution to some of the problems we have been facing as a sector.
"A supplementary fee for guests, added to the final accommodation bill, is now an established norm within the travel sector across the world, and the Manchester Accommodation BID will now bring our accommodation sector in line with European and global counterparts and competitors."
All the hotels where Manchester's new 'tourist tax' applies
ABode Manchester
AC Hotel by Marriott Manchester City Centre
Britannia Hotel Manchester
Church Street by Supercity Aparthotels
CitySuites Manchester
Clayton Hotel Manchester City Centre
Cove – Minshull Street
Crowne Plaza Manchester City Centre
Dakota Manchester
DoubleTree by Hilton Manchester – Piccadilly
easyHotel Manchester City Centre
Great John Street Hotel
Hotel Campanile Manchester
Hotel Gotham
Hampton by Hilton Manchester Northern Quarter
Hilton Manchester Deansgate
Holiday Inn Express Manchester CC – Oxford Road
Holiday Inn Express Manchester City Centre – Arena
Holiday Inn Manchester – City Centre
Hotel Brooklyn Manchester
Hotel Indigo Manchester – Victoria Station
Hyatt Regency Manchester & Hyatt House
Ibis Budget Manchester Centre Pollard Street
ibis Manchester Centre Princess Street
ibis Manchester Centre 96 Portland Street
ibis Styles Manchester Portland
INNSiDE by Meliá Manchester
Kimpton Clocktower
King Street Townhouse
Leonardo Hotel Manchester Central
Leonardo Hotel Manchester Piccadilly
Leven Manchester
Manchester Piccadilly Hotel
Maldron Hotel Manchester City Centre
Malmaison Manchester
Manchester Marriott Victoria & Albert Hotel
Mercure Manchester Piccadilly Hotel
The Midland Manchester
Motel One Manchester – Royal Exchange
Motel One Manchester – Piccadilly
Motel One Manchester – St Peter's Square
Moxy Manchester City
Novotel Manchester Centre
Park Inn by Radisson Manchester City Centre
Pendulum Hotel
Premier Inn – Manchester (Deansgate Locks)
Premier Inn – Manchester City Centre Portland Street
Premier Inn Manchester Central
Premier Inn Manchester City (Piccadilly)
Premier Inn Manchester City Centre (Princess Street)
Premier Inn Manchester City Centre (Arena/Printworks)
Premier Inn Manchester City Centre West
The Edwardian Manchester, A Radisson Collection Hotel
Roomzzz Aparthotel Manchester City
Roomzzz Aparthotel Manchester Victoria
Sachas Hotel Manchester
Staycity Aparthotels – Manchester Piccadilly
Staycity Aparthotels – Northern Quarter
The Ainscow Hotel Manchester
The Alan
The Castlefield Hotel
The Gardens Hotel
The Lowry Hotel
Stock Exchange Hotel
Townhouse Hotel Manchester
Travelodge Manchester Ancoats
Travelodge Manchester Central Arena
Travelodge Manchester Central
Travelodge Manchester Piccadilly
Velvet
Whitworth Locke
Wilde Aparthotels by Staycity – St. Peter's Square
Yotel Manchester Deansgate
Featured image:
News
The Makers Market is coming back to Cutting Room Square every month as of this Sunday

Danny Jones
The North West's hugely popular Makers Market is returning to Ancoat's Cutting Room Square as of this weekend, marking the start of a monthly community staple.
While Makers Markets have been popping up around the region for years now — Stockport, Cheadle, Salford and Media City; Knutsford, Northern Quarter, Didsbury, Congleton and countless other locations — it's only ever been at Cutting Room Square just the once as part of a trial run back in November 2022.
However, after going down an absolute treat and just as popular as all the others around Greater Manchester and beyond, the organisers have decided to bring it back on a permanent basis from this weekend onwards. Ancoats just got even better.
Now, as of Sunday, 2 April, city centre residents and those travelling into town will be able to enjoy a regular community market packed with local traders from all over every month. Wonderful stuff.
If for some reason you've never come across a Makers Market before, the concept is pretty simple: local businesses and indie traders of all different kinds gather in public spaces like Cutting Room Square, setting up pop-up stalls to sell their wares, whatever they may be.
Whether it'd be homemade food and bakery items, handcrafted prints and textiles, or homeware, second-hand records, flowers and everything in between, there is literally always something for everyone.
More importantly, though, these monthly markets aren't just another place to shop locally and responsibly, but they genuinely provide a wonderful sense of community, quickly cementing themselves as a regular staple for everyone to look forward to and socialise at.
That's what we like to hear.
Read more:
Typically taking place on the second Sunday of every month and with Cutting Room Square and Ancoats already a popular district for locals and tourists alike, we're sure the atmosphere is going to be great.
You've also got the successful Ancoats Pop Up events scattered throughout the rest of the 2023 calendar too — happy days.
We look forward to a year filled with plenty more markets all around Greater Manchester!
You can check out the full list of traders that will be appearing at this weekend's Makers Market at Cutting Room Square HERE.
For all the latest news, events and goings on in Greater Manchester, subscribe to The Manc newsletter HERE.
Featured Image — Makers Market