News
Adorable dog accepts posthumous National Television Award for the late great Paul O'Grady — and gives a 'speech'
As a man known for his love of dogs, it was only right that Wiley the Terrier took the stage and shared more than a few words on his behalf.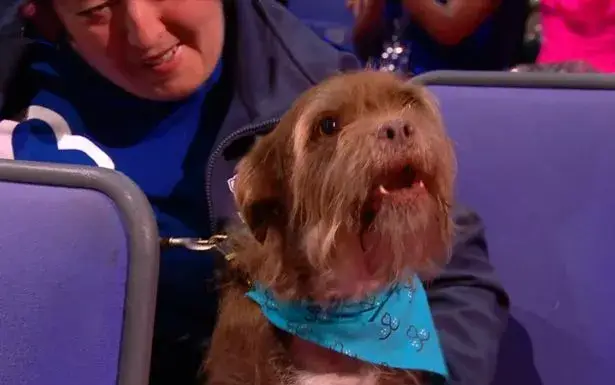 The late comedian Paul O'Grady was presented with a posthumous award at the 2023 NTAs just six months on from his death and, in truly fitting fashion, a cute little dog accepted it on his behalf.
We're not crying, you are.
That's right, barely half a year after the legendary British comedian died at the age of 67, O'Grady was honoured with another National Television Award — his 14th in total — for the much-loved ITV show, For The Love of The Dogs.
Winning in the factual entertainment category, a team of people who worked on the show, along with representatives from Battersea Dogs and Cats Home took the stage to receive the token of recognition and, in a tear-jerking twist, so did a rescue dog named Wiley.
As you can see, the best part of all was that as the little Terrier was led up on stage and as Battersea Veterinary Director Shaun Opperman began to speak, Wiley had other ideas. Just as many remarked on social media, "The dog stole the show".
Barking throughout Opperman's speech, you couldn't help but well up watching his excited little face and his tail wagging as the room filled with a chorus of awwing, cheering and laughing, with the pup well and truly living up to his name.
When he did manage to get a word in, the Battersea boss said: "I would like to thank Paul, of course, and the ITV team… for shining a light on the care that we're able to provide for the 100 or more dogs and cats that come to Battersea every week."
"I know that Paul cared deeply for each and every one of those animals. I think that something about their plight and their vulnerability really struck a chord with Paul. He often referred to Battersea as his second home."
Read more:
The reaction on social media was just as you'd expect: countless viewers were brought to tears and left "blubbering wrecks" at the undeniably touching scenes.
Although the dog's speech, for lack of a better word, did keep things light and spirits high, you could see there was plenty of emotion on the stage too, as O'Grady's deep love and long-term relationship with the national rescue centre and animal charity was well known.
As one person commented, "This was so moving. Paul will always be loved. Such a caring soul." Although there have been countless tributes to the national treasure since his passing, we can't think of a better one than a lovely little dog being celebrated front and centre in his name.
Elsewhere at the NTAs this year, Oldham's very own Sarah Lancashire baffled millions of viewers with her indecipherable accent. No, she's not really from Yorkshire and she doesn't sound very Manc either.
For all the latest news, events and goings on in Greater Manchester, subscribe to The Manc newsletter HERE.
Featured Image — ITV/Battersea