News
Footballing world reacts with love after Jake Daniels becomes first gay UK male player in over 30 years
It's been called a "significant" moment in sporting history.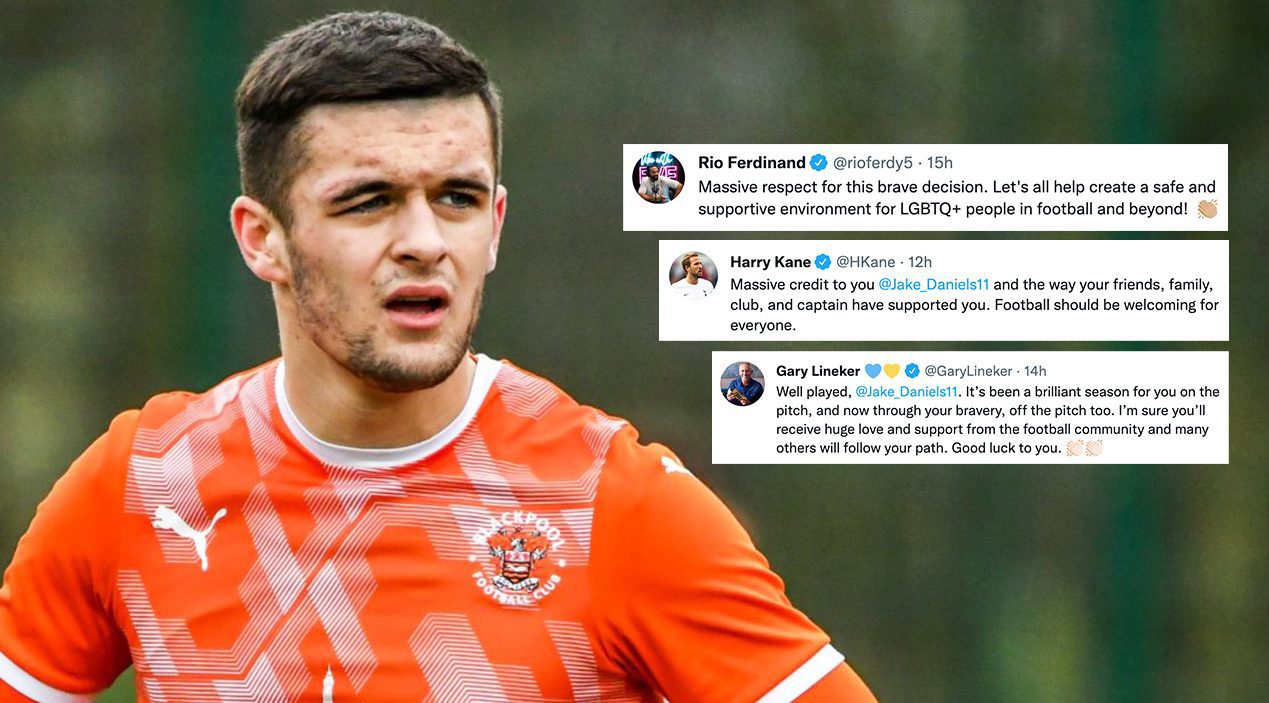 The footballing world has been reacting with love and an outpouring of support after Jake Daniels publicly came out as gay.
The 17-year-old Bispham-born footballer, who plays as a forward for Championship club Blackpool FC, became the first professional UK male player to come out as gay since 1990 when he revealed yesterday evening that he is happy to finally "be myself" in a heartfelt open letter to fans.
Jake, who signed his first professional deal with Blackpool in February, said in his statement that he had been "hiding the real me", but has "known my whole life that I'm gay".
"I now feel that I'm ready to come out and be myself," he revealed.
While admitting that this was "a step into the unknown", Jake said that he been inspired by fellow footballers Josh Cavallo, and Matt Morton, as well as athletes from other sports, like Tom Daley, to "have the courage and determination to drive change".
He said that he hopes to be a "role model" for others in the future.
Read more: Blackpool's Jake Daniels becomes first UK male footballer to come out as gay in more than 30 years
Since the news broke and Jake shared his message with fans on Blackpool FC's website yesterday evening, the footballing world and countless members of the public have been reacting with love and expressing their messages of support on social media – calling it a "significant" moment in sporting history.
The FA and England issued a joint statement calling Jake "an inspiration".
The statement read: "Jake, you are an inspiration to us all and we fully support your decision to be open about this part of yourself. Football is a game for all, with diversity at its heart, and this is a hugely positive step as we strive to build an inclusive game that we can all be proud of.
Former players and current pundits and presenters Gary Lineker and Rio Ferdinand were among the many famous names to share messages.
Lineker also said in a follow-up tweet: "I honestly think that, aside from a few homophobic morons, football will be incredibly welcoming and enormously supportive towards a gay footballer.
"It's long overdue for a player to 'come out' even though it's ridiculous that it's even necessary. A footballer is a footballer."
England captain Harry Kane also said "football should be welcoming for everyone".
Jake's message was also discussed on Sky Sports' Monday Night Football yesterday, where pundits Gary Neville and Jamie Carragher praised the young player for his actions and talked about the culture of football leading up to this point.
"It's a day of great importance for English football," Neville said.
"We're proud of you, Jake. You're an inspiration to us and many others," Manchester United said on Twitter, while Manchester City also added: "Proud of you, Jake."
"Amazing courage and bravery Jake," added Manchester United goalkeeper David de Gea.
"I want to stop and take a moment to acknowledge Jake's announcement and say how very proud I am for his bravery," Josh Cavallo also said in a touching statement.
"It's a wonderful feeling knowing that my story has helped guide Jake to be his true self.
"It's touching to see the millions of people that my story has impacted and inspired around the world, and to see it help evolve the world game at all levels, is fantastic. This world and the game of football has a place for everyone. Love will always win."
"I salute you, Jake," comedian Eddie Izzard said in a heartfelt Twitter message.
Prime Minster Boris Johnson even took to Twitter to share support for Jake, adding: "Thank you for your bravery Jake, it would have taken huge courage to come out and you will be an inspiration to many both on and off the pitch."
Leader of Labour Party, Sir Keir Starmer, added on Twitter: "This shows real courage and bravery and will serve as an inspiration to many young people across the country.
"Thank you Jake. We are all with you."
Members of the public also shared messages of support in their thousands.
Jake Daniels became the first professional male player in English football to come out as gay since Justin Fashanu 32 years ago, and he said in his message to fans: "I've hated lying my whole life and feeling the need to change to fit in.
"I want to be a role model myself by doing this.
"There are people out there in the same space as me that may not feel comfortable revealing their sexuality. I just want to tell them that you don't have to change who you are, or how you should be, just to fit in.
"You being you, and being happy, is what matters most."
Featured Image – Blackpool FC