News
Frank Sidebottom statue set on fire in 'deliberate' act of vandalism
The memorial has stood on Stockport Road since 2013.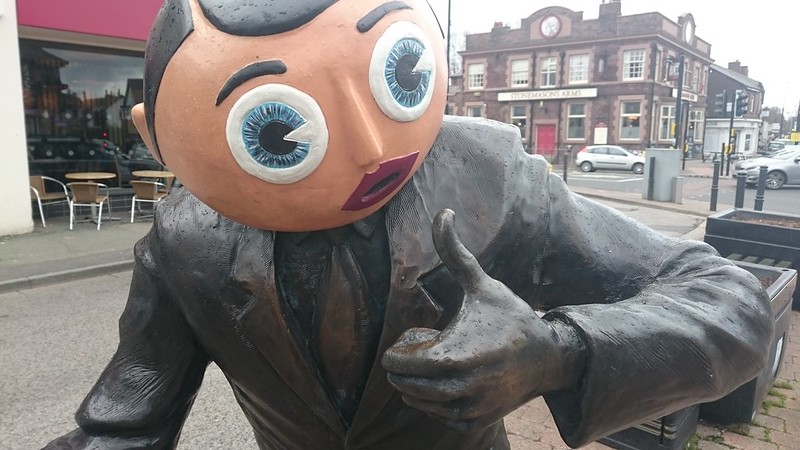 The statue of Timperley's iconic cult character Frank Sidebottom has suffered damage after being set on fire in a "deliberate" act of vandalism this week.
Emergency services were called to Stockport Road at around 4:30am on Monday (April 26) following reports of the memorial being set alight.
Despite quickly extinguishing the flames, the Sidebottom statue – which has stood in Timperley Village for eight years – was left damaged with scorch marks.
Charred debris was also seen covering the plaque at the feet of the memorial – which contains a Sidebottom quote reading: "As long as I gaze on Timperley sunset, I am in paradise."
The life-sized statue cost £60,000 and was paid for by local residents to honour the memory of Chris Sievey – the man behind the famous Sidebottom mask who passed away in 2010.
The act of arson has been described as "disappointing" by a former local councillor, who told the Manchester Evening News he had been left "confused" by the incident.
Professional repairs are apparently underway to fix the statue.
Frank Sidebottom first appeared during the 1980s – with Sievey donning the giant papier-mâché head at a fancy dress party.
He proceeded to flesh out the character over subsequent years – with Sidebottom earning a cult following across Greater Manchester as a singer, comedian, chat show host, guest speaker and founder of football club Timperley Big Shorts FC.
Sidebottom was also known for putting local spins on covers of classic songs – with his catalogue including hits such as Born In Timperley, Panic On The Streets Of Timperley and Anarchy In Timperley.
The character was also the inspiration for the fictional 2014 movie Frank – written by Sievey's friend and bandmate Jon Ronson.
Read: Manchester Cult Characters: The story of Frank Sidebottom >
Featured image: Dunk / Flickr