News
GMB audience praise Gary Neville after he rips into government over Universal Credit
Gary Neville appeared on GMB alongside former politician Edwina Currie to discuss the removal of the £20 a week Universal Credit uplift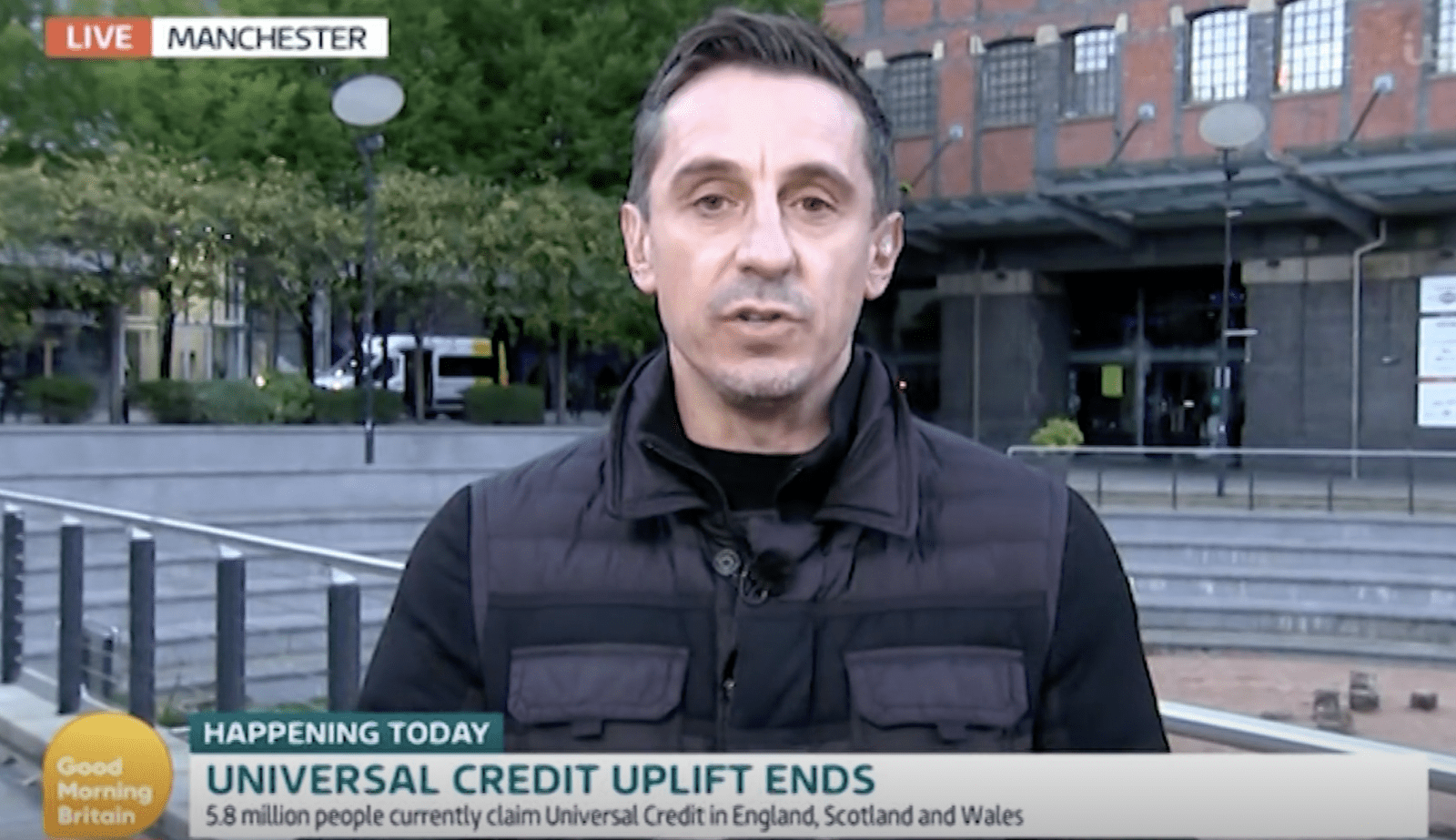 Audiences have praised Gary Neville this morning after he ripped into the government and a fellow guest on ITV's Good Morning Britain over the removal of the £20 a week Universal Credit uplift
The removal of the uplift, which is worth £1,040 a year to claimants, comes into force today and is expected to affect around 6 million people across the country – many of whom use the benefit to support them as well as working in low-paid jobs.
First introduced by the government to help struggling families at the start of the pandemic at a cost of around £6bn a year, on GMB this morning the footballer turned pundit called the reduction "brutal."
He also condemned the "divisive and dangerous" rhetoric surrounding the topic, hitting out at fellow guest Edwina Currie after she claimed that the uplift "does not make sense" as there are more job vacancies now.
Susanna also argued with the former politician, stating that: "'Not everybody on Universal Credit doesn't have a job.
"Forty percent of those already on Universal Credit are in work."
Edwina replied: "Yes, but the majority of people on Universal Credit don't have a job."
She added: "What we have to realise is we've got something like a million vacancies being advertised in this country.
"It doesn't make any kind of sense to pay people to stay at home."
Pitching in, Neville retorted: "Well, let me just translate what Edwina has just said,"
"'I'm ok here, we're ok here', which is the first thing a Conservative person does.
"They look after themselves.
"The language is always divisive, it's not helpful. It's really dangerous to remove Universal Credit payments at this moment in time, it's brutal."
He continued: "I trust the population of this country, I work on the theory that people aren't sitting there lazy, they really want a good job.
"They want to get good pay, they want their mental health to be sorted.
"They're not sitting there thinking, 'I'm going to take the chancellors money and live off their money for the next 10-15 years."
A number of charities, think tanks and unions having previously warned against the Universal Credit uplift removal, explaining that it will hit some of the poorest families the hardest at a time when energy bills are set to soar.
Many have also argued that it could hit the UK's coronavirus recovery, as it will mean millions losing disposable income for spending on essentials.
All of this means that the government is still coming under increasing pressure this week to u-turn on its decision to abandon the benefit uplift, as it did with the free school meals debate in the summer.
Feature image – ITV