News
Góbéfest: Manchester's Transylvanian festival returns this summer
Food, drink, music and dancing will take over Cathedral Gardens and Exchange Square for three days this June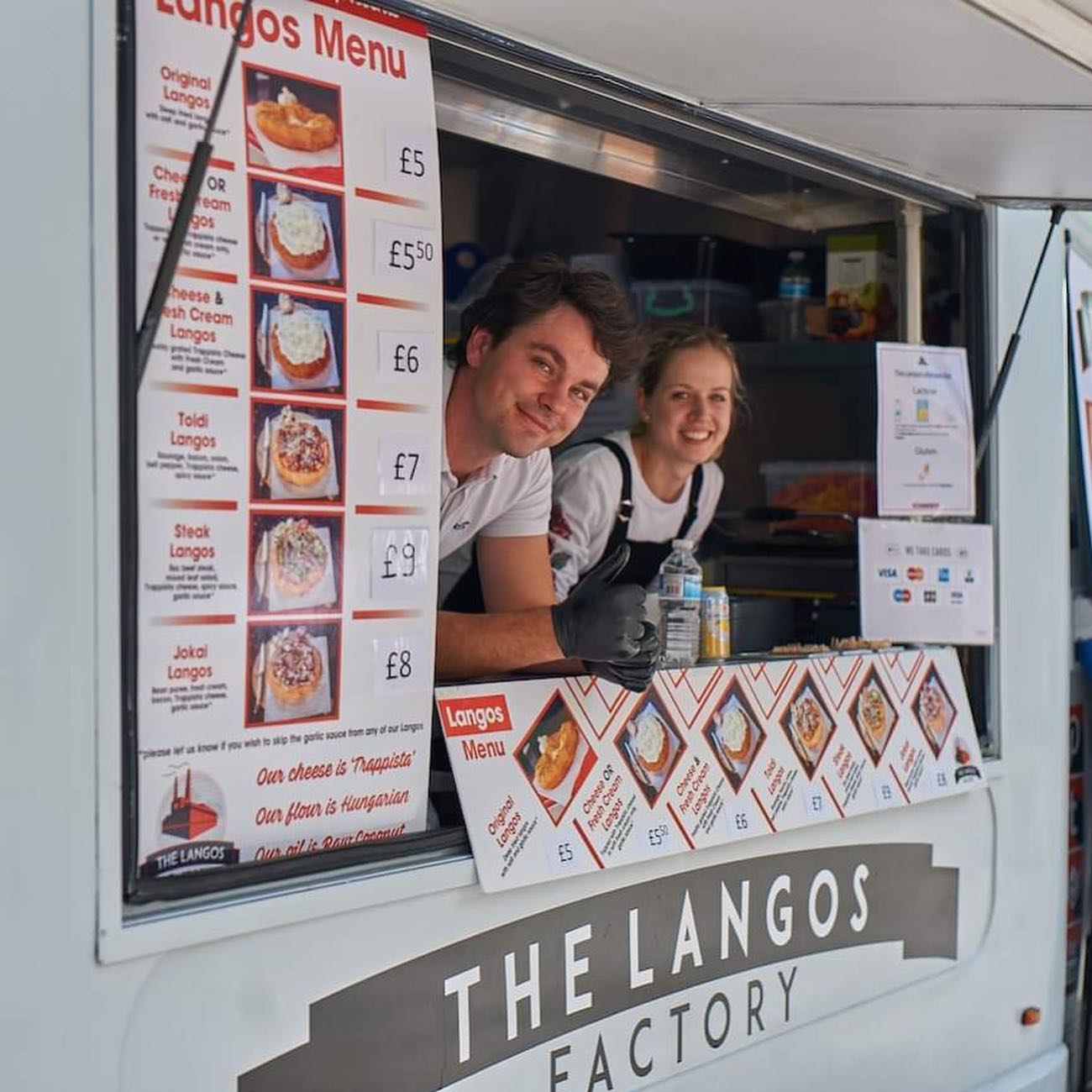 A weekend-long festival dedicated to the areas of Transylvania, the Carpathian Basin, and its wide-ranging food, drink, and folk traditions will return to Manchester this summer.
Called Góbéfest (Góbé being a friendly word for a 'crafty Székely'), the festival celebrates the little-known culture and traditions of the Székler people – a minority group of ethnic Hungarians living in Transylvania, part of Romania.
Now in its sixth year, 2022's event will bring together foodie delights like kűrtőskalács (chimney cake), mititiei (Romanian skinless sausages), Hungarian honey bread and Csiki beer, alongside folk music and dance traditions that date back hundreds of years.
For three days in June, stages in Cathedral Gardens and Exchange Square will play host to an array of bands, choirs, ensembles, orchestras, dance groups and solo performers, hailing from as far as Transylvania, Croatia, Hungary and Romania.
A food and drink market will serve up popular dishes from around the region, including langos, chicken paprikash and goulash, and for the first time, Sunday will be a dedicated dance day, featuring folk groups in the Bulgarian, Hungarian, Romanian and Polish traditions.
Here's a rundown of what's on offer over the three days.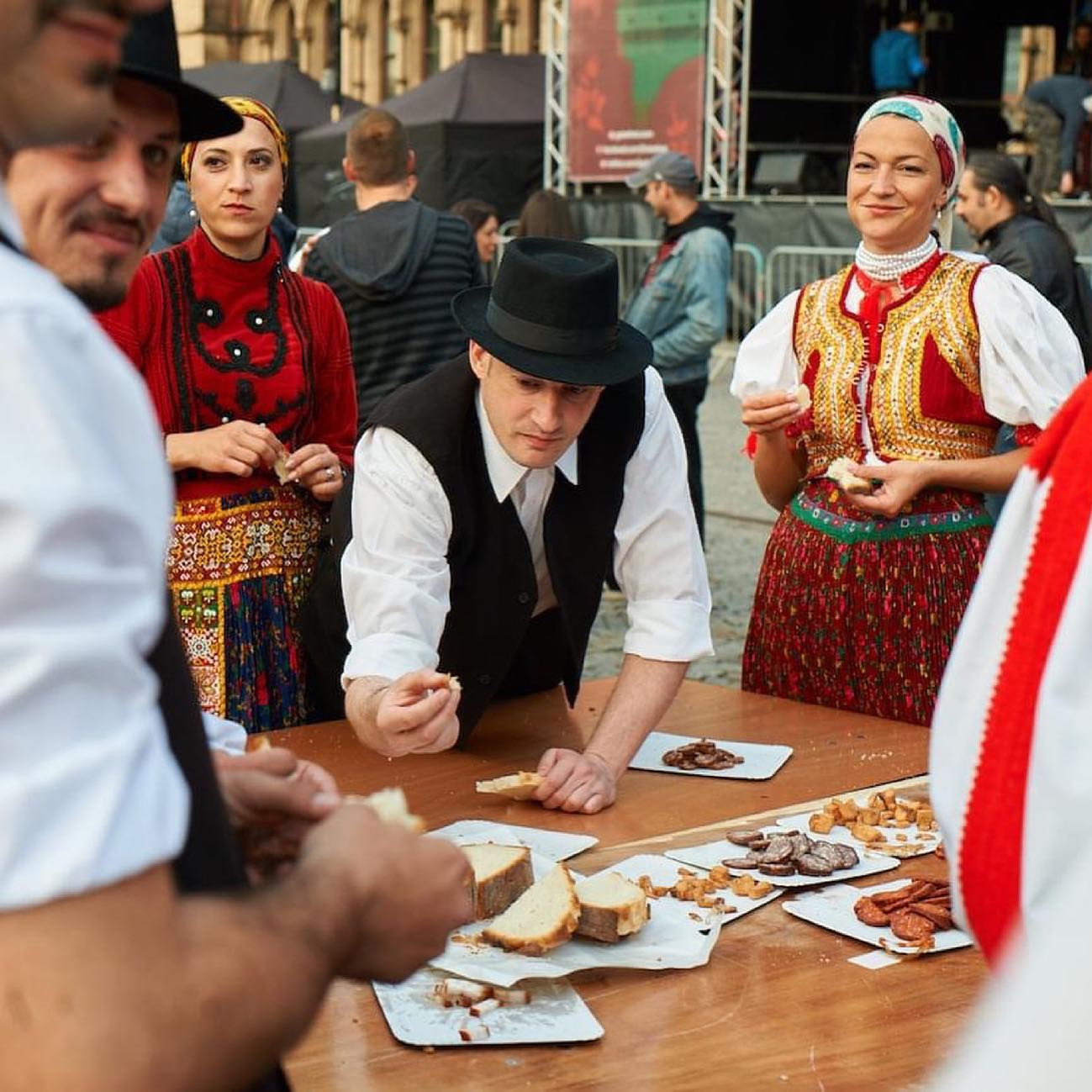 Food and drink
Refreshments will be provided by a number of independent food and drink traders, offering favourites from around the Carpathian Basin, including langos (deep-fried flatbreads topped with creme fraiche and cheese) from Langos Factory.
Festival favourites Szekely Csarda will be back with a menu that includes mititiei (barbecued Romanian skinless sausages made from pork, lamb and beef) and disznó flekken grilled pork steak.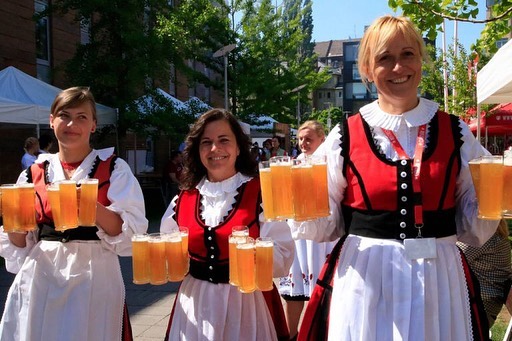 Pompas Mezes' Hungarian honey bread is amongst the most intricately embellished in the world, often featuring designs reminiscent of lace and embroidery. The honey preserves the cookie, so it can be kept for over 10 years in its sealed packaging.
Tastylicious Catering's dishes including halaszle, a paprika-based fish soup also known as fisherman's soup, stuffed cabbage rolls, chicken paprikash, zserbo, a layered chocolate topped apricot and walnut cake and rigo jancsi, a traditional cube shaped chocolate sponge.
Beer is by Transylvanian artisan brewer Csiki Sor, who took on Heineken in a trademark battle and won, and a Szicsek palinka bar will provide traditional fruit spirits with no added sugar, up to 50 percent proof.
Folk music
Barozda formed in 1976 in Transylvania and for almost half a century have been exploring Hungarian folk music from its roots, taught and inspired by village musicians, travelling all over Transylvania. They were the initiators of the Hungarian dance house movement, bringing traditional folk music to a wider and younger audience and setting the standard of the great Hungarian "tanchaz" movement in Transylvania. This is their first time at Góbéfest.
Tokos Band, a six piece band featuring strings and accordion, formed in 2010 by students of the Kolozsvár Music Academy in Transylvania. As part of the vibrant dance house movement in the city, they initially entertained the student population in pubs, clubs, cafes and dance houses but they soon became popular guests at festivals around Transylvania. In 2014 they won first place in the televised Hungarian folk music contest Fölszállott a Páva.
Góbé Band is a Hungarian six-piece who met at the Liszt Ferenc Academy of Music in Budapest. Merging their folk sound with rock, blues, dubstep, reggae, metal, jazz, pop and hip hop, they say their style is entertaining and contemporary whilst preserving the traditional nature of their music. Between them they play violin, viola, bagpipes, recorder, guitar, kobza, double bass, hammered dulcimer, hurdy gurdy, viola-tambura and flute Góbé Band played at the first Góbéfest in 2017.
Bercy Biro is a Transylvanian folk singer now living in North Wales
The Kalina Balalaika Ensemble is a community group for adults and young people in south Manchester, coordinated by MyHub Music Centres in collaboration with One Education Music. The group play Russian and Ukrainian string instruments balalaika and domras and rehearse at Chorlton Central Church.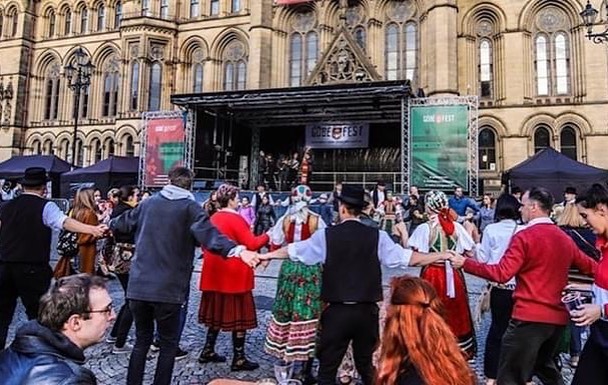 Non-folk music
MIRO Ensemble (Manchester International Roots Orchestra) is led by Romanian-born double-bass maestro and composer Michael Cretu and was set up by Community Arts North West in partnership with the Royal Northern College of Music (RNCM). Its members have roots from across the world and its repertoire combines diverse musical influences from haunting eastern European melodies, to the delicate textures of Middle Eastern percussion and vocals through to soulful Sufi chants of South Asia and joyful African gospel, embracing rap, hip-hop, classical music and jazz along the way.
Chuva is a Manchester based guitar/ mandolin/double bass folk/classical trio that was founded in 2018 by guitarists Rafael Onyett and Borna Kuca, whilst studying at the Royal Northern College of Music. Kuca is Croatian, whilst Onyett is of Latin American heritage.
Oliver Wolf (Zsolt Farkas), 22, was named Hungary's young jazz musician of the year in 2018 and graduated from Leeds College of Music three years later. Though his background is in jazz, for Góbéfest, he is trialling a new RnB sound.
Stikli is a pop rock band from Budapest. They released their first album in 2018 and say there is 'quite a bit of jumping and dancing wherever we perform' The band has been invited by festival partner the New Generation Centre in London.
Hungarian Choir of Great Britain is a Góbéfest project, which began during lockdown in 2020 and initially rehearsed over Zoom. The choir performed live together for the first time at Góbéfest 2021.
Katy Carr is a singer songwriter with Polish roots who is known for her songs about Polish history. A fan of the 1930s and 1940s, she plays vintage instruments and wears clothing and hairstyles from the period. Her album Paszport, a tribute to those who fought in World War II, won Best Concept Album from the Independent Music Awards in 2014.
Manchester Youth String Orchestra members are aged 11-18 and from schools and colleges across the city. All play at grade 5 or above. The orchestra is coordinated by MyHub Music Centres in collaboration with One Education Music.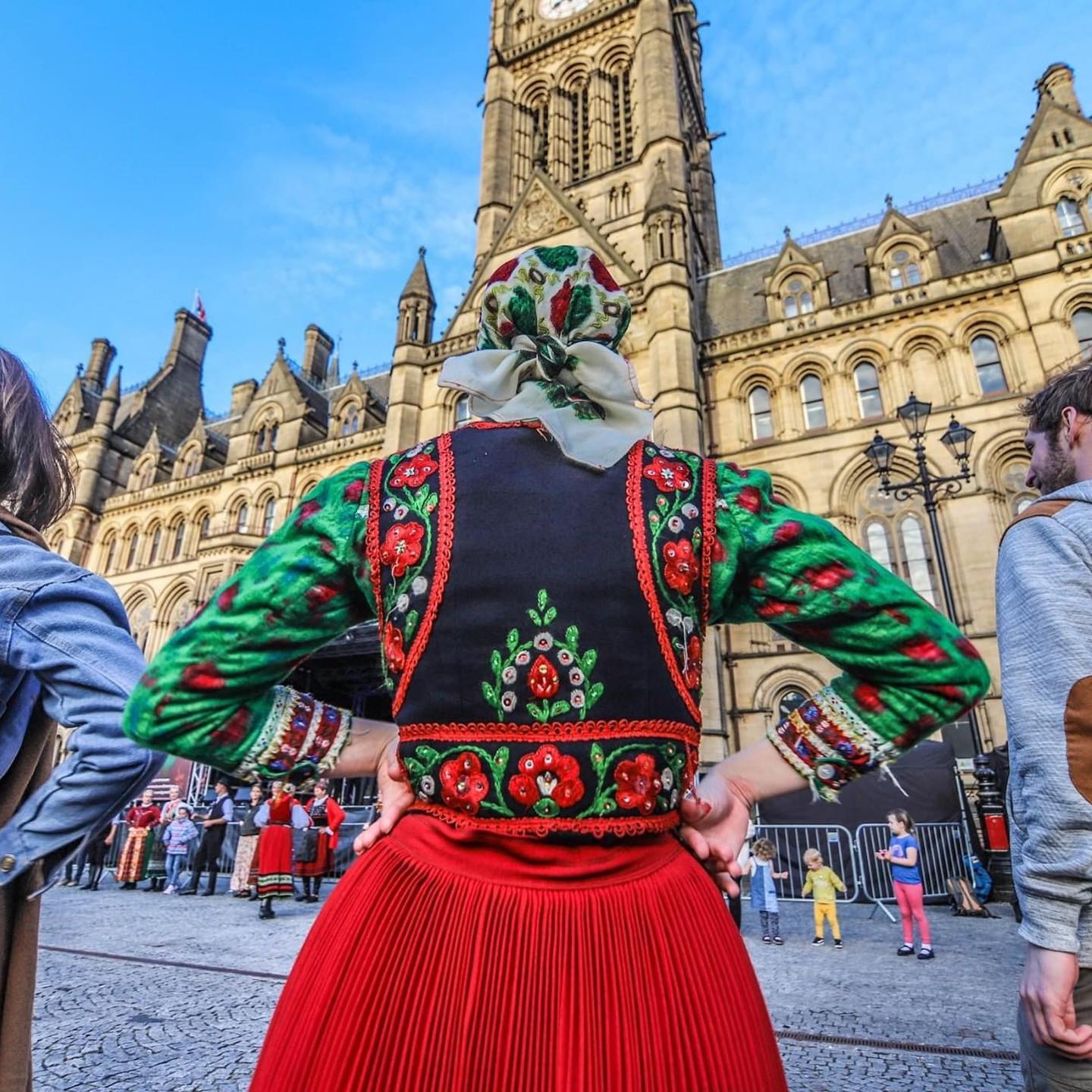 Folk dance
This year, for the first time, Sunday will be dance day, featuring folk dance acts from all over eastern Europe including Szeklerland (part of Transylvanian), Poland, Hungary, Romania and Bulgaria.
Polonez Manchester is a Polish folk dance troupe that formed in the city in 1949. The group was started by expatriates, who were unable to return to Poland after WWII, due to the communist regime. They wanted to keep the culture and traditions of their homeland alive, through song and dance and taking part in operettas and dramatic productions.
Százlabú (Caterpillar) folk dance ensemble from Transylvania began in 2006 with the aim of teaching Hungarian folk dances, games, songs to young generations. The 35-strong group will be performing various dances from different parts of Transylvania on each day of the festival.
Hunique Hungarian Folk Ensemble was founded in London in 2008. Its members are enthusiastic Hungarians living in London and its surrounding counties.
Gergiovden Folklore Fitness Group are Bulgarian 'horo' folk dancers. While it's believed that horo derives from ancient Thracian times, this traditional dance continues to be an integral part of any Bulgarian gathering to this day. Dancing horo is considered to be akin to yoga, with its many benefits to physical as well as mental health.
The Hungarian Folk Dance Group of Bristol was formed in Sept 2019 and recently held its first Hungarian folk dance house in the city. The group will demonstrate Szatmari, Szeki and Moldvai dances.
Ansamblul Tezaur is a Romanian folk dance group based in Warwickshire & Coventry, created to promote Romanian traditions in the UK.
Children
Family activities will be centred around the children's activity tent in Cathedral Gardens and will include:

Zenkő Karda is an award winning designer, illustrator, painter, stage and costume designer, from Transylvania. She has illustrated over 25 books, produced in many languages. Zenkő will be running workshops for children and families in folk tale illustration, drawing and clay, with a fairy tale theme.
Enikő Szabó is a storyteller from Transylvania, bringing traditional tales to life for children and adults. She is the organiser of the Onceuponatime Storytelling Festival in Transylvania which welcomes storytellers from all over Europe.
Cimborák Puppet Theatre Company was established in Transylvania in 1998. The company works with folk tales, encouraging the community, both young and old, to cherish these traditional stories. The piece they will be performing is based on the stories of famous Szekler Hungarian writer Elek Benedek
Mátyás Király Zither Ensemble launched in 2009 at the Mátyás Király Elementary School in Hungary. By 2014 and 2015 the young group of musicians was regularly winning gold medals at national folk music competitions. Góbéfest is delighted to welcome the zither ensemble back. They have played at the festival every year since 2017.
When is Góbéfest this year?
Founded by Ottilia Ördög, who is herself of Székely origin and has worked in Manchester's music scene for the past years, including alongside the likes of Tony Wilson, the free to attend festival will take place this year from Friday 24 to Sunday 26 June 2022, spreading out across Cathedral Gardens and Exchange Square.
Feature image – Gobefest