News
Gordon's release new Mediterranean Orange gin in time for summer
[siteorigin_widget class="SiteOrigin_Widget_PanelImage_Widget"][/siteorigin_widget]
[siteorigin_widget class="SiteOrigin_Widget_PanelText_Widget"][/siteorigin_widget]
[siteorigin_widget class="SiteOrigin_Widget_PanelImage_Widget"][/siteorigin_widget]
[siteorigin_widget class="SiteOrigin_Widget_PanelText_Widget"][/siteorigin_widget]
News
This Manchester bar is selling PINTS of Bloody Mary and a slice for six quid

Georgina Pellant
Whether it's downing pints of water before bed, spending all day on the sofa asleep, or a big fat fry-up the morning after, everyone has a favourite hangover cure.
One of ours has to be the Bloody Mary, aka the best ever hair of the dog – a mixture of spicy tomato juice, vodka, lemon, hot sauce and, in a perfect world, something smoky with pickles.
So when we heard that Manchester rock bar Jimmy's is selling PINTS of the stuff for just six pounds with a big fat slice of focaccia-like Detroit pizza included, we felt compelled to share the good news.
After all, party season is basically upon us – and that means struggling through more hangovers than we can typically endure.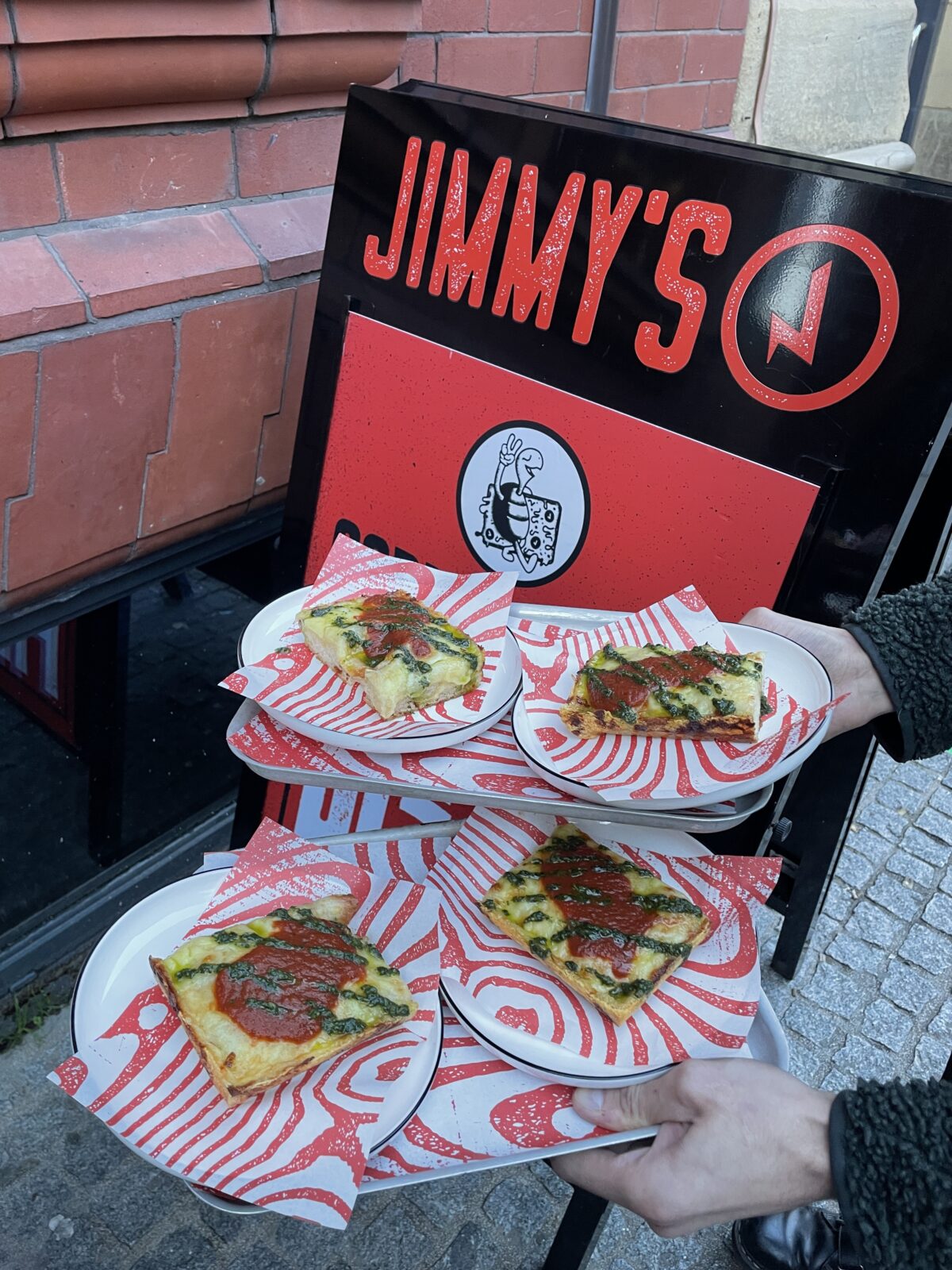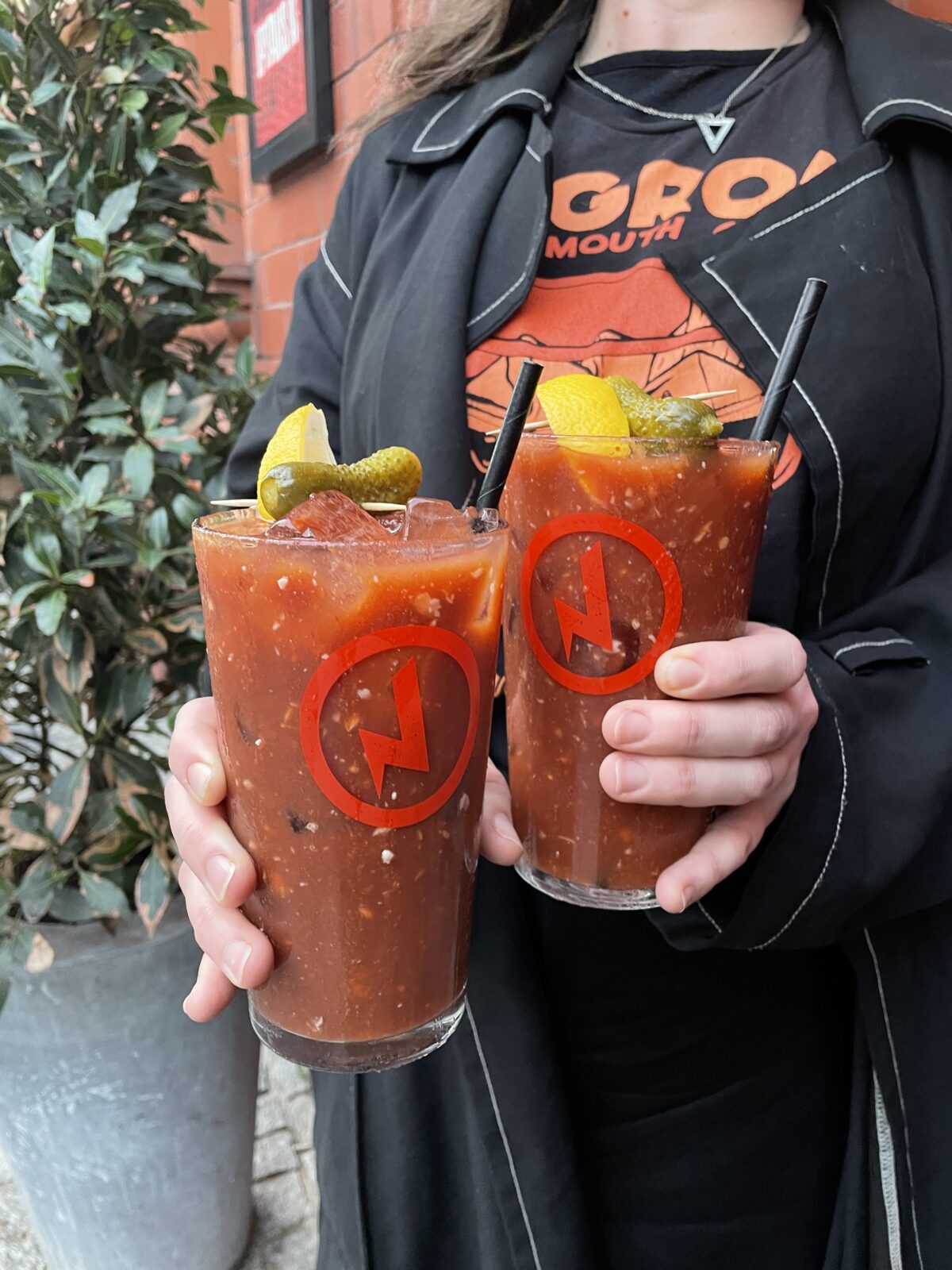 The Ancoats boozer is currently home to Manchester's original Detroit pizza heroes Corner Slice, a long time favourite in The Manc office from day one.
The team also has a pizza shop in Failsworth, but for the next month (well, until 23 December), they're slinging their signature slices out of the kitchen at Jimmy's to help you soak up the booze.
The deal, which is available every day, includes a pint of Bloody Mary and a square slice of their thick deep-pan Red Top pizza: a mixture of red sauce, Corner Slice's signature cheese blend and basil pesto.
Available every day of the week, from open until the kitchen closes, you can opt to enjoy your pint of Bloody Mary and pizza in the bar or get it to take away if you'd rather curl up on the sofa with some grease and your favourite TV show.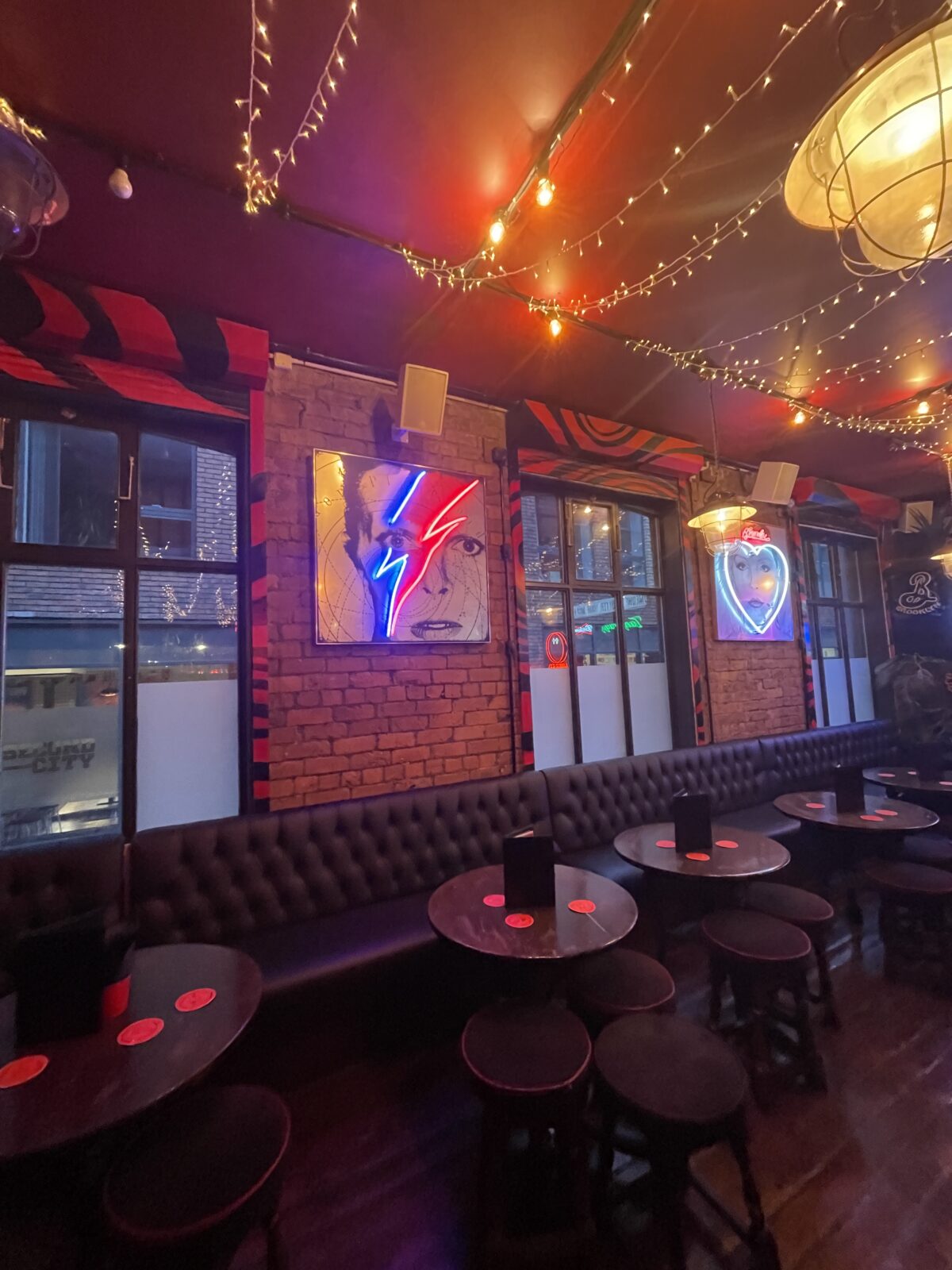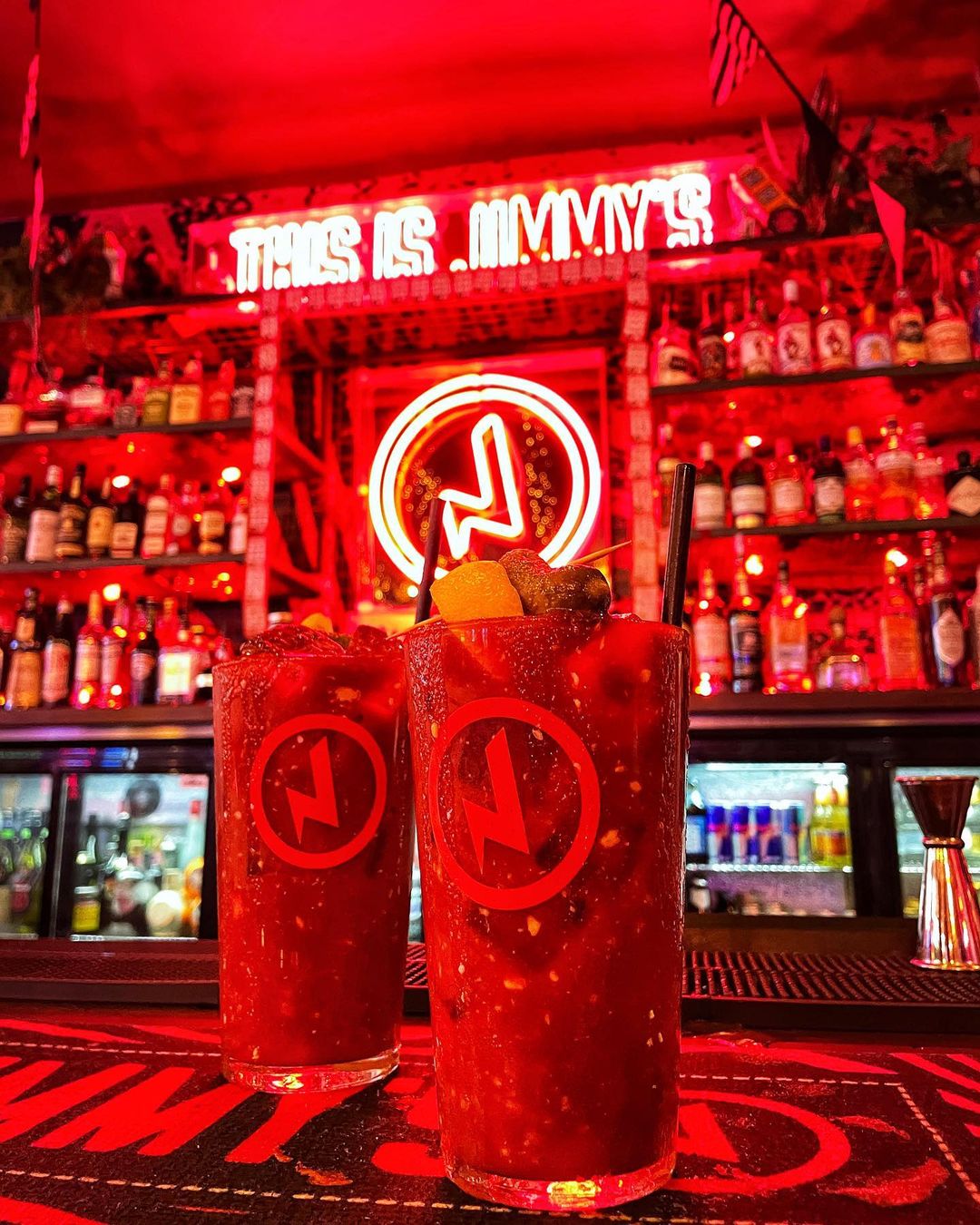 The brainchild of owners Frank Brashaw and Danny Broadbent, Corner Slice has made a well-deserved name for itself in Manchester thanks to serving up deep pan pizza with traditional Italian toppings and a curly cheese crust.
The popular Failsworth-originated pizzeria was the first to bring its Motor city-inspired rectangular pizza pies to Manchester after what it said was a "light bulb" moment during lockdown.
Read more: Bundobust launches new Christmas menu with sprout bhaji butties
As well as the simple 'Red Top', some of Corner Slice's best-loved dishes include square pies loaded with the likes of Korean Cauli, Portocini (a mix of portobello and porcini), and a number of regularly-changing specials and vegan specials.
Feature image – The Manc Eats
News
FIFA allow rainbow flags and bucket hats in World Cup U-turn

Danny Jones
In a surprising U-turn by FIFA, the international governing body has instructed Qatar to allow rainbow flags and bucket hats to be taken into their stadiums.
The decision to reverse the policy comes just days after England, Wales and numerous other teams decided not to wear the One Love captain's armband after it was warned they could face instant yellow cards and perhaps further punishment.
It remains unclear whether this reversal will extend to players wearing the armband, though it still seems unlikely at this stage.
Nevertheless, we're happy to see the pride flags and rainbow colours signifying solidarity with the LGBTIA+ community making an appearance in the Middle East.
Wales were the first nation to get the rainbow colours on show ahead of their 2-0 defeat to Iran on Friday morning, installing pride corner flags with the team badge superimposed around their training camp.
The Dragons explained that, like other teams, they could not risk ignoring FIFA's ruling on the One Love armband through fear and lack of clarity over whatever the subsequent sanctions would be, but are now clearly trying to send a message where they can.
The German national team also made their feelings known in what has now become an iconic sporting photo, portraying how allies have been "silenced" by the Gulf state.
We can only hope England make the most of their opportunity to take a similar stand and show their support for the LGBTQIA+ community, women's rights and the migrant workers who suffered to make this beyond questionable World Cup happen.
Although we should have been focusing on nothing other than football, the 2022 World Cup has been dominated by off-pitch controversies.
As well as Qatar's tough stance on alcohol — banning beer just 48 hours before the first game — the suppression of rights, media, freedom of expression and the human rights abuses committed against those who toiled to build the stadiums have all cast a shadow over the tournament.
Read more:
Three Lions boss Gareth Southgate insisted that despite the travesty of the One Love armband decision, the team remain positive and "know what [they] stand for.
He also would not rule out sending a message in another way, reassuring reporters that despite having to accept the decision, "That's not to say we won't do anything moving forward if the timing's right, but I think we are rushing to be seen to be doing something, we could make an error that doesn't land well."
Either way, at least fans now have a way of demonstrating their support by putting their rainbow flags and bucket hats on the world stage.
Once again, it's not up for debate: football is a game for everyone.
For all the latest news, events and goings on in Greater Manchester, subscribe to The Manc newsletter HERE.
Featured Image — The Football Association (FA)/Sky Sports