News
Grandma asks if she can hug her grandchildren when lockdown eases
[siteorigin_widget class="SiteOrigin_Widget_PanelImage_Widget"][/siteorigin_widget]
[siteorigin_widget class="SiteOrigin_Widget_PanelText_Widget"][/siteorigin_widget]
News
Yellow weather warning could bring 'winds of up to 80mph' and heavy rain to North West

Danny Jones
Autumn is well and truly underway as colder temperatures have already started to descend on the UK. Now, though, high winds and heavy rain are expected to hit various regions across the nation.
The Met Office announced a yellow weather warning on Monday afternoon, predicting that strong gusts of winds exceeding 55mph are set to affect northern and western parts of the UK on Wednesday.
Meteorologist Alex Deakin said Brits should prepare for a "blusterous and boisterous" week ahead.
A yellow weather warning can encompass everything from injuries and danger to life caused by flying debris, to structural damage, disruption to travel and public transport, as well power cuts and more.
'Persistent rain and stronger winds' are already said to be battering parts of Northern Ireland and Scotland, before beginning to sink into more central areas of the UK from Tuesday onwards.
With rainfall expected to measure in at between 30-50mm across western Scotland – as much as 80mm across some mountainous areas – the low pressure is due to hit the northern and western parts of England on Tuesday night.
Experts have warned that while they are yet to nail down the exact details of peak wind strengths, they could easily surpass 55-65mph.
Deputy Chief Meteorologist Rebekah Sherwin said that while gales around the Irish Sea and eastern Scotland are pretty typical for this time of year, conditions may not stay localised as the week goes on.
Read more:
"There is a chance the deep low pressure system will bring gusts of 70 to 80 mph to northern parts of the UK on Wednesday", says Sherwin, warning that "should this develop, disruption to travel and wind damage would be more likely. In addition, heavy rain in the northwest may make travelling more difficult."
Stronger gales will remain on the cards for the North West as well as some significant rain, with the heaviest showers expected to fall on more western regions.
Best get weighing those bins down and preparing for a potential work-from-home day.
For all the latest news, events and goings on in Greater Manchester, subscribe to The Manc's newsletter HERE.
Featured Image — Wikimedia Commons
News
Warning after terrifying video shows party decorations catching fire in a Manchester bar – again

Daisy Jackson
Fire crews in Greater Manchester are warning bars and restaurants to be careful after footage emerged of party decorations catching fire above customers' heads.
In a similar incident to the New Year's Eve blaze at One Eight Six in Manchester city centre, the CCTV shows a celebratory sparkler in a cake setting the decorations alight.
In just seconds, the entire ceiling is ablaze, with terrified customers scrambling for the exit.
Greater Manchester Fire and Rescue service released the video in a bid to raise awareness and prevent any similar incidents at hospitality venues in the city-region.
The shocking incident occurred in a shisha bar in Rusholme, in May this year.
Fortunately, no one was seriously injured, but several people were taken to hospital with suspected burns.
In both this instance and in the One Eight Six incident, the cause of the blaze was determined as being 'indoor fireworks igniting decorations, which then burned rapidly allowing the fire to spread'.
GMFRS is now working with licensing teams from the 10 councils in Greater Manchester to offer free information and advice sessions to owners and managers of cafes, bars, pubs and restaurants in advance of the Halloween, World Cup and the Christmas party season.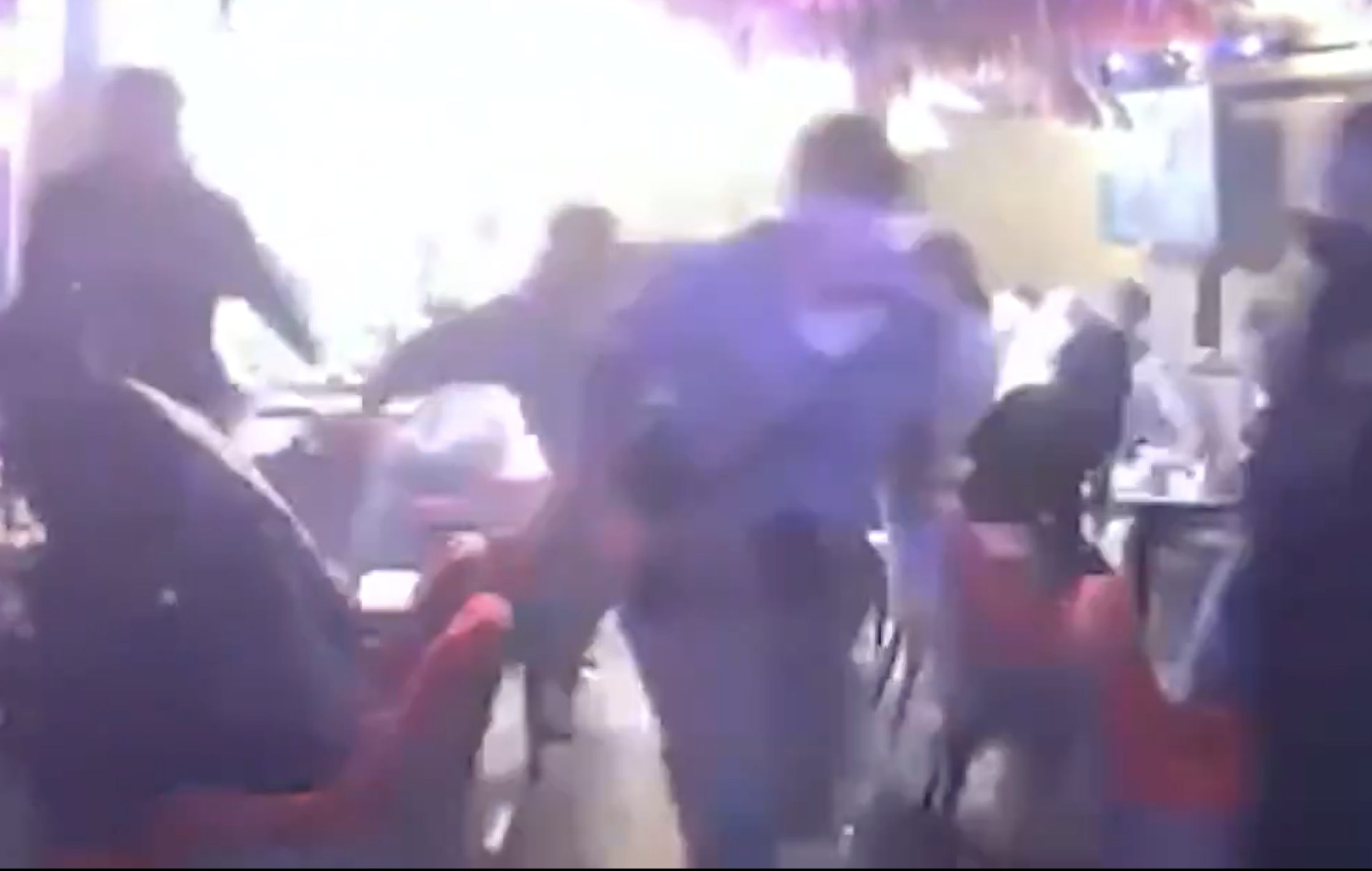 Leon Parkes, GMFRS's director of prevention and protection, said: "Hospitality venues have a responsibility to keep their customers and staff safe and at Greater Manchester Fire and Rescue Service we want to help businesses to understand their legal responsibilities and take action to protect their property, staff and customers from fire.
"We have seen a couple of instances in the past year in Manchester where fires have broken out in venues caused by indoor fireworks setting light to decorations.
Read more
"While fortunately fires don't occur very often, the impact of a fire can be devastating and many businesses don't recover.
"Pubs, bars and other venues will be very, very busy during October, November and December. It's important that staff prepare by getting trained in what they need to do and that they don't inadvertently create a fire risk.
"We know that the last two years have been really difficult for hospitality businesses and hopefully the forthcoming World Cup and Christmas period will be a boost for them. We gave out fire safety advice in May last year as Covid-19 restrictions eased and we are now working with our partners to help hospitality businesses be safe and stay safe."
Bar and restaurant operators are encourage to sign up for free fire safety sessions here.
For all the latest news, events and goings on in Greater Manchester, subscribe to The Manc newsletter here.
Featured image: GMFRS