Climate change protesters from Insulate Britain have blocked the M56 near Manchester Airport, it is being reported.
It appears that a group has blocked the carriageway near Junction 6 of the motorway this morning and is now holding Insulate Britain banners up.
Images from the scene show a group of protesters sitting on the floor near a collection of traffic lights, and some reports are suggesting that protesters have attempted to glue themselves to the floor.
It also seems that a number of police officers appear to be at the scene already.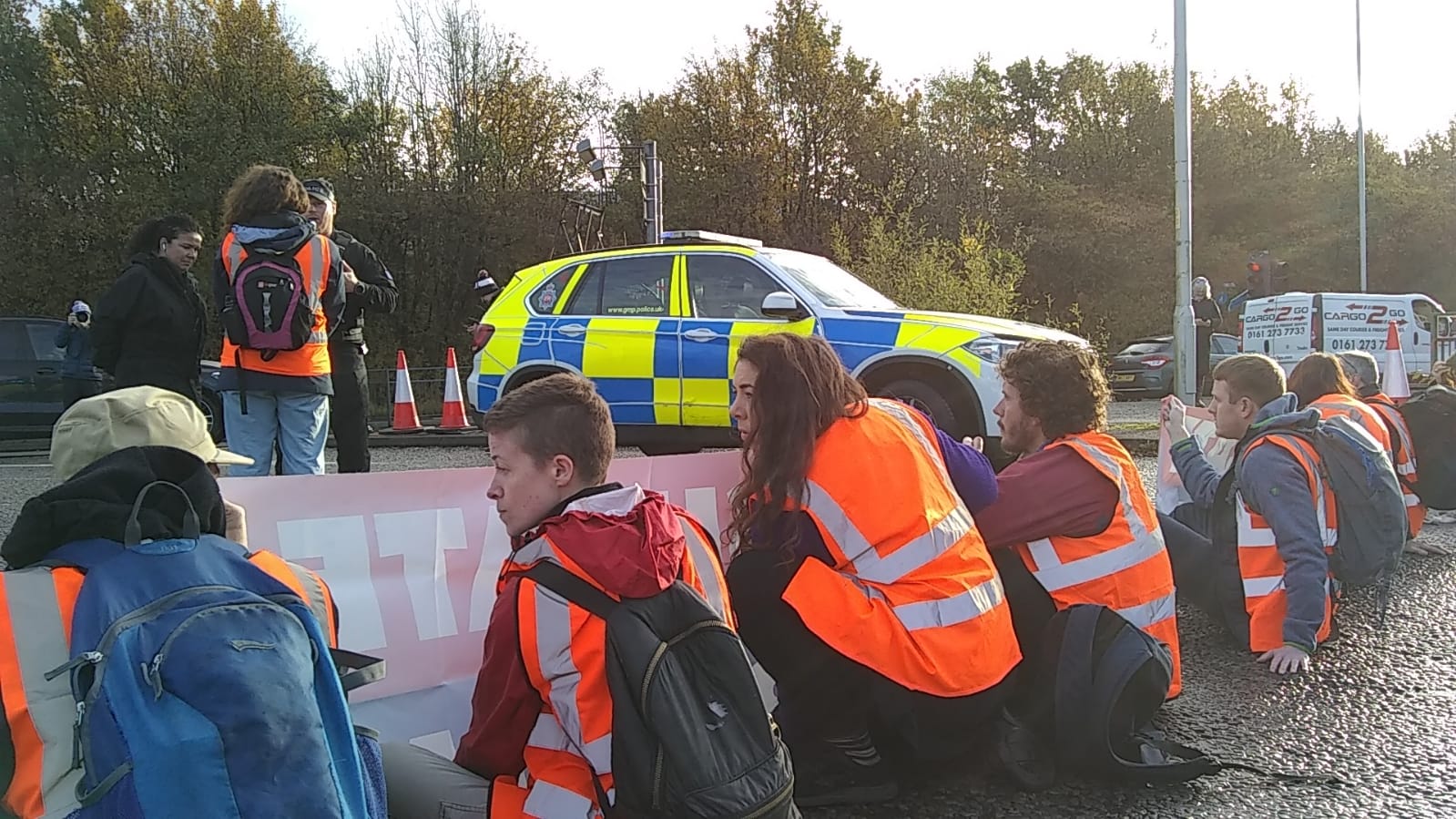 Greater Manchester Police has released a statement: "We're currently responding to a protest on Wilmslow Road (A538) close to Manchester Airport.
"We're working at the scene to minimise disruption and we'll provide updates in due course.
"Delays are expected and we ask people travelling to avoid the area if possible."
Manchester Airport has also released a statement, which says: "We are aware of protestors gathered on land close to Manchester Airport, which is being handled by the Greater Manchester Police.
"There is no impact on our operations but those planning to travel to the airport should take account of this ahead of their journey.
"Anyone with further enquiries should contact the police or Highways England directly."
Andy Burnham was quick to tweet his disapproval, stating he "can't see how this type of protest does anything other than alienate people from the climate cause" – however, he doesn't offer any suggestions for the type of protest he might deem to be more effective.
The group of climate change protestors appears to have headed north to coincide with the COP26 talks currently taking place in Glasgow.
This week, dozens of world leaders have already faced calls of hypocrisy for taking private jets to Glasgow whilst telling the world to cut its carbon footprint.
Protests are also taking place today in Birmingham and across Britain, reports The National Scot – with a reverend from Bristol having been arrested by police for taking part in the peaceful acts of disruption and disobedience.
The group is campaining for the UK government to introduce new legislation and funding for better home insulation, which they argue would significantly help in the fight against climate change.
Their key demands are that the government insulate all social housing in the UK by 2025 and retrofit all homes with insulation by 2030.
An offshoot of climate change protest group Extinction Rebellion, their website states: "WE demand the Prime Minister and the government to #getonwiththejob, face up to their responsibility and lead our country through the climate crisis."
Featured Image – Insulate Britain