News
June Bernicoff from Gogglebox has passed away
[siteorigin_widget class="SiteOrigin_Widget_PanelImage_Widget"][/siteorigin_widget]
[siteorigin_widget class="SiteOrigin_Widget_PanelText_Widget"][/siteorigin_widget]
News
Warning after terrifying video shows party decorations catching fire in a Manchester bar – again

Daisy Jackson
Fire crews in Greater Manchester are warning bars and restaurants to be careful after footage emerged of party decorations catching fire above customers' heads.
In a similar incident to the New Year's Eve blaze at One Eight Six in Manchester city centre, the CCTV shows a celebratory sparkler in a cake setting the decorations alight.
In just seconds, the entire ceiling is ablaze, with terrified customers scrambling for the exit.
Greater Manchester Fire and Rescue service released the video in a bid to raise awareness and prevent any similar incidents at hospitality venues in the city-region.
The shocking incident occurred in a shisha bar in Rusholme, in May this year.
Fortunately, no one was seriously injured, but several people were taken to hospital with suspected burns.
In both this instance and in the One Eight Six incident, the cause of the blaze was determined as being 'indoor fireworks igniting decorations, which then burned rapidly allowing the fire to spread'.
GMFRS is now working with licensing teams from the 10 councils in Greater Manchester to offer free information and advice sessions to owners and managers of cafes, bars, pubs and restaurants in advance of the Halloween, World Cup and the Christmas party season.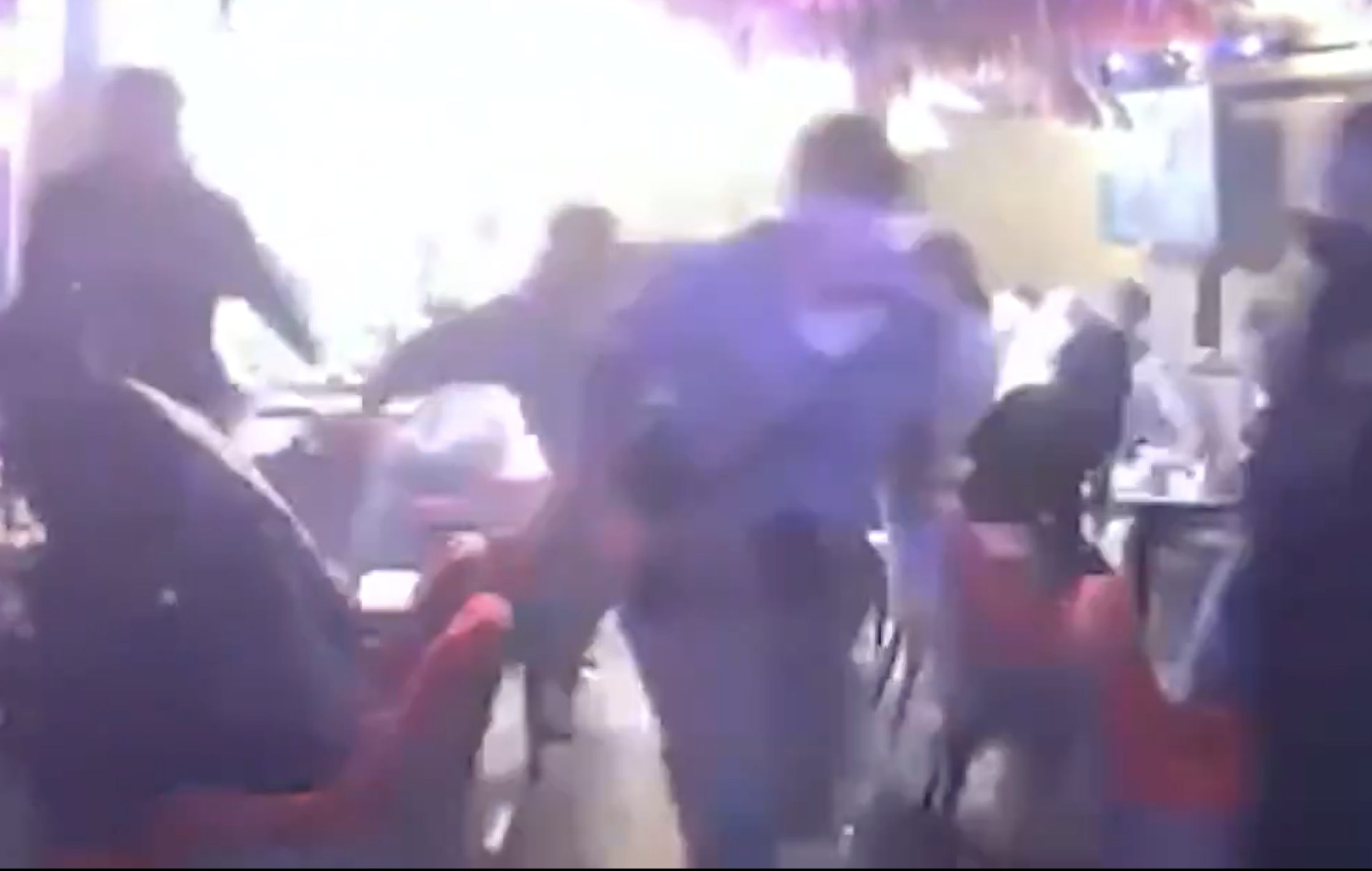 Leon Parkes, GMFRS's director of prevention and protection, said: "Hospitality venues have a responsibility to keep their customers and staff safe and at Greater Manchester Fire and Rescue Service we want to help businesses to understand their legal responsibilities and take action to protect their property, staff and customers from fire.
"We have seen a couple of instances in the past year in Manchester where fires have broken out in venues caused by indoor fireworks setting light to decorations.
Read more
"While fortunately fires don't occur very often, the impact of a fire can be devastating and many businesses don't recover.
"Pubs, bars and other venues will be very, very busy during October, November and December. It's important that staff prepare by getting trained in what they need to do and that they don't inadvertently create a fire risk.
"We know that the last two years have been really difficult for hospitality businesses and hopefully the forthcoming World Cup and Christmas period will be a boost for them. We gave out fire safety advice in May last year as Covid-19 restrictions eased and we are now working with our partners to help hospitality businesses be safe and stay safe."
Bar and restaurant operators are encourage to sign up for free fire safety sessions here.
For all the latest news, events and goings on in Greater Manchester, subscribe to The Manc newsletter here.
Featured image: GMFRS
News
'Significant risk' of UK gas shortages this winter, regulator warns

Georgina Pellant
Energy regulator Ofgem has warned that the UK faces a 'significant risk' of gas shortages this winter.
According to reports in The Times, the regulator has unveiled concerns that the country could face blackouts over the coming months thanks to an undersupply of gas to Europe caused by Russia's war with Ukraine.
Warning that a "gas supply emergency" could be looming ahead, the energy regulator has said that some gas-fired power plants could see their supplies cut off, which in turn would stop generators from producing electricity.
The alert comes just days before an expected update from the National Grid on the likelihood of countrywide power cuts this winter.
Responsing to arequest from SSE, which owns several gas power stations, Ofgem outlined what is set to be a huge issue of concern given that the UK relies on large gas plants to produce the biggest share of its electricity supply.
The regulator also pointed to rules that could see power plants penalised as a result of shortages, warning of a worst-case scenario that would see the "potential insolvency of gas-fired generators" caused by rules that require plants to pay huge charges if they fail to deliver on promised quotas.
Adding that the issue must be addressed to prevent a "significant impact on the safety and security of the electricity and/or gas systems", the regulator echoed concerns now widespread in Europe as its comments followed a similar statement made by the International Energy Agency (IEA) this morning.
Europeans are already being told they must lower their thermostats and boilers in preparation in case gas supplies are cut off, with Paris-based agency IEA warning today that the EU must focus on getting underground gas reserve levels to 90% of capacity in case of a complete Russian supply shut-off.
Preparation are already being made in Europe with the German government having approved a set of energy-saving measures for the winter to limit use in public buildings. In France, meanwhile, companies have already been warned they may face energy rationing this winter.
Whilst the UK government is yet to announce any energey saving measures, Ofgem has said that it expect s"this winter to be more challenging than last year" and that it is taking "reasonable regulatory steps to mitigate and reduce the risks".
Read more: 11 arrests after mass brawl breaks out before Oldham vs Wrexham game
However, there are concerns that if gas-fired power plants incur costs these could, in turn, lead to energy bills rising for consumers once again.
SSE estimated that it could be fined as much as £276 million for every day it is unable to generate power, rising to £475 million for its largest plants.
This risk, it said, will force generators to reduce their advance sales and could end up "raising costs for electricity consumers" in the long run.
Feature image – Wikimedia Commons