News
Manchester Central to be turned into 1,000 bed 'Nightingale' hospital
[siteorigin_widget class="SiteOrigin_Widget_PanelImage_Widget"][/siteorigin_widget]
[siteorigin_widget class="SiteOrigin_Widget_PanelText_Widget"][/siteorigin_widget]
[siteorigin_widget class="SiteOrigin_Widget_PanelImage_Widget"][/siteorigin_widget]
[siteorigin_widget class="SiteOrigin_Widget_PanelText_Widget"][/siteorigin_widget]
News
Police seize 17 dogs after 6-year-old girl is injured during attack in Carrington

Emily Sergeant
17 dogs have now been seized by police after a six-year-old girl was injured during at attack in Carrington this past weekend.
Shortly before 2:40pm on Sunday 26 March, officers from Greater Manchester Police (GMP) were called to an address on Ackers Lane in Carrington in Trafford after receiving reports that a child had "suffered injuries caused by dogs".
The child, a six-year-old girl, was taken to hospital shortly after police arrived at the scene, and remains there "in a stable condition".
GMP first confirmed that four adult dogs and nine puppies were seized by officers on Sunday, and were taken away by specialist partners.
Four more dogs were then seized yesterday, bringing the total to 17.
With investigations ongoing, GMP has confirmed that a "vehicle of interest" has been recovered and searched, as well as three people having been arrested on suspicion of owning a dangerous dog – but they have each since been released on bail.
Enquires are still continuing to locate individuals the force believes "have responsibility for the dogs".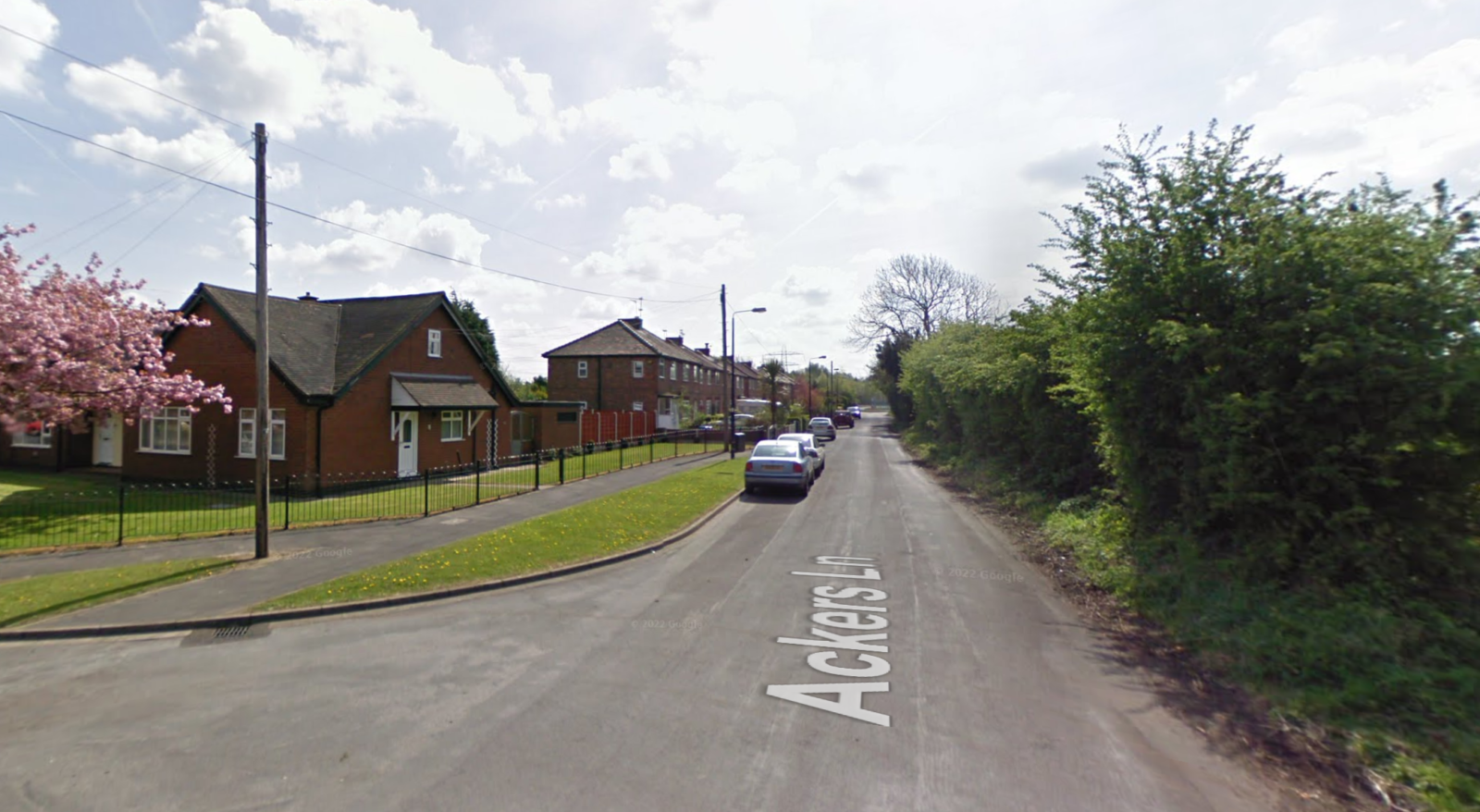 Detective Inspector Matthew Dixon, of GMP's Trafford district, called it "a fluid investigation", and added that: "So far we have recovered 17 dogs and made three arrests, as well as a vehicle of interest – however, the investigation is very much ongoing."
Greater Manchester Police says it has referred itself to the Independent Office for Police Conduct (IOPC) over the incident.
Read more:
Anyone with information on the incident is asked to contact police quoting log 1612-26/03/23.
Featured Image – Google Maps
News
Manchester United reject offers for Mason Greenwood as rep says he 'should be allowed to move forward with his young life'

Danny Jones
Manchester United have reportedly rejected a number of offers for Mason Greenwood as the club continues their internal investigation into his behaviour.
The club have reportedly received a number of offers for the young forward from Turkish teams in recent weeks and months while Greenwood has been suspended from playing or training. He has yet to return to the sport after charges of attempted rape, controlling and coercive behaviour and assault occasioning actual bodily harm were dropped.
The charges handed down in January 2022 were ultimately dropped last month when key witnesses withdrew, more than a year on from the incident that was widely circulated on social media.
Now, following a behind-the-scenes feature by The Athletic and 'new material' leading the Crown Prosecution Service to drop the case for the foreseeable, it seems United are now the only party still investigating Greenwood, with his own team and figures around the club pushing for a resolution.
Speaking to Laurie Whitwell as part of the piece, one of Greenwood's representatives argued that there is "no real substance" to the allegations, them "a mix of old news, speculation, half-truths and completely untrue claims."
He went on to say, "Mason is 21, he has been cleared and should be allowed the opportunity to rebuild and move forward with his young life."
Another source is also said to have told the outlet that the youngster has been fundamentally changed by the experience, insisting that he "would run through a brick wall" to be back playing at United.
As for the club's stance, it remains to be seen what their final decision on his future will be, but it was reported earlier this month that a potential return is still "firmly under consideration" and his number 11 shirt has not yet been vacated as many would have expected if he was set to move on.
Read more:
On the other hand, the article goes on to detail questions surrounding Greenwood's conduct and general attitude during his relatively short time as a senior player too, the suggestion being that he was slacking in training because "he knew he was a good player".
His attendance at Carrington is said to have been raised as an issue on more than one occasion and then-manager Ole Gunnar Solskjær often covered for training sessions and games he missed after failing to turn up to the team hotel for "unexplained absences".
Another source who watched him play aged just 16 also went on to reveal that Bradford-born academy product "wasn't shy about telling someone they were s***", apparently even calling out Cristiano Ronaldo as "dead [finished]" when he was still at Real Madrid.
Greenwood played over 100 senior games for United and was widely considered one of the brightest young prospects in England, let alone the club, but the career trajectory he looked to be on is widely different from the problematic position he finds himself in now, regardless of any offers from abroad.
For all the latest news, events and goings on in Greater Manchester, subscribe to The Manc newsletter HERE.
Featured Image — Manchester United (Twitter)