News
Manchester City Council defends new cycle lanes through Northern Quarter as they're branded 'absurd'
The council has said people need to 'use their common sense' while the new cycle lanes bed in.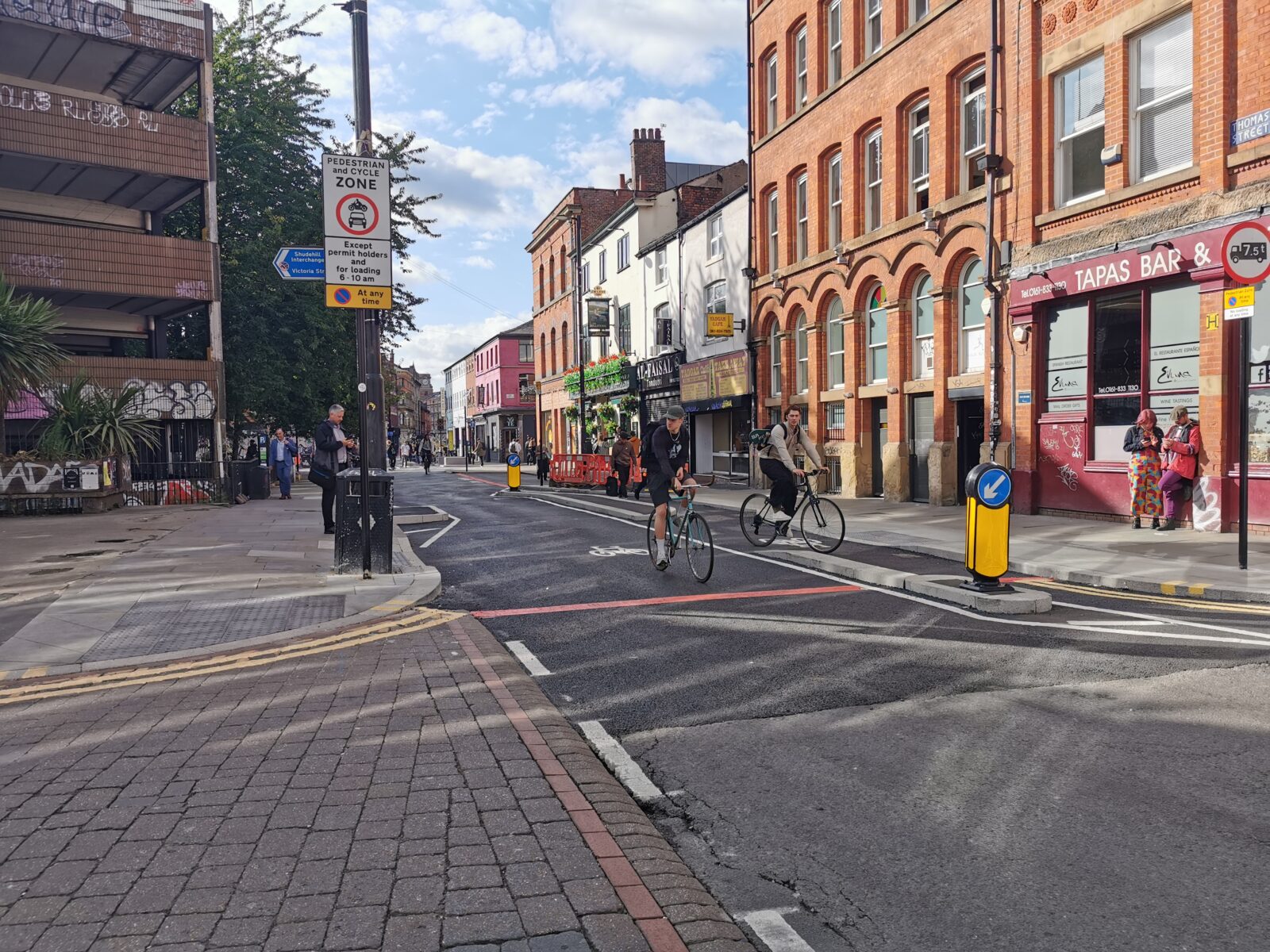 Manchester City Council has addressed concerns about new cycle lanes that have been installed through the Northern Quarter.
New road markings and concrete bollards have been installed along the newly-pedestrianised Thomas Street and already, cyclists are making use of the new road layout.
But in the first few days of the cycle lane provision being operational, people were sharing videos of a few teething issues, including cars driving down the road, people blocking the lanes, and broken glass littering the street.
Others have said that the road markings at the end of John Street, which are one-way markings despite it leading onto a pedestrian and cycle zone, are confusing.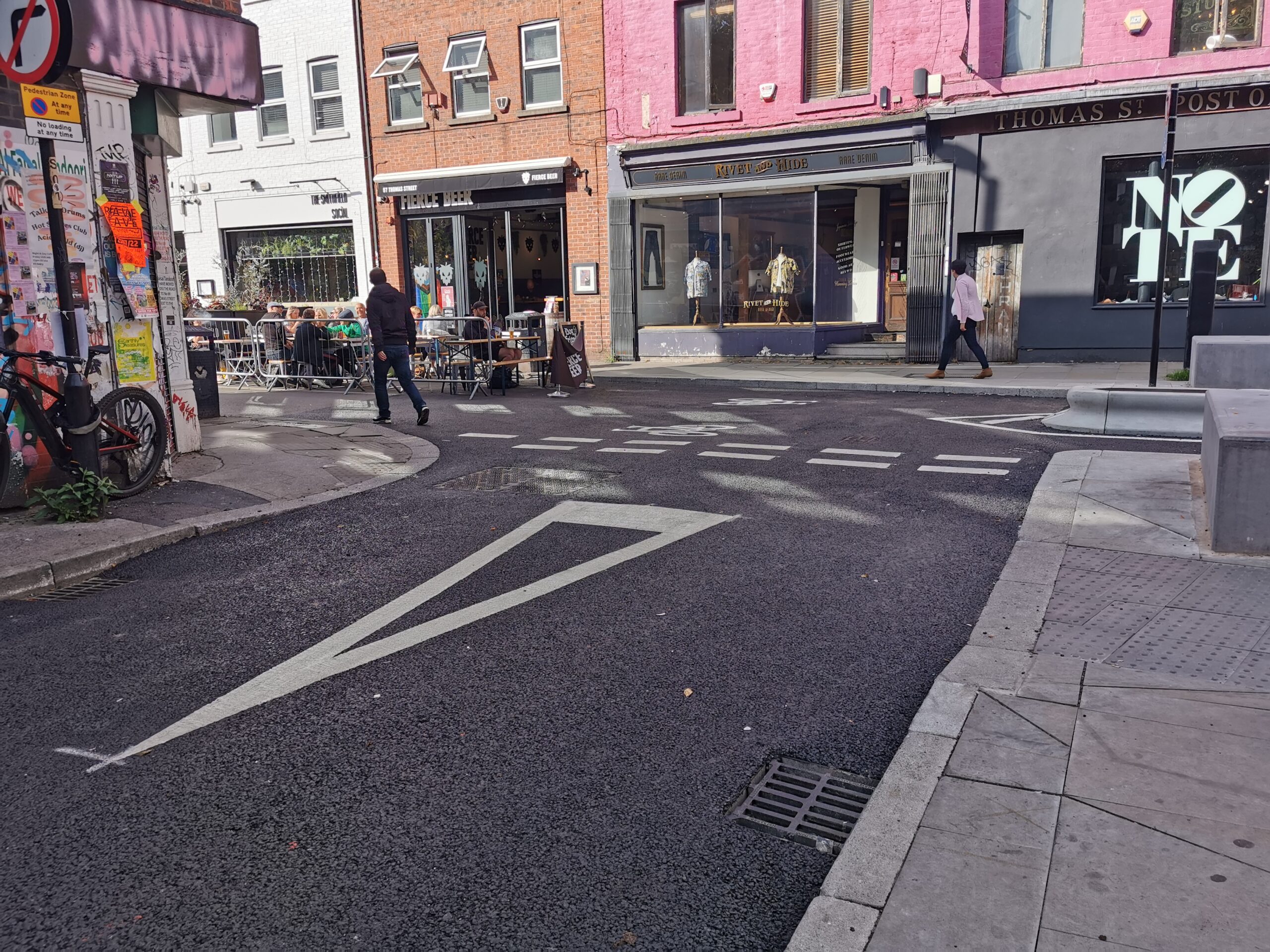 The council has said that they are 'pleased with how new cycle schemes are being implemented' but stressed that people need to 'use their common sense' for pedestrians, cyclists and cars to integrate seamlessly.
In one video viewed tens of thousands of times on Twitter, Harry Gray shared a live tour of cycling along the new route, which featured a taxi trying to reverse back from Thomas Street on to John Street after taking a wrong turn.
He also posted a row of cars mistakenly driving into the pedestrian and cycle zone and having to reverse back out.
Temporary signage has since been installed on Back Turner Street and John Street to tackle the issue of cars entering the area.
A spokesperson for the council said: "It is clearly signposted that this road is no entry and drivers who enter it are committing a traffic offence. It would be unfair to lay the blame of poor driving towards the Council. However, temporary signage has been installed this week to help this bedding in process."
While the new cycle lanes are of a standard width, the busy nature of Thomas Street means that pedestrians are often sharing the space too.
Some people have expressed frustration that people are sitting on the flat-topped concrete bollards, further obstructing the cycle lanes.
The council said: "There are pavements on both sides of Thomas Street, however as it is a busy public space we would expect all road users, including cyclists to be respectful of people's space and travel through the area slowly and carefully.
"The Council has done everything in its power to clearly demarcate where cycle lanes are, but only so much can be done and we are not able to prevent people walking where they please."
Read more: People are calling for an extra bank holiday if England win Women's EURO 2022 final
Councillor Tracey Rawlins, Executive Member for Environment and Transport, said: "We're pleased with how new cycle schemes across the city are being implemented. This is part of a wider drive by the Council to put walking and cycling at the heart of future transport policy.
"As part of our city centre transport strategy we want 90% of journeys carried out via walking, cycling or public transport by 2040, so schemes like this are playing a vital part of achieving that goal.
"But, for it to work we need people to adapt to changes when they occur, follow the rules of the road and above all use their common sense to prevent the system being blocked up. We'll be working with all concerned parties going forward to make sure that pedestrians, cyclists and cars can integrate seamlessly into our travel network."
Featured image: The Manc Group