A very special dog has been awarded Employee of the Month a whopping 15 times during lockdown for keeping staff's spirits high at this Manchester company.
Eight-year-old Border Collie Lottie received her first award last April when owner and yappy.com founder, John Smith, decided that she deserved a place on the usually-human Employee of the Month wall.
"Lifesaver" Lottie's been up to all sorts over the last 15 months.
From dressing up to take Tiger King-inspired Joe Exotic selfies, to celebrating their loo roll stash as the nation's stock fell low, Lottie kept John smiling – and she brought joy to the whole team at the Manchester-based company too.
Lottie was pictured celebrating Eat Out To Help Out, Valentine's Day, Independence Day, Halloween, Christmas and more throughout lockdown.
Every month, John – who founded the pet-themed personalised gifting website back in 2018 – snapped a seasonal photo of Lottie and framed it on the Employee of the Month wall, and in case you missed it, her adorable antics were also documented on the company's Instagram account so everyone could see how amazing she was.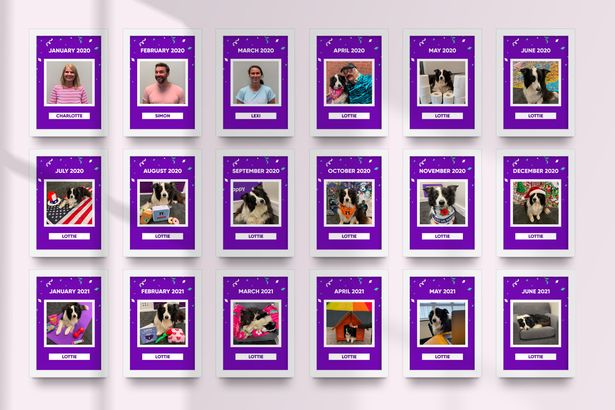 "Like many UK business owners, during the first lockdown, I found myself suddenly juggling the demands of running a business and trying to ensure that the morale of my staff was kept intact," John explained.
"When it became possible to make trips into the office for a change of scenery, I still didn't see many staff at all, and most days found myself working alone five days a week.
"On those days, Lottie was a lifesaver and kept me going with cuddles and constant entertainment.
"I decided to start sharing photos of our days with the team to keep everyone smiling.
"Lottie was a total star and definitely deserved to be awarded 'Empawee' of the Month for simply making the whole team smile on busy days and for keeping me company.
"Dogs have this amazing sixth sense and ability to know how you're feeling and even five minutes of tummy-tickling or going for a short walk with them can help reduce stress levels and calm you down on difficult days."
Featured Image – yappy.com