News
Manchester Food and Drink Festival is back for 2021 – everything you need to know
From artisan markets with some of the region's finest traders, to street food, a giant beer and cider bar, plus events across the city, MFDF 2021 has so much to offer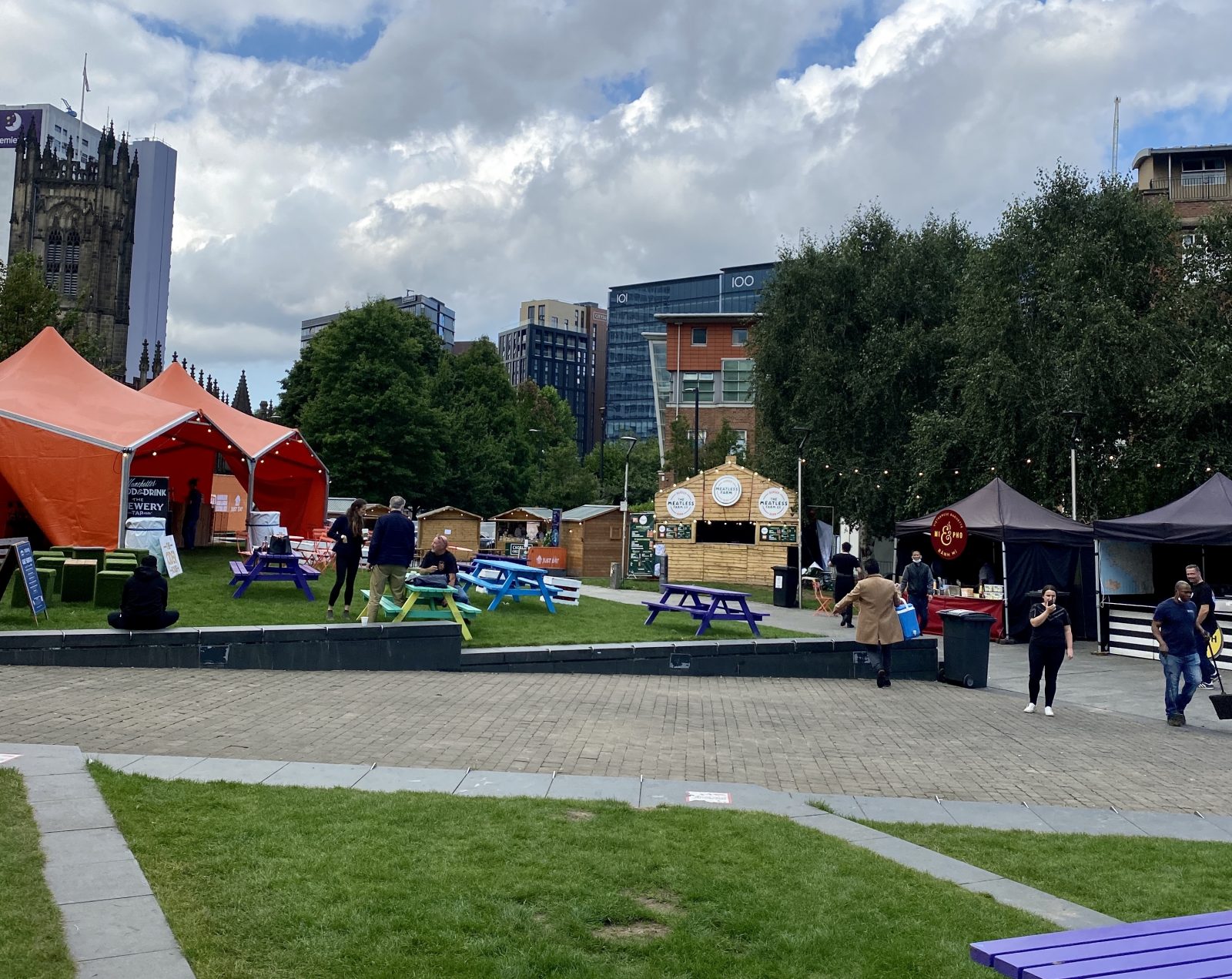 After a brief hiatus, Manchester's premier food and drink event has returned to the city for 2021 – bringing with it a host of local street food, locally-brewed beers, artisan producers and fringe events involving some of the city's best restaurants.
As ever at the heart of the action is the MFDF Festival Hub, which returns to Cathedral Gardens from Thursday 16 – Sunday 19 September, and then again from Wednesday 22 to Sunday 26 September.
Culminating in the prestigious awards ceremony, it's a must-visit event for any self-proclaimed Manchester foodies.
Read on to discover everything that's happening over the next two weeks.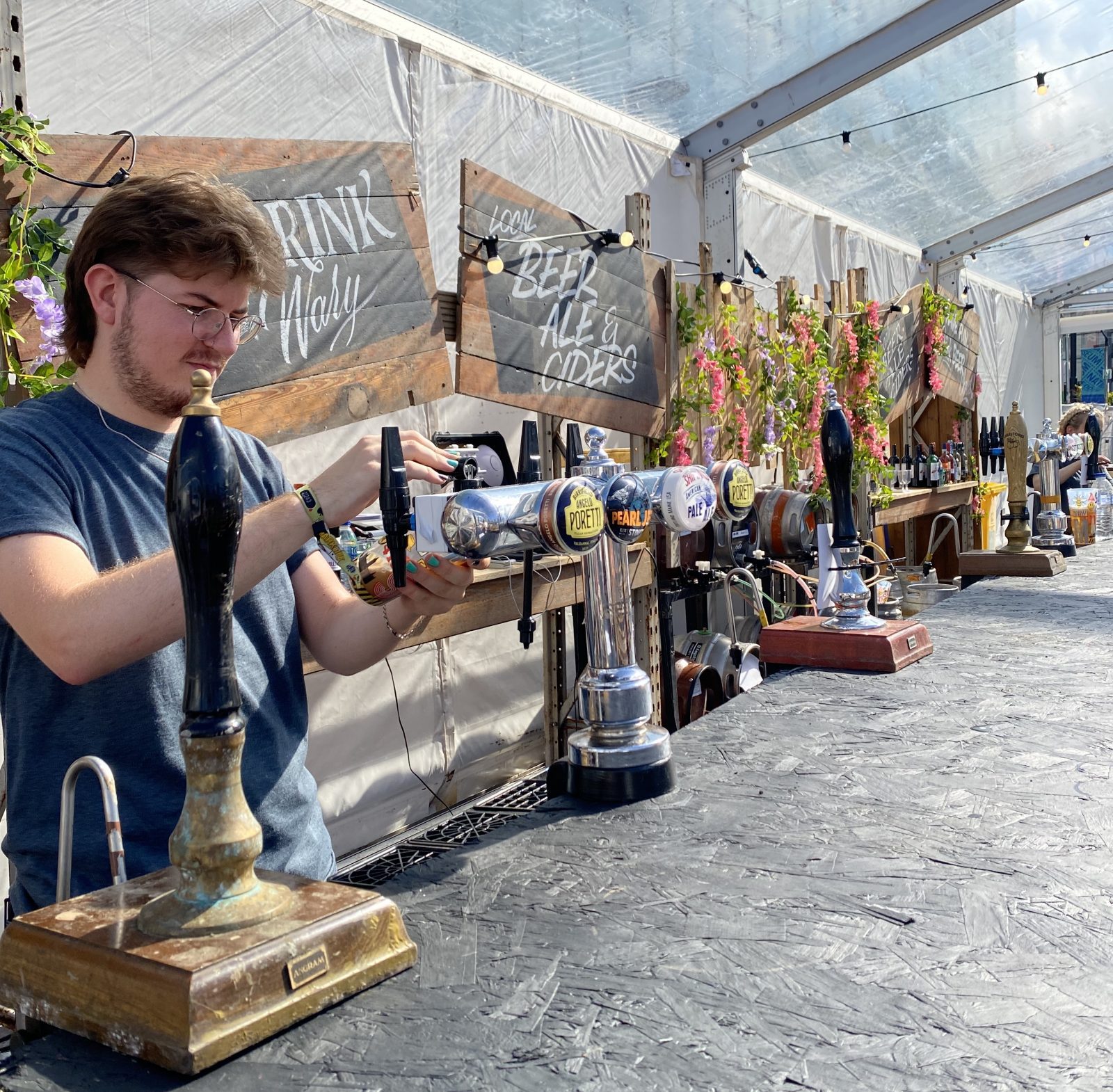 Where is the Manchester Food and Drink Festival this year?
The centre of the action will be at The Festival Hub – the free to enter, pop up food and drink village that will take over Cathedral Gardens for two weeks.
Bringing together a gigantic beer bar, wine, a gin bar, loads of street food, an artisan food market, banquets, and a live music stage, it's all going on here with so much to be discovered across the following two weeks.
What time does the Manchester Food and Drink Festival Hub open?
The Manchester Food and Drink Festival Hub is open 12 – 11 pm between Thursday 16 and Sunday 19 September. It is then closed Monday 20 and Tuesday 21 September, before reopening on Wednesday 22 from 5 pm to 11 pm.
The final stretch of the festival then runs from Thursday 23 to 26 September, open all day from 12 to 11 pm.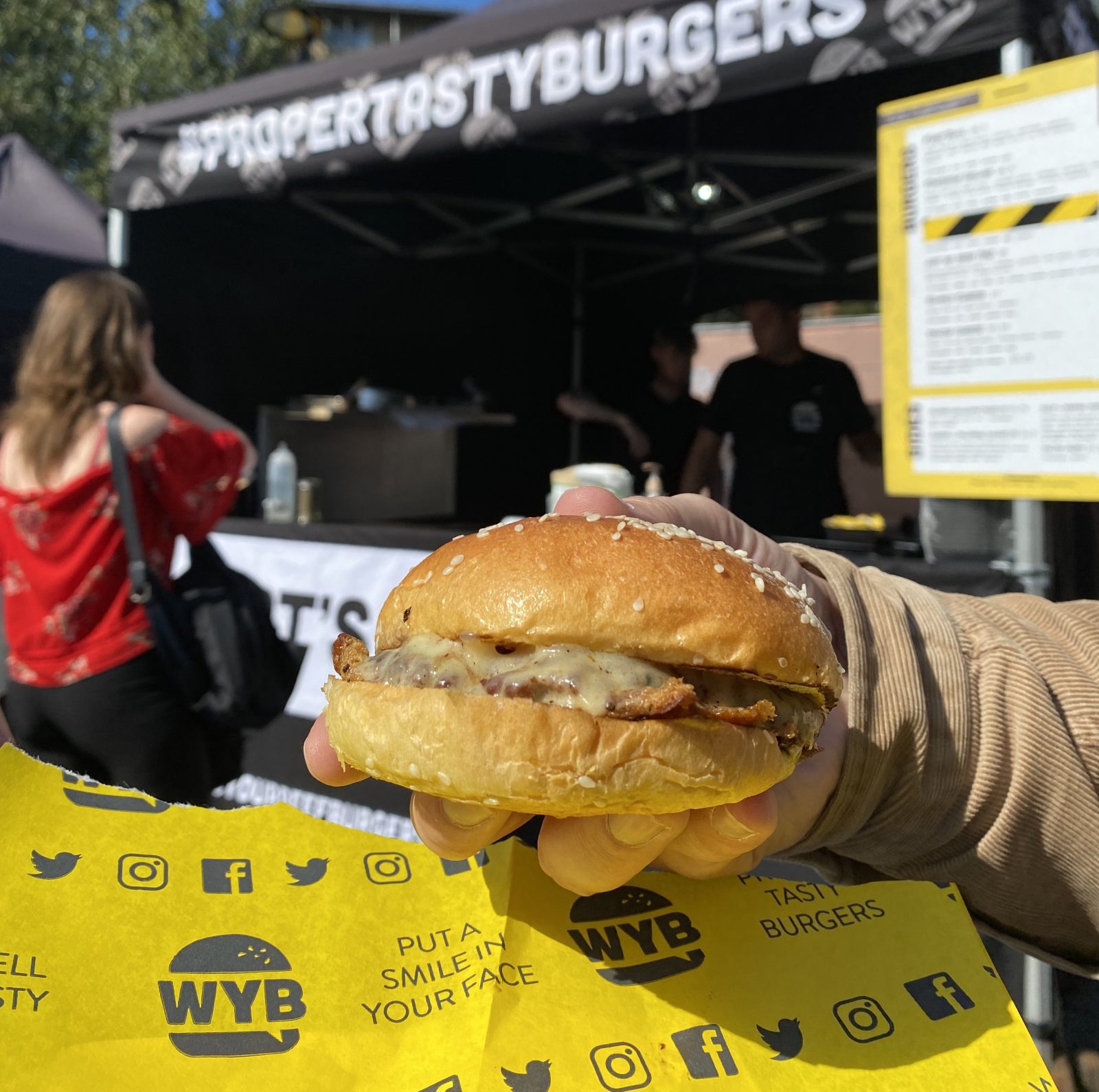 What street food can I find at the festival?
From halloumi fries to chocolate galettes, there's so much street food to be discovered at this year's Manchester Food and Drink Festival.
Home to an epic street food market features whole village of the very best independent food traders around, from the juiciest burger to chocolate galettes and halloumi fries, read on to discover what you can enjoy at the Festival Hub over the next fortnight.

Thursday 16TH – Sunday 19th Sept
What's Your Beef – Locally and ethically sourced grass-fed beef burgers, halloumi fries and regular fries .
Mi & Pho – Northenden's Award-winning Vietnamese restaurant brings Bahn Mi and Pho to the Festival.
Maison Breizh – Authentic Breton crêpes and galettes, also known as French pizza.

Oh My Glaze – Wraps, wings and halloumi.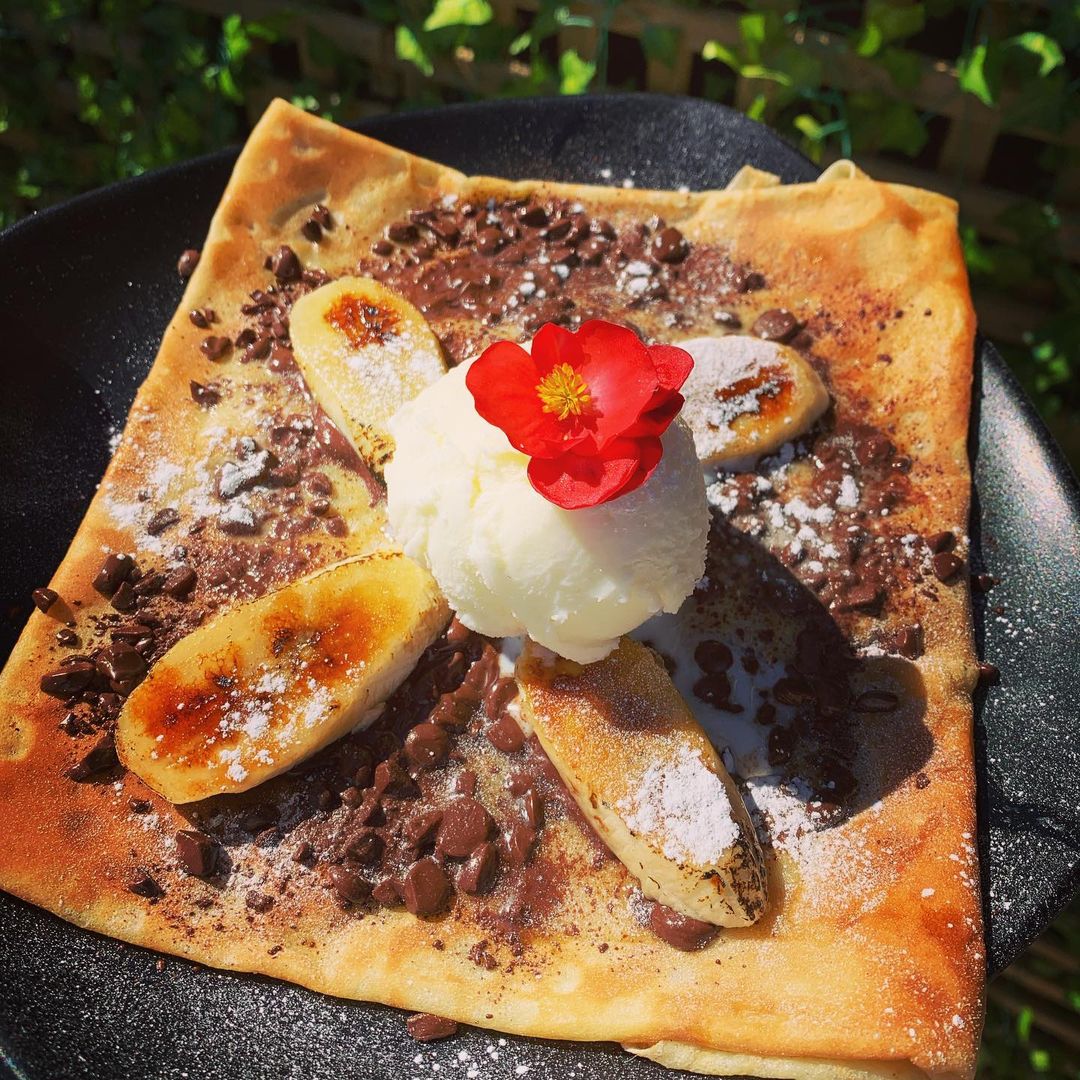 23rd – 26th Sept
Halloumination – The Halloumination team serve the most delicious halloumi fries + halloumi burgers.

The Spinn – Gatley-based indie restaurant & bar will be bringing their amazing trademark burgers to the festival.

I Knead Pizza – Stockport-based local food heroes serving up woodfired pizza and amazing 'pizza bites.'
Northern Soul Grilled Cheese – The UK's first grilled cheese restaurant, based in Manchester.
Mezze – The family-run, Cypriot kitchen will be joining The Hub with their superb take on all things Mediterranean.
Spoons Desserts – Cracking crepes made locally, featuring all the classic crepe toppings.

Meatless Farm will also be at the Hub throughout the festival, serving up samples of their excellent vegan cooking products as well as a full street food menu of their plant-based burgers.
Event programme
There's so many wonderful events taking part as part of this year's Manchester Food and Drink Festival, with some special fringe dinners and tastings happening around the city as well as at the main Festival Hub.

You can find the full event programme for this year's festival here.
Tine at The Bungalow – Tine will be bringing their elevated casual dining experience to The Bungalow at Kampus with a special five-course menu created especially for MFDF.
The Mousetrap wine and cheese tasting experience – The Mousetrap's super special cheese and wine tasting experience include four award-winning artisan cheeses paired perfectly with a selection of wines.
Le Social Last Summer Wine tasting – Expect creamy whites, savoury orange wines and comforting reds at this special tasting.
Bread Flower x Le Social Jewish-inspired supper club – Learn about the Jewish customs and traditions of this time of year, like dipping the apple in honey for New Year and the tradition of sleeping outside in a hut for 8days during Sukkot. Dishes will be paired with wines from Le Social.
MFDF Wine and Fizz Festival – Taking place Friday 17th and Saturday 18th September, Halle St Peters on Blossom Street in Ancoats will be taken over by some of the region's finest and most exciting independent wine retailers and brands.
Sustainable wine evening – Open Kitchen will host a sustainable wine tasting evening, showcasing the Bolney Estate in Kent & sample a range of beautiful English wines.
The Bull & Bear Hub takeover – Tom Kerridge, the man behind the first pub to ever be awarded two Michelin stars, is hosting the ultimate pub grub dinner at the Festival Hub.
MFDF Curry Club at The Hub – A festival feast like never before, the entire Festival Hub will be the venue for an undercover, al fresco Indian street food celebration.
Manchester's Biggest Chippy Tea – The city's best loved restaurants, chefs and food traders are coming together to create a mammoth chippie tea feast in homage to one of the region's best-loved meals.
Schlosstoberfest – Expect an Oktoberfest Takeover bringing a day of Bavarian delights with brats, pretzels and lederhosen. Free to attend and no need to book.
Tast Tasting DInner – The team from the award-winning restaraunt Tast, will be bringing their acclaimed take on Catalonian tapas to the MFDF Street Kitchen
Le Social Supernature Disco – Dedicated to the party and fantastic drinks, Le Social host an all-day disco party with Supernature.
What about the music stage?
The 2021 CityLife stage at MFDF will feature a curated line-up of Manchester's best local bands andmusicians to provide the perfect soundtrack to your festival.
Highlights include:
Friday 17 September
City Life Present The Lottery Winners – 8pm.
Saturday 18 September
The Covertones -6.30pm.
Sunday 19 September
Flat Cap Brass – 1.30pm and 2.30pm / Fine Lines – 3:30pm

Wednesday 22 September
Manchester legend Clint Boon brings his Boon Army spirit and sounds to the Festival stage
for a feel-good mid-week set.
Thursday 23 September
Dave Fidler / Albert Schloss Stage Takeover
Saturday 25 September
Gypsies of Bohemia


Sunday 26 September
Flat Cap Brass /. Hattie Pearson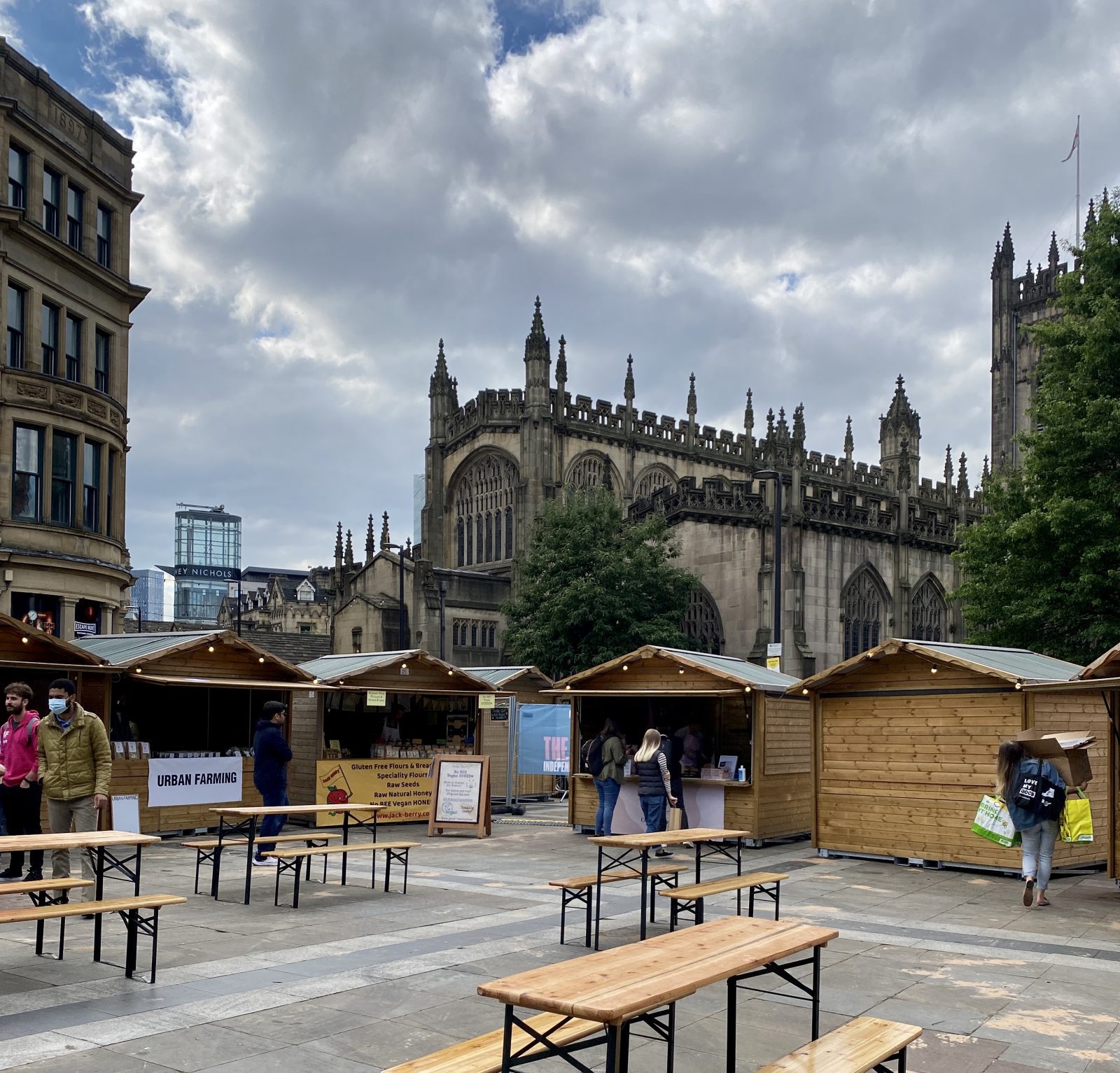 What traders are at the artisan market?
Thursday 16 – Sunday 19:
Chorlton Bread Co – Serving handmade plant-based, sourdough bread and cookies all the way from Chorlton.
Cafe Cannoli – Bringing handmade, authentic Sicilian cannoli to the Festival.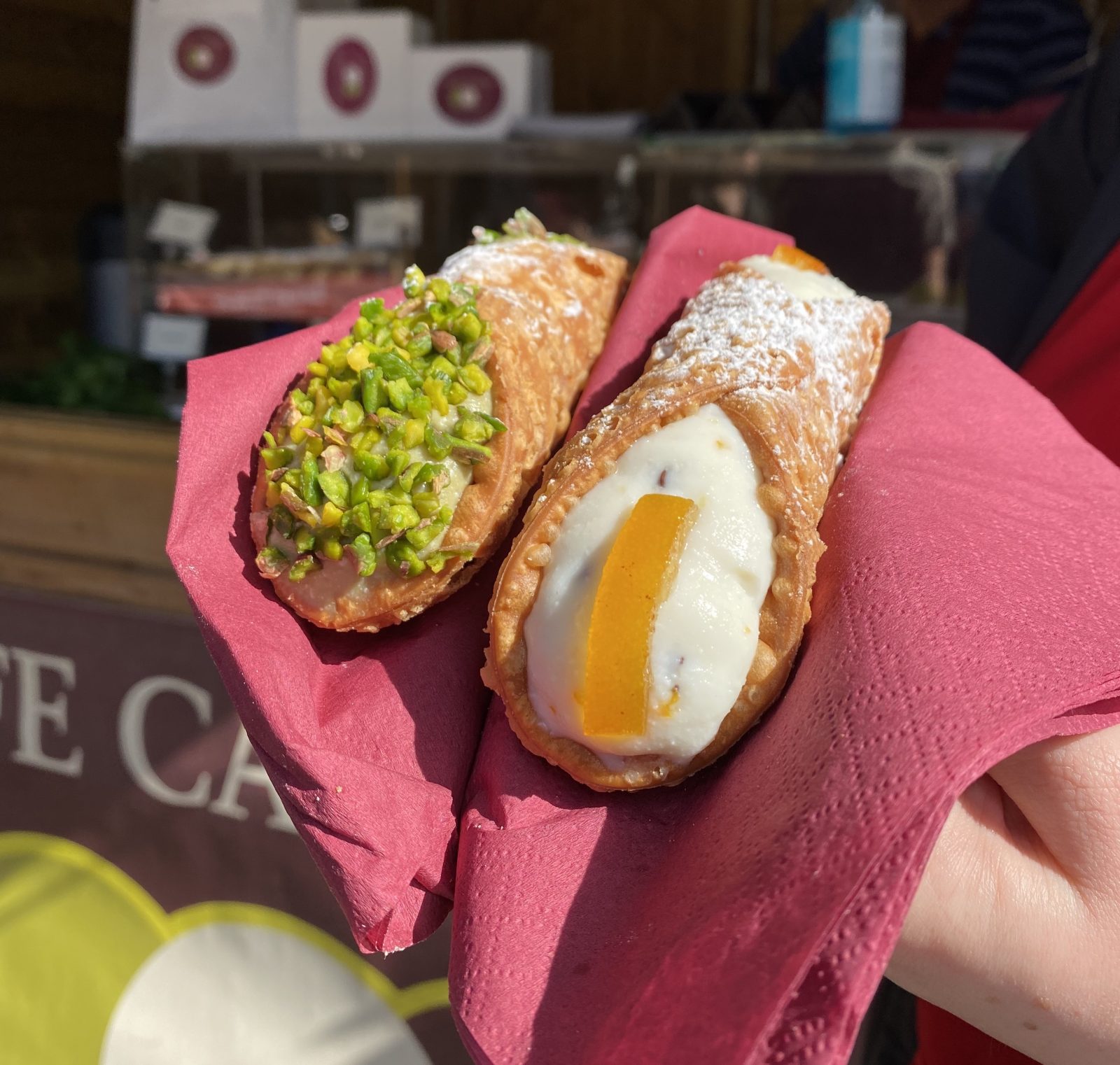 DevilDog Sauces– Small batch chilli sauces and seasonings made right here in Manchester.
Cocoa and Bloom – Beautiful, sustainable, handmade chocolates made with natural fresh fillings.
Chorlton Cheesemongers -The cheesie big guns are out! Chorlton Cheesemongers will be on site serving up their best quality farmhouse and artisan handmade cheeses, chutney and pickles.
Manchester Cheesecake Co– Homemade, locally produced small-batch cheesecakes in an array of amazing flavours.
BreadFlower – Handmade bagels and seasonal bouquets from MFDF Award-nominated new local producers BreadFlower.
Twisted Wheel Beer Co – Craft Beer brewed in the Northwest and celebrating the spirit of Northern Soul!
Prestwich Gin– Locally produced, award nominated, small batch gin!
O'Donnell Moonshine – Handcrafted spirits and liqueurs presented in their now iconic glass jars. A throwback to American prohibition usually found at Hatch and coming to the Festival for the first time.
Jack Berry Gluten free and speciality flours and bread mixes. Raw, natural honeys, seeds and No BEE Vegan HONEE® (the recently launched, unique vegan honey alternative)
Thursday 23rd – Sunday 26th Sept
Companio Bakery – Ancoats' neighbourhood, sourdough bakery will be serving up their fresh loaves to the festival customers.
Paradiso Authentic Italian – Freshly made, authentic Italian desserts including their famous flavoured Tiramisu… Bellissimo!

Chorlton Cheesemongers – Chorlton Cheesemongers will also join us for the second weekend of our Festival Market with their best quality farmhouse and artisan handmade cheeses, chutney and pickles.
Eat Well –Manchester's social enterprise, Eat Well, will present their limited edition hampers containing the finest artisan produce from a hand selected bunch of the best indie food heroes.
The Gourmet Brownie Co – Gorgeous gooey brownies handmade and brought to the Festival to fulfil the needs of even the sweetest of tooths.
Ribble Valley Gin – Small batch, multi award winning gins brough to the Hub direct from the Ribble Valley.
HM Pasties – Pies and Pasties handmade in Bolton with the social mission of reducing re-offending by employing people with criminal convictions.
Crozier Drinks – Professional, premixed Artisan cocktails specialising in inventive combinations of fruits spirits and spices.
O'Donnell Moonshine – Handcrafted spirits and liqueurs presented in their now iconic glass jars. A throwback to American prohibition usually found at Hatch and coming to the Festival for the first time.