News
Piccadilly Gardens cordoned off by police following 'serious incident'
News
Tributes pour in for Manchester City legend and former chairman Franny Lee

Danny Jones
Tributes are being paid to Manchester City legend and former chairman Francis 'Franny' Lee CBE, who has passed away aged 79.
The ex-Man City, Bolton Wanderers, Derby County and England star is said to have passed away in the early hours on Monday morning, 2 October, following a long battle with cancer.
Speaking via a club statement, his wife Gill along with children Charlotte, Jonny and Nik said, "He will be sorely missed and would like to thank everyone for their kind words".
Both Manchester teams led tributes to the British footballing legend, with avid City fan Liam Gallagher and countless others joining in paying their respects.
Franny Lee scored 148 goals in 330 appearances during eight-year City, helping the club win multiple honours during their first periods of success, including the old First Division title back in 1968.
Born in Lancashire and starting out elsewhere in Greater Manchester at Bolton Wanderers, he also went on to play for Derby following his time with the Blues, helping the Rams to their second-ever title in 1975.
The striker also had 27 caps for England between 1968–1972, scoring 10 goals and winning FA Cup, League Cup, European Cup Winners' Cup and the Charity Shield twice at club level during that period.
Honouring their former centre-forward who went on to serve as Chairman for four years from 1994 onwards, the club statement read, "It is with the deepest sadness and heaviest of hearts we announce the passing of former Manchester City player and Chairman Francis Lee, aged 79", adding that flags around the Etihad Campus are flying at half-mast.
Here he is speaking on his bond with fellow City legend Colin Bell, who died back in 2021.
Read more:
His first club, Bolton, said of the former marksman, "All at Bolton Wanderers are saddened to learn of the passing of former forward, Francis Lee. The thoughts of everyone at the club are with Francis' family, friends and loved ones at this difficult time."
As for legacy as for his time in Blue, the club had already planned to immortalise Lee prior to his death, announcing the erection of a statue back in May 2022, the reveal date of which will no doubt be moved up following his passing.
The club has also assured that "more tributes will follow in the coming days."
Rest in peace to a legend.
Featured Image — Manchester City/England/Bolton Wanderers (via Twitter)
News
Government set to announce ban on mobile phones at all schools in England

Emily Sergeant
A ban on mobile phones at all schools in England is expected to be announced by the Government this week.
Although many education institutions nationwide already have their own measures in place, according to reports in several major media outlets today – including BBC News, Sky News, The Guardian, and more – Education Secretary Gillian Keegan is pushing for a move to issue a 'blanket ban' on mobile phone usage at all schools in England.
She is poised to announce the ban at the Conservative Party Conference – which is currently happening here in Manchester.
If the ban is successfully introduced, it's believed that under the new Government guidance, head teachers will be told to prevent all pupils from using mobile phones during the entire school day.
The Department for Education wants the devices banned on breaks too, as well as in class time.
While the Education Secretary appears to be adamant that the ban on the devices is a necessary one, reports are indicating, however, that it will be just guidance and would not actually be enforceable by law, which means the final call will be left up to individual schools to decide on their policy and how they'll implemented.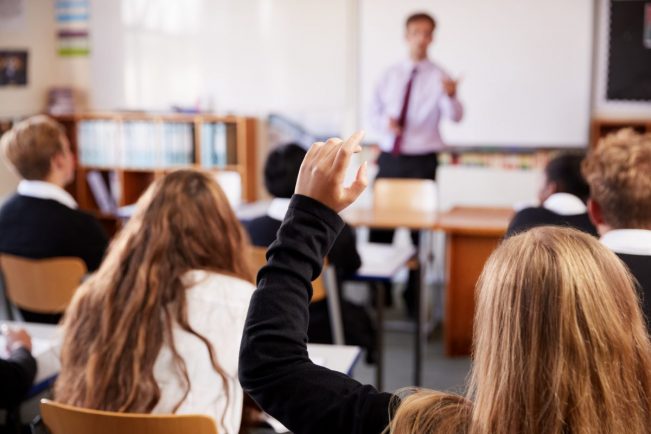 It's also unclear at this stage when the guidance will be published, if approved and introduced, according to Sky News.
Reports on the ban of mobile phones today come after the Government estimated back in 2018 that 95% of schools in England have already imposed restrictions, and also come after both former Schools Minister Nick Gibb, and former Education Secretary Gavin Willamson saying they favoured similar restrictions back in in 2019 and 2021, respectively.
Despite this, however, the Education Department said back in 2022 that blanket national rules were not actually needed, as the majority of schools nationwide were already taking action.
This is likely why some eyebrows at Gillian Keegan's plans today have been raised.
Read more:
Dr Patrick Roach, who is the general secretary of teaching union NASUWT, said the Government needs to "focus on properly supporting the work of teachers and headteachers", rather than announcements "designed to detract attention from more than a decade of policy failure".
Similarly, the general secretary of the National Education Union, Daniel Kebede, said he hopes the Education Secretary will use her Conference speech today to "announce positive measures that face up to the deep challenges in our schools" instead of "distracting attention from them".
Featured Image – Yura Fresh (via Unsplash)