News
Products from the Greggs x Primark range found on eBay for three times the price
Fans have left been left "baffled" by the staggeringly-high resale prices.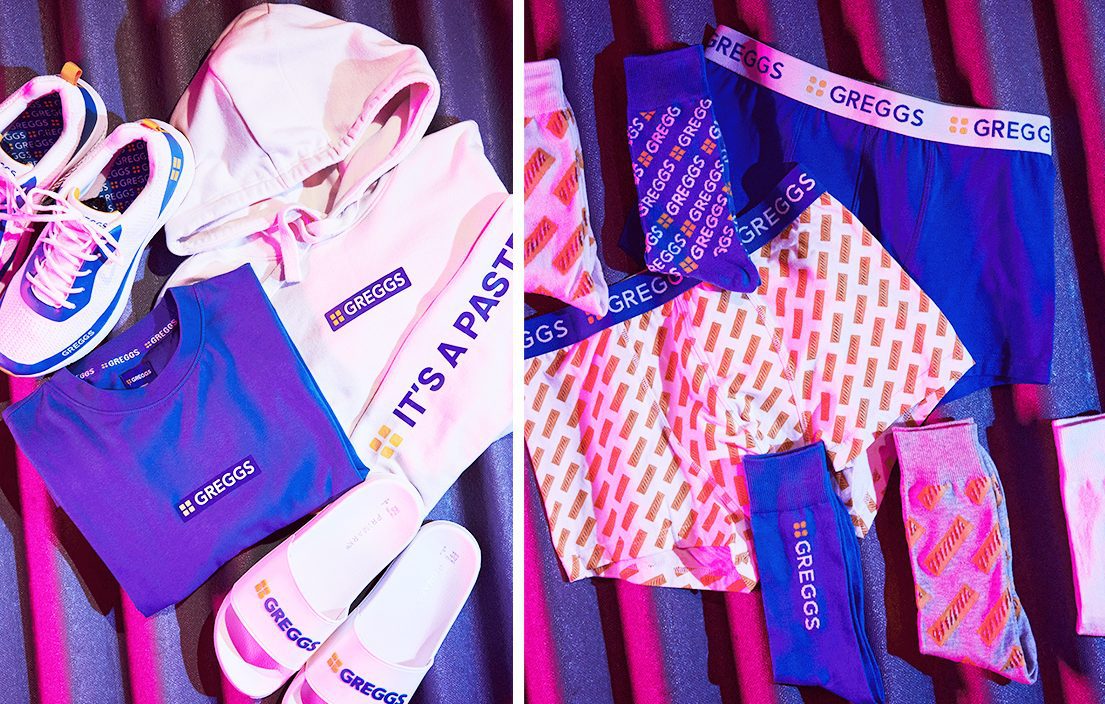 Some sell-out products from the viral Greggs x Primark range have been found listed on eBay for up to three times the original price.
After the clothing retailer and bakery chain announced the highly-anticipated "freshly-baked collab" earlier this month, shoppers flocked to participating stores up and down the country in the hopes of getting their hands on some of the limited-edition garments and fashion accessories.
Greggs and Primark said the collaboration was "made in high street heaven".
They continued: "For the first time in Greggs' 83-year history, you will officially be able to wear your Sausage Roll-loving heart on your sleeve and look like a snack thanks to our incredible new clothing range… [which will be] available at 60 Primark stores across the UK."
Queues outside the door and wrapping around the building were spotted at Primark branches UK-wide on launch day.
Hoodies, tracksuits, trainers, bucket hats, socks, and more are all part of the new range.
But despite the 11-piece collection only landing in stores just a couple of days ago, it looks like many of the items have already sold-out due to high demand, which has inevitably meant that eagle-eyed shoppers have spotted them listed on eBay for hiked prices.
Read more: Sausage rolls spotted in Primark windows as Greggs announces fashion collab
A £10 top with the bakery's iconic sausage roll has been listed on the selling e-commerce auction website for the much steeper price of £25, a selection of the sell-out hoodies and joggers can be seen selling for around £140, while the viral £16 novelty trainers are listed for a whopping £99.
£8 sliders are being sold for £34.95 on the auction site, and bucket hats at £99.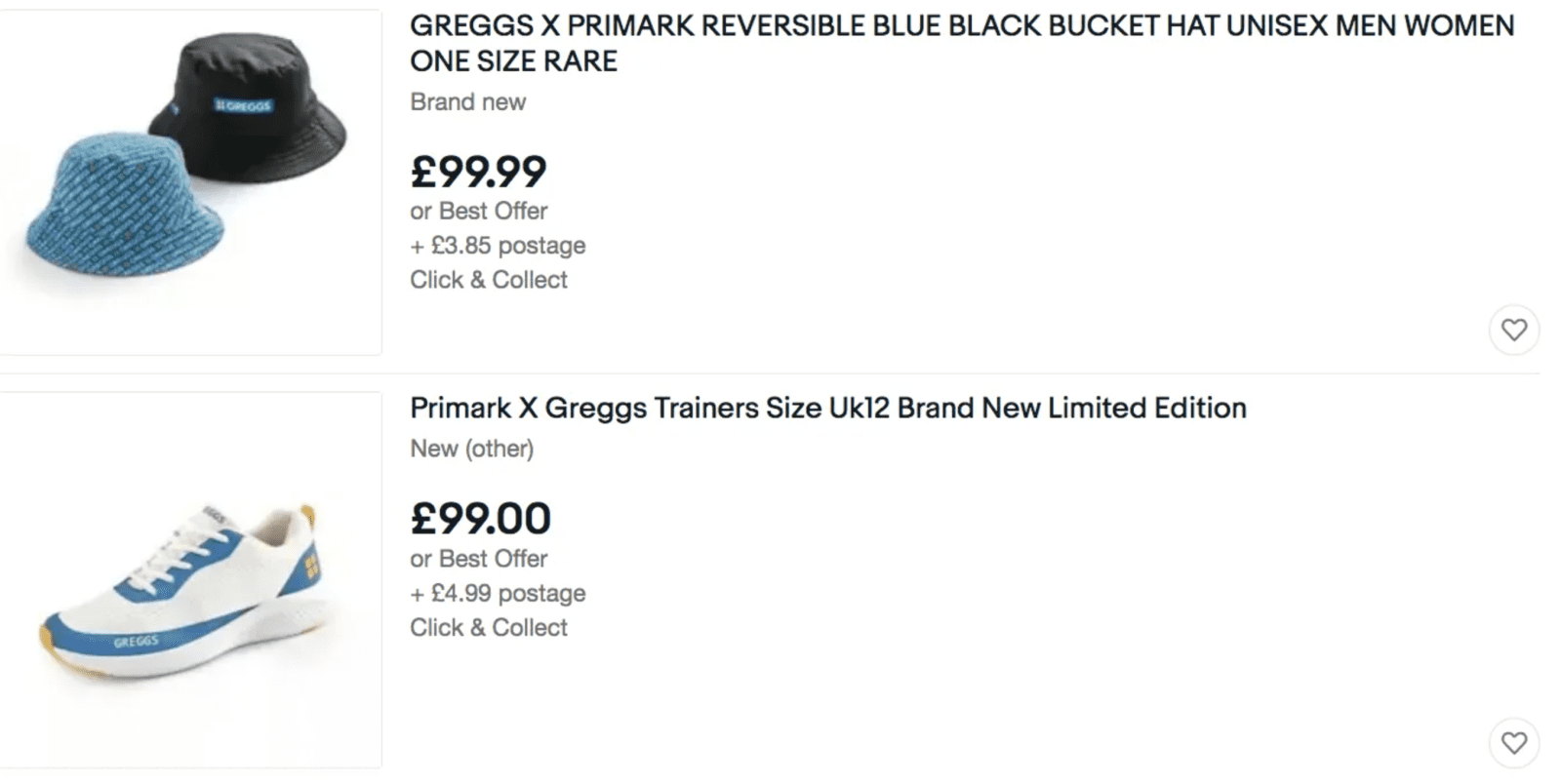 Unsurprisingly, fans have been "baffled" by the staggeringly-high resale prices, and have taken to social media to comically call out the situation.
One shocked shopper said on Twitter: "The Greggs x Primark collection sold out and people are now reselling it on eBay for x8 the price – this country baffles me."
"The Greggs x Primark stuff sold out? Okay, is this the apocalypse now?," another questioned.
A third said: "I see that people have bought up all the Primark x Greggs clothing and are selling it on eBay for ridiculous prices. £140 for a hoodie that was about £16. Seriously."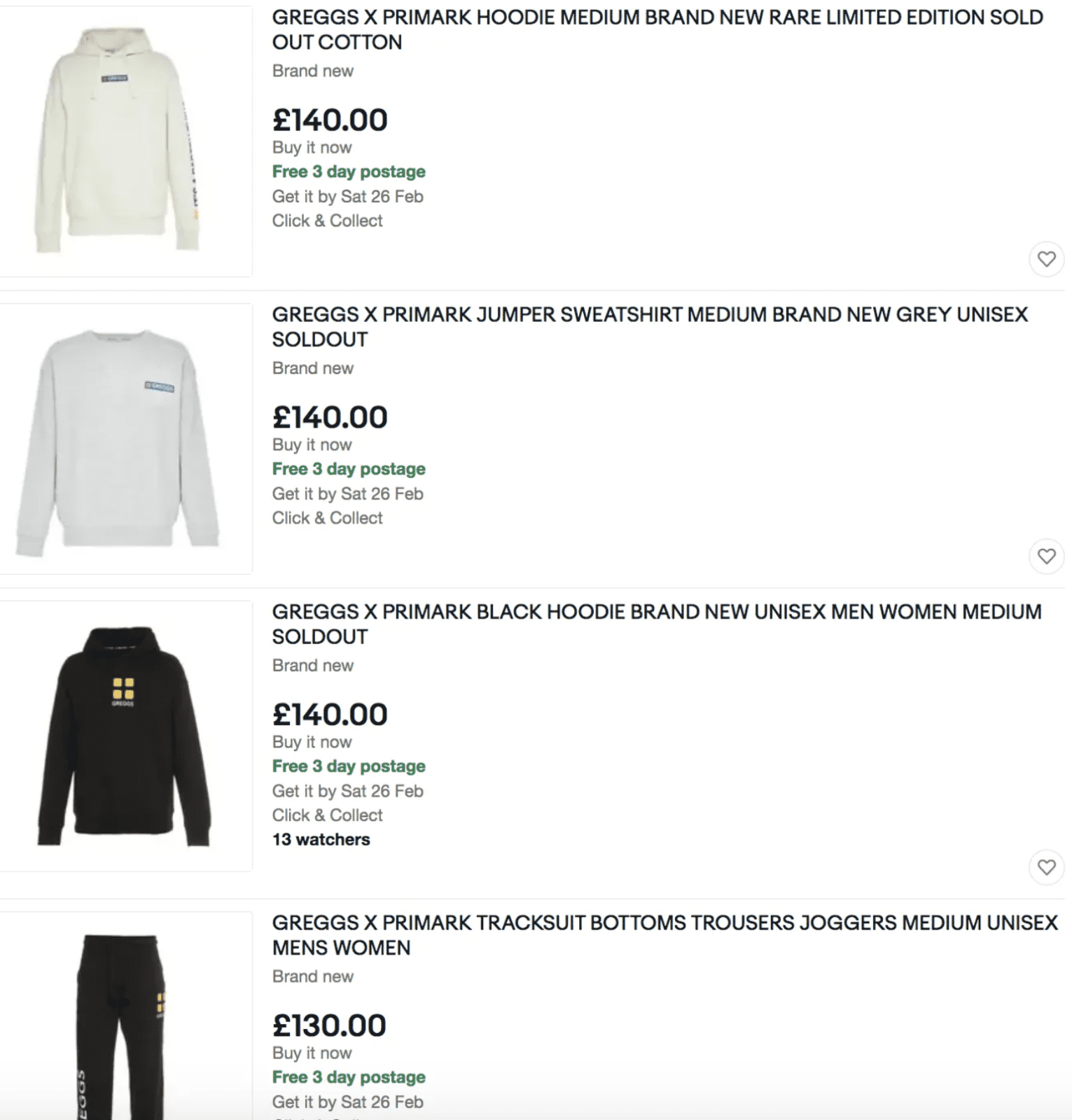 In case you missed it, the Greggs x Primark collaboration didn't just include the viral clothing range, as the brands also opened the biggest and "most Instagrammable Greggs the world has ever seen" inside Primark's flagship store in Birmingham city centre.
The 'Tasty by Greggs' cafe boasts 130 seats, a Sugar Strand Doughnut swing, picnic area, and self-service coffee cart, alongside popular bakes, hot drinks and sweet treats.
Featured Image – Greggs x Primark & Thumbnail (via Twitter – @DanMcMahonF1)