News
Sausage rolls spotted in Primark windows as Greggs announces fashion collab
Satire is dead. Long live Greggs merch.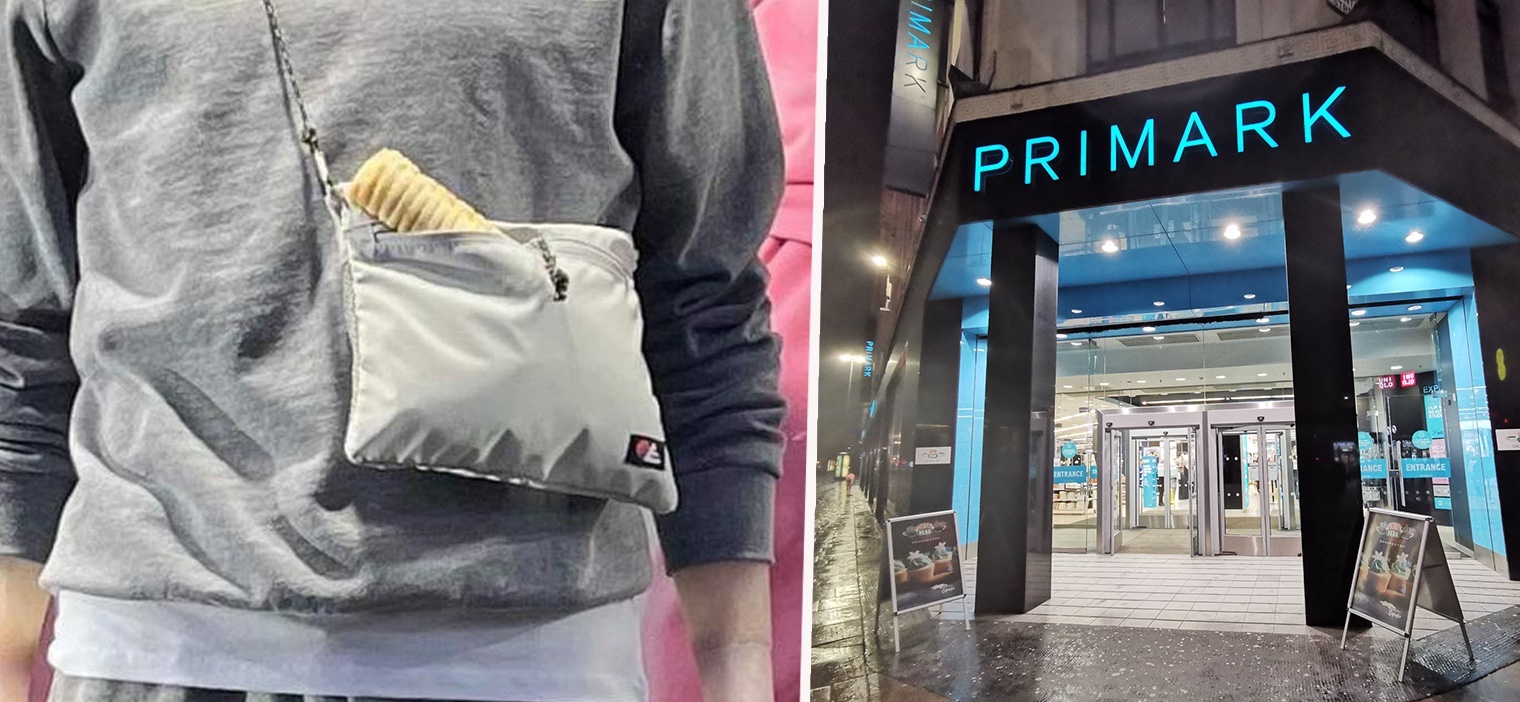 Greggs sausage rolls have been spotted peeking out of bags and pockets in Primark window displays up and down the country, leaving some people wondering what the hell the retailer is up to.
Now, all has been revealed after it emerged yesterday that the fast-fashion chain is teaming up with none other than high street bakery Greggs for a first-of-its-kind collaboration.
Yes, believe it or not, the two appear to be releasing a fashion collection inspired by Greggs' most popular baked goods. Sausage roll hoodies, steak bake t-shirts and maybe even a tuna crunch baguette could soon become must-have fashion items (we jest, but who knows).
In 2022, we can say with some confidence that weirder things have already happened. Satire is definitely dead, though.
The high street bakery's fashion collection will go on sale at 60 stores up and down the country, including at several Primark stores in Manchester.
Due to launch to the public from 19 February, it is set to feature 11 different items including hoodies featuring the Greggs logo and a message reading "It's a pastry thing" printed down one arm.
The company's social media team teased the news out on Twitter, sharing a promo video online for what was referred to as a "freshly baked collab".
The bakery chain also announced it would be opening its biggest ever Greggs cafe inside Primark's flagship store in Birmingham on 12 February.
The imaginatively named 'Tasty by Greggs' will seat 130 covers and offer all its usual customer favourites such as sausage rolls, steak bakes, pizza slices and a selection of sweet treats.
A boutique pop-up showcasing the new clothing designs will also launch separately in Soho, London, on 17 and 18 February.
Visits here, however, will be strictly by invitation only – perhaps due to the fact that London is the only city in the UK that prefers Pret to Greggs, according to very important research conducted by Monzo.
Responses to the news online have been mixed, with some people very excited and others claiming they thought it must be a wind-up.
One said, "I am ashamed about my enthusiasm for this."
Another wrote, "Is it April 1st?"
Whilst a third added, "If there's Greggins I'll be pissed! Won't be better than the original though."
The appetite for Greggs in the UK is, apparently, insatiable with the high street bakery brand achieving cult status amongst groups of all ages.
A nail artist Leeds achieved viral fame last year after creating her own Greggs-inspired nail art, complete with a tiny hanging sausage roll, whilst others have flocked to Twitter to share their own Greggs creations.
One user shared a pair of logo-emblazoned 'Greggins', another a set of Greggs-related band tees.
Suffice to say, creating Greggs merch is not a new idea – just up until now, it's mostly been a DIY activity. We guess it's just a pastry thing.
Feature image – Twitter / Geograph