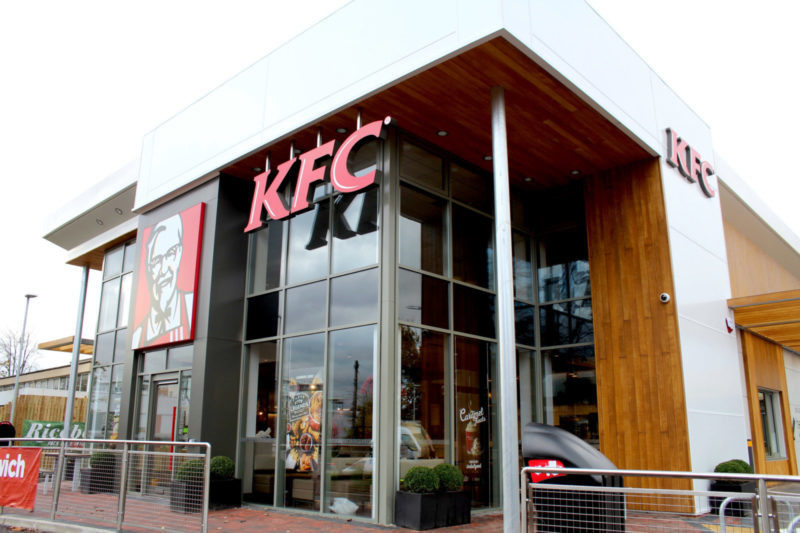 KFC drive-thrus have now reopened in Greater Manchester and beyond and the queues definitely prove people have missed it.
Following the reopening of 55 KFC drive-thrus in the UK this week, after the chain temporarily closed all outlets amid the coronavirus (COVID-19) pandemic, large queues have been occurring.
Hungry customers throughout the country flocked to their nearest restaurant for a bite of the action yesterday.
The MEN reported cars turning out in the masses to KFC drive-thrus in Greater Manchester, primarily featuring Hulme and Wythenshawe, and now further images are emerging as people right across the UK have taken to social media to share the scenes of gargantuan queues at their local KFC chains.
Vehicles can be seen not only snaking around the sides of KFC buildings, but also queuing in car parks leading up to or surrounding the drive-thrus.
Long queue at Swansea KFC at the restaurant re-opened 55 of it's drive-thru lanes across the UK. Roads were busy with people waiting to place their order. #swansea #kfc #open #coronavirus #wales #uk #walesnews #uknews #photography #coronavirusuk #fastfood #travel #cars #Editorial pic.twitter.com/7jaBi2sK3f

— Robert Melen (@RobertMelen) May 5, 2020
Queue at KFC drive thru on Glasgow's Great Western Road. Folk seem intent in catching a finger lickin' good dose of the virus. What's wrong with folk? pic.twitter.com/pyIA181Wof

— Simon Houston (@simonhouston68) May 5, 2020
My new queue to view #KFC #Morfa cannot wait to see the battle between the B&Q Queue & the KFC queue this weekend 😂😂 #LockdownMadness #ExtendTheLockdown pic.twitter.com/LmYHOFPB92

— Katie_Mc (@BasicallyMc) May 5, 2020
Upon announcing the reopening of a selection of its UK drive-thrus this week, KFC encouraged customers to use delivery services instead, rather than travelling to a drive-thru, as a way of limiting numbers.
In a statement released before the reopening, KFC informed the public that: "We've been working hard to responsibly reopen our restaurants and now we're spreading our wings a little further. In line with government advice, we've decided to open the drive-thru lanes at 55 of our UK restaurants that are already open for delivery."
 
"We know it's tempting, but please, please don't all rush at once!"
"Delivery remains the best way to get your fried chicken fix – we just want to offer a little more choice to those who are already on the road for essential journeys or on their way home from difficult shifts."
Huge traffic queues at Morfa KFC in Swansea after drive-thru reopens 🍗https://t.co/Lh07QeMgCy pic.twitter.com/cssNtGpz4G

— ITV Wales News (@ITVWales) May 5, 2020
Huge queues earlier at westgate retail park kfc pic.twitter.com/UFSsG01eCY

— Haz (@harryd20200) May 5, 2020
KFC confirmed that all reopened UK drive-thrus will now follow "stringent new social distancing and safety procedures". The procedures are as follows:
Smaller kitchen team to help observe social distancing, with separation of our guests and our delivery drivers.
Increased hand washing and surface sanitising.
New signage and floor stickers to help delivery drivers keep a safe distance apart.
Contactless handover of food, with contactless payment preferred.
Introduction of a limited menu to help the smaller team avoid switching kitchen stations, with clear floor markings.
Installation of protective screens where appropriate, with non-medical grade face masks and gloves made available for our teams.
Our team members signing a health declaration and completing a new coronavirus training programme before returning to work.
Shorter trading hours to allow for smaller kitchen teams.
If you would like to read up further on KFC's code of conduct amid the coronavirus (COVID-19) pandemic, you can do so via its website here.
You can check which KFC drive-thrus are open across Greater Manchester and beyond here.
___
#StayHomeSaveLives