News
Three northern dads raise over £700,000 for suicide prevention charity after completing 300-mile walk
The trio are raising funds for youth suicide prevention charity PAPYRUS in memory of each of their daughters.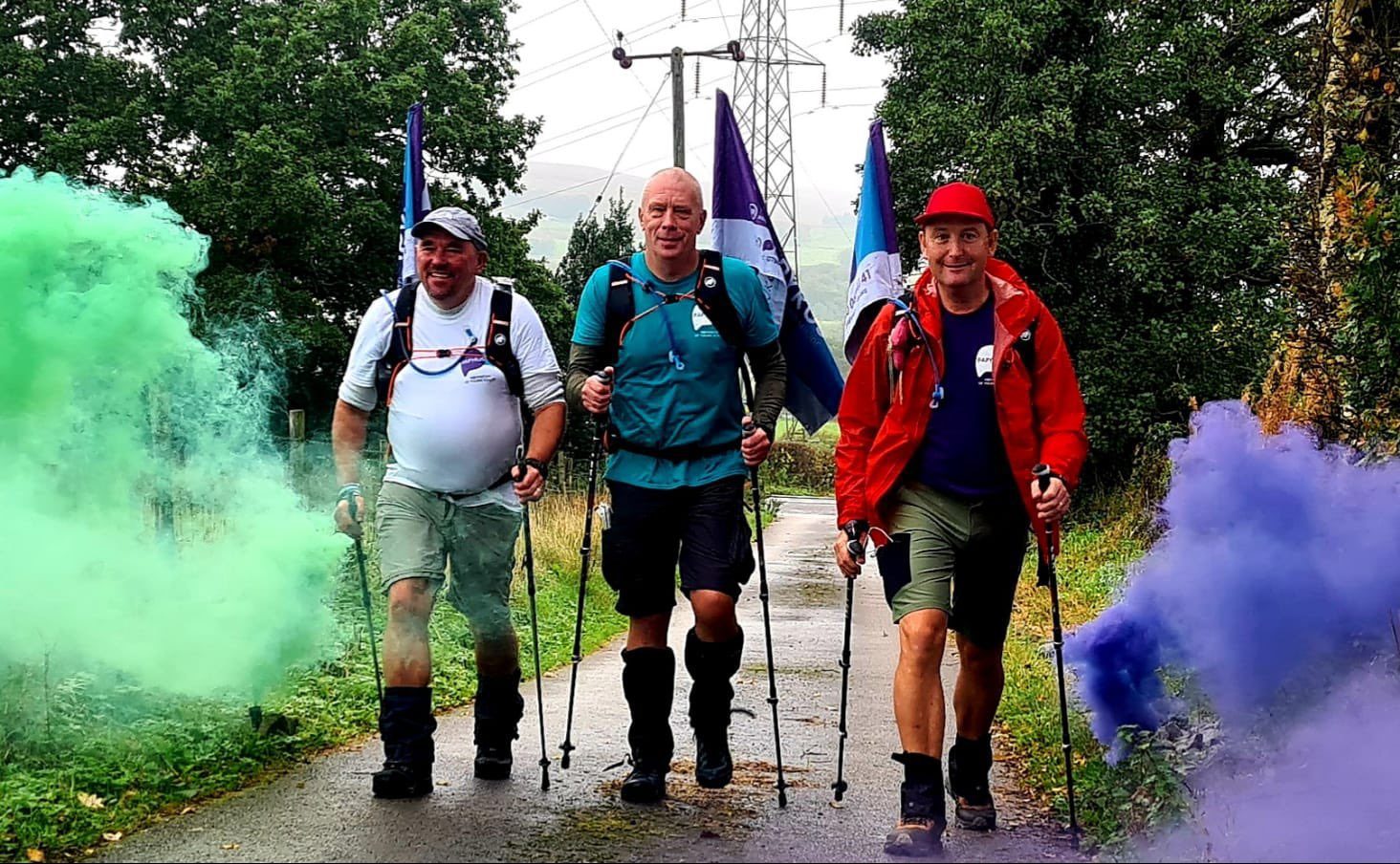 Three northern dads who recently completed a 300-mile walking challenge have thanked supporters for helping them raise over £700,000.
Andy Airey, Mike Palmer, and Tim Owen – who are known as '3 Dads Walking' – set off walking 300-miles between their homes in Greater Manchester, Cumbria, and Norfolk on Saturday 9 October, and after trekking for 15 full days while supportive crowds cheered them on along the way, they eventually crossed the finish line over the weekend.
The walk was in memory of their daughters – 18-year-old Emily Owen and 17-year-old Beth Palmer, who both died in March 2020, and Sophie Airey, who died just before Christmas in 2018.
The trio are raising funds for youth suicide prevention charity PAPYRUS.
After each of their teenage daughters took their own lives, the dads – including Mike Palmer from Sale in Trafford – began talking about what they could do to prevent other families from going through the same heartbreak that they suffered, and so they set on the idea of walking from each of their homes in a bid to raise awareness.
The trio set up a JustGiving page in aid of PAPYRUS – which provides support and advice to young people struggling with thoughts of suicide, and anyone worried about a young person – and decided upon a fundraising target of just £30,000.
But after their story went on to capture the hearts of the nation, they have since gone on to smash their target by a whopping 1881%.
They have now raised more than £700,000 – and donations are still continuing to pour in.
As well as worthy donations from people right across the UK, their fundraising efforts also caught the attention of some big-name Hollywood stars, including James Bond actor Daniel Craig, and Nicole Kidman – who both donated £10,000 each.
Daniel Craig was said to have been "very moved by the indescribable pain," while Nicole Kidman named them "three completely brilliant dads, doing a completely brilliant thing, to benefit so many."
Mike Palmer has spoken on behalf of the trio to say "thank you to everyone who has donated and supported us."
He continued: "We are just three dads.
"We've lost our little girls and we really don't want other families to go through what we're going through."
"We hope that by linking our three homes and telling our three daughters' very different stories we will put a spotlight on young mental health and ultimately the brutal effects of suicide," he concluded.
The challenge may have been completed, but you can still donate to Andy, Mike, and Tim's trek via their JustGiving page here, and find more information about the inspiration for their journey and what donations will go towards on the 3 Dads Walking website.
Updates from the trio are also shared on Twitter and Instagram.
Featured Image – Twitter (@3dadswalking)