News
Latest update from TUI, Jet2 and EasyJet as tourists evacuated from huge wildfires on Rhodes
And now similar scenes are emerging on Corfu too.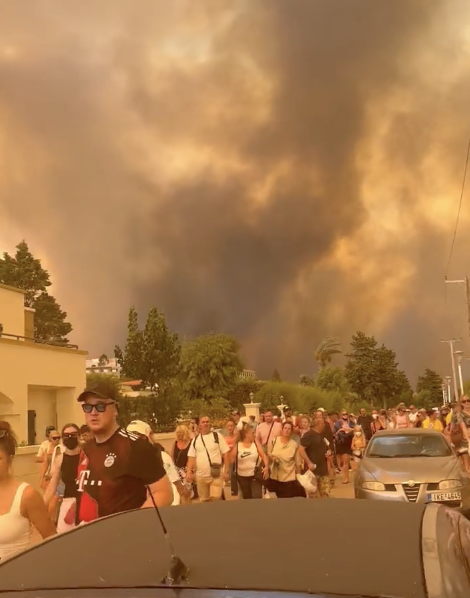 Thousands of people are being evacuated from popular Greek islands Rhodes and Corfu, which are being ravaged by wildfires.
Horrifying footage from the islands shows a sky filled with smoke and an orange haze, and tourists running down the streets as the flames creep closer to hotels.
Many have had to flee their hotels and shelter in nearby schools, airports and alternative hotels.
The evacuation on Rhodes has been described as the 'biggest in Greek history'.
Similar scenes are now beginning to unfold on Corfu too as extreme temperatures rage in parts of Europe.
Jet2 and TUI have both cancelled all flights to Rhodes, but are still taking scheduled planes out to the island without passengers, ready to bring people home.
Jet2 said yesterday: "The situation in Rhodes continues to evolve quickly, and our absolute priority is the health, safety and well-being of customers and colleagues in the affected areas."
EasyJet has cancelled all package holidays to the island up to and including Tuesday 25 July, though some flight-only bookings are still operating.
The latest advice from the British government is this: "Extreme temperatures are affecting many areas of Greece and there are a number of active wildfires. If you are a British national affected by wildfires, please follow the guidance from the emergency services. Call the Greek Emergency Services on 112 if you are in immediate danger.
"The Greek government has established a Crisis Management Unit to respond to the situation in Rhodes. They can be contacted on +30 210 368 1730 / +30 210 3681259 / +30 210 3681350.
"In the first instance, please contact your airline or travel operator who can assist you with return travel to the UK.
"If you are planning to travel to any areas affected by wildfires, please check with your travel operator or hotel prior to travel that the area you plan to visit."
And here's the latest advice from major airlines operating to Rhodes
Jet2 – Rhodes advice as of Sunday 23 July 2023, 10.50pm
Due to the wildfires affecting Rhodes and the impact across the island, we have made the difficult decision to cancel all flights going from the UK to Rhodes up to and including 30 July. As a result of this, we will be contacting affected customers with regards to their refund and rebooking options. We currently plan to operate flights from Rhodes to the UK as normal.
EasyJet – Rhodes advice as of Sunday 23 July 2023
We know the situation for many currently in Rhodes is very difficult. The safety and wellbeing of our customers is our highest priority and we are doing all we can to assist customers in affected areas.
We will be operating two repatriation flights tomorrow from Rhodes to Gatwick in addition to our scheduled flights. We will also operate a further repatriation flight on Tuesday.
Any easyJet flight-only customers who have been evacuated from their hotel and are currently at the airport should contact easyJet's airport staff. Any customers from affected areas wishing to travel back early can contact easyJet's Customer Services team on our dedicated line for customers in Rhodes + 44 (0) 330 5515147 (open 7am-11pm BST or 9am-1am EEST)
Other flight-only customers due to travel to and from Rhodes over the coming days should continue to check the status of their flights on Flight Tracker. If you are booked to travel to or from Rhodes before the 29th of July, our flights are still operating. However, if you would like to change your plans, then you will be able to transfer your flight to another date or can request a flight voucher for the value of your unused flights, by calling easyJet Customer Services.
Our tour operator, easyJet holidays is currently working to comply with requests of the local authorities and is in contact with customers in resort to support them.
easyJet holidays have sadly had to cancel easyJet holidays packages departing up to and including Tuesday 25 July, and customers will receive a full refund. We are proactively contacting easyJet holidays customers due to travel up to and including Saturday 29 July to confirm their options.
TUI – Rhodes advice as of Sunday 23 July 2023, 2pm
Our teams are working hard with local authorities in Greece to ensure the safety and wellbeing of all our customers currently on holiday in Rhodes and impacted by the wildfires. We'd like to reassure you that we're doing all we can to provide support and assistance. We appreciate how distressing and difficult it is for those who have been evacuated and ask they follow the advice of the local authorities, reps on the ground and hotel staff.
For those due to travel to Rhodes we can confirm we have cancelled all outbound flights up to and including Tuesday 25th July and passengers will receive full refunds. Those due to travel on Wednesday 26th July can amend to another holiday or cancel free of charge.
Those customers currently in Rhodes will return on their intended flight home.
The safety of our customer and staff is of top priority and we will continue to keep a close eye as the situation develops and share more updates.
Featured image: Twitter, @hughesy_1985