Sponsored
Escape to Freight Island is giving away free pints of Guinness during the Six Nations
The 2022 Guinness Six Nations Championship is running from Saturday 5 February to Saturday 19 March.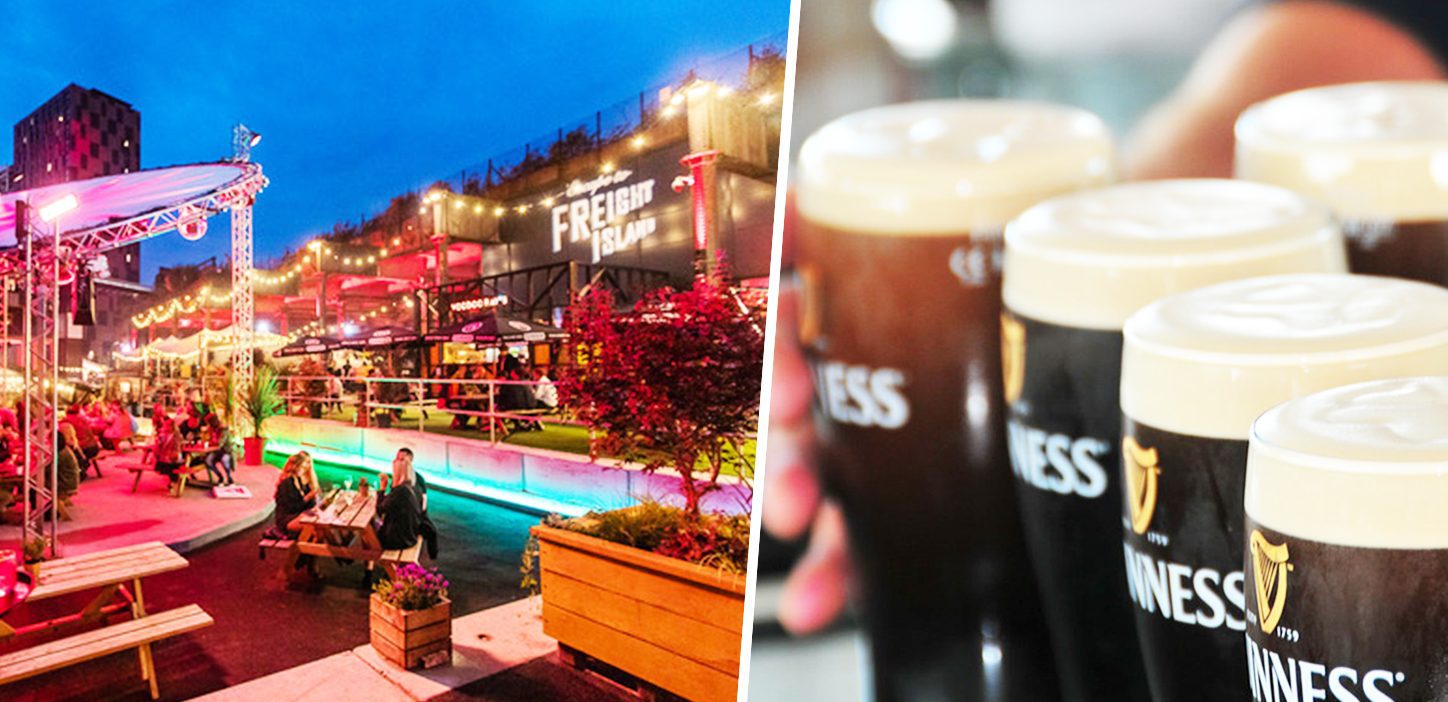 Rugby fans can grab themselves a free pint of Guinness when they sit down to watch the Six Nations at Escape to Freight Island this weekend.
The 2022 Six Nations Championship is kicking-off this Saturday 5 February, and Manchester's ever-popular food, drink, and events hub, Escape to Freight Island, is set to host the biggest fanzone in the UK outside of London to present all the games throughout the tournament, in partnership with Guinness.
A dedicated space within the much-loved Depot Mayfield venue will be transformed for rugby-lovers to stay and watch the games.
Street food will come courtesy of residents Ace Dogs, and another trader soon-to-be-announced.
But the best bit? The first 300 people who book themselves a ticket to watch a Six Nations match this Saturday will get to enjoy a fresh pint of Guinness on the house while they catch the action, all thanks to the tournament's sponsors.
In the Six Nations, England will come up against neighbours Scotland in their first match of the championship this Saturday at 4:45pm.
You can check T&Cs and book your tickets for the Six Nations at Escape to Freight Island here.
In case you missed it, Escape to Freight Island officially reopened for 2022 last weekend, with a huge party that celebrated all things Manchester music, arts, food, drinks, and events.
When it comes to the winter entertainment lineup at the venue over the next couple of months though, you can expect a series of ticketed and free events, including live bands every Wednesday from the likes of The Untold Orchestra, Mali Hayes, Tom Seals, and more, and DJs, mixtape series and residencies from Thursday to Sunday from big names such as Me Gusta, Massaoke, Girls on Film, North of the Island, The Feel Good Choir, and more.
Escape to Freight Island is open on Wednesday and Thursday from 4pm-11pm, Friday from 12pm-12am), Saturdays from 12pm-1am, and Sundays from 12pm-8pm.
You can find more information about all the events at Escape to Freight Island here.
Featured Image – Flickr