Sport
Altrincham FC receive £1.5m cash injection as 20 new investors back the club
'It's more than an investment in football. It is an investment in our community.'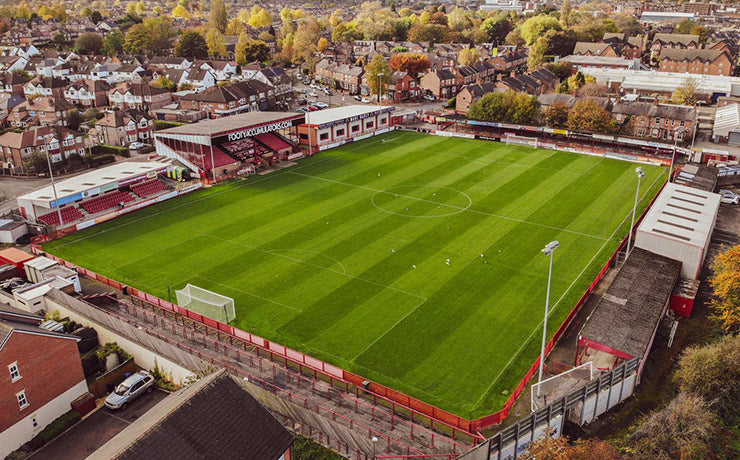 Altrincham FC has received a cash injection of an estimated £1.5 million after a group of UK business investors have now backed the club.
The Trafford-based team currently compete in the National League and have now welcomed 20 new British investors as they look to continue developing the club and move further up the football pyramid.
With those involved said to be "leading UK business people with a direct connection to the local community", the goal is to not only progress on the pitch but improve their football operations across the board, update the Moss Lane stadium and invest in the local area.
A big step forward for a club that only recently registered as professionals.
Informing the fan base in an official statement, the club said, "The new investors will own a significant minority between them and have invested with the aim of supporting the Board's vision of building sustainable success and the leading local community-focused football club in the country."
Detailing their backgrounds, they explained that the new parties "come from a range of industries including finance, media, property, technology and e-commerce, [bringing] a range of skills to support the club with its exciting plans for growth."
The full list of backers is yet to be confirmed but one of them, Shalni Arora — of the Alder Hey Children's Foundation Trust Hospital, Chair of the Innovation Committee and CEO of the Savannah Wisdom charity — stated that "investing in Altrincham FC is more than an investment in football. It is an investment in our community…
"It is such an exciting opportunity to make a difference to those who live, work and play in our local area… We are a group of shareholders who are passionate about football and how a local club can have a powerful, positive impact on community relations."
Read more:
Lawrence Looney, Co-Chair of Altrincham FC, said: "The club has made great progress in recent years moving up two divisions and establishing itself as a full-time professional club.
"We are delighted to welcome our new investors who are completely aligned with our values and strategy and are passionate about football and the real impact the club can have on the local community.
"Aside from the financial aspect, we believe that this group brings a unique breadth and depth of expertise. This investment should enable the club to accelerate its growth plans while maintaining its prudent approach to ensure the club has a strong, sustainable and exciting future."
The money might not sound like much in the grand scale of football finances, but for a club the size of Alty it could prove truly transformative. We love a local success story and we can't wait to see The Robins keep building this season and beyond.
For all the latest news, events and goings on in Greater Manchester, subscribe to The Manc newsletter HERE.
Featured Image — Altrincham FC