Sport
Viral clip of Casemiro shows how his winning mentality never stops
He's been an absolute revelation since he joined the club. Grind never stops.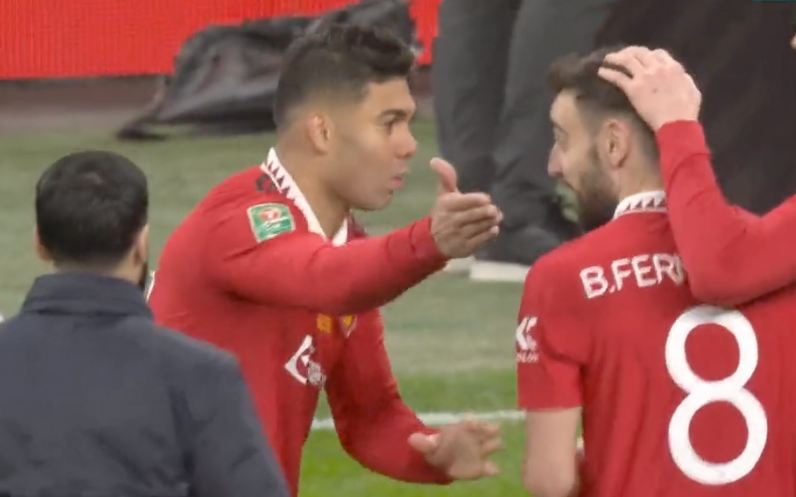 Man United won their first trophy in six years on Sunday and while most Reds were busy celebrating the dry spell finally being over, it would seem Casemiro's head was still very much in the game.
The Red Devils beat Newcastle United 2-0 in the Carabao Cup final to lift their first piece of silverware since 2017 (incidentally, the last time they won the competition) and their first under Erik ten Hag.
Understandably, the scenes both on the pitch and in the stands were jubilant but despite scoring the opening goal and being one of United's most important players this season, Casemiro wasn't ready to soak it all in right away.
After the full-time whistle had blown and his teammates were already celebrating and waving flags around the pitch, the Brazilian still felt like he had to go over to his captain and moan about a pass that he failed to make.
Now that is an elite winning mentality. Also undeniably funny — Keano certainly seemed to enjoy it.
Despite being in control for the majority of the game — Casemiro also played more than his part in his side's dominance — United could have scored more as they broke on the counter in the second half.
As McTominay carried the ball out of the transition and shifted it on to Bruno Fernandes, the Portuguese midfielder had the chance to make it three he had scored or, alternatively, squared it to Jadon Sancho who was waiting at the back-post.
Neither of those things happened and while it ultimately didn't matter, Casemiro clearly isn't one for taking a lead for granted — probably why he's won 13 of the 14 club cup finals he played in. Nevertheless, he still got his party on soon enough.
Read more:
Speaking to media after the game, the 31-year-old said: "People who already know me understand I go after the ball as if it's a plate of food. This is my character, that didn't happen because it was a final or whatever. I attack every ball as if it was the last one."
The victory made it a total of six league cups in United's history, with ten Hag having to wait just nine months into his debut season for his first taste of silverware at Old Trafford.
With his side still in the FA Cup, Europa League and genuinely in a Premier League title race, we dare say this won't be his last.
You can watch the highlights from the Carabao Cup final in full down below:
For all the latest news, events and goings on in Greater Manchester, subscribe to The Manc newsletter HERE.
Featured Image — Football Daily/Manchester United (via Twitter)