Sport
Man United fans celebrated with Fred's son after his assist and it was absolutely lovely
And the award for cutest kid goes to...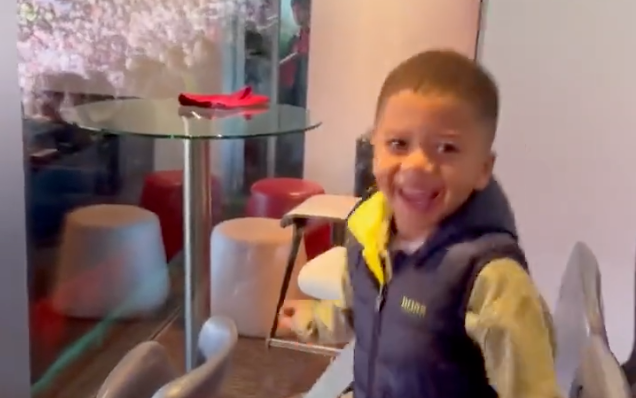 Man United made it yet another win in the Premier League on Sunday with a victory over Leceister, with Marcus Rashford's double and Jadon Sancho's third rounding off a comprehensive win.
But while there's been plenty of fan-cam footage following their goal contributions, it was midfielder Fred who got in on the act with an assist for Rashford's second that delighted one group of fans in particular, as a clip of the Brazilian's son celebrating the goal has been doing the rounds on social media.
Filmed by partner Monique and shared to Instagram, the video shows four-year-old Benjamin celebrating "1+ assist from daddy" as the Reds secured a two-goal cushion.
As if young Ben's reaction wasn't cute enough already, when the fans stood in front of the family box turn around and spot Fred's son cheering, their reaction is just wonderful.
Read more:
We will never get tired of wholesome football clips. Nothing quite encapsulates the pure joy of watching football more than seeing it through a child's eyes. It's safe to say that Fred has had a somewhat up-and-down career at Old Trafford thus far but one thing's for sure: he's a grafter a nice bloke.
Moreover, he looks to have improved his game massively under Erik ten Hag, looking a lot calmer on the pitch, impressing when coming off the bench and adding more long balls and those incisive forward passes into his game, not to mention the odd goal here and there.
It seems the results are starting to show and not only is the little lad proud as punch of his dad, but United fans are becoming more and more appreciative of 'Pastor Fred'
You can watch the full highlights of United vs Leicester down below:
For all the latest news, events and goings on in Greater Manchester, subscribe to The Manc newsletter HERE.
Featured Image — Fred/Monique Salum (via Instagram)