Sport
Fans think they've spotted Mateo Kovačić celebrating Chelsea's equaliser in Man City thriller
We didn't spot it at the time but we'll admit, it does seem a bit strange.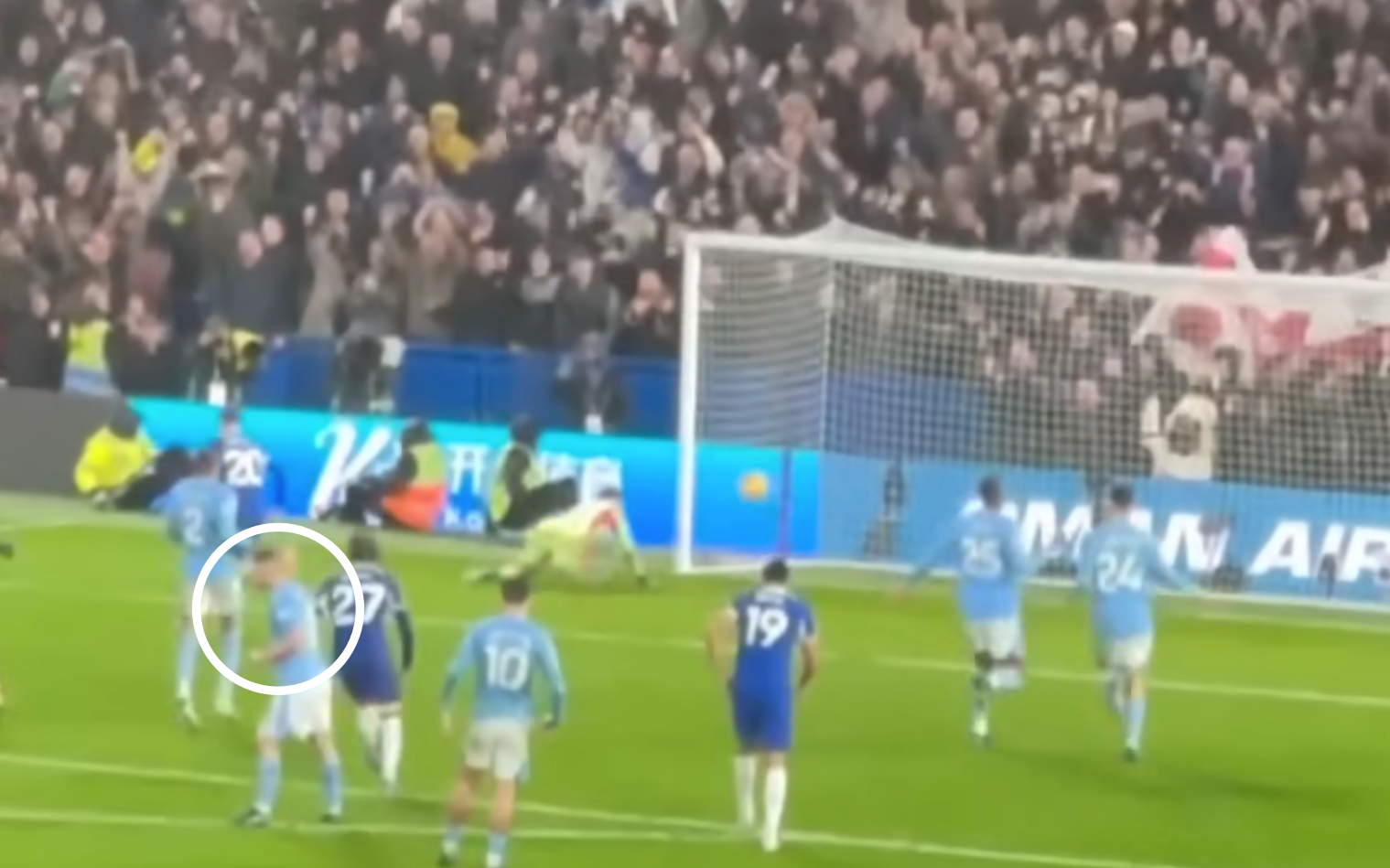 Football fans think they've spotted Mateo Kovačić forgetting what club he plays for or very briefly revealing where his true allegiances still lie, after a video of celebrating Chelsea's equaliser in the blockbuster 4-4 draw against Manchester City on Sunday, 12 November.
Kovačić joined Man City this summer, leaving Stamford Bridge to replace the outgoing İlkay Gündoğan — one of the best like-for-like bits of recruitment the club could have hoped for — and won a UEFA Super Cup almost the second he walked through the door.
That being said, the Croatian midfielder couldn't have found himself a better destination than the home of the current European champions and treble-winners, so when a clip of his reaction to Chelsea's equalising penalty surfaced on social media, it's safe to say it raised a few eyebrows.
Capturing the moment immediately after former City starlet Cole Palmer tucks away his penalty to tie up the bonkers Premier League fixture, Kovačić appears to celebrate a hard-fought performance from his side going from three points to just one. Take a look and see what you think:
You have to say, there aren't many times you watch the opponent score against your own team and feel like you want to do a low fist pump…
While the gesture is obviously a relatively reserved one, you swiftly see him then drop his arm — perhaps in a moment of realisation — before walking off with his head down.
Make of it what you will but, obviously, Chelsea fans all over social media are convinced that this was the 29-year-old letting slip that he still prefers his previous club, with supporters labelling him a "proper Chels" player and still a West Londoner "through and through".
The midfielder has yet to address the club and is likely to just ignore the whole thing until it blows over, but it is a curious one, to say the least. Perhaps he was just really chuffed for youngster Palmer, who also recently swapped his shirt for a different shade of blue this past transfer window, though the two can't have spent much time together in the two months they were both still at the Etihad.
Read more:
What do you think, Blues — was it a momentary lapse where the former Chelsea star simply forgot that he's on the other team now, a hand gesture that's simply been misconstrued or something else?
Pep Guardiola's champions are still sitting top of the table by just one point as they head into the international break, with Liverpool, Arsenal, Spurs and Aston Villa all within touching distance.
Simply because it was one of the craziest games we've seen in a long time and already being hailed as a Premier League classic, we'll leave the highlights for you here:
For all the latest news, events and goings on in Greater Manchester, subscribe to The Manc newsletter HERE.
Featured Image — Mateo Kovačić (via Instagram)/Sports Extra (via YouTube)