Sport
Marcus Rashford's new celebration is spreading across the world of sport — but what does it mean?
It's gone far beyond football: all different kinds of sports personalities are pulling out 'The Point'.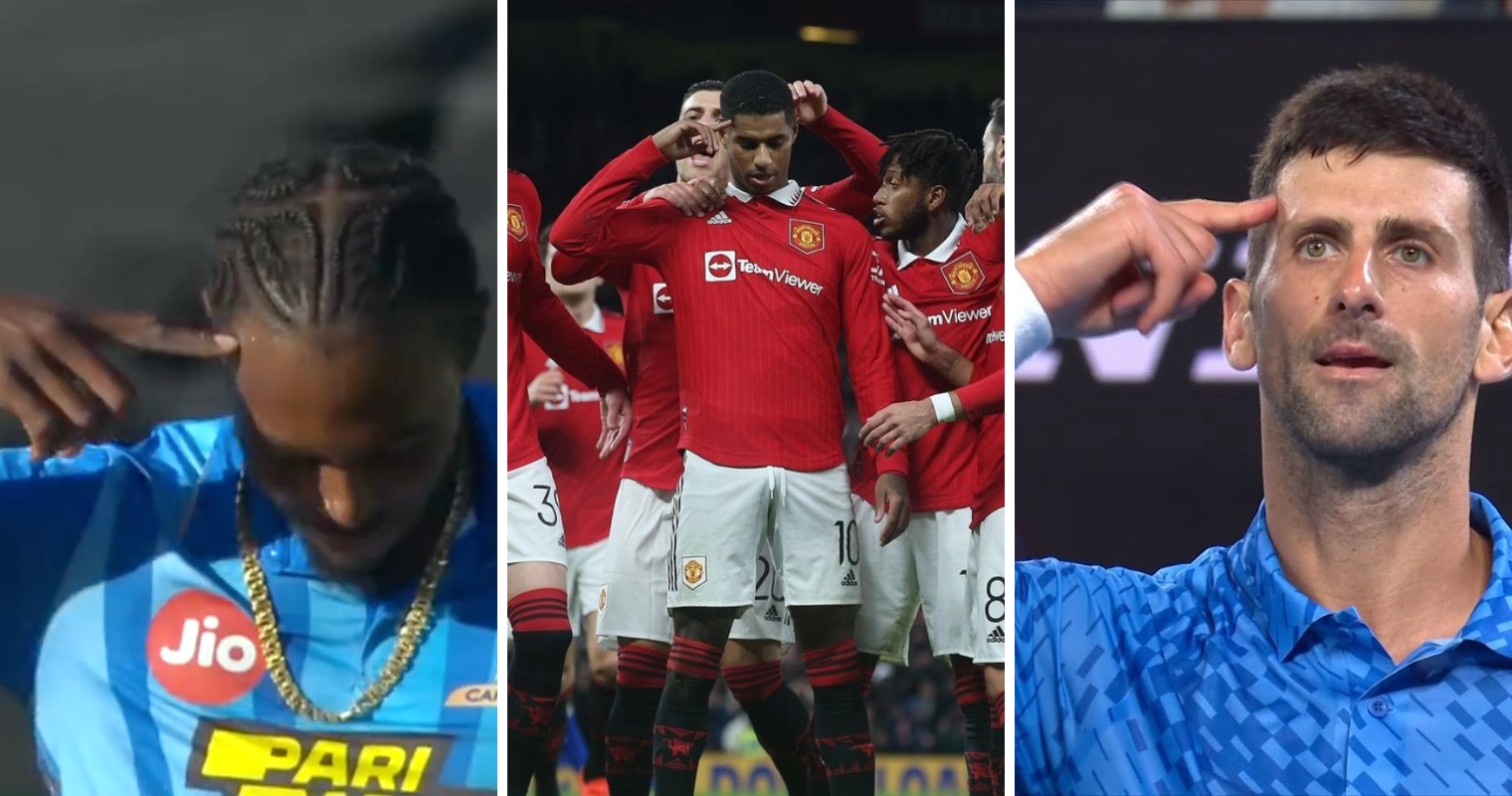 Marcus Rashford's new celebration is gradually taking over the world of sport as more and more athletes are pulling out his new trademark gesture.
The Manchester United man is absolutely on fire at the moment, enjoying the best run of form we've seen in his career thus far and, more importantly, looking happier and more confident than ever.
To go along with that, the 25-year-old recently pulled out a new celebration earlier this year, where he simply stops and points to his temple after scoring, which he has done 18 times already this season.
However, the celebration hasn't stopped with Rashford: the likes of Tammy Abraham, Joshua Kimmich and more have pulled out 'The Point'.
Game recognise game.
It might not be the most original celebration we've ever seen — plenty of people have pointed to their heads after scoring a goal etc. — but Man United's number 10 has clearly given a whole new lease of life to it, and perhaps an added layer of meaning.
Fellow England star Bukayo Saka even pulled out Rashford's celebration with his equaliser when his international teammate opened the scoring against Arsenal.
Either the biggest mark of respect or absolutely cold as ice.
As if that wasn't cool enough — your fellow footballing colleagues helping your signature move go even more viral — the simple but effective statement point to the temple has transcended football and is now being whipped by sportsmen and women across various disciplines.
Starting with the likes of England and Sussex cricketer, Jofra Archer (a big United fan), the point is now being copied by some seriously notable athletes across the world.
Marcus is massive and Jof knows it:
And so does Novak Djokovic, it turns out, as the Serbian tennis star and record-equalling Grand Slam winner also pulled out the point over the weekend.
Winning a seriously impressive 10th Australian Open title, his 22nd major trophy, arguably the greatest ever to hold a racket chose recreated Rashford's celebration to make the occasion.
Now, this is influence:
Read more:
But what does Rashford's celebration mean?
As many have noted, if we start to see the likes of NBA and NFL players dedicating their celebrations to the Wythenshawe lad then he really has gone full superstar.
That being said, many are still curious at what exactly the celebration means and, as far as we can tell, it's simply about focus.
Man United's no. 10 regularly suffered with the noise and pressure of leading the line for his boyhood club in the past couple of seasons, but it now looks like he's managed to put that behind him and get back in the zone, for lack of a better phrase.
Often closing his eyes while raising his finger to his temple, the celebration is clearly about shutting out all that excess noise and external distractions; staying locked in and allowing himself to get back to what he does best: being really good at football.
For all the latest news, events and goings on in Greater Manchester, subscribe to The Manc newsletter HERE.
Featured Image — The Cricketer/Marcus Rashford/Eurosport (via Twitter)