Sport
Rasmus Højlund manifested his boyhood dream of a Manchester United move when he was just 10 years old
Like many young kids, it was his dream. Now it's a reality.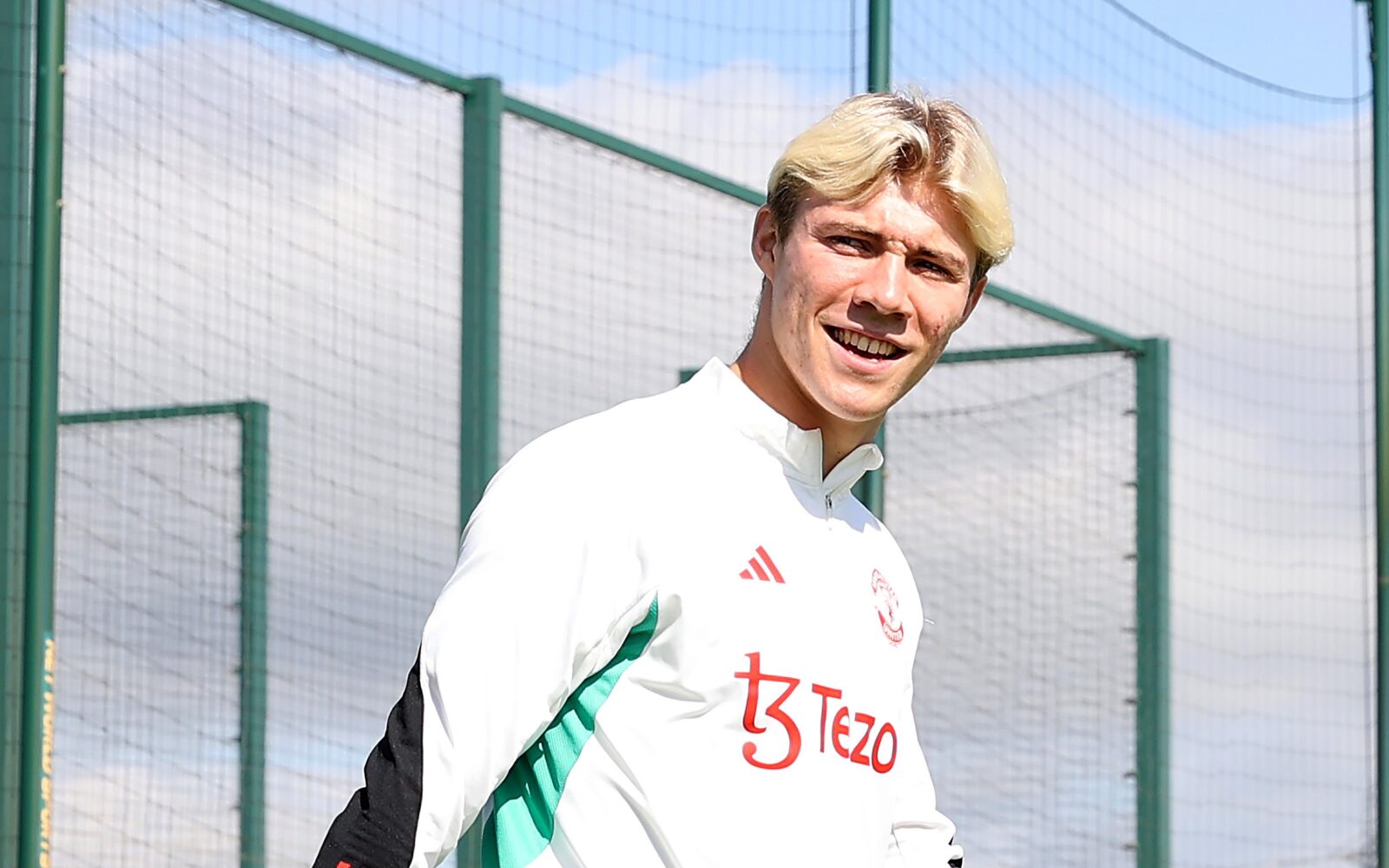 It's been a pretty busy transfer window over at Old Trafford this summer, and while there's lots for supporters to get excited about this season, this heartwarming revelation about new striker Rasmus Højlund has got to be up there.
It's been revealed today that the 20-year-old rising star's childhood dream was to play for Manchester United.
A photo has surfaced online that shows his goal of playing in Red has been on Rasmus' wish list since he was 10.
Højlund has long made it clear that he is a Man United fan at heart and even in some of the club's official announcements, pictures of the young centre-forward wearing the old AIG kit from 2008 were used in the promo videos.
As revealed in a feature by TV 2 Sport in Denmark, a then-10-year-old Rasmus Højlund made a handwritten list of things he wanted to achieve in his life — namely to "play for the Danish national team and Manchester United". Cut to a decade later and he's made his dream a reality. How nice?!
As you can see in the scribble done by the former-Atalanta striker when he was just a kid, he wrote a list of five things he wanted to do when he grew up and although four of those things had already been crossed out (well done, lad) one thing still remained: to play for his country and his favourite club.
The word "mål", which translates to 'goal' or 'destination', can be seen written below with an arrow pointing to the fifth and final thing on the list, where you can see "Man UTD".
Already in a frame, it's clear that the Red Devils' new number nine took this list seriously and was manifesting his future from an early age. He might not have kicked a ball in the Premier League yet, but it's safe to say he can go ahead and cross off that last one off now too.
In the interview with reporter and fellow countryman, Anders Masannek Jørgensen, Højlund is asked about the list when he is shown a picture of himself as a young boy wearing that very same kit United kit. Now, more than 10 years on, he'll be wearing the latest iteration in front of the Old Trafford faithful.
Read more:
Wholesome stuff, right? There aren't many people that get to grow up and live their dream but even fewer that get to live the dream of playing for a club as massive as Manchester United, let alone can say they wrote it on a piece of paper and made it happen themselves.
Højlund might still be pretty unproven at the highest level, scoring just nine league goals in 32 appearances last season, but it's clear that Erik ten Hag and the scouting staff have seen potential in him — and so too has his new teammate and compatriot, Christian Eriksen.
He might have achieved this huge personal and professional goal but the real question is how many is he going to put in the back of the next this year?
For all the latest news, events and goings on in Greater Manchester, subscribe to The Manc newsletter HERE.
Featured Image — Manchester United/@TV2SPORTdk (via Twitter)/Rasmus Højlund (via IG)