Sport
Rodri slams 'rubbish' Scotland despite historic 2-0 defeat as Scott McTominay scores yet again
Manager Steve Clarke compared McTominay and his teammates' heroics to Kenny Dalglish's legendary winning goal nearly 40 years ago.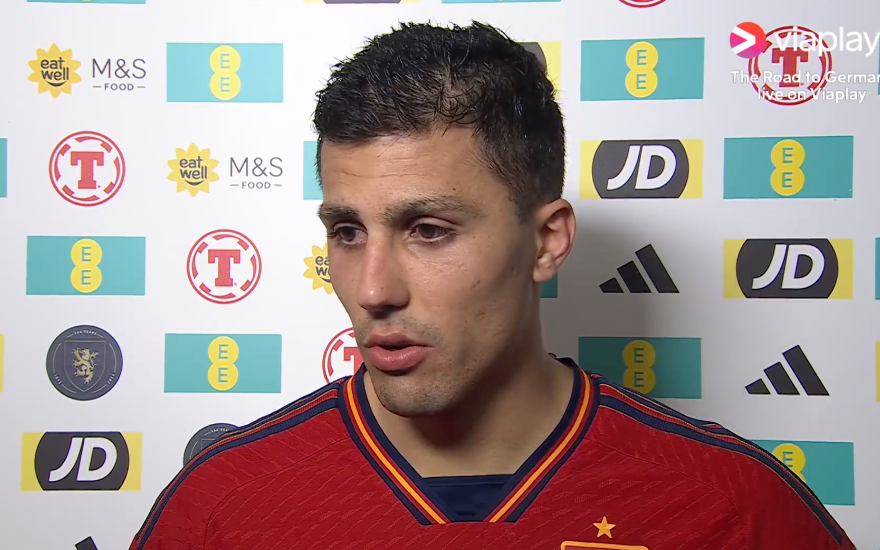 Manchester City star Rodri has called out Scotland for their "rubbish" tactics and style of play following their now famous 2-0 win over Spain.
Scotland hosted Spain at Hampden Park stadium on Tuesday night in the first round of Euro 2024 qualifiers and after having beaten Cyprus 3-0 on 25 March, the Tartan army managed an even more significant victory over the three-time champions, beating them for the first time since 1984.
Speaking to media after the game and obviously disappointed with the result, the Man City midfielder said that he didn't feel the scoreline fully reflected the game and had a very clear opinion on what he thought of the home side's performance.
In a word: "rubbish".
Rodri went on to argue that, in his mind, "this is not football", claiming that the opposition were "always wasting time" and trying to "provoke" the Spanish players by going to ground after most tackles.
The 26-year-old was also critical of the officials, intimating that the referee had the opportunity to intervene but simply "said nothing".
On the contrary, the Scottish reporter interviewing challenged the Spaniard by suggesting that many fans within the ground would argue that Spain were guilty of the same "in terms of how quickly the players went down". Rodri naturally disagreed.
Either way, it wasn't time-wasting that made the headlines on the night, it was Manchester United midfielder Scott McTominay, who bagged yet another brace to send the national stadium into pandemonium with his third and fourth goals for Scotland in the last two games.
Read more:
The 26-year-old opened the scoring inside just seven minutes and grabbed his second similarly early into the second half with an instinctive volley.
Along with his double against Cyprus at the weekend, that makes four goals in the last two games, with many Reds noting his heroics have come a key time with the likes of Casemiro suspended and Austrian international Marcel Sabitzer potentially injured again.
McTominay might have dropped out of United's first-choice midfield when everyone is fit but has still proven himself to be a solid squad player.
Moreover, perhaps this international break has helped him send a message to Erik ten Hag ahead of a key period for the club.
For all the latest news, events and goings on in Greater Manchester, subscribe to The Manc newsletter HERE.
Featured Image — Viaplay Sports UK (via Twitter)/Scott McTominay (via Instagram)