Sport
Commentator Arlo White shows off what the Old Trafford gantry walk looks like
For football fans or those of us who've always wanted to report on it (hi there), we love this behind the scenes stuff.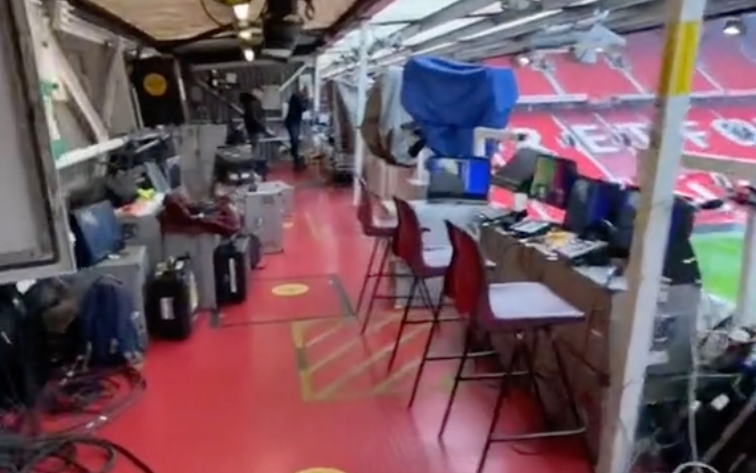 Ever wondered what it's like to be up in the gantry in a football stadium, say, Old Trafford? Well, we certainly have.
You see the odd shot of the commentators sat there on the telly from time to time but it never really gives much away either and, at some venues, it's quite a ways up there. There's a little bit of allure behind these mysterious parts of footy grounds that most fans will never get to see.
Unless you follow Arlo White on TikTok, that is.
After hours of mindless scrolling on the social media app, we stumbled across the well-known sports commentator's channel where he's been showing off what it's like to go in the gantry and one of them is his long walk to crow's nest up at the Theatre of Dreams.
Read more:
Mystery revealed — pretty cool, right?
As it turns out, Arlo's been doing these videos for a couple of years now, revealing how the gantry looks not only at Old Trafford but other big Premier League grounds too, such as down the road at the Etihad, Arsenal's Emirates Stadium, Tottenham Hotspurs' sparkly new ground and many more.
Another reason we found ourselves stuck on his TikTok for so long was also because of the other behind-the-scenes details he reveals too, even shedding light on how he prepares for games: note-taking, data sheets, how keeps himself warm up there during those cold nights on comms and so on.
For all the latest news, events and goings on in Greater Manchester, subscribe to The Manc newsletter HERE.
Featured Image — Arlo White (via TikTok)