Sport
The extraordinary first derby at the City of Manchester Stadium
Manchester City moved into a shiny new stadium for the 2003/04 season. In March, their enemies came to take a look around for the first time. It turned out to be an incredible afternoon.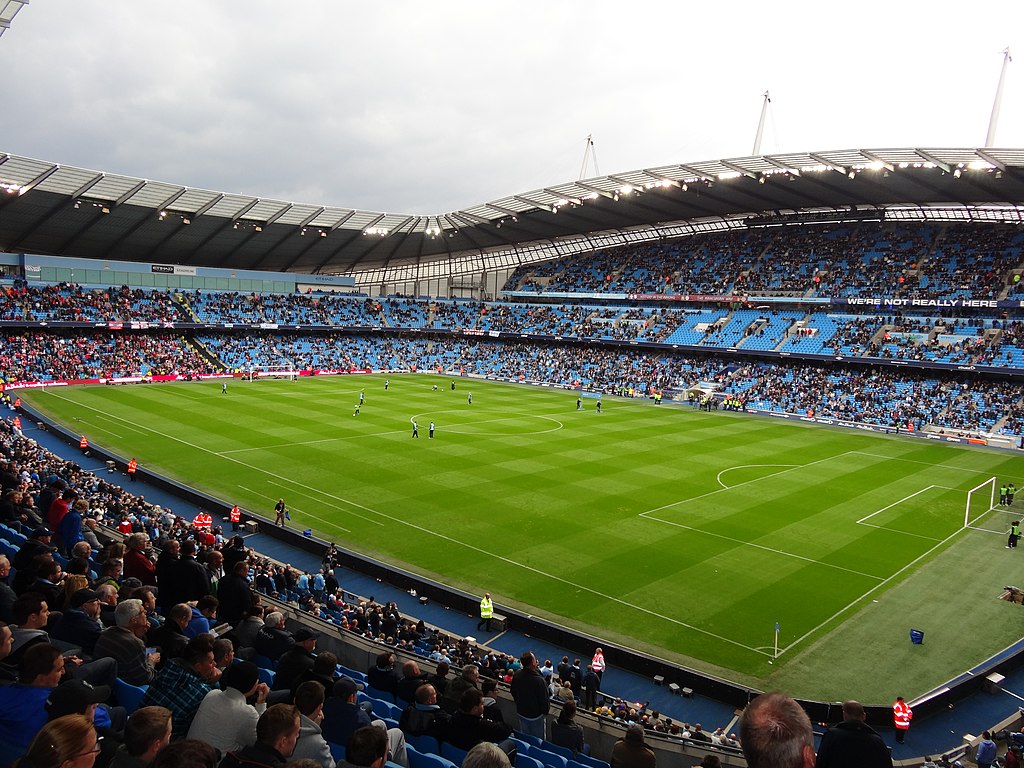 As Manchester underwent a cultural shift in the late nineties, something odd happened: The Manchester Derby temporarily disappeared.
This was a period when the iconic Hacienda nightclub would close forever and the ribbon was cut to an American-style mall called 'The Trafford Centre'. The region was morphing into a different beast – and the local sports scene was seemingly swept up in the mood for change.
In New Manchester, there was seemingly only room for one football team at the top.
After years flirting with relegation, the region's Blue team tumbled out of the Premier League trapdoor, before falling further down into Division Two.
Younger fans will find it hard to comprehend the gulf between Manchester's two football clubs before the turn of the millennium. But not that long ago, the sides were separated by a staggering 46 places.
When the summer of 1999 rolled around, United had picked up the third major trophy of the season. City, meanwhile, were only the third best team in Manchester.
After losing their top tier status, City spent several years contesting a very different kind of Manchester derby with Stockport County instead – desperately trying to claw their way back up the leagues whilst their traditional enemies at Old Trafford cemented a reputation as one of football's greatest ever sides.
The Blues had fallen so far off their arch-rivals' radar they were considered inconsequential (the worst possible regard in which to be held by your nemeses). But in 2000, after a four-year exile, City made it back to the promised land of the Premier League – yo-yo'ing between divisions before finally defeating United for the first time since 1989 in a memorable 3-1 win.
The victory marked the final derby at Maine Road before City's big move to a new 47,000-capacity stadium on the east side of Manchester. There had been discussions about simply upgrading the old ground, but City realised this new chapter was about more than just a fresh lick of paint. They wanted the kind of home that screamed clear intentions that City were no longer content to play second (or third) fiddle for Manchester on the world stage.
An international stadium – which had played a pivotal role in elevating the region's global reputation via the Commonwealth Games competition – would be the place to do exactly that.
The City of Manchester Stadium officially opened to football fans in August 2003.
The Blues spent a few months settling in, and on March 14, their enemies came to take a look around for the first time.
They were in a foul mood, too.
There were 11 games left until the end of the season, but Sir Alex Ferguson's men had already fallen well adrift of Arsenal in their attempts to retain their Premier League crown – arriving in Eastlands without a win in three.
The Reds had also just suffered an ignominious exit from the Champions League. On the previous Tuesday, Portuguese side Porto scored a last-gasp winner at Old Trafford that sent a young, dapper-dressed manager by the name of Jose Mourinho galloping down the touchline in wild celebration and left United fans sat in sickened silence.
The damaging defeat had instigated a supporters' inquiry; with fans pointing the finger of blame at various members of the squad. 19-year-old winger Cristiano Ronaldo was being called a show-pony who couldn't deliver the goods on the big stage. Diego Forlan was being criticised for a lack of goals. And goalkeeper Tim Howard was also under fire for dropping the clanger that led to Porto's big goal.
After a painful night in Europe, all United wanted was to curl up under the covers for the whole weekend – but were instead tasked with trudging down the road and putting their irritating noisy neighbours in their place.
They didn't really want to be there. And City smelled blood.
Over 47,200 fans packed into the ground for the first ever derby clash at the City of Manchester Stadium, with United supporters – still hungover from their Champions League defeat – trying to find their bearings in unfamiliar surroundings.
City hadn't quite gotten used to their upgraded digs just yet either. They'd shown a few symptoms of home sickness since leaving Maine Road behind – having won just twice at the new ground.
But on this particular Sunday afternoon, they were playing host to their most-anticipated visitors of the season. And there'd be no welcome mat.
Within three minutes, the stadium received a jolt so ferocious its new foundations threatened to come crashing down.
Some fans were still finding their way to their seats when the ball fell to City striker Robbie Fowler, who juggled his way into the six-yard box and prodded it home – inciting utter pandemonium.
The Red end grimaced. For United – it was the worst possible start caused by the worst possible player (Fowler had already represented two of United's other bitter rivals in Liverpool and Leeds before joining City). But what felt like an unpleasant fever dream turned into a nauseating nightmare over the 87 minutes that followed.
Jon Macken caught the ball on the volley to put City 2-0 up after half an hour, and whilst Paul Scholes' low drive gave the Red Devils a glimmer of hope, Trevor Sinclair capitalised on a defensive mix-up in the 73rd minute to stretch City's lead once again in the second half.
The most memorable moment of the match, though – and the one replayed by City fans time and time again ever since – came in stoppage time.
Young winger Shaun Wright-Phillips (who would go on to make his England debut later that summer) burst down the right flank, pivoted past Wes Brown and rattled in a worldie to make it 4-1.
The final whistle screeched to signal City's biggest win over their rivals for 15 years – a margin that would not be surpassed until the "Why Always Me?" derby of 2011 when United were hit for six on their own turf.
It took another decade and over £1 billion of investment for City to finally put themselves on equal footing with their foes at the top of the Prem – but this was the moment where a new chapter for the Blues began to take shape.
Looking back, that first all-Manc fixture in Eastlands in 2004 was about more than just bragging rights. It was about City putting their foot down and making their new stadium feel like home.
And there's no better way to do that in football than by warmly welcoming your neighbours, giving them a serious walloping, and sending them on their way.