Things To Do
An award-winning interactive stage play is coming to Manchester's new neighbourhood
'Mates' will celebrate the culture and lifestyle of both Manchester and Salford.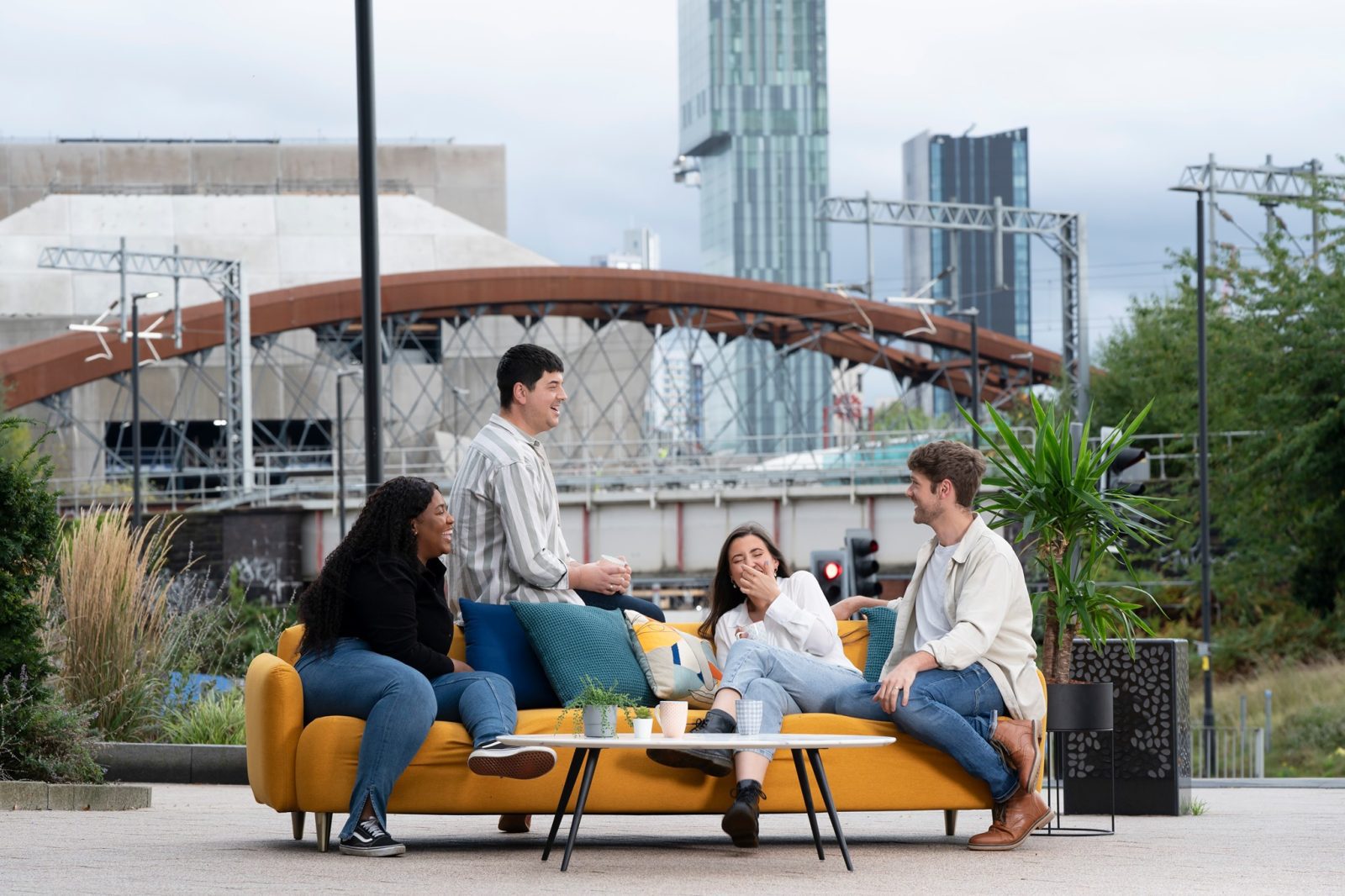 Get Living and Hope Mill Theatre are teaming up to bring an award-winning interactive stage play celebrating Mancunian friendship and community to New Maker Yards.
Normally you'd find the actors of Ancoats' very-own Hope Mill Theatre company appearing in packed-out productions of an all-female Shakespeare, or even starring in an acclaimed musical such as RENT or the upcoming revival of The Wiz – but their newest immersive play has a very different setting.
The play is taking place across three apartments at New Maker Yards, in Middlewood Locks – a neighbourhood that's between Salford and Manchester city centres.
To celebrate the launch of a further 500 homes for rent at New Maker Yards, Get Living – the neighbourhood operator – is inviting Mancunians and Salfordians to experience its newest living spaces like never before, where audience members will begin their interactive theatre experience at apartment 114, and will be welcomed into the lives of three friends to explore the bonds of friendship.
Titled 'Mates', the play will celebrate the cities' culture and lifestyle, and feature immersive mediations, spoken word recitals, and a house party complete with live music and a photo booth.
After the performance, audiences will also be able to enjoy a free pint or burger at Seven Bro7thers beerhouse in the neighbourhood.
Speaking ahead of the play's arrival next week, Eoin Thomas – Community and Events Lead at Get Living – said: "New Maker Yards' has such a distinctive, vibrant community, and with 500 more new homes available to rent this autumn, we wanted to showcase what living at New Maker Yards is all about.
"We're delighted to be working with the incredible Hope Mill Theatre to take this immersive play out of the theatre and into our living rooms."
Joseph Houston – Co-Founder and Artistic Director at Hope Mill Theatre – added: "We love creating art, and specifically, art that resonates so strongly with the local community [so] this immersive theatre show at Get Living's New Maker Yards neighbourhood is so special as we get to celebrate Manchester and the people who live here in a way that lets us connect with both residents and those living nearby."
'Mates' is running between 13 – 21 November 2021, and you can grab tickets for free here.
For more information on the new, fully-furnished homes available to rent with Get Living – with no deposits, no fees, and WiFi included – the New Maker Yards website here, or call 0161 826 5961 to speak to a member of the team.
Featured Image – Get Living