Trending
Budding BMX stars can train on a new £250k track that's just opened in Salford
The new 200-metre long track can be used by bikes, roller skates, and skateboards.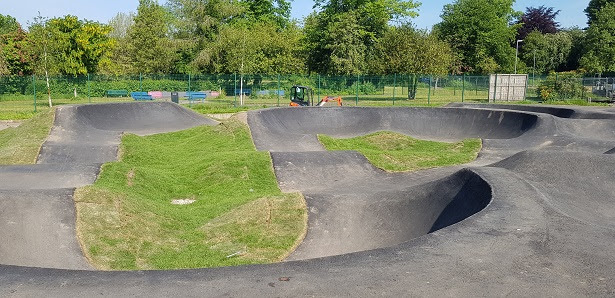 A new £250,000 track for the BMX community has officially been unveiled for junior riders in Salford this week.
After young people in the area named it top of their wish list, and fresh from the Tokyo 2020 Olympics successes of Manchester's very-own Charlotte Worthington – who became the first woman in history to land a 360-degree backflip in competition – and teammates Beth Shriever and Kye Whyte, Peel Park in Little Hulton now has a swanky new BMX track for stars of the future to train on.
The 200-metre long track can be used by bikes, roller skates, and skateboards – and is suitable for beginners through to experienced riders.
Created by Salford City Council in partnership with sports charity Access to Sport, and supported by the Little Hulton Big Local campaign, the track has been incredibly popular with local people since it was completed in June.
An average of 60 people have been said to be using the track each day since it opened.
The Little Hulton Community Pump Track has been built by specialists for a mixture of both casual and recreational use, ensuring that everyone in the community can make the most of it.
Access to Sport also used Salford City Council's Crowdfunder initiative to raise over £15,000, which will be spent on running specialist 'learn to ride' programmes for disabled young people to give them the confidence to get out and ride a bike.
"More and more people are enjoying cycling and BMX biking was given a huge boost by the recent Olympics," said Paul Dennett, City Mayor of Salford on the opening of the new track.
"This is a top class facility for everyone to enjoy and who knows, it may create cycling champions of the future."
Chris Boardman MBE – Chair of Sport England, and Greater Manchester's Cycling and Walking Commissioner- added: "This new facility will support our city region-wide ambition to enable more people to make everyday trips without cars, helping people to build confidence using bikes and trikes, and acting as a hub for a range of community groups.
"I wish all those involved great success."
Featured Image – Salford Council