Trending
Jackie Weaver actually 'did not have the authority' during viral Zoom meeting, a report finds
So "you have no authority here, Jackie Weaver" was right after all.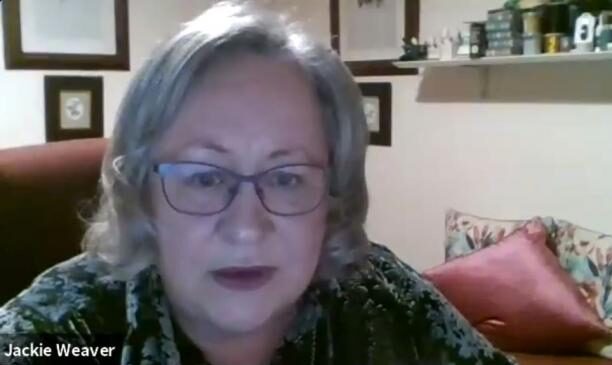 It turns out that Jackie Weaver actually "did not have the authority" to kick councillors out of the viral Zoom meeting, a new report has found.
In case time's been passing you by, it's now been well over a year since a local council's Zoom meeting descended into absolute chaos and went viral in the process.
Local council meetings are usually known to be like watching paint dry at the best of times, but it's hard to forget when clips from a Handforth Parish Council Zoom meeting went viral on social media all the way back in February 2021 thanks to a choir of raised voices, hysterical laughter, endless complaints, passive aggressive behaviour, and swearing councillors trading insults left, right and centre.
It went so viral, in fact, that people were aptly describing it as "British comedy gold" and "the best British comedy in decades".
You may remember that, with the tension between members having been continuing to build, the meeting eventually culminated with the Handforth Parish Council Clerk himself – or at least, that's what his screen name said, but his identity has since been disproven – being booted off the call entirely by the year's unlikely star – none other than, Jackie Weaver.
Read more: How a Cheshire town council meeting descended into chaos and became an unlikely viral hit
"You have no authority here, Jackie Weaver".
Those were the Clerk's famous last words before Jackie Weaver exercised the authority we all thought she did have, and removed him from the meeting.
But now, after a lengthy investigation into the matter, Cheshire East Council has published six reports about the behaviour of councillors at the parish council – which is now called Handforth Town Council – and it has actually found that Ms Weaver "was not acting in an official capacity at the meetings".
The reports confirmed "she did not have authority to manage the attendance at those meetings," although it did say "it is understandable why she acted as she did".
"Faced with what were unusual and difficult circumstances, and the deep-seated issues underpinning those circumstances, we can understand whyJackie Walker acted as she did, despite her action being without any formal footing in terms of appropriate process and procedure," the reports said.
Read more: Handforth Council changes its name after viral Zoom meeting made it 'toxic'
The reports found that "on the balance of probability", three former councillors did breach some sections of the Code of Conduct, but another report found that three current councillors were not in breach of the code.
Yet the report said the behaviour of the current councillors "cannot be said to be exemplary".
Featured Image – Handforth Council (via YouTube – ma0sm)