Trending
Jason Manford defends Sheridan Smith after people say she's 'on TV a lot'
The Manchester-born comedian has taken to Twitter to defend the actress and urge people to "chill out".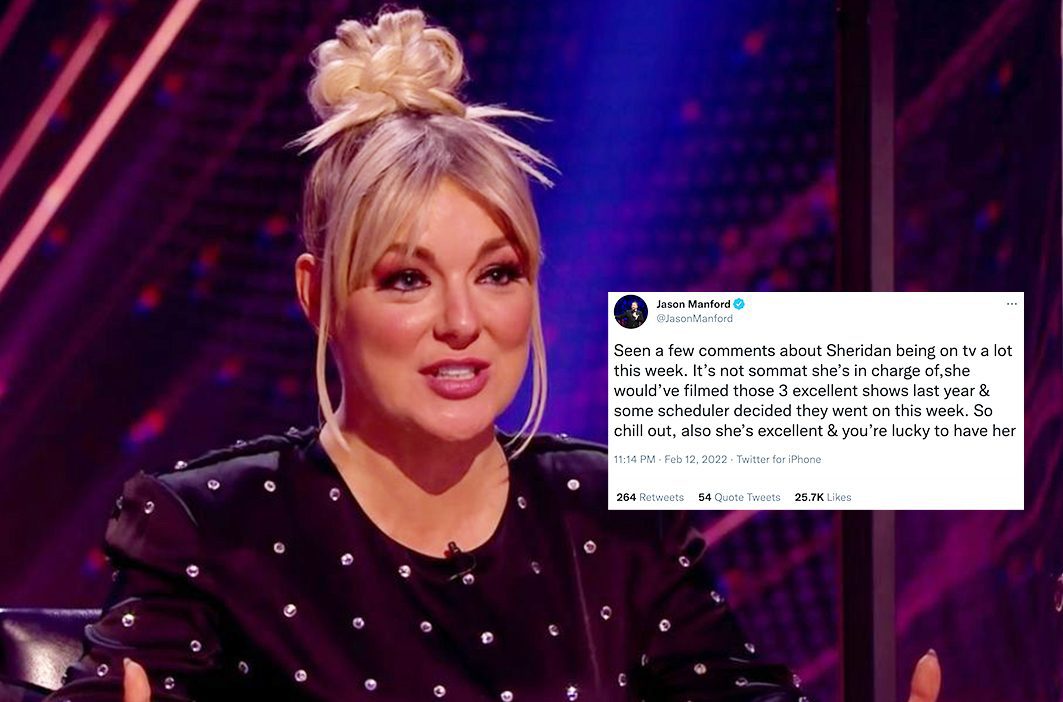 Manchester comedian Jason Manford has spoken out to defend actress Sheridan Smith after people have been blasting her for being "on TV a lot".
Since the start of 2022, the acclaimed Lincolnshire-born actress – who is probably most famous for starring on cult Manchester sitcoms The Royle Family, and Two Pits of Lager and a Packet of Crisps, as well as supporting roles on Gavin & Stacey, and Benidorm – has appeared on our TV screens on four separate occasions.
She first starred in three-part BBC drama Four Lives at the very start of January, before Channel 5's miniseries The Teacher was shown over four successive evenings later that month, and the first episode of ITV drama No Return began airing last week.
Smith is also currently the co-presenter of ITV reality competition show Starstruck, alongside Manford himself.
It's fair to say that her numerous starring roles and television appearances this year have seen Smith take a lot of flack on social media in recent weeks, both from people poking a bit of fun at the situation, while others have been a little more critical.
One person even joked that they've "seen more of Sheridan Smith than [their] family recently."
But Manford has found some of the criticisms of Smith to be rather unfair, and has taken to Twitter over the weekend to defend the actress and urge people to "chill out".
In his tweet, the Manchester-born comedian, actor, and presenter told Smith's critics that the fact she has appeared on TV so frequently this year is "not something she's in charge of" and that it was the decision of "some scheduler" that the shows were aired so close together.
He then told people that "she's excellent", and we're "lucky to have her".
Manford said: "Seen a few comments about Sheridan being on TV a lot this week [and] it's not sommat she's in charge of, she would've filmed those 3 excellent shows last year and some scheduler decided they went on this week.
"So chill out – also she's excellent and you're lucky to have her."
Manford's tweet has gone on to amass hundreds of likes, retweets, and comments from others agreeing with his comments.
Smith's The Royle Family and Two Pints of Lager and a Packet of Crisps co-star Ralf Little also responded to Manford's tweet in defence of Smith, adding: "Such a weird comment isn't it. Even if you didn't like an actor, the idea that they have any say in when TV shows end up getting aired is ridiculous.
"It will have taken her the best part of a year to film all of that."
Manford's tweet has also been inundated with people singing Smith's praises.
One person tweeted: "Sheridan Smith a working class lass that made it. She will always be a success story in my eyes. Works hard and is one of our greatest actresses. Never a bad word for her from this Northern boy."
Another added: "I'm delighted we have Sheridan – so versatile, makes me laugh, makes me cry, amazing lady, beautiful voice, what can't she do?"
"Sheridan Smith is an outstanding actress, so the more we get of her the better," a third said.
TV presenter Jeremy Vine also added in response to Manford: "I agree with this. Sheridan Smith is unbelievably good at everything she does and her range is remarkable. Haters, go and hate on someone more deserving."
Featured Image – ITV