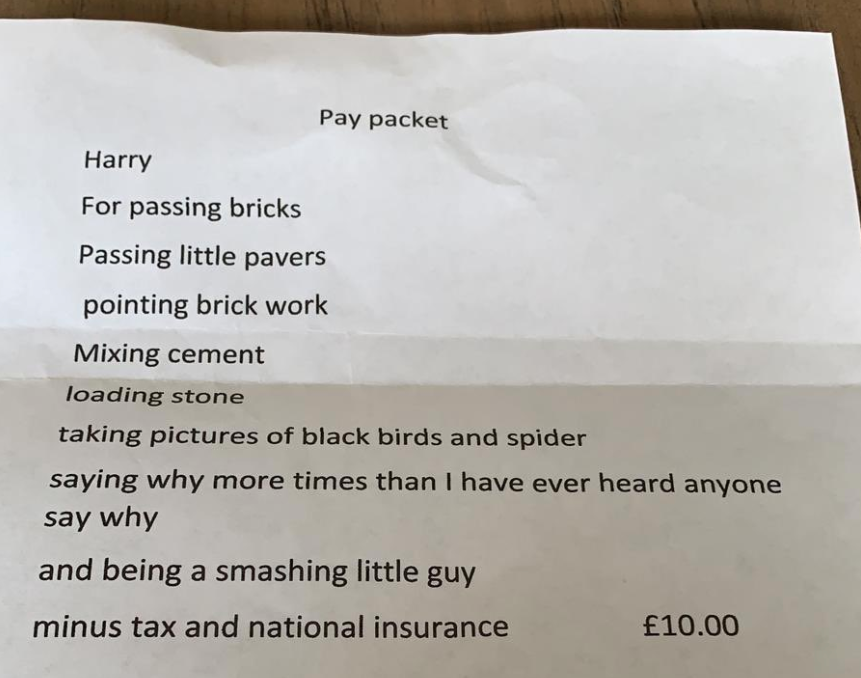 A 'pay packet' note left by builders for a six year old boy who helped out with work on a patio has gone viral on social media.
A mum has taken to social media yesterday to praise the kindness of a builder – who had recently just completed work on her garden patio – for leaving a note for her young son after he helped him out with work on the job.
The note was said to have "made [her son's] day".
Steph Kemp, from East Yorkshire, shared a picture of the printed 'pay packet' note left for her six-year-old son Harry on Twitter yesterday with the caption: "We have just had our patio done and my 6yo has loved going out and helping the builder, so it made his day to receive this."
"What an example of kindness".
The note is shown to feature his help on a list of typical jobs including passing bricks, mixing cement and loading stone, as well as a couple of comical and heartwarming additions such as "saying why more times than I have ever heard anyone say why" and "being a smashing little guy".
It also looks as if Harry went on to receive £10 (minus tax and National Insurance, of course) for his hard work.
The tweet has understandably gone viral since posting, amassing well over 18K retweets, 200K likes and hundreds of replies from members of the public sharing in the mother's praise for the kindness of the builder and his well-meaning attitude.
Others also shared their own anecdotal stories of times that they lent a hand to tradespeople when they were younger too.
Steph even went on to share a picture showing off the finished patio too and it's pretty safe to say that Harry and the builder make an ace team.
Great work all round lads.