Eats
The best Valentine's Day food, drink and gifts from independent businesses in Greater Manchester
Shopping local has never been more important for the region's businesses.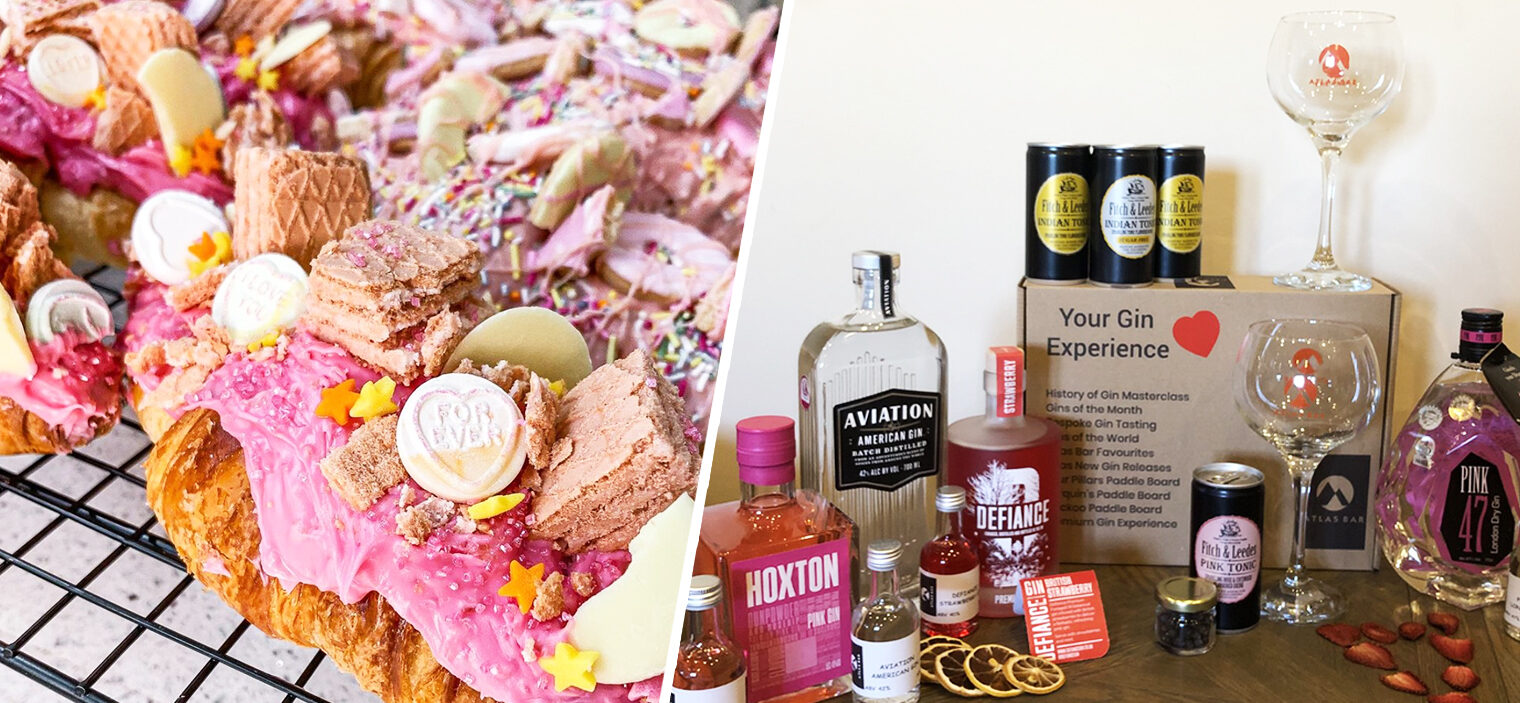 We're all looking for something a little special this Valentine's Day.
But with just over two weeks to go until the big day arrives, we've pretty much resigned ourselves to the fact things will be a slightly different this year, right?
Whilst it is true that we're somewhat used to adapting our seasonal celebrations for the circumstances nowadays, the loved-up among us won't have forgotten that Valentine's Day is new ground for the coronavirus (COVID-19) pandemic, given that it was one of the last events to take place 'normally' before the stark realities of the crisis set in last March.
That doesn't mean the occasion should to go un-celebrated in 2021 though.
There's no need to miss out on feeling the love with your special someone, especially as there's a whole host of ways to safely celebrate from the comfort of your own home, and plenty of the region's best businesses are gearing up to deliver Valentine's Day-themed food, drink and gifts directly to your front door.
Shopping local for Valentine's Day has never been more important for independent than it is this year.
___
Food & Drink
Our picks for the best COVID-friendly food and drink experiences the city has to offer.
Abeja Tapas
Oxford Road
£28.50 – £48
Are you looking for a unique Valentine's feast?
Whether you're surprising your loved one, having a Zoom date, or celebrating self love Sunday, Abeja Tapas' Valentine's boxes come with all the gourmet goodness you expect from Manchester's smallest tapas bar. The Valentine's Special Board-in-a-Box is perfect for those lucky enough to be together, while the Valentine's Duo Boxes are ideal for those share the love virtually.
All tapas hampers are beautifully-prepared by hand, and are wrapped up in eco-friendly or compostable packaging, and can be ordered for collection or UK-wide delivery.
You can place your order in time for Valentine's Day here.
___
Herd
Northern Quarter
£97
Herd NQ is the one if you're looking for at-home luxury this Valentine's Day.
The menu for the Valentine's Day Box has been designed to give you "an extra bit of love with some extra luxurious treats during lockdown 3.0", and allows you to create your own three-course meal – with a "beautiful chateaubriand" on the line-up – complete with a selection of handmade chocolate truffles to round it all out.
Collection is available from the Northern Quarter restaurant, and delivery is available for anyone within a three mile radius, with all deliveries made on the 13th February.
You can place your orders here.
___
The Font
New Wakefield Street
£20 – £60
If it's just a classic household bubble party you're in the mood for this Valentine's Day, then you can't really go wrong with the Party Vibes packs by The Font.
Packs for two, four and six people each come with a selection of the popular bar's best selling cocktails and shots, along some treats to sweeten things up and everything else you need for a COVID-safe celebration of love, with prices starting at just £20.
And they're offering 20% off too.
You can order your Party Vibes packs to be delivered via Deliveroo here.
___
Hey Little Cupcake
Spinningfields
£4.50 – £36
Hey Little Cupcake has everything you'd need to satisfy a sweet tooth this Valentine's Day.
With everything baked fresh to order, the Spinningfields-based independent bakery is known for embracing seasonal celebrations with open arms, and the national day of love is no different, as there's plenty of themed cupcakes, cookies, brownie slaps, cake pops, and more on the menu.
Prices start at just £4.50 for single cupcakes, to £36 for a full-sized Valentine's Treat Cake, and can be delivered to homes nationwide.
You can place your orders online here.
___
Mana
Ancoats
£190
Manchester's only Michelin Star restaurant is pulling out all the stops for Valentine's Day.
Valentine's Day with Mana allows you to get stuck into the creation process too, as this is a fine dining experience to be collected and finished at home, with a menu which reflects the usual style of Mana's cuisine.
The vast majority of the work has been done for you and the offering has been constructed with you in mind, but it comes accompanied by clear and concise finishing instructions, which make it easy for you to take part in a fun activity, without it dominating your evening, so you can "spend more time in peace with your loved one on Valentine's".
Valentine's Day with Mana can be ordered for collection on 13th February here.
___
Home by Nico
Spring Gardens
£80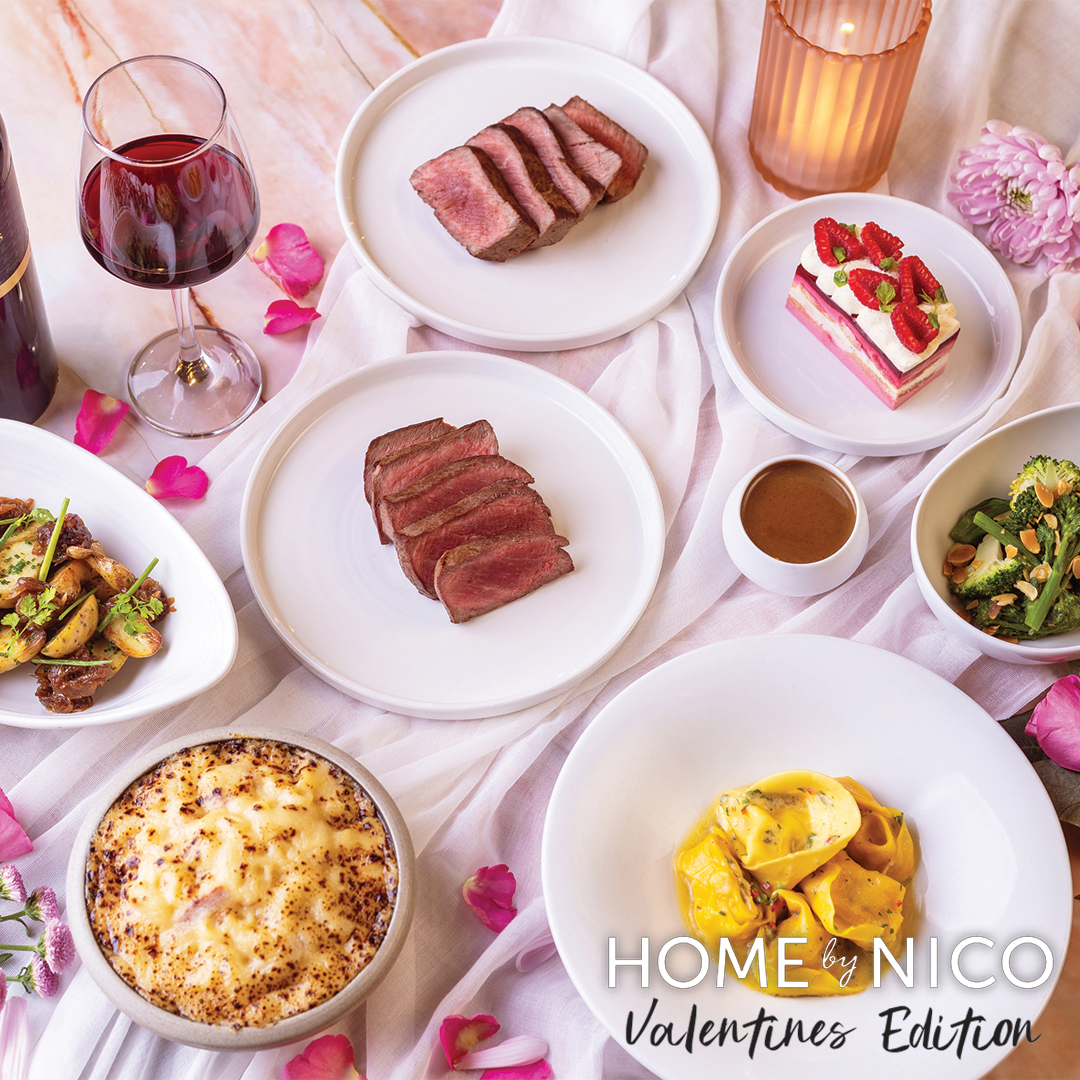 Six by Nico is undoubtedly one of Manchester's most unique dining experiences, and its lockdown-born at-home menus have proven to be some of most popular on the market, with the Valentine's Edition set to continue that trend.
The Valentines Edition is described as "the epitome of indulgence", coming with freshly-made lobster and prawn tortellini, and an aged fillet of beef – leaving cooking preferences up to you – along with the most "delectable accompaniments" and a mouthwatering dessert that have all expertly made, paired with a bottle of Barinas Tempranillo red wine, and delivered to you.
The Home by Nico Valentines Edition comes perfectly portioned for two guests, and you can get your orders in for collection or delivery here.
___
Hampton & Voúis
Princess Street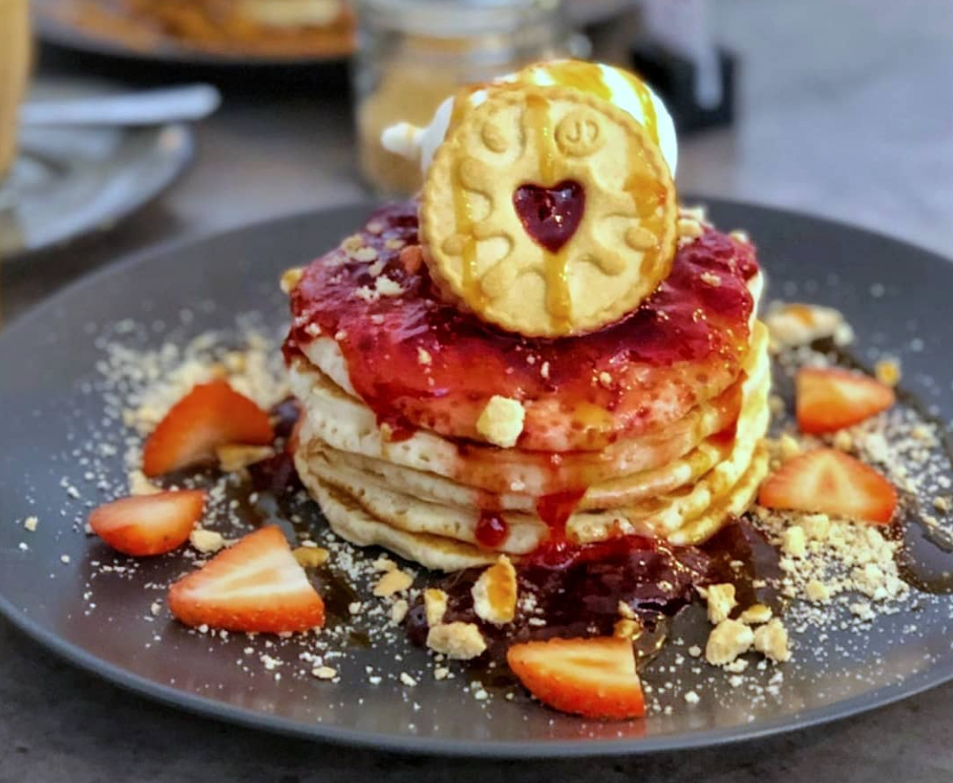 What could be more perfect for a Valentine's Day brunch than Jammy Dodger pancakes?
Princess Street-based Hampton & Voúis is a much-loved hangout for brunch fans in the city centre, offering an extensive menu for the mid-morning meal, but it's the fan-favourite Jammy Dodger pancakes – which come with caramel sauce, strawberry jam, Jammy Dodger biscuits, fresh berries and vanilla ice cream – that are our pick for the national day of love.
Orders can be made for both collection and delivery, and you can view the full menu and place your orders on the Hampton & Voúis website here.
___
Saint Croissants
Radcliffe
From £22
How incredible do these Valentine's-themed croissants and cronuts look?
Launched during lockdown in May 2020, Saint Croissants is the brainchild of Manchester-based Mum, Aimée Soudry, and the independent business has been developing a much-deserved cult following right across the UK ever since.
The Saint Valentine collection allows you to create bundle boxes of croissants and cronuts that are filled and topped with everything from white hazelnut Bueno filling and caramel cherry chocolate toppers, to fresh banana buttercream, with white chocolate Reeses Peanut Butter Cups and salted caramel chocolates, and even Party Rings, strawberry hearts and pink glitter spray.
You can view the full collection menu and pre-order your bundle boxes for collection or delivery in time for Valentine's Day here.
___
Gifts
Our shop local gift guide this Valentine's Day.
Atlas Bar
Castlefield
£25 & £39.95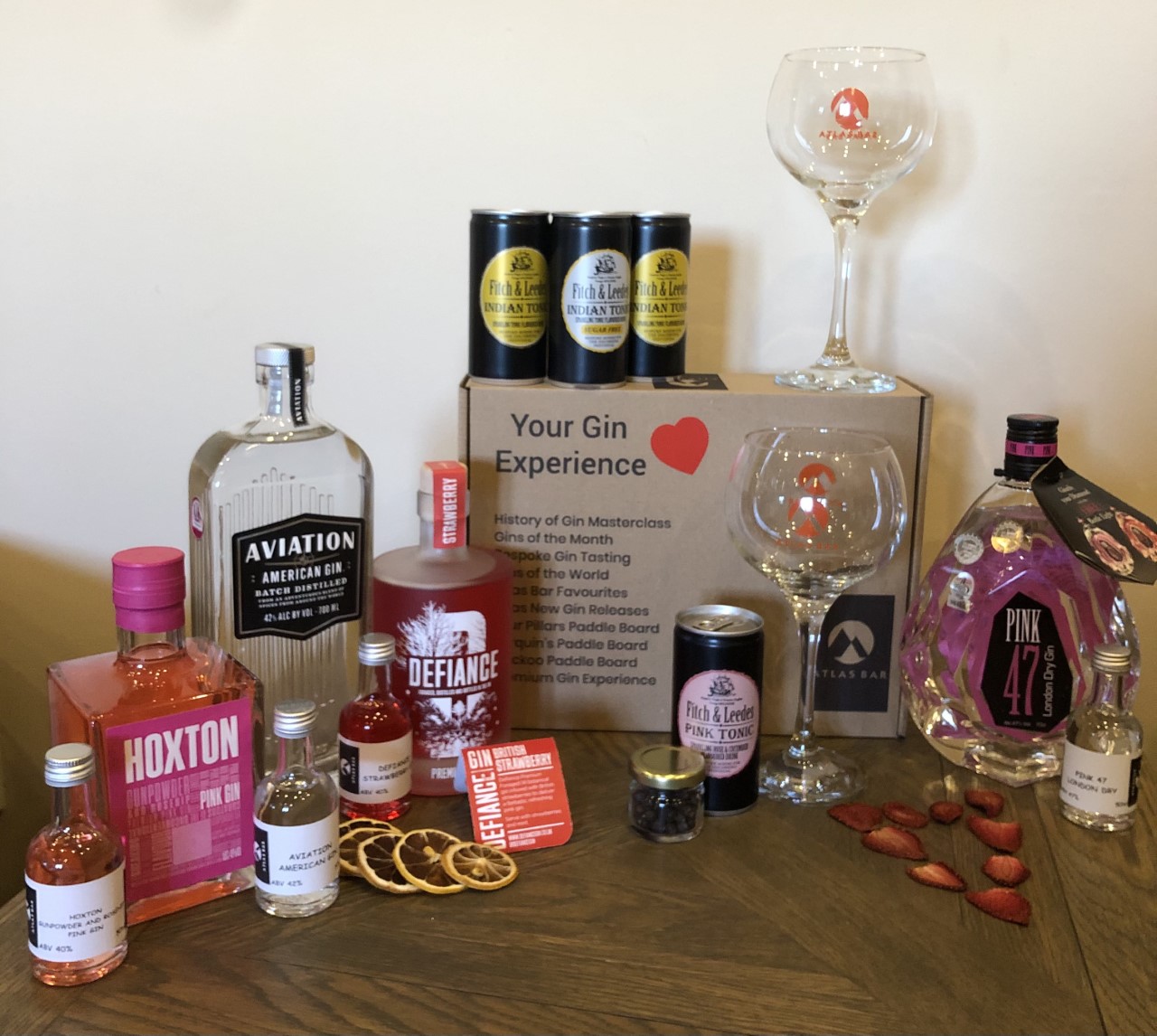 The ideal gift for a gin lover this Valentine's Day.
Atlas Bar's Valentine's Day Home Gin Experiences come with Defiance Strawberry, Pink 47, Hoxton Gunpowder and Rosehip and Aviation gins, along with four premium mixers, from the Fitch and Leedes Team, in South Africa, and some botanicals to enjoy with your gins too.
You and your loved one can also take part in a live gin tasting hosted by Atlas Bar at 7pm on Saturday 13th February as well.
All orders can be made for delivery via the Atlas Bar website here.
___
The Sweet Drop
Whitefield
From £3
Whitefield-based independent The Sweet Drop delivers gifts of sweets directly to your door for every occasion, and Valentine's Day is certainly no different, as the new My Sweet Valentine collection lets you select either a pink and red Valentines mix of sweets, a rainbow mix, or you can even choose your own instead.
Prices start at just £3 for the simple 'Love Cone', all the way up to £20 for a 'Share Bucket', and you can even get 20% in the current January sale.
You can grab your orders on The Sweet Job website here.
___
Cocoa Cabana
Didsbury & Ancoats
£3.70 – £25
Valentine's Day and chocolate is a tale as old as time.
But Didsbury and Ancoats-based independent chocolatiers Cocoa Cabana is putting its own unique spin on the trend, with a new Valentine's Day Chocolate Range that features everything from heart-shaped and raspberry lips lollies, to a selection of themed artisan chocolate truffles, personalised chocolate hearts and even Chocolate Gift Hampers too.
You can view the full collection and place your orders on the Cocoa Cabana website here.
___
Blumin Tea
£25 – £60
Blumin Tea's selection of Valentine's hampers come in a range of prices to suit all, are filled with flowering tea, chocolates, and teddies, and can be specially-wrapped and delivered with a personalised card direct to the door of your loved one.
What more could you need?
You can place your orders for hamper delivery prior to Valentine's Day here.
___
The Cocktail Co.
Stockport
£11 – £57
Is there really a better gift than a delivery of cocktails and treats for Valentine's Day?
Stockport-based The Cocktail Co.'s Cocktail Gift Boxes are the perfect way to show someone you care, with hampers filled with a selection popular pre-made cocktails, prosecco, garnishes and even some sweet treats to celebrate the special occasion.
UK-wide shipping is available, along with delivery to locations within a three-mile radius of SK6, or collection.
Orders can be made here.
___
The Bud and Pot
Prestwich
£6.50 – £40
The Bud & Pot are gearing up for a special Valentine's Day this year.
Along with two specially-selected potted plants and the classic 'True Romance' bouquet, the Prestwich-based florist has launched the stand-out 'Peach of My Heart' arrangement that "encapsulates elegance through it's delicate florals in peach, white and blush pink tones".
You can order for deliveries to be made on 13th & 14th February right across Manchester here.
___
Amelia Rose Floral Couture
Chadderton
£45 – £150
Chadderton-based Amelia Rose Floral Couture is making "the bouquets of every girl's dream" this Valentine's Day.
The Love Heart Sweet collection bouquets are made up of pastel hues, using a couture selection of flowers, wrapped in signature white wrap and presented in white hand-tied bags, complimented with love heart sweeties "for that extra sweet touch".
Orders for delivery on 13th and 14th February are already booked up, but you can still secure your slot for 12th and prior.
You can view the full Valentine's collection and place your orders here.
___
Fings Manchester
After something a little different, but keen to show your love for our city as well as that special someone this Valentine's Day?
Fings Manchester has the gifts you're after.
The independent online illustration and design shop stocks everything from unique Manchester prints, to quirky greetings cards, post cards and more, available at a range of prices.
You can place your orders in time for Valentine's Day on Etsy here.
___
Not quite found something that takes your fancy just yet?
Don't worry.
There's still plenty of time before the big day arrives, and we will continue to update this article with all of the lockdown-friendly, COVID-safe Valentine's experiences and gifts that we can find from local businesses across Greater Manchester, so keep checking back to make sure you don't miss out.