Trending
The Manc who's on a mission to collect a chip from every Wetherspoons in the UK
"Does that bloke really walk around with a trading cards collection book full of chips?"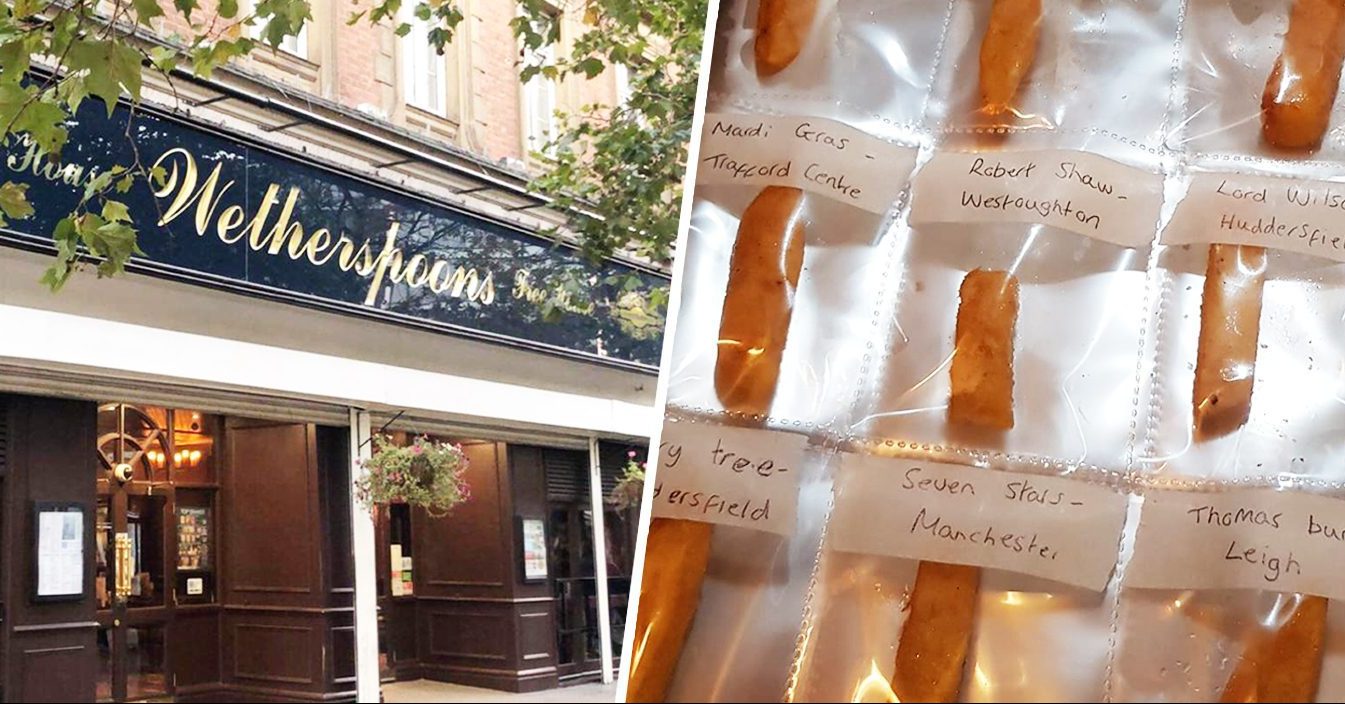 It's all going on over on the Wetherspoons Paltry Chip Count page yet again.
In case you have no idea what we're on about here, let us get you up to speed – boasting over 165,000 active members and growing by the day, the brilliantly-named Wetherspoons Paltry Chip Count is a public Facebook group that brings together people from right across the country to share in the clearly-popular activity of counting the amount of chips that the restaurant chain sticks on its characteristic blue floral plates and dishes out to customers.
It may have been set up well over a year ago now, but it's safe to say that the group's taken off like never before over the past couple of months.
As bizarre as it sounds, hundreds of people share snaps of their chip portions every week.
And although the group has produced some iconic reactions and pretty unexpected stars in its time, there's one Manchester man who's really got everyone talking at the moment.
Meet Boris Bennett.
Boris is boldly going where no one – or at least, where we can only presume no one – has gone before, and is currently on an important mission to collect one chip from every single Wetherspoons right across the UK.
He may be no stranger to posting in the popular group, having had a few of his chip portion posts make an impression with people in the group – in particular, the post where he recreated the Stonehenge out of his measly chip portion – but the post about his collector's mission, which was shared earlier this month, has amassed a whopping 12,000 interactions and over 4,000 comments from impressed foodies.
Explaining his mission in his own words, Boris said: "Evening all. You may remember me from such fine works as the stonehenge/chiphenge post ™, but today however I bring you this.
"I am currently on a mission to collect and record one chip from every Wetherspoons in Britain, and here is what I have got so far. If you are wondering "does that bloke really walk around with a trading cards collection book full of chips?"
"The answer is yes, yes I do."
Alongside the detailed explanation of his mission, Boris also shared a picture of his trading cards-style chip book.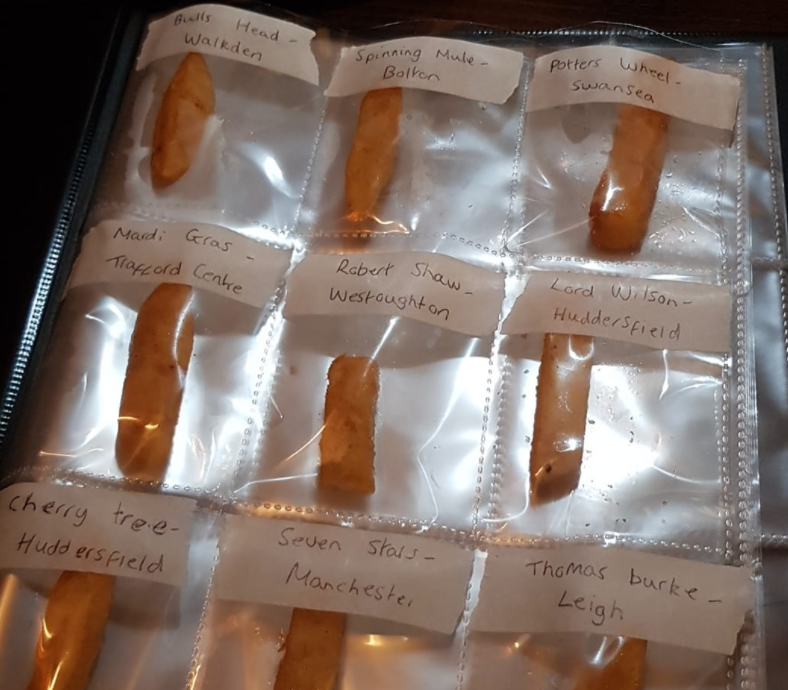 According to the picture shared of his chip book, the Greater Manchester-based Wetherspoons's Boris has managed to collect from so far are the Bull's Head Hotel in Walkden, the Spinning Mule in Bolton, Mardi Gras in the Trafford Centre, the Robert Shaw in Bolton, the Seven Stars in Manchester, and the Thomas Burke in Leigh.
He's also saved a chip from the Lord Wilson and the Cherry Tree, both in Huddersfield.
Of course, Boris' post was an instant hit among the Wetherspoons community, with one person commenting: "I think you could be my soul mate," and another added: "I hope there is an award for such a noble venture."
We do too.
Fancy following Boris on his journey then? Make sure to go over and get in on the action on the Wetherspoons Paltry Chip Count page here.
Featured Image – Wetherspoons | Wetherspoons Paltry Chip Count