Trending
Viewers react to ITV2 documentary on the tragic murder of Cheshire teen Alex Rodda
'The Murder of Alex Rodda: Social Media Murders' told the story of the 15-year-old schoolboy, who was murdered in 2019 by a man who groomed him online.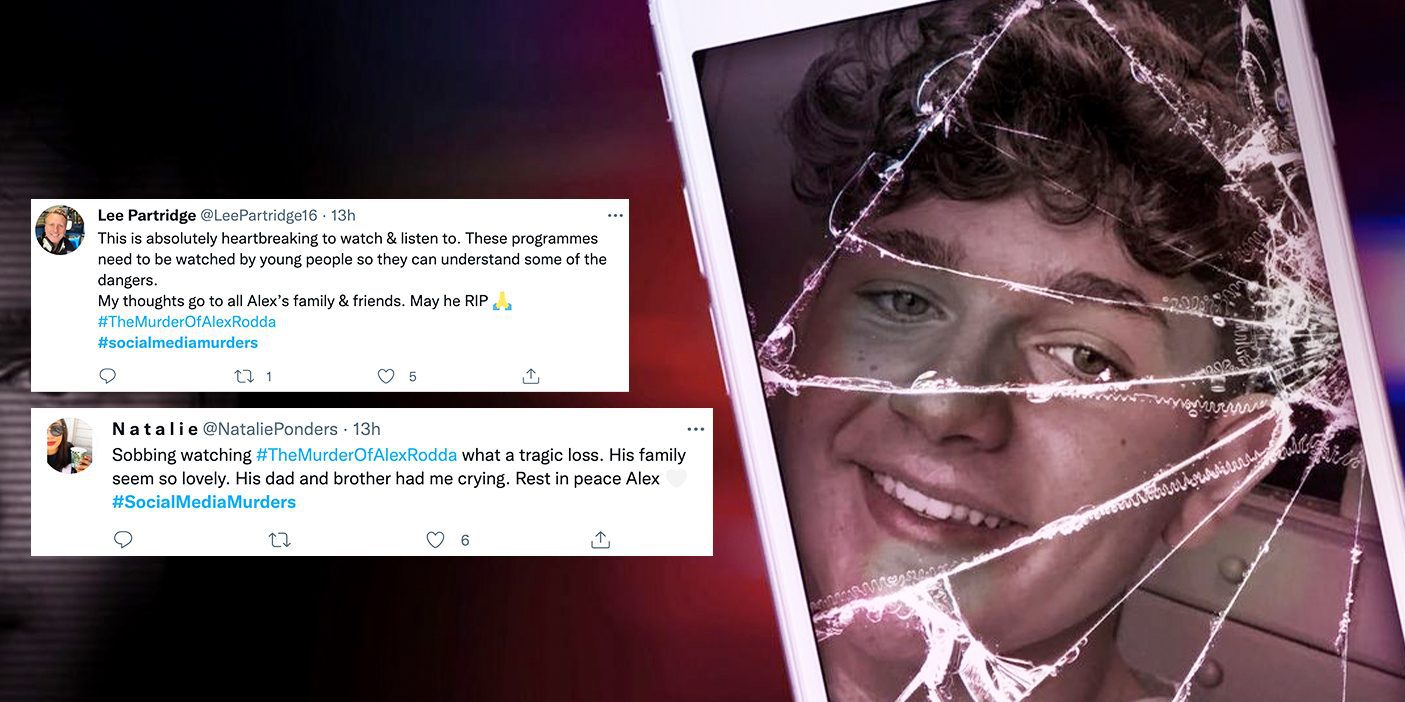 Viewers have been reacting after watching the latest episode of ITV2's documentary series Social Media Murders.
ITV2's Social Media Murders is a three-part documentary series that's seeking to provide a "compelling yet cautionary insight" into the experiences of young people affected by disturbing 21st century crime.
Each episode in the harrowing series puts the victim at the centre of the narrative.
The stories of their murders are then told alongside material obtained from social media accounts and mobile phones – which aims to "immerse viewers in the events as they unfolded".
Last night's episode of the series – which aired at 9pm on ITV2, and is now available to stream on ITV Hub – told the tragic story of 15-year-old, openly-gay Holmes Chapel High School pupil Alex Rodda from Pickmere in Cheshire, who many may remember was brutally beaten to death in a merciless attack in remote woodland in December 2019.
His partially-clothed body was discovered by a team of refuse collectors.
Twitter was filled with reactions to the "heartbreaking" watch during and after the documentary aired last night.
"Sobbing watching #TheMurderOfAlexRodda what a tragic loss. His family seem so lovely. His dad and brother had me crying. Rest in peace Alex," one tweet read.
Another said: "I'm close to tears there's such horrific people in the world."
Another person tweeted their reaction to the documentary, saying: "I remember this – happened so close to home – so so heartbreaking."
"This is absolutely heartbreaking to watch and listen to. These programmes need to be watched by young people so they can understand some of the dangers. My thoughts go to all Alex's family and friends. May he RIP," another tweet read.
Another cautionary tweet read: "Watching the documentary about Alex Rodda, it's so heartbreaking. This boys life was cut short because of an evil monster that took advantage. Please be safe online, don't meet someone you don't know especially on your own."
"It really does open your eyes to the dark side of social media," another said.
"Just watched The Murder Of Alex Rodda on catch-up, absolutely heartbreaking. What an awful thing to do. Rest in peace," another tweet read.
Matthew Mason – then 18, and from Knutsford – struck up a secret relationship with Alex online, and soon began sending him explicit images before things turned sexual, and The Murder of Alex Rodda: Social Media Murders highlighted how these texts and messages on social media allowed Mason and Alex to first connect.
Speaking on the programme, one of Alex's friends explained how social media played a huge part in Mason and Alex's relationship, as they were in different years at school.
Keri Nixon – a Forensic Psychologist – also told the programme: "Once the conversation develops on Facebook, Mason takes it to Snapchat. He's sending images of himself through a platform that will then delete that information, so it almost gives him a sense of confidence that he's not going to be found out.
"Alex is obviously media-savvy so he saves copies.
"It catapults relationships into a sexual relationship very quickly because they feel safe to engage in that through social media."
Worried that his sexual interactions with Alex – who was under the legal age of consent – would be uncovered, Mason paid Alex almost £2,000 in cash to conceal the relationship, but when Mason, who had a girlfriend, feared Alex would go public, he lured him to his death in a woodland near Altrincham
Matthew Mason – now 20, and from Knutsford – denied the murder, but was found guilty of beating the teenager to death with a metal wrench, and was originally sentenced to life in prison with a minimum term of 28 years.
His sentence was later reduced to 26 years following an appeal.
Featured Image – ITV Hub